Tell me if you disagree with the below 5 statements:
Everybody can use some help when it comes to paying for college.

There are A LOT– maybe too many— scholarships out there. Too many options means not knowing where to start, which means not starting at all.

Too many students are eligible for scholarships but don't know about them until they're crying about the money they don't have.

When applying for scholarships, doubt kicks in: "What are the chances?!"

The chance of you winning that scholarship money is higher than 0%, which is the case if you don't apply at all.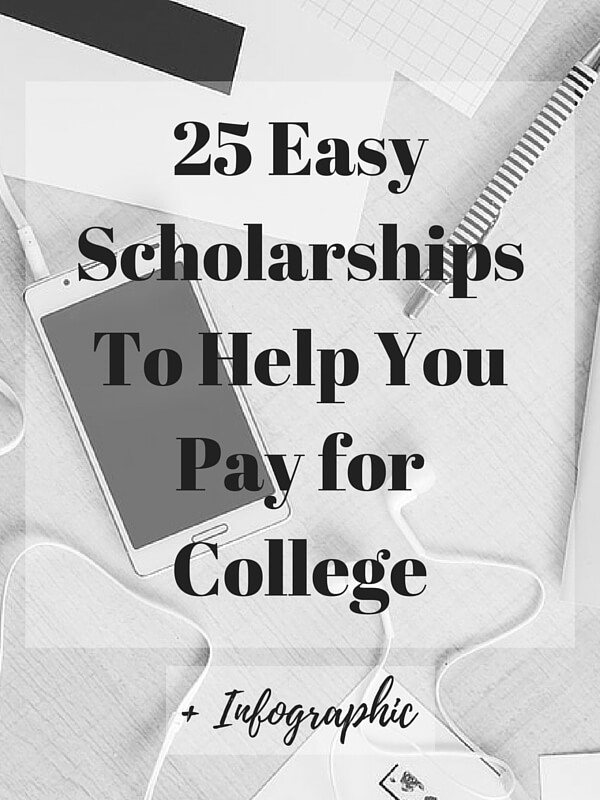 Here are 25 scholarships that all students should apply to!
If you missed the first deadline, don't worry! The following awards are offered several times a year– some monthly, some quarterly, and some biannually!
➯ General Scholarships with Multiple Deadlines
When you sign up for the CollegeSTEPS program, you will be automatically entered into the CollegeSTEPS sweepstakes for a chance to win $5,000. Four sweepstakes drawings will be conducted to award one high school student and one college student $5,000 at each drawing! In addition, twenty high school students and twenty college students will be selected to win $500 in each of the four drawings. See the Official Rules for drawing dates and complete details.
Fifteen survey responses will earn you an entry into the monthly $1,000 College Survey Scholarship. You can enter every month, so make sure to come back each month!
Take action with DoSomething.org to make social change and enter to win up to $10,000 in scholarship!
4. "No Essay" College Scholarship
This monthly $2,000 "No Essay" Scholarship is open to all students, including those planning to enroll within the next 12 months. Winners will be determined by random drawing and contacted directly. One entry per person, but you can come back each month to try again.
5. Odenza Marketing Group Scholarship
A 2.5 GPA and two short essays can get you $500 in scholarship. There are two deadlines; one for the spring and another one for the fall.
Complete the online application for a random drawing. This $1,000 scholarship is open to any students currently enrolled or planning to go to college. The money can be used to pay for tuition, books, computers, room and board or any education-related expense.
➯ General Scholarships with Single Deadlines
These scholarships are conveniently listed in order for you, according to their deadlines.
In 250 words or less, describe the biggest challenge college students are facing today and offer a solution! Deadline is December 31.
With so many awards based on grades and extracurricular activities, this unique scholarship gives you the chance to tell– not show– what makes you oh-so great. Get creative or be serious, but whatever you do, you only have ten reasons to convince the judges why you deserve this scholarship, so make each one count. Deadline is December 31.
Whether it's some bizarre dream you had last week, or your hopes for the future, share your dreams in 250 words or less for a chance to win $1,500 for college. Deadline is January 31.
10. Sweet and Simple Scholarship
Think back to a time when you received a sweet and simple gift. In 250 words or less, explain why that gift was/is so significant. Deadline is February 29.
Submit an online short written response (250 words or less) for the question: "Which superhero or villain would you want to change places with for a day and why?" for a chance to win $2,500 towards education. Deadline to apply is March 31.
12. All About Education Scholarship
Finances can be a serious hinderance to education. In 250 words or less, explain how this $3,000 scholarship can make a difference in your education life. Deadline is April 30.
Does the number 5 have any significance or meaning to you? Apply for this fun scholarship and you just might win $1500 towards college! Be funny or serious– that's up to you, but the deadline is May 31.
"If you could get one 'do-over' in life, what would it be and why?" Don't let "applying for this scholarship" be that do-over moment for you! It's your chance to win $1,500! Deadline is June 30.
Not all scholarships have to be serious. Relax and have fun with this $1,500 scholarship and you could be laughing your way to the bank! Deadline is August 31!
Shout out whatever is in your mind. The "loudest" applicant will receive the $1,500 Shout It Out Scholarship reward. APPLY BY SEPTEMBER 30!!!!!!!
17. Education Matters Scholarship
"What would you say to someone who thinks education doesn't matter, or that college is a waste of time and money?" Speak up for education and help yourself pay for it by winning this $5,000 scholarship. Deadline is November 30. [Download Infographic]
➯ Scholarships for specific majors, skills, ethnicities, or circumstances
These scholarships are conveniently listed in order for you, according to their deadlines.
18. NSA Mathematics and Computer Science Student Scholarship
Students working toward a degree (AA,AS, BA,BS, MS, PhD) in the fields of computer science, computer engineering, or mathematics with a minimum 3.0 GPA can apply for this $500 scholarship. Your AfterCollege profile will serve as your scholarship application, and deadline is December 31.
19. Actuarial Diversity Scholarship
Black/African American, Hispanic, Native North American and Pacific Islander students pursuing a career in the actuarial profession can apply for this scholarship of up to $4,000. You must have excellent math test scores and a minimum of 3.0 GPA. The next scholarship application deadline is May 2.
20. Proof Reading, LLC Scholarship Program
If you have a GPA of above 3.5 and grammar is your forte, give this $1,500 scholarship a shot! Deadline is January 23, 20176 and winner will be announced on February 23.
African American, Native American, and Hispanic/Latino students (high school seniors, college freshmen, sophomores or juniors, and community college students) planning to pursue full-time study in a chemically-related field and a career in the chemical sciences can apply for this $2,500-$5,000 scholarship. Deadline for the next academic year is March 1. Transcripts, standardized test scores, two recommendation letters and a copy of the Student Aid Report (SAR) are required.
22. Life Lessons Scholarship Program
Submit either a 500-word essay OR a 3-minutes video discussing how the death of your parent or guardian affected your life financially and emotionally. You can win up to $15,000. Apply by March 1.
23. Sandisk Scholars Program (Revising the scholarship under new partners; check back later)
High school seniors, college freshmen and college sophomores studying engineering and computer science and with a 3.0 GPA or higher may apply to this scholarship of up to $10,000 by writing an essay and submitting required documents. Award can be used towards tuition, fees, books, supplies, and equipment required for course load. Application period runs from January 1 through March 31.
24. AICPA/Accountemps Student Scholarship Award (Scholarship ended)
Students pursuing an undergraduate or graduate-level degree in an "accounting-related" major are eligible for this $10,000 scholarship. There are a lot of requirements for this scholarship (like performing at least eight hours of community service per semester) so make sure to read through the eligibility guideline before applying! You can start applying on Jan. 20 but must submit it by April 1.
25. Frame My Future Scholarship Contest
If you have a knack for creativity, you could be one of the five winners for this $1,000 scholarship (plus a $1,000 donation check will be made to your college/university, in your name)! Submit an original, digital creation showing how you "frame your future," by March 8, 2017. Winners will be announced on April 28.
Applying to scholarships may seem like a daunting task, but it's not that difficult if you plan it out well. Set a time or a day in the week to apply for scholarships & mark the deadlines on your calendar so you never miss a date!
Free money doesn't come to those who wait but to those who actively participate! :p