Like the rice cooker, the toaster oven is one of those unheralded appliances you'd never think to bring to college, but is a godsend once you get there.

Made for more than just bread, they are effectively miniature ovens and can be used to make most things that can be baked in a traditional oven, provided they are small enough to fit inside. Toaster ovens can be used to create a slew of recipes — homemade pizza, delicious grilled cheeses, baked potatoes, even roast chicken. Late night cheesy bread? No problem — your handy toaster oven will have it finished for you in minutes.

When you are living in a dorm, where you are unlikely to have access to a full kitchen, a toaster oven gives you the valuable ability to make full meals from scratch. Get one if you are thinking about skipping out on a costly meal plan or if you are a dorm room chef who needs an extra cooking appliance to complement your hotplate. Not only will your stomach thank you, but your wallet will too.

If you are in the market for a toaster oven for the first time, you might not know where to look or what to look for. TUN is here to help. We've put together a full toaster oven buying guide, equipped with product recommendations and advice on how to choose a toaster oven that's right for you.

Considerations When Buying Toaster Ovens
Wattage

Your toaster oven's wattage controls how fast and hot it prepares food as well as its power draw. Generally speaking, toaster ovens will have about 1200 to 1800 watts of power. We tend to think that anything in this range is fine, with 1500 being the sweet spot for an average-sized toaster oven.

Note: Before you purchase a toaster oven for your dorm room, make sure that your school allows them! Many universities have wattage restrictions for appliances in dorm rooms.

Temperature Control

Toaster ovens are typically capable of heating from 150°F to 500°F, about the range of a conventional oven. Some may reach a max of only 400°F to 450°F. We tend to think that 400°F is the least you should settle for. Baking temperatures for most foods are between 350°F and 400°F, though some recipes call for higher temperatures. With a max temperature of 450°F, your toaster oven should be able to handle virtually any recipe.

Size
Size is hard to come by in college, particularly if you're living in a dorm room. Most toaster ovens are relatively small — they are typically about the same size as a microwave. You'll also want to think about the size of the interior. What kinds of recipes do you plan to make with it? The largest models are capable of cooking a full 12" pizza, or fitting two 9" baking pans. Of course, that may be more room than you need. If you opt for a more compact model, you might be sacrificing your ability to make larger meals, but you'll also be saving counter space.

Functions

The traditional toaster oven has three functions: bake, toast, and broil. You should be able to get by fine with these three settings. However, current models of toaster ovens typically come with tons of extra functions that let you exert more control over your cooking. You may never use some of them, but others can come in handy. We particularly like toaster ovens that come with a convection oven setting and a roast setting. These functions will help you make the most out of your toaster oven and are often available in models that are still affordable.

Special Features

Toaster ovens increasingly come tricked out with useful, but sometimes unnecessary special features and accessories. A few to look out for are an interior light, an LCD display, a removable crumb and drip tray, a timer, and moveable and removable racks. These features are all pretty standard in toaster ovens on the market in 2019, but you should still check to make sure they are included. Some might also feature extra bells and whistles like a pizza tray or even a rotisserie spit. Great, but will you ever use them? Think about what you like to cook and what kinds of accessories you'll absolutely need before dropping extra cash on these kinds of features.

Cleaning

Toaster ovens are often not so easy to clean. Unlike microwaves, they can heat food to a crisp, and, if you're not careful, may leave burnt food residue inside the oven. Some toaster ovens come with certain features that make cleaning an easier process, such as a nonstick interior, or a crumb and drip tray. Make sure the interior is easy to access so that cleaning is a comfortable process as well.
Price

Money is always a consideration and sometimes the determining factor. While you definitely don't need to break the bank on a toaster oven, you should balance your needs and expectations against the potential cost. In our product recommendations, we've included budget, midrange, and splurge options so you can choose the model that best suits your needs.
Our Favorite Toaster Ovens
If easy cleaning and a low sticker price are priorities for you, look no further than the Hamilton Beach 311263D. This super affordable toaster oven includes many features that help make the cleaning process easier, including a removable crumb tray and a large, roll-top door that makes it easy to access the entire interior space. While it doesn't have a plethora of settings, it does feature the important ones (bake, broil, and toast) as well as a convection oven setting. We like how simple it is to operate as well. With only three knobs that control the heat, the setting, and the timer, it is intuitive to use.
---
The Breville Mini Smart Oven is an all-around excellent toaster oven. At about $150 on Amazon, it is a bit of a splurge selection by our standards, but still fairly affordable. Breville's Smart Oven line uses "Element IQ" technology to transfer heat evenly throughout the oven. That might be a bunch of marketing mumbo jumbo, but it undeniably cooks well. The real perk here, however, is the plethora of functions and handy features. There are eight basic cooking settings: cookies, reheat, pizza, bagel, toast, bake, broil, and roast. There is a separate frozen food button as well, which readjusts the settings for defrosting. When toasting, you can set the darkness you wish to toast to as well as the number of slices you're working with. The Mini Smart Oven is also super easy to clean, with a fully removable crumb and drip tray as well as a non-stick interior. And while it is quite compact, it still has enough room for a 9" square cooking tray or an 11" pizza pan.
---
The compact and efficient Panasonic FlashXpress is in many ways a perfect college toaster oven. It may look outdated and goofy, but it has a diehard fan base who rave about how well it cooks. The FlashXpress is about 1 cubic foot in total volume with an interior cooking area large enough to fit a nine inch pizza. It uses quartz and ceramic infrared heating elements positioned near and far, helping to cook your food evenly, crisply, and quickly. The FlashXpress cooks slightly faster than most of the competition, but without sacrificing quality. It doesn't have a broil setting, but it does have settings for specific meals like pizza and waffles and is capable of heating up to 500°F.
---
If you're looking for a great budget toaster oven that's loaded with features, consider the Black and Decker CTO6335S. The CTO6335S features eight settings, including a setting for frozen foods and one for potatoes. There is also a convection fan for faster and more even baking. Cleaning is easy, thanks to its nonstick interior, a movable rack, and a removable crumb and drip tray. The oven is also relatively large, with an oven space capable of cooking 12" pizzas.
---
The Elite Cuisine ERO-2008SZ is effectively a kitchen-in-a-box. In addition to all the usual functions a toaster oven offers (broil, bake, and toast), the ERO-2008SZ doubles as a rotisserie oven, fully equipped with a spit and fork assembly. You can literally cook a full rotisserie chicken while roasting vegetables. And that's not all. On top, there is an oven top grill and griddle, which you can use to cook eggs, bacon, pancakes, and other simple stovetop recipes. All that, for under $100 on Amazon.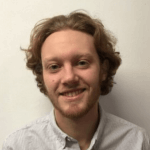 Sam Benezra is a graduate of Ohio University with a B.A. in History from the Honors Tutorial College. He is a native of Brooklyn, New York. Sam enjoys writing on a variety of subjects, including science, music, politics, film. In his spare time, he enjoys traveling, playing guitar, and writing songs.