A water filter was one of the first things I bought when I went off to college. Why? The tap water in my college town had a pretty strong chlorine taste, and I didn't want to rely on bottled water for environmental and financial reasons. So I got a pitcher filter to stick in my dorm room fridge, and voilà, my problems were solved. It cost me about $30 and lasted all four years. It was a worthwhile investment to say the least.

Most people don't have access to high-quality tap water. A study by the Environmental Working Group (EWG) found hundreds of contaminants in drinking water across the United States, including a number of chemicals linked to cancer. Unless you happen to go to college in a city or town with uniquely exceptional tap water, you're going to want to invest in a filter to make sure your water is safe.

Of course, it can be difficult to decide which kind of filter to buy when there are so many options on the market. That's why we've put together a comprehensive water filter buying guide that is specifically focused on the needs of college students, so you can decide exactly which filter will work best for you.

What's in the water?

Before you start looking for a filter, you should know what kinds of contaminants you want to filter out. EWG has put together a database with information about the water quality in every zip code in the United States, based on 30 million state water records. Use it to find out exactly what kinds of contaminants are prevalent in your municipal water system so you can tailor your purchase to exactly your needs. For example, if you live in an area where heavy metals, such as lead, may seep into the municipal water, you will absolutely want to invest in a filter capable of removing them.
There are many things to consider when buying a water filter (which we talk about in detail below), but first, here are our picks.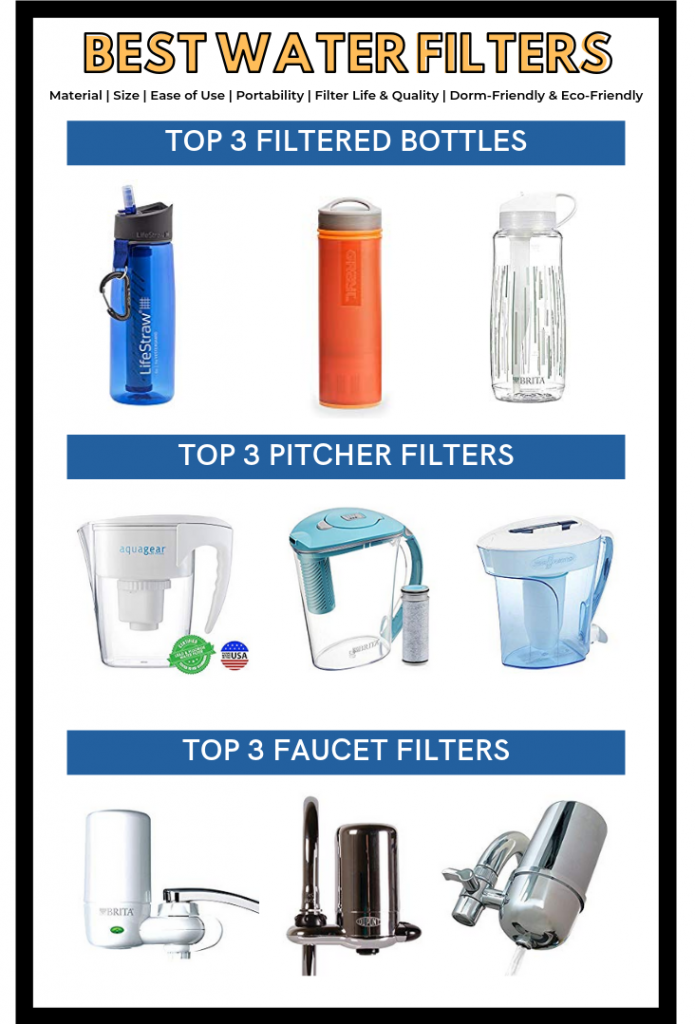 Top 3 Filtered Bottles

The LifeStraw Go is the best all-around option. It has a 2-stage activated carbon filter that removes bacteria and parasites and reduces chlorine and bad taste, making it a solid option for campers and hikers who want to be able to drink water from water sources in nature. It doesn't filter viruses, lead, or heavy metals, however. The filter straw works better than most competitors, too. It's not the cheapest option on the market, but it provides the best value for combining high-performance with an affordable price.
---
The best option for using on outdoor adventures or traveling abroad, the GRAYL Ultralight Water Purifier removes viruses, bacteria, and protozoan cysts, as well as sediment and silt, chemicals like chlorine and benzene, and heavy metals such as lead. Ultimately, it's the most effective and convenient portable water bottle on the market. Of course, you pay for quality, and while this isn't the most expensive bottle on the market, it is pricier than most competitors.
---
This is a good option for value hunters who aren't of the adventurous type. Brita's water bottles all contain filters capable of filtering out chlorine and particulates. They won't do much else, however, so don't try drinking river water through one of these. It's cheaper than virtually any competitor making filtered water bottles, though, so if it fits your needs, it's a solid option.
---
Top 3 Pitcher Filters
Aquagear's filter pitcher is the best on the market. It performs at a uniquely high level for a filter pitcher, removing a host of contaminants, including fluoride, lead, chromium 6, chloramines, mercury, and chlorine. It also keeps healthy trace minerals, such as calcium and magnesium in your water, which some filters will remove. Not the cheapest option, but well-worth it for its high level of performance.
---
This one wins purely on the basis of convenience. If you've ever used a filter pitcher, you know how much of a drag it is repeatedly waiting for water to pass through the filter. This pitcher from Brita totally skips over that process, filtering your water as you pour rather than as you fill, so you can fill the entire pitcher straight from the tap in a matter of seconds. It's not the most effective filter, however, as it only filters out chlorine, particulates, and 1,2,4-Trichlorobenzene.
---
ZeroWater's 10 Cup Pitcher uses a five-stage filtration process to reduce 99.6% of total dissolved solids, including minerals, salts, chemicals, fluoride, and heavy metals such as lead. In other words, it removes virtually everything from your water, leaving you with the purest water you're going to find coming out of a pitcher. It's also on the affordable side, at about half the price of the Aquagear pitcher. It does take longer than most competitors to filter water, however, and the filters have a shorter lifespan than other options.
---
Top 3 Faucet Filters
Very affordable and does the job. Brita's standard faucet filter removes chlorine, lead, benzene, and asbestos, as well as other contaminants. It's not the most powerful filter, and won't get rid of contaminants like mercury and cadmium, but it will work well for most people's needs. It also has a notably strong faucet, with three spray options.
---
Affordable and super effective. This filter from DuPont is capable of filtering out sediment, bacteria, chemicals like chlorine, and heavy metals such as lead and mercury. The downside? The setup is a little more difficult than other models.
---
An on-tap, activated carbon filter that rids your water of contaminants like chlorine, cysts, benzene, asbestos, mercury, and lead. Kabter's faucet filter is capable of filtering both hot and cold water. It's also very easy to install and remove and fits multiple faucet sizes.
---
Things to Consider When Shopping for Water Filters

Material

When you're looking at water filters — particularly pitchers and bottles — you'll notice that many of them are made from plastic. This is fine, but you do want to make sure that the plastic is BPA-free. BPA, a chemical commonly found in low-grade plastics, can seep into food and liquids and some research suggests that exposure to BPA can cause adverse health effects. Make sure your water filtration system isn't actually poisoning you — choose a BPA free model.

Size

How many people do you live with? Do you tend to drink a lot of water? The standard filter pitcher holds 5 cups, which is enough for one or two people. If you live with more, if you are a heavy water drinker, you might want to look at options with a greater capacity. If you're looking for a water filter for personal use, consider purchasing a water bottle with a built-in filter.

Ease of Use

This is one of those things that you don't think about until you actually have a water filter that you have to refill on a daily basis. Having a water filter that is easy to refill changes absolutely everything. Look for pitchers with lids that flip open, so you don't have to take the whole thing apart every time you refill it. Also take into account the difficulty of cleaning it. Look for options with fewer parts and a simple build.

Portability

Portability is a particularly important factor for college students who are constantly on the move. I spent the majority of my college experience outside of my dorm room. Whether I was moving around from class to class, spending time outside, or even over at a friend's place, it was relatively rare that I found myself sitting in my own dorm room. If you're like me, you should consider getting a portable water bottle with a built-in filtration system.

Filter Life

Replacing filters can get pretty expensive. A good filter should last at least 4 months. Don't settle for less. Keep in mind, even if it's cheaper upfront, you'll end up paying more for each extra filter you have to go out and buy.

Filter Quality

You'll want to judge the quality of filter you're looking for based on your needs. If your area has safe tap water and you don't plan on using your filter to drink water from nature, you may not need a filter capable of removing viruses or heavy metals. However, if you're planning on taking a filtered water bottle out into nature or abroad, you will want to look for filters that are capable of filtering virtually anything out of your water.

What kind of filter do you need?

Best for Dorm Life

If you're living in a dorm, you most likely won't have a personal sink, so you'll want to get either a filtered bottle or pitcher. Each has its pros and cons, which depend on the specific needs of the buyer.

Water Filtration Pitcher: Water filtration pitchers are a great option for students. Easy to use, refill, and move, they are very convenient and well-suited to the college lifestyle. If you live with a lot of people, there are large-scale products that hold as many as 18 cups of water. If you live by yourself or with one roommate, there are smaller options as well. They are also affordable, and replacement filters are relatively cheap and easy to get a hold of.

Filtered Water Bottle: There are many water bottles on the market with built-in filters. Portable and convenient, they are a great option for people who live on their own or are on the move a lot. These are great for hikers and adventurous-types. The best ones can take water directly from a freshwater stream and turn it into perfectly drinkable clean water. Of course, they're not the best for sharing water, so if you have a roommate, you might want to opt for a pitcher.

An Option for Off-Campus Housing

Faucet Filters: If you're living off campus and actually have a sink, you can opt for a faucet filter. Faucet filters are very easy to install (they don't typically require any tools), and can be removed and moved easily. Because of the transient nature of college life, I still recommend using either a filtered bottle or a pitcher. But if you prefer the convenience of having filtered water directly from the faucet, a faucet filter may be right for you.

Eco-Friendly Option

Charcoal Stick Filter: Charcoal stick filters are literally sticks of activated charcoal which, when placed in a glass of water, filter out the impurities. No plastics, just a piece of charcoal. This is easily the most environmentally-friendly water filtration method, but it does have some drawbacks in terms of convenience. It takes 1-2 hours for the water to filter properly, and you'll need to "clean" the charcoal by boiling for 10 minutes it every 2-3 weeks. They do produce great tasting water, however.

What NOT to buy

Any system, other than a faucet filter, that needs to be installed: Whether you're in a dorm or off-campus housing, there is absolutely no reason to purchase a water filter that needs to be installed. The reasoning is simple: you won't live there very long. There's no reason to go to the trouble of installing a complex water filtration system that you won't use very long anyway.

This includes:

Countertop Filters: Countertop filters are easier to install than some of the alternatives, but it's still a hassle, and they take up a ton of counter space. Simply, it's unnecessary for college life. If you want a filter that you won't have to refill, just buy a faucet filter.

Under Sink Filters: Undersink filters are the best at removing contaminants and typically produce better water than other filtration systems. But they're pricey and difficult to install, so they simply don't make sense for college.
In this article we highlighted items from Amazon, but you can find some awesome deals and coupons from Discount Filters and other brands on our Save Engine.