Your laptop is going to be your best friend in college. No matter what you are studying, you're going to be spending a lot of one-on-one time with it, writing papers, doing homework, taking online classes, and watching Netflix. A quality notebook is an essential college purchase, and not one that you want to rush into without doing some research first. The laptop market is inundated, and while there are plenty of high quality options out there for you to choose from, there's also a lot of junk — and a lot of pricey junk, at that. If you're jumping into your first big laptop purchase, you might be feeling understandably lost. After all, trying to understand hardware specs can give you a migraine if you don't know what you're looking for.

Fortunately, TUN is here to guide you through your laptop shopping experience. We've put together a detailed buying guide catered specifically to the needs of students, with all the information you will need to make the right purchase and a list of our favorite laptops for every type of student consumer.
Things to Consider When Shopping for Laptops
Operating System — macOS, Windows, or Chrome OS

The three most common operating systems have their unique advantages and disadvantages. Which is best for you ultimately comes down to your specific needs and personal preference. Here's a look at what each has to offer.

macOS: Apple's macOS operating system is exclusively licensed to Apple products, and all Mac computers run on it. As a result, Apple has a lot more control over how its operating system functions, meaning that quality is consistent across devices and software is optimized. macOS is very intuitive and user-friendly and is easily navigable by techies and beginners alike. If you have other Apple products, such as an iPhone or iPad, your products will be very compatible. Software options for macOS are far more limited than for Windows 10. However, most popular programs are available for macOS, and if necessary, you can install Windows 10 on Macintosh devices using Boot Camp, whereas macOS is exclusive to Apple products. In short, macOS is a premium, well-functioning, and intuitive operating system, but it doesn't offer the variety that others do.
Windows 10: The most common and versatile operating system, Windows 10 is used in computers by a wide variety of manufacturers. Windows laptops are incredibly varied in price, functionality, and quality. Windows is compatible with the widest array of hardware and can be used in tablets and touchscreen devices as well as desktops. It works with high-powered hardware and software for media editing, digital design, and gaming. It is by far the best operating system for gamers. However, its versatility and ubiquity means that quality is inconsistent across different devices and updates can cause problems for certain devices or software. Its interface is also a little less intuitive than macOS and Chrome OS and may experience more bugs. If you prefer more customizability, this is the operating system for you.
Chrome OS: Chrome OS, created by Google, is a growing operating system that is envisioned as an extension of the Chrome web browser. It is by far the simplest of the three main operating systems and is primarily designed for basic tasks. Compared to Windows 10 and macOS, it is the most reliant on its own software and applications, and offers little access to external software. However, Google has recently made it possible to access and use Android applications on Chrome OS, potentially opening up a slew of new possibilities for the operating system. In general, laptops that run on Chrome OS — known as Chromebooks — are best for people who need a secondary computer or are looking for something very basic.
Hardware Specs

Your computer hardware is going to dictate your laptops performance. It will determine its processing speed, memory, and its ability to handle large multimedia projects and graphically complex games. Of course, reading computer specs is like interpreting a foreign language for most non-techies. To make it a little easier, here are some brief tips on what to look for in your computer.

CPU: Your laptop's CPU is its brain — the central processor that sends signals to the rest of the computer. It plays a huge role in determining the speed and function of your computer. As a rule of thumb, newer is better, but also more expensive. Look for at least an 8th generation Intel Core i5 CPU. If you're eyeing a specific laptop, do a quick search for the specific CPU model to see how it stacks up against the competition.
RAM: Your laptop's RAM is its short-term memory, and it plays a huge role in your computer's processing speed. Some low-end computers come with 2GB to 4GB of RAM. If you intend to use your laptop exclusively for basic tasks like streaming, web browsing, and note-taking, that may suffice. Most people, however, should look for at least 8GB.
Storage: Your storage drive dictates how much internal storage space your computer will have as well as its operating speed. If you can, opt for a solid-state drive (SSD) over a hard drive — they're faster and more responsive. What you will need in storage depends on what you will use your computer for. Most students will do fine with a computer that has 256GB of storage space. Gamers and digital media students who will need to store large files on their computer might want to seek out a storage drive with 500GB or more.
Graphics Card (GPU): The graphics card is really not something most laptop owners have to worry about, but gamers and creative professionals (especially animators and interactive graphics designers) need a graphics card with some oomph. Most gaming laptops use Nvidia GeForce GTX or RTX graphics cards. If you're seeking out a budget gaming laptop ($1000 or less — these things ain't cheap), look for a Nvidia GeForce GTX 1050 or 1060 graphics card. This should allow you to play most games with no problem. If you're looking for pure power, the GeForce RTX 2060 or 2080 will give you more than you need.
Screen Specs

We all want a computer with a vivid display. No matter what you're using your laptop for, a quality screen improves your user experience. That said, it's an absolute necessity for digital media students, who will need their screen to be clear and color accurate for their work. Here are a couple of display specs to keep an eye on when making your purchase.

Resolution: Having a high-resolution display is an important feature for any laptop owner, but some will need to prioritize it more than others. Specifically, anybody who will be using their laptop as a digital media workstation — graphic designers, video editors, photographers, etc. — will need a laptop with a high-resolution display. If this describes you, look for a laptop with at least a 1920 x 1080, or 1080p, resolution.
Color Quality: Like resolution, color quality has a significant impact on user experience and is a particularly important consideration for digital media students. You will want to find the most color-accurate and vibrant screen possible. Color accuracy is typically measured by Delta-E and its ability to reproduce the sRGB color gamut. You will want to find a laptop with a low Delta E score (below 3 is considered good) and the ability to produce at least 100% of the sRGB color gamut.
Keyboard and Trackpad

When laptop shopping, you are definitely going to want to find a computer that is comfortable to use. The keyboard and trackpad will arguably impact your user experience as much as any other feature. Look for an accurate trackpad with multitouch gestures and a keyboard that is comfortable to use for long stretches of time. Most people prefer keyboards that are tactile and have some depth.

Battery

Laptops are supposed to be portable. What's the point of shelling out a bunch of money on a portable computer if you need it to recharge it after only a couple hours of use? Generally speaking, you will want to opt for a laptop with at least 7-8 hours of battery life per charge. If battery life is a priority, there are a number of options out there that will supply you with 10-12 hours.

Design

Appearance shouldn't come over performance, but the design of your laptop should come into consideration when you're making your purchase. You don't want a laptop with a garish or an outdated design, of course. But far more important than your laptop's looks, are its build quality and ergonomics. You will also want to opt for a computer constructed with quality materials. Look for a computer with a metal chassis over a plastic one. Make sure that the hinges are sturdy and the keys won't easily be damaged, too. Lastly, make sure that the keyboard is comfortable to use — particularly if you expect to be doing a lot of writing on it.

Size

Size is one of the first features you are going to want to think about when looking for a laptop. Laptop sizes, measured by the diagonal length of the display, range from about 10–18 inches. For most students, we recommend looking for a laptop in the 13- to 15-inch range. Laptops in this size range offers the best mixture of portability and functionality. Digital artists and gamers might want to opt for larger screens. Keep in mind, many larger laptops offer better hardware than their smaller-sized counterparts.
Tech Support and Warranty

No matter how well you treat your laptop, you're going to run into problems sooner or later. Everyone does. The brand you buy from is going to play a big part in your satisfaction down the road, when you're forced to call into tech support. Look for products with a warranty that lasts at least one year, and consider paying extra to extend your warranty over multiple years. Keep in mind, warranties typically cover hardware issues that were not caused by the owner. Read the fine print to understand what kinds of actions — such as tinkering with internal components or opening the case — can void your warranty.
Other Features

Touchscreen: Having a touchscreen is more of a luxury than a necessity, but it can really come in handy. This is particularly true for digital artists and designers, who can use the touchscreen to create digital artwork directly on their computer.
Ports: Laptop manufacturers are increasingly reducing the number and variety of ports on their computers. Many now opt for USB-C or Thunderbolt ports. This includes the newest MacBooks, which only have Thunderbolt ports, meaning you are going to need a whole set of adapters (aka dongles) in order to connect any older technologies to your laptop. It's not a deal-breaker, but it can get a little tiresome. Consider what kinds of ports you may need and compare your needs to the ports your laptop offers.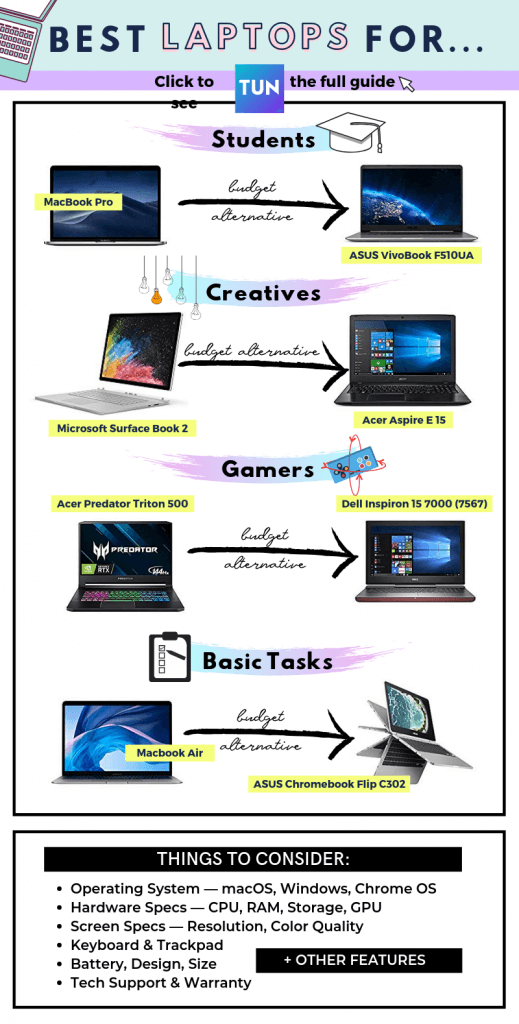 Best All-Around Laptops for Students
Apple's flagship laptop is our favorite all-around laptop for students. Like all Apple products, the MacBook Pro's design and build are top of the line. It looks and feels sturdier than any other laptop available, and the overall design and interface should be familiar to Apple users. In terms of performance, the MacBook Pro also sits near the top of its class. The new 2021 models are equipped with Apple's new M1 processors, the first original Apple-designed CPUs. They are the fastest and most powerful Apple laptops yet. On top of that, the MacBook Pro features our favorite display.
---
The ASUS VivoBook F510UA is a lightweight and portable laptop with great specs for the cost. Its display measures 15.6 inches and has Full HD resolution (1920 x 1080). Inside, it packs some heat. The VivoBook F510UA has the 8th generation Core i5 CPU with a massive 1TB HDD storage drive and 8GB of RAM. It runs on Windows 10, so you should be able to run any of the programs you need, though it is not recommended for gaming. Its big storage drive is also a setback, as it is a little slower than computers with an SSD. But if need be, you can always switch out the built-in hard disk for an SDD. The battery life, at up to 5 hours, is also wanting, but not a deal breaker.
---
Best Laptops for Creatives
Students entering creative professions (design, digital art, video etc.) would be wise to get a powerful and versatile laptop that can be used to create and edit images easily and has crisp graphics. The Microsoft Surface Book 3 does all of that and more. While Apple has drawn the business of creative professionals for years, the base 13.5-inch model that we recommend here compares well against the 13-inch MacBook Pro. The processing power of each laptop is similar, but the Surface Book 3's more powerful GPU handles more graphics-intensive applications better, making it better suited for creative work. The kicker, though, is the detachable touchscreen. Used as a tablet, the Surface Book 3 is equally impressive and can be used to create beautiful digital art with the Surface Pen in programs like Sketchable and Photoshop CC.

---
The Acer Aspire 5 is one of the best Windows 10 laptops available at its price and is powerful enough to run any design programs you will need. The LED-lit IPS display is Full HD and measures a healthy 15.6 inches. The specs are about as good as you will find in this price range, with an 8th generation Core i5 processor, 8GB of RAM, and a 256GB SSD. While the storage is admittedly small for some users, the SSD ensures that the laptop runs fast enough to handle any graphics intensive programs. Add to that a 15-hour-long battery life and you have a great deal.
---
Best Laptops for Gamers
Acer's Predator Triton 300 is our favorite gaming laptop for students, offering a nice hybrid of power, design, and portability. With a lightweight and minimalist design, this Predator is a humble beast that is perfect for lugging around to classes. It features the powerful GeForce RTX 2070 GPU, a 1080p and 144hz display, and a 1TB SSD. Its display is just over 15 inches, which to some may feel small. However, for a gaming laptop that you can also bring to class, this size seems to be just right.

---
The MSI Bravo 15 is a strong gaming laptop that provides great value. MSI manages to offer 16GB of RAM and a nice 1080p, 120Hz display in a laptop that prices around $1,000. It runs on an AMD Radeon RX 5600M and an AMD Ryzen 7 4800H processor. This configuration is surprisingly powerful and enables the MSI Bravo 15 to run favorably compared to other gaming laptops in its price range.

---
Best Laptops for Basic Tasks
If you are primarily going to be using your laptop for basic tasks — writing, taking notes, web browsing, watching Netflix — you won't find a laptop that will do them better than Apple's MacBook Air. Apple's ultraportable laptop continues to become thinner and lighter with each update, and now it is equipped with the new Apple M1 chip. The MacBook Air isn't designed to handle huge multimedia projects, but it is capable of running programs like Photoshop and Illustrator with little to no problems. The Retina display is as beautiful as expected, making it great for media consumption and binge watching.
---
The ASUS Chromebook Flip C302 is one of the best Chromebooks on the market, and it comes at a very affordable price at under $500. If you don't need your computer to run media-editing software or video games, then you should be able to get along fine with Chrome OS's limited software. Great for using web apps as well as document editing, the Flip C302 will serve the basic needs of any average college student with no problem. As an added perk, it functions well as a tablet.
In this article, we highlighted items from Amazon, but you can find some awesome deals and coupons from Acer, Dell, HP, Lenovo, and more brands on our Save Engine.