You've had it with wired headphones. Maybe your dog keeps chewing through your wires. Maybe you're afraid of getting strangled when you fall asleep with headphones in. Or maybe you just don't want to have to deal with untangling an unwieldy wire knot every time you pull your headphones out of your pocket.

I get it. Wires are a pain. The good news is that you don't need to deal with all that antiquated technology anymore. Bluetooth is the way of the future, and there are so many wireless headphones on the market these days that the struggle is no longer finding a pair, but rather choosing which pair to use.

To make that selection easier for you, we've put together a comprehensive buying guide with recommendations for each type of consumer. Are you looking for headphones with extra bass? We've got a pair for you. Are you looking for a set of headphones to watch movies with? We've got a pair. And because we know many of you are broke, we provide a list of budget options alongside the industry-best models in each category.

But before we get into our favorite headphones, here are a few considerations you'll want to take into account when you're making your decision.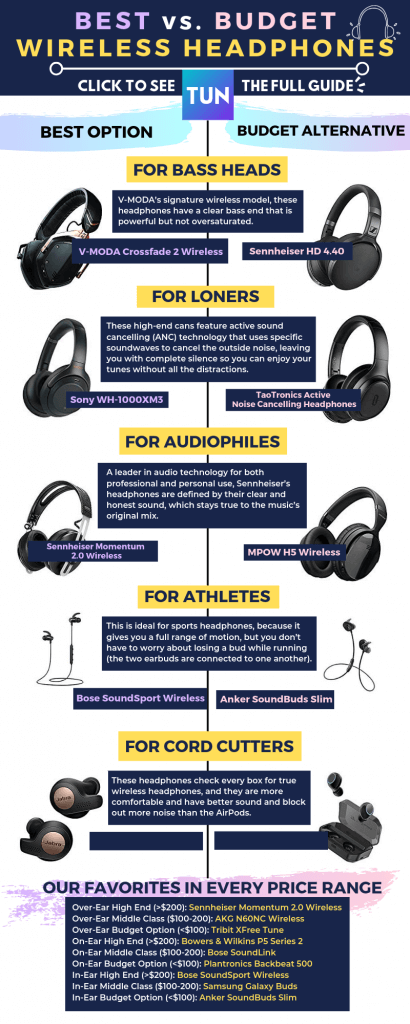 Things to Consider When Shopping for Wireless Headphones
In-Ear, On-Ear, or Over-Ear

One of the first things to factor into your headphone-buying decision is the type of headphone you're looking for. There are three main headphone classes: in-ear, on-ear, and over-ear. The differences between them are self-explanatory. In-ear headphones, often called earbuds, fit inside your ear; on-ear headphones fit overtop, but don't completely cover your ears; over-ear headphones completely cover your ears. This all comes down to personal preference. Some people find over-ears more comfortable; others find them clunky. Figure out which kind you're targeting so you can narrow down the field before you even start looking.

Connectivity

One of the most common complaints about wireless headphones relates to connectivity problems. Bluetooth connections can be fidgety, and some wireless headphones do a better job than others at linking and staying linked to your phone. You'll want to do your due diligence in this area and find a headphone model that doesn't typically have trouble staying connected. If you don't, you may be left with a pair of headphones that are even more trouble to use than your old wired buds.

Sound Quality

Ultimately, what else are you looking for in a pair of headphones? If you're an audiophile, this is probably priority number one. There are a number of ways to objectively measure sound quality (frequency range, signal-to-noise ratio, distortion ratio, etc.), but unless you're a total sound wonk these probably mean nothing to you. Again, I recommend trying a few pairs on at a headphone dealer and seeing how a few of your favorite songs sound through them. Everyone's ears are different, so you want to find the pair that sounds best to you.

Battery Life

All wireless headphones require batteries, so you'll want to consider battery life when you're choosing your headphones. Some can run for up to 30 hours without being recharged (easily enough for a full weekend), while others can run for only a few hours at a time.

Noise Cancellation

Many headphones these days are equipped with noise cancellation technology that effectively silences the outside world so you can focus in on what you're listening to. If you're a commuter, frequently ride airplanes, or have incredibly loud neighbors, you might want to consider seeking out a pair of these. But they're not for everyone, so

Comfort

No matter what kind of headphones you're on the hunt for, you don't want to get stuck with something that you can't stand to wear because they're so uncomfortable. Look for headphones with good, breathable materials.

Build Quality and Warranty

If you're investing any significant amount of money in a pair of headphones, you're going to want them to last a little while. Look into the build quality of the headphones you're eyeing before you drop that dough. Do they appear to be made out of quality materials? Are there a lot of breakable plastic parts? Also look for products with a warranty. That way, if they break too soon, you still have a backup.
Best Options
You know the type. He who likes his low end thick and punchy. Lesser, untrained ears may protest, but he knows that it's all about that bass. If you fit this description, go grab yourself a pair of V-MODA Crossfade 2 Wireless headphones. V-MODA's signature wireless model, these headphones have a clear bass end that is powerful but not oversaturated.
---
---
Hey man, I get it. Sometimes you just want to tune out the noise — all the people, all the chaos. Who needs it? With these headphones, you sure don't. These high-end cans feature active sound cancelling (ANC) technology that uses specific soundwaves to cancel the outside noise, leaving you with complete silence so you can enjoy your tunes without all the distractions. There are many noise-cancelling headphones out there to choose from, but these are the cream of the crop, hitting solid marks across all metrics.

---
---
Do you like your mids clear, your bass well-balanced, and your treble to sparkle? If sound quality comes first in your world, you can't do better than Sennheiser. A leader in audio technology for both professional and personal use, Sennheiser's headphones are defined by their clear and honest sound, which stays true to the music's original mix.

---
---
Look, when you're working out, you don't want a pair of clunky over-ear headphones with leather pads that you'll sweat right through. These wireless in-ear headphones from Bose are specifically designed to wear during athletic activities. They're not true wireless (think Apple AirPods), so they have a single wire that connects the two earbuds to one another but not to the phone. This is ideal for sports headphones, because it gives you a full range of motion, but you don't have to worry about losing a bud while running. Like most Bose products, they have great sound, but what really separates these from the competition is how comfortable they are, especially for a set of in-ear buds. And while they do block out a decent amount of outside noise, they're not completely noise cancelling, so you won't have to worry about being blindsided by a truck while taking a jog around the neighborhood.
---
---
So you want some true wireless earbuds, eh? We've all seen Apple's AirPods, and they're a solid option for iOS users with solid battery life, consistent connection, and a decent sound. But if you are looking for something different, try out the Jabra Elite Active 65t. These headphones check every box for true wireless headphones, and they are more comfortable and have better sound and block out more noise than the AirPods.
---
---
You want to like the way you look, and while you want your headphones to sound good, you'll be damned if you ever get caught looking like a slob. If this is you, take a gander at JBL's E55BT Quincy Edition. These headphones are about as sleek-looking as they get. And they're endorsed by the legendary producer Quincy Jones himself, so you know they sound great, too.
---
---
If you're in the position to drop some $600 on a pair of headphones, then go ahead and try these on for size. Designed primarily for use at home — and in particular for watching television and movies — these headphones have a huge sound that replicates a surround sound cinema.
---
---
Our Favorites in Every Price Range

Over-Ear High End (>$200): Sennheiser Momentum 2.0 Wireless
Over-Ear Middle Class ($100-200): AKG N60NC Wireless
Over-Ear Budget Option (<$100): Tribit XFree Tune
On-Ear High End (>$200): Bowers & Wilkins P5 Series 2
On-Ear Middle Class ($100-200): Bose SoundLink
On-Ear Budget Option (<$100): Plantronics Backbeat 500
In-Ear High End (>$200): Bose SoundSport Wireless
In-Ear Middle Class ($100-200): Samsung Galaxy Buds
In-Ear Budget Option (<$100): Anker SoundBuds Slim
In this article we highlighted items from Amazon, but you can find some awesome deals and coupons from Best Buy, Newegg, Bose and other brands on our Save Engine.