Like it or not, you will end up spending a lot of time sitting in college. Whether you're studying, typing an essay, or binge-watching shows on Netflix, you're going to need a comfortable chair to support your lifestyle (no pun intended). Finding a good chair isn't only a matter of comfort. The chair you sit in can actually support your health by improving your posture and helping you avoid spinal issues.

If you're at all concerned about how you spend your time sitting, you should consider buying a gaming chair. Not just for gaming, gaming chairs can be used for:

studying
lounging
binge-watching
curling up with a book
watching online lectures
extra seating for a visitor
your desk chair alternative
an extra mini bed for a guest (really!)
In short, gaming chairs are simply a more attractive, affordable, and versatile alternative to high-end office chairs. The versatility of gaming chairs is particularly useful in dorms, where space is at a premium.

Types of Gaming Chairs

Gaming chairs come in a variety of shapes and sizes, and there are so many different brands and models to choose from. Before you start looking, you're going to want to narrow down the selection, so you know exactly what type of chair is best for you.

Here are the types of desk chairs to look out for and a few of our favorite models in each style.

The Desk Chair Alternative

The traditional style of gaming chair is also the largest and most supportive. The classic gaming chair looks like the racing seat in a high-end sports car. The best of them mix style and ergonomics for a huge step-up from the uncomfortable desk chair that came with your dorm. The added comfort and lumbar support will be nice during marathon study sessions. Most allow you to recline, which is a convenient feature that comes in handy when watching movies or gaming. They are not quite as versatile as some of our other options, but nevertheless a great dorm room addition.

Features to look for in a gaming desk chair:

High curved back with adjustable lumbar support and headrest pillow protecting your spinal and neck
Top quality wheels so that you are quiet and you avoid scratching up the floor
Load capacity of 250 lbs even if you weigh half of that
A decent warranty on offering free replacement if anything goes wrong
Breathable material
---
The Secretlab Omega is the king of high-end gaming chairs. Made with cold cured foam, a titanium skeleton, and stain and water resistant PU leather, the Omega is built from durable, high-quality materials. The leather may be fake, but it looks and feels premium, with a clean black finish and great stitching. The seat should be very comfortable for most people, though it is firmer than many other chairs and is lacking a bit in lumbar support. The backrest is fully reclinable as well and can be used to comfortably take a nap.
---
Available for an affordable price, the OFM Essentials ESS-3086-RED is a supportive and comfortable racing-style gaming chair. With a load capacity up to 275, full 360-degree swivel functionality, adjustable height, and cool mesh cushioning, it is a great chair that should meet most students' needs.
---
A budget alternative to a traditional gaming chair, this Furmax doesn't offer all of the bells and whistles that some high-end gaming chairs do, but it is remarkably comfortable for a chair in this price range. The chair is made from soft PU leather and a breathable mesh material. It does not come with support pillows but nevertheless offers good lumbar and neck support.
---
The Small Rocker

These gaming chairs are smaller, more portable, and are designed primarily for media consumption rather than entertainment. Some of them have built-in speakers and can be connected to a computer or television to play music or sound from video games or movies, making them a convenient substitute for a speaker. They are not very versatile, but some can be folded to allow for better storage. Gaming rockers often come at much cheaper prices than traditional gaming chairs, but don't have the same ergonomics and support that desk chair-styled gaming chairs offer.

Features to look for in a small rocker:

Solid build
Ergonomic design
Speaker systems are optional, but if you opt for a model with speakers, look for at least two stereo speakers and a subwoofer for 2.1 sound immersion.
Foldable design for easy storage and transportation
---
The X Rocker 5172601 Surge is our favorite rocker-style gaming chair for most people. It is large enough to seat adults and offers full back support, making it more comfortable than many comparable chairs. The upholstery is made primarily from bonded leather, with some mesh features. Like many of X Rocker's gaming chairs, it features two bluetooth speakers and a subwoofer. It can also be connected to your video game console for a more immersive gaming experience. At under $150, it's not the cheapest gaming chair, but it offers excellent value.
---
The Crew Furniture Classic Video Rocker is a stripped-down rocker for those who don't need features like built-in bluetooth speakers and console compatibility. It's a chair and nothing more, built with a sturdy wood frame that will last years, even with daily use. These chairs are relatively small, however, so larger individuals may find them uncomfortable.
---
Another luxury rocker chair from X Rocker, the 51259 Pro H3 offers just about everything you could want in a gaming rocker and more. Its most impressive and unique feature is its audio system. With four speakers and a subwoofer, the 51259 Pro H3 has 4.1 sound. The speaker system syncs with the sound in music, games, and movies to send vibrations throughout the chair, fully immersing you in the media. The seat itself is very comfortable and can be set on the floor, or mounted on a pedestal or even a standard roller base. With a load capacity of 275 pounds, it's capable of seating larger individuals, which is somewhat rare for rocker chairs. The chair can be easily folded up for compact storage as well.
---
The Sleeper

The most versatile of the gaming chair styles we suggest, these chairs are designed to fold flat so that they can be stored easily and even be used as a floor mattress. Like gaming rockers, they sit on the floor, so they can't be used as an alternative to a desk chair. They're primarily designed for casual use, so skeletal support isn't really a priority either. However, many of them are quite comfortable, and they make great chairs for reading, binge-watching, and, yes, gaming.

Features to look for in a sleeper chair:

Soft and supportive padding
Strong materials — Chairs of this style can break easily, so it's better to seek out a well-made model constructed with quality materials.
Easily adjustable backrest with multiple adjustment positions
Lightweight for easy transportation
---
This reclining chair from Giantex is a perfect option for people who need a versatile and compact chair. This chair offers the best mix of size and cushioning of any of our favorite chairs, so it can be comfortably used as a chair or a floor mattress for overnight guests, but is still compact enough to be stored easily underneath a dorm room bed or in a closet. It is also surprisingly durable, and the backrest is capable of bearing up to 300 pounds.
---
Another great option from Giantex, the HW56371RE is the largest gaming chair of this style that we recommend. Equipped with a full-length backrest, armchairs, and a seat that can be folded out to create a leg rest, it is a comfortable lounger when used as a chair. When folded out, the chair becomes a very comfortable mattress that can easily fit taller people. As an added perk, it comes with a pillow that can be used for lumbar support or as a pillow when the chair is fully reclined. The only downside is its large size. When folded flat, however, you can still fit the chair easily under a bed.
---
The BonVIVO Easy II is a compact, fully reclinable floor chair that is perfect for people living in dorms. The Easy II is very small, measuring only 28.7 x 16.9 inches laid fully flat. At that size, it doesn't make a great mattress. It does, however, make a surprisingly comfortable chair. The padding is made from a combination of upholstery filling, PE foam, and PU foam. The result is sturdy and comfortable cushioning that remains compact and lightweight. At only 6.6 pounds, it is easy to transport, which comes in handy when moving from place to place over your college career.
In this article we highlighted items from Amazon, but you can find some awesome deals and coupons from Newegg and other brands on our Save Engine.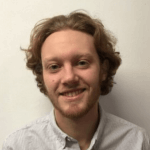 Sam Benezra is a graduate of Ohio University with a B.A. in History from the Honors Tutorial College. He is a native of Brooklyn, New York. Sam enjoys writing on a variety of subjects, including science, music, politics, film. In his spare time, he enjoys traveling, playing guitar, and writing songs.