Dorm rooms don't have space for a guest bed or a full-size sofa, a reality that can become a predicament when guests from out of town come to visit your homely cell block. That may not be a problem if your guests are okay with sleeping on the cold, hard floor. But if your friends aren't animals of some breed, you should probably provide them with some baseline of comfort.

Fortunately, air mattresses provide a compact and convenient solution! A good air mattress can transform your sad little dorm room into a luxurious guest space. No joke. There are air mattresses available these days with pillow-top layers and even headrests. Of course, you may not need all those bells and whistles. As a college student hosting other college students, your standards for comfort are likely pretty minimal.

Whatever your needs are, there's an air mattress out there for you, and we're here to help you find it.
But before we lay out all the things you need to consider when buying an air mattress, here are our picks, catered to the unique needs of college students.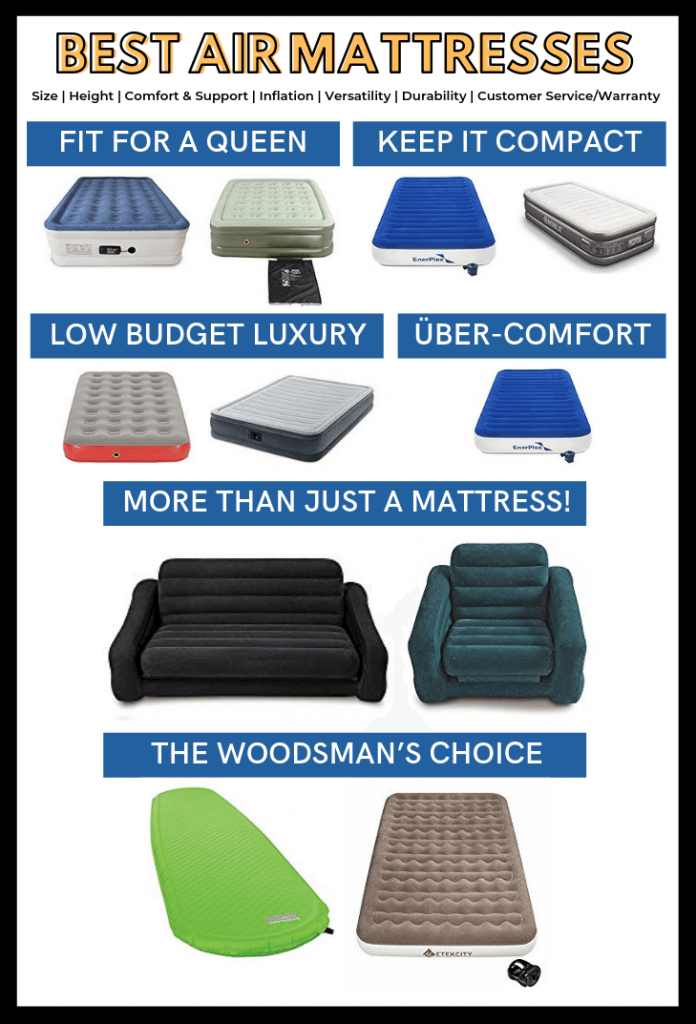 Fit for a queen
Our favorite queen-sized air mattresses.
At over $100, the SoundAsleep Dream Series isn't cheap, but you pay for quality. The mattress has 40 internal air coils that SoundAsleep claims adds durability and support. Fully inflated, it measures 78" x 58" and stands at 19" tall, easily enough room for two people. It has a waterproof flocked top and is made with extra-thick PVC, making it durable enough for outdoor use. SoundAsleep is also known for its top-notch customer service. All of their beds come with a one-year warranty, so you won't have to worry about getting a faulty product.
---
A well-made, durable mattress, Coleman's SupportRest Double High Airbed is well-equipped for both indoor and outdoor use. While it's not quite as comfortable as some more expensive so-called "luxury" options out there, it is nice and firm when inflated. Most importantly, it maintains air overnight and has solid support. And at just over $50, it's affordable.

---
Keep it compact
Our favorite twin mattresses. Perfect for dorm rooms.
This single-height air bed from EnerPlex inflates in under 60 seconds using a rechargeable wireless pump. Super comfortable for use indoors, it is also made from thick PVC, making it durable enough for camping. Comes with a 30-day money back guarantee as well as a two-year warranty, so you won't have to worry about it breaking after only a few uses.
---
A comfortable double-height twin bed, Noble's Twin XL mattress is an affordable and high quality option for a single person. The mattress inflates entirely in only three minutes using its built-in pump. Designed primarily for indoor use, it is not the most durable option, but it is fantastic for occasional use. Purchase includes a one-year warranty.
---
Low budget luxury
Our favorite airbeds under $50.
There's nothing fancy about the Coleman QuickBed, but it is a great budget option for occasional use. It is compact and convenient — one of the easiest to pump up and deflate. Designed primarily for use outdoors, it has an antimicrobial finish that resists mold and mildew. Surely not the most durable option on the market, but a solid option if you need something for camping or for friends to crash on. Comes in twin, full, and queen sizes.
---
A very solid air mattress below $50, the Intex Comfort Plush Mid Rise Dura-Beam Airbed comes in three sizes: twin, full, and queen. Comfortable with a decent build, it is great for indoor use. It stays inflated throughout the night due to Intex's unique "Fiber Tech Construction," made up of thousands of polyester fibers that increase the mattress' stability and support. The plastic on the bottom is thinner than that on the top, so it's not recommended for outdoor use, where it's more likely to be damaged.
---
Über-comfort
The single most comfortable mattress we've found.
The gold standard of air mattresses, SoundAsleep's CloudNine Series are equipped with a "smart pump," that if left plugged in overnight will monitor the air pressure and automatically reinflate the mattress throughout the night. At about $200, it's not cheap. It is sure to last, however, and SoundAsleep is well-known for quality customer service.
---
More than just a mattress!
A couple unconventional options.
Looking for something a little different? Intex has an inflatable pull-out couch that you can buy for only $35. It's kind of perfect for a dorm room — as a couch, it's small enough that you can leave it out for extra seating space, and it can be easily pulled out to produce a full queen-sized bed. Truth be told, it's not the most durable or well-made product, but for so cheap it is worth the risk. You can also purchase a protection plan for only a couple of dollars.
---
If a full sofa/queen bed won't fit your room, Intex also offers an inflatable pull-out chair that is more compact, but serves the same purpose. Folded up, you have a lounge chair that's perfect for a dorm room. Pulled out, it creates a twin-sized air mattress.
---
The woodsman's choice
The best air mattresses for camping and outdoor use.
Designed for backpackers, this lightweight, self-inflating air mattress functions more like a sleeping pad. Even though it inflates only 2 inches off the ground, it provides a comfortable sleep. The Trail Pro is super durable and can be used in all seasons over any type of surface — grass, rocks, soil, you name it. In short, it is a quality super-portable mattress for backpackers or campers, but is not really designed for everyday or indoor use. Comes only as a twin.
---
Etekcity's Camping Air Mattress is a traditional single-height air mattress that comes at an affordable price. Designed specifically for camping use, the mattress is made with extra thick PVC material which makes it more durable. It also comes with a portable and rechargeable electric pump. Comes in twin and queen sizes.
---
Things to Consider When Shopping for Air Mattresses
Size

Obviously, size matters. How big is your dorm room? How large an air mattress is going to fit? Air mattresses have the same sizing categories as ordinary mattresses (twin, full, queen, and king). Twin mattresses are fine for one guest, but two people can't really sleep comfortably on a twin. That said, you simply might not have the space in your dorm room for a full, queen or king.

The standard measurements for mattress sizes are as follows:

Twin: 38" x 74"
Full: 54" x 74"
Queen: 60" x 80"
King: 72" x 80"
Try measuring the extra space you have in your dorm room. Ultimately, you should base your decision on how much space you have and how many people you expect to host. All mattress sizes can be folded down to a compact area when deflated, so storage shouldn't be an issue whichever size you opt for.
Height

The height of an air mattress can make a significant difference in comfort. Low-profile or single-height air mattresses typically raise about 4" to 9" off the ground when fully inflated. In comparison, raised or double-height air mattresses may sit 15" to 24" off the ground, about the height of a standard bed.

Raised air mattresses typically provide more support, are easier to get in and out of, and may be more comfortable. They're better for older people and people with back issues. For most people's purposes, however, a single-height air mattress should be fine. And they have their own advantages over raised mattresses — namely, they're more portable and compact when deflated and they're typically cheaper than raised mattresses.
Comfort and support

As with any old mattress, comfort and support should be high priorities on your list. Sleep scientists have been working on these things like the cure for cancer, so even the cheapest models are still fairly comfortable. But if you're looking for something to use regularly, you might want to look for a bed that provides decent support. There are options out there that are genuinely as comfortable as a real bed, but they tend to be on the pricier side. If you just need it for the occasional guest, comfort may not be as important a priority, but is still something to consider.

Inflation

Many air beds have built-in air pumps that need only be plugged in to inflate. Cheaper models, however, may require manual inflation, whether by lung or by hand pump. Using a hand pump is a perfectly fine, if labor-intensive, option, but I don't recommend attempting to blow up a mattress with lung power. Alternatively, you can purchase an electric air pump, like the one directly below, and let it do the work for you.

We recommend: Coleman Rechargeable QuickPump
Versatility

What do you mainly plan on using your air mattress for? Will you mostly be using it within the confines of your home or dorm room? Or do you plan on taking it outside? Versatility might not be the first thing that comes to mind when you're shopping for an air mattress, but there are reasons to consider all the ways you might want to use an air mattress when you're in college. I did my fair share of sleeping outside in college, whether I was camping in the woods or at a music festival. Needless to say, I was glad to have an air mattress that was easily portable and durable enough to use outside.

Price

For some it's the ultimate decider, for others it's just a number. Without a doubt, the amount you are willing to invest in your air mattress is going to dictate the quality of the product you end up with. That said, having the best air mattress out there may not be your top priority. See our picks for the best air mattresses out there as well as solid budget options that'll give you the best bang for your buck.

Durability

Air mattresses are fragile specimens. All it takes is a cat scratch or a prick from an earring to do irreparable damage. But of course, some are more vulnerable than others. You want to make sure your air mattress is well built and well-stitched, so that you won't have to replace it after only a few uses.

Customer service/warranty

Ideally, the air mattress you buy is going to last forever. But accidents happen, and products can be faulty. This is particularly true with air mattresses, which are known to spring leaks without warning. If you're investing more than $50-60 in your mattress, seek out a product with a warranty, from a company known to have good customer service.

In this article we highlighted items from Amazon, but you can find some awesome deals and coupons from Newell and other brands on our Save Engine.