Nobody thinks they need a rice cooker until they use one, at which point they realize that they've been missing out on a whole world of convenient, delicious rice. And trust me, when you're in college, there's nothing better than convenient, delicious rice. When I was in college, I made rice with almost every meal. Healthy, filling, and dirt cheap, it's pretty much the perfect college food.

Rice is also incredibly easy to make, and make well, if you have a rice cooker. Rice cookers essentially remove any and all effort from making rice, such that all the chef has to do is measure out the appropriate amounts of water and rice and hit go. Within a short amount of time, you'll have perfectly cooked rice without fail.

It gets even better. Not only can you use your rice cooker to prepare rice, you can also use it to make a multitude of other dishes, including pancakes, mac and cheese, pork roast, eggs, oatmeal, and more. Rice cookers are great for both off-campus and dorm living. Many people don't have access to a kitchen until they live off-campus, but rice cookers are great for people who would like to do some basic cooking from the confines of their dorm room.

Now, if you've made the decision to purchase a rice cooker for college, you might be overwhelmed by the sheer quantity of options out there. Surely, not all rice cookers are created equal, and it can be difficult to figure out which rice cooker is best for your needs. Some key things you should consider before purchasing a rice cooker are: ease of operation; maintenance; size; speed; versatility; warranty; and price. Below we explain each in detail, but first, here are our recommendations.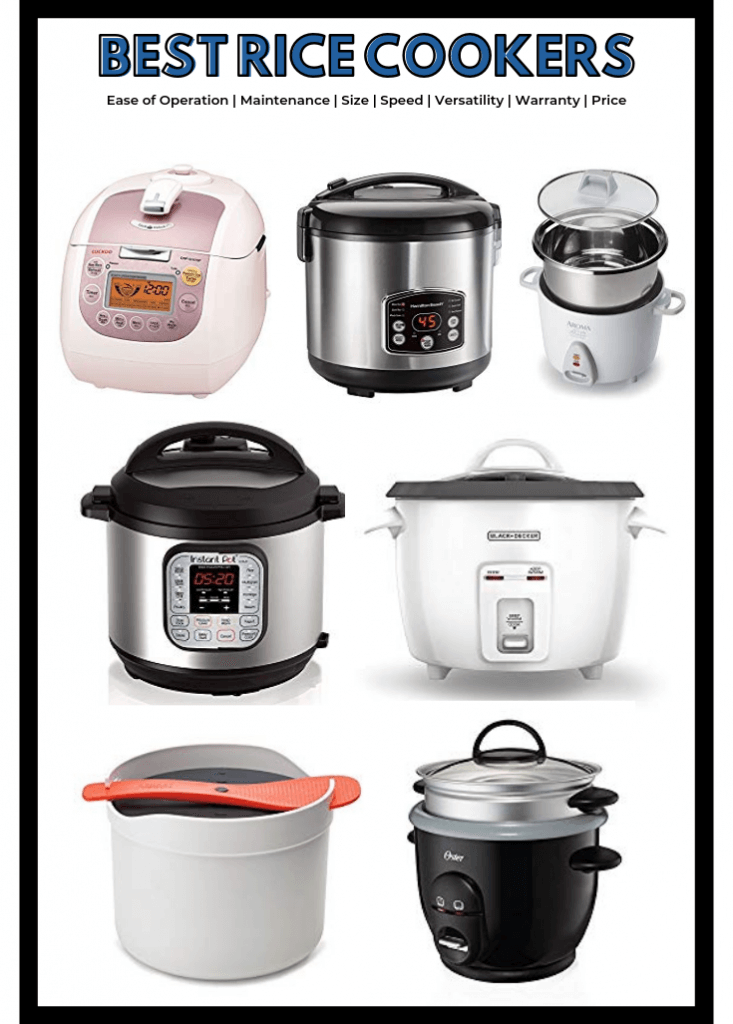 If you're passionate about rice and demand nothing but the best, you might consider splurging on the Cuckoo CRP-FA0610FR. It produces rice that is nothing short of perfect and features settings for different types of rice from sticky to GABA. But, at $200, quality doesn't come cheap. Unnecessary for the needs of most college students, we don't necessarily recommend this rice cooker. But we thought you should know what you're missing.
---
If you're just looking for a basic rice cooker, look no further. Aroma's Simply Stainless rice cooker is your classic rice cooker, with one button and two settings: "cook" and "keep warm." It is super simple to operate. Flip the switch to begin cooking and wait. When your rice is finished, the unit automatically switches to the "keep warm" setting. What sets this particular model above the competition is the stainless steel inner cooking pot. Most rice cookers come with cooking pots with non-stick coatings, which may have adverse health effects and are known to flake off over time. The stainless steel cooking pot eliminates these health concerns while remaining relatively non-stick and easy to clean.
---
A high quality rice cooker with a few extra settings than your basic one-button model, this rice cooker from Hamilton Beach is a great product that you can find at an affordable price. Among its extra features, it contains a 2-in-1 basket that can be used to rinse the rice before cooking and steam vegetables or meat while cooking rice. It also has a variety of extra settings for cooking hot cereal, whole grains, and other foods like soups and beans.
---
More than just a rice cooker — The Instant Pot
More than just a rice cooker, the Instant Pot changes the game of cooking. You can use it to cook almost anything you want — soups, Indian dishes, baked potatoes, yogurt, whole roasted chicken, even hamburgers — with minimal effort and in shockingly little time. It's kind of a miracle device. A great dorm room addition, an Instant Pot will quite literally turn your dorm into a miniature kitchen.
---
What this rice cooker lacks in features, it makes up for in cost. No frills, no extra fancy settings, this is just a straight-up rice cooker. It is compact, and makes three cups of rice. That may not sound like much, but it is all you need for one or two people. In other words, it's perfect for living in a dorm with only one or two roommates. And for under $15, it's also the cheapest option we've found.
---
Want something even simpler than a typical rice cooker? How about a microwave rice cooker. The M-Cuisine Rice Cooker from Joseph Joseph allows you to cook perfect rice in a microwave in only 15 minutes, faster than any ordinary rice cooker is capable of. The plastic cooker is BPA-free, so you don't have to worry about harmful chemicals leaching into your food, and dishwasher safe, making it incredibly easy to clean. You can also use it to cook pasta in less than 10 minutes. It is a super convenient appliance that's perfect for dorm living. But make sure to follow the instructions — cook it too long and you could end up with melted plastic.
---
This super-speedy rice cooker from Oster has a patented cooking pot made with a titanium-infused nonstick ceramic coating. According to Oster, this means that their rice cooker cooks up to 30% faster than rice cookers with typical non-stick surfaces. It also features a steamer that sits right above the rice, so you can cook veggies, meat, or fish at the same time as your rice.
---
Things to Consider When Shopping for Rice Cookers
Ease of Operation

Rice cookers are supposed to be a convenience — a luxury even. You're going to want a rice cooker that's easy to use. If you're looking for something basic, opt for a model with a one-button design. If you want a little variety, make sure the settings are functional and easy to operate. For most college students, I recommend the traditional one-button model. Keep it simple.

Maintenance

Like any appliance, you're going to have to maintain your rice cooker and clean the cooking pot after every use. You'll want to make sure the cooking pot and lid are both easy to remove and clean. If you're living off-campus and have access to a dishwasher, look for dishwasher-safe pots. Otherwise, seek out rice cookers with non-stick or stainless steel cooking pots and detachable lids.

Size

Space is hard to come by when you're living in a dorm. So if it's only you and a roommate in a cement block, opt for a small rice cooker that can make around two or three cups of rice at a time. It'll be all you ever need. If you're living in an off-campus house with 6 roommates, your priorities might be a little different. If you foresee yourself cooking for groups, try seeking out a large-capacity rice cooker.

Speed

Rice cookers work at various paces. While some rice cookers can produce a few cups of rice in only about 20 minutes, others may take close to an hour. Slower cookers prioritize quality over convenience, which is admirable, but hardly what you need in college. For many students, time is hard to come by. I recommend opting for a model that cooks quickly. It'll never slow you down and you'll end up using it more frequently.

Versatility

Rice cookers can do more than just cook rice. Plenty of recipes can be made in even a basic, one-button rice cooker. But some rice cookers come equipped with a wide variety of settings that make an ordinary rice cooker function as much more. Some rice cookers and variations of rice cookers (see the Instant Pot) have settings that allow you to cook meat, cake, and everything in between. Rice cookers may feature steamers that allow you to steam veggies as your rice is cooking or settings for various types of rice. Consider what you expect to be using your rice cooker for. Do you want to cook only rice or are you looking for something more?

Warranty

Rice cookers, like all appliances, break. You might not expect your rice cooker to break or wear down shortly after buying it, but accidents happen and products wear out. Check to see if the rice cooker you are eyeing has a warranty, so you won't have to worry about shelling out more money for a new one in a couple months.

Price

For some it's the ultimate decider, for others it's just a number. Without a doubt, there's a marked difference in quality between the most expensive and the cheapest rice cookers. See our picks above for mid-range and budget options that give you a bang for less buck if money is an issue.