For gamers heading to college, a high-powered gaming laptop is an absolute essential. Hardcore gamers are accustomed to using huge desktop gaming computers with CPUs and graphics cards that are powerful enough to run graphics-intensive games flawlessly. But huge and hefty desktops aren't an option for most students. The transient college lifestyle requires something portable. Students tend to move between school and home every few months — sometimes over long distances — and relocate on campus at least once a year. Furthermore, students need a computer that they can use for more than just gaming — a computer they can take to class or to the library, and something that won't take up a lot of their already-limited space.

Fortunately, there are plenty of laptops that are powerful enough to run any game and portable enough to bring around in a backpack. Gaming laptops are powerhouses equipped with high-end CPUs and graphics cards. However, there is a huge variety in price and performance among the countless gaming laptops on the market. The best of them provide unparalleled performance but come at an intimidating cost. Budget options are more affordable (though still significantly pricier than budget-level consumer laptops) but are a mixed bag in terms of reliability and performance.

If you're dipping your toes into the gaming laptop market for the first time, you might feel a little overwhelmed trying to translate the tech specs and trying to find value in a sea of options. Fortunately, TUN is here to guide you through your laptop shopping experience. We've put together a detailed buying guide catered specifically to the needs of students, with all the information you will need to make the right purchase and a list of our favorite gaming laptops at top, mid, and budget price levels.
Things to Consider When Shopping for Gaming Laptops
Hardware Specs

Your computer hardware is going to dictate your laptop's performance. It will determine its processing speed, memory, and its ability to handle large multimedia projects and graphically complex games. Of course, reading computer specs is like interpreting a foreign language for most non-techies. To make it a little easier, here are some brief tips on what to look for in your computer.

CPU: Your laptop's CPU is its brain — the central processor that sends signals to the rest of the computer. It plays a huge role in determining the speed and function of your computer. As a rule of thumb, newer is better, but also more expensive. When it comes to gaming laptops, the graphics card is more important than the CPU. However, you're still going to want a computer with a strong CPU. We recommend looking at models with a Core i7 processor. For the best performance, look for an 8th-gen Core CPU. The model numbers of 8th-gen chips, such as the Intel Core i7-8750H, begin with the number 8.
RAM: Your laptop's RAM is its short-term memory, and it plays a huge role in your computer's processing speed. Gamers looking for a high-powered gaming laptop will want at least 16GB of RAM. If you're on a budget, you may be able to get by with 8GB, though you may want to consider upgrading later.
Storage: Your storage drive dictates how much internal storage space your computer will have as well as its operating speed. Generally speaking, you will want to opt for a solid-state drive (SSD) over a hard drive (HDD). HDDs are more cost-effective, and offer more storage for your buck, but SSDs are much faster. If you're on a budget, look for an HDD with at least 1TB of storage. Otherwise seek out an SSD with 500GB of storage. It's not uncommon for gaming laptops to use an HDD as the main storage drive and also include a small SSD to serve as a boot drive. This gives you the storage benefits of the HDD with most of the speed benefits of the SSD, so it's kind of the best of both worlds.
Graphics Card (GPU): The graphics card is really not something most laptop owners have to worry about, but gamers and creative professionals (especially animators and interactive graphics designers) need a graphics card with some oomph. Most gaming laptops use Nvidia GeForce GTX or RTX graphics cards. If you're seeking out a budget gaming laptop ($1000 or less — these things ain't cheap) look for a Nvidia GeForce GTX 1050 or 1060 graphics card. The GTX 1060 should allow you to play most games with no problem, but you may run into some issues running games on high settings with the GTX 1050. If you're looking for power, the GeForce RTX 2060 will give you what you need to play most games on the highest settings. The GeForce RTX 2080-Ti is as powerful a chip as you'll find. It'll allow you to play any game on the highest settings and will even allow you to use VR and other special effects with no problems. Nvidia's RTX series also utilize ray tracing for the most realistic lighting effects available.
Screen Specs

A great display is a must for gaming. Unless you're connecting your laptop to a monitor (which you may do occasionally but likely won't do the majority of the time), your laptop screen will be your only interface with your game. The display has a huge effect on your gaming experience, so you'll want to be picky here. Here are a few display specs to keep an eye on when making your purchase.

Resolution: Having a high-resolution display is an important feature for any laptop owner, but gamers need to prioritize it more than others. Never go for a laptop with less than 1920 x 1080, or 1080p, resolution. If you want an even better display, you're going to want a graphics card that can keep up with the high resolution. For example, if you want a super hi-def 4K display, you'll need an RTX 2070 or RTX 2080 graphics chip.
Color Quality: While not necessarily the most important factor you'll be considering, if you want the highest quality screen, you want it to have top-notch color quality. You will want to find the most color-accurate and vibrant screen possible. Color accuracy is typically measured by Delta-E and its ability to reproduce the sRGB color gamut. You will want to find a laptop with a low Delta E score (below 3 is considered good) and the ability to produce at least 100% of the sRGB color gamut.
Refresh Rate: One of the most important and yet and oft-overlooked display features is refresh rate. Many laptops will have a 60Hz refresh rate. 60Hz is fine for running most games at a high level. However, competitive games like PUBG, League of Legends, Fortnite, and Overwatch require super fast reactions. If you're an aspiring competitive gamer, or even if you just want smoother gameplay, look for a laptop with a 144Hz refresh rate. Also look for monitors with Nvidia G-Sync, which cuts down on screen tearing by syncing the display with the graphics card.
Keyboard and Trackpad

When shopping for a gaming laptop, you are definitely going to want to find a computer that is comfortable to use. The keyboard can impact your gaming experience as much as any other feature. Look for a keyboard that is comfortable to use for long stretches of time. Most people prefer keyboards that are tactile and have some depth, so look for one with a high amount of key travel. Most gamers set up a gaming mouse to use with their laptop, so the trackpad is less important. Still, you will want a trackpad that is accurate and has good palm rejection.

Battery

Laptops are supposed to be portable, but your high-performance gaming laptop will not have a long battery life. Discrete GPUs simply draw too much power. The truth is, you shouldn't expect a gaming laptop to last longer than an hour unplugged while gaming. The battery will last longer when performing less power-intensive tasks, but it's rare to find a gaming laptop that will stay alive for more than 4 or 5 hours. That said, if you intend to use this computer for anything other than just gaming (you know, things like schoolwork) you might want enough battery power to get you through a couple of classes.

Design

Appearance shouldn't come over performance, but the design of your laptop should come into consideration when you're making your purchase. This may be particularly true for gaming laptops, which are often huge, garish monstrosities. Fortunately, there are high-performance options out there for those of you who don't want your laptop to scream "GAMER!" More important than your laptop's looks, however, are its build quality and ergonomics. You will also want to opt for a computer constructed with quality materials. Look for a computer with a metal chassis over a plastic one. Make sure that the hinges are sturdy and the keys won't easily be damaged, too. Lastly, make sure that the keyboard is comfortable to use — particularly if you expect to be doing a lot of writing on it.

Size and Weight

Size is one of the first features you are going to want to think about when looking for a laptop. Gaming laptop sizes, measured by the diagonal length of the display, typically range between 15 and 18 inches. If you're a hardcore gamer and don't care much for portability, go ahead and opt for a larger 17- or 18-inch display. If you want something a little less unwieldy, opt for a 15-inch. Weight is not much of an issue with most consumer laptops, but gaming laptops can be absolutely massive. The largest can weigh close to 10 pounds. Again, if you don't care much for portability, go for it. But if you want something that's not too hard to handle, look for something that weighs closer to 5 pounds.
Upgradability/Modularity

Some, but not all, gaming laptops are upgradeable or modular, meaning core components like the gaming card and even the CPU can be removed and replaced. For techies and avid gamers who know their way around a computer's hardware, this can be a really nice feature, and one that extends the lifespan of your computer if you know how to utilize it.
Tech Support and Warranty

No matter how well you treat your laptop, you're going to run into problems sooner or later. Everyone does. The brand you buy from is going to play a big part in your satisfaction down the road, when you're forced to call into tech support. Look for products with a warranty that lasts at least one year, and consider paying extra to extend your warranty over multiple years. Keep in mind, warranties typically cover hardware issues that were not caused by the owner. Read the fine print to understand what kinds of actions — such as tinkering with internal components or opening the case — can void your warranty.
Price

A huge consideration, no doubt. Gaming laptops can be out-of-this world expensive. The best-performing models typically run north of $2,000. Max out the specs, and you'll hit $3,000 or even $4,000. For the vast, vast majority of college students, that is completely unreachable. Fortunately, there are options that will give you good-to-great performance at a more reasonable rate. Nevertheless, even budget gaming laptops typically price in the $700-$1,000 range. Nobody ever said gaming was a cheap endeavor.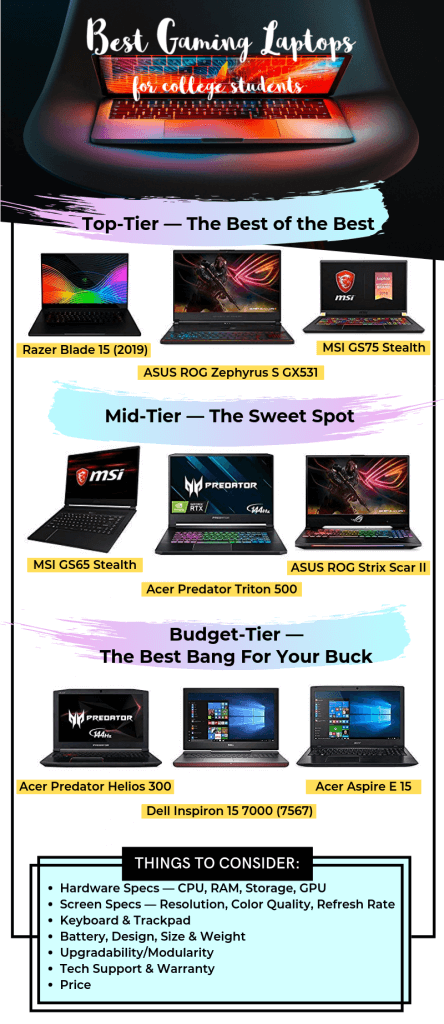 Top-Tier — The Best of the Best
Razer hit the nail on the head with the 2019 edition of the Razer Blade 15. The Blade 15 is often referred to as the MacBook Pro of gaming laptops, and that description is not far off. The Razer Blade 15 is the most attractive high-performing gaming laptop on the market. The aluminum chassis is sleek, well-built, and remarkably slim. But the specs are what ultimately matter to gamers, and fortunately, the Razer Blade doesn't skimp in this department either. The model we recommend features an Nvidia GeForce RTX 2070 Max-Q GPU with an 8th-gen Intel Core i7 CPU for $2,300. The Razer Blade 15 is also available with even better graphics cards, but the price rises accordingly. The maxed-out model, which includes an RTX 2080 Max-Q graphics card, even has an OLED screen, but you'll have to pay north of $3,500 to get your hands on it.
---
The ASUS ROG Zephyrus S is an high-performing, ultrathin, and portable gaming laptop that includes a few clever design features that enhance the computer's performance. Our recommended model features a 9th-gen Intel Core i7 processor and an RTX 2070 GPU, though it's also available scaled down with a GTX 1070 GPU for far cheaper — a great value for the price. The design is not for everybody, but includes some unique features that may appeal to some. The keyboard is laid out on the front of the laptop body, rather than toward the screen as on most laptops. This creates more space for the laptop's hardware and its excellent cooling system, but leaves your hands dangling off of the laptop. The Zephyrus S stays fairly cool during gameplay due to its smartly engineered cooling system. When the laptop is open, a 0.2-inch gap opens on the bottom of the laptop that blows air and dust out, while air filters in through the space in the chassis above the keyboard.
---
If you want to truly max out on a gaming laptop, the full-spec MSI GS75 Stealth is one of the best options out there. Despite its large 17-inch display, the GS75 Stealth feels compact due to its thin bezels and ultrathin chassis. It manages to weigh less than 5 pounds, making it very portable, despite its size. It contains an RTX 2080 Max-Q GPU with an 8th-gen Core i7 CPU and has a 144Hz Full HD display. Ultimately, with this configuration, it will run anything and everything, and it will do so very well. In short, it is a top-notch machine with a fantastic design. Of course, you're going to have to pay for it. Specifically, you'll have to pay over $2,500, making it the most expensive option on this list.

---
Mid-Tier — The Sweet Spot
The MSI GS65 Stealth is one of the best gaming laptops on the market. At $1,800, it ain't cheap. In fact, it sits at the very top of our mid-range selection. Nevertheless, it delivers performance that you could reasonably expect in a laptop that costs over $2,000. Inside, it contains the Nvidia GeForce GTX 1070. While the GTX 1070 doesn't utilize ray tracing, it performs as well as more expensive GPUs. The 15.6 inch, 1080p display is beautiful, color-accurate, and has a 144Hz refresh rate. The GS65 Stealth is also one of the best-looking gaming laptops out there. With a clean black finish, gold details, a compact build, and thin bezels, it is a subdued design with nice flourishes.
---
The Acer Predator Triton 500 offers incredible power at a relatively affordable price. The Predator Triton 500 features a super powerful Nvidia GeForce RTX 2060 GPU and an 8th-gen Core i7 CPU. Acer managed to pack all this heat into a thin and light laptop that has a clean and not-too-gamery appearance. This makes it ideal for a college laptop that you can alternately game on and carry around to class or the library easily.

---
The ASUS ROG Strix Scar II is a loud-and-proud gaming machine. The designers made no effort to pretend that it is anything else, decking the laptop out with RGB keyboard lighting and a half carbon fiber stitching, half brown camo design. That may count as a plus or a minus, depending on your personal taste. More importantly, it's a powerful device with a GeForce GTX 1070 GPU and an 8th-gen Core i7 CPU and a great 1080p display, all for a manageable price.

---
Budget-Tier — The Best Bang For Your Buck
At around $1,000, the Acer Predator Helios 300 sits between the budget and mid-tier price levels. It is our favorite computer in this price range, giving you great performance at a manageable price. The Predator Helios 300 has a GTX 1060 GPU that can easily handle most games from the past few years at max settings. The 2019 model is available with a 144Hz screen and the upgraded GTX 1660 Ti for just a couple hundred dollars more. At that rate, it's tough to call it a budget gaming laptop, but it offers excellent performance for its price.
---
For the price, there is no better gaming laptop. The Dell Inspiron 15 7000 (7567) packs a lot of power for a gaming laptop that costs under $800. The Core i5 CPU is lower than some of the competition, but provides solid performance alongside the Nvidia GeForce GTX 1050 Ti GPU. That should allow you to run most games on medium to high settings with no problems. The battery life is a killer 9 hours — huge for a gaming laptop, though it runs lower when playing power-intensive games. The fan can be loud when gaming and the screen isn't the best. But you can't expect perfection when you're on a budget, and when looking at gaming laptops, performance comes first. In short, a great value.
Our cheapest laptop on this list, the Acer Aspire 5 is by no means a gaming powerhouse. To be perfectly honest, even calling it a gaming computer is a little bit of a stretch. But if you're looking for the cheapest entry point to PC gaming on a laptop, you'll find it here. Available for $500, it runs games well for the price. The Aspire 5 uses an AMD Ryzen 3 3200U and AMD Radeon graphics. It features a 1080p IPS display, and you can drop the resolution down to 720p for some smoother gaming if need be. On a separate note, the Aspire 5 is a great-looking and lightweight computer that makes an excellent workhorse notebook, particularly for any kind of digital artists or design students. 
In this article we highlighted items from Amazon, but you can find some awesome deals and coupons from Acer, Lenovo, Newegg, and other brands on our Save Engine.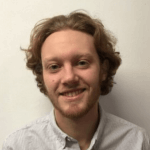 Sam Benezra is a graduate of Ohio University with a B.A. in History from the Honors Tutorial College. He is a native of Brooklyn, New York. Sam enjoys writing on a variety of subjects, including science, music, politics, film. In his spare time, he enjoys traveling, playing guitar, and writing songs.