Are you a coffee snob? Or are you just another college student with a hardcore caffeine addiction? Either way, if you are a coffee drinker, you are going to want to invest in a coffee maker to help get you through those late-night marathon study sessions. You definitely do not want to rely on your local coffee shop for your daily coffee — you will quickly spend your weight in gold on morning pick-me-ups. Buy a solid coffee maker and get quality coffee for a cheap rate. You pay more upfront, but save on the back end. It's as simple as that.
With so many coffee-makers, it can be hard to decide what best fits your needs, so we at TUN have put together a comprehensive buying guide that specifically addresses the needs of college students, along with a list of coffee makers we recommend. Whether you're living in a dorm or off-campus, here's how to choose a coffee maker for college.
First, here are our favorite coffee makers.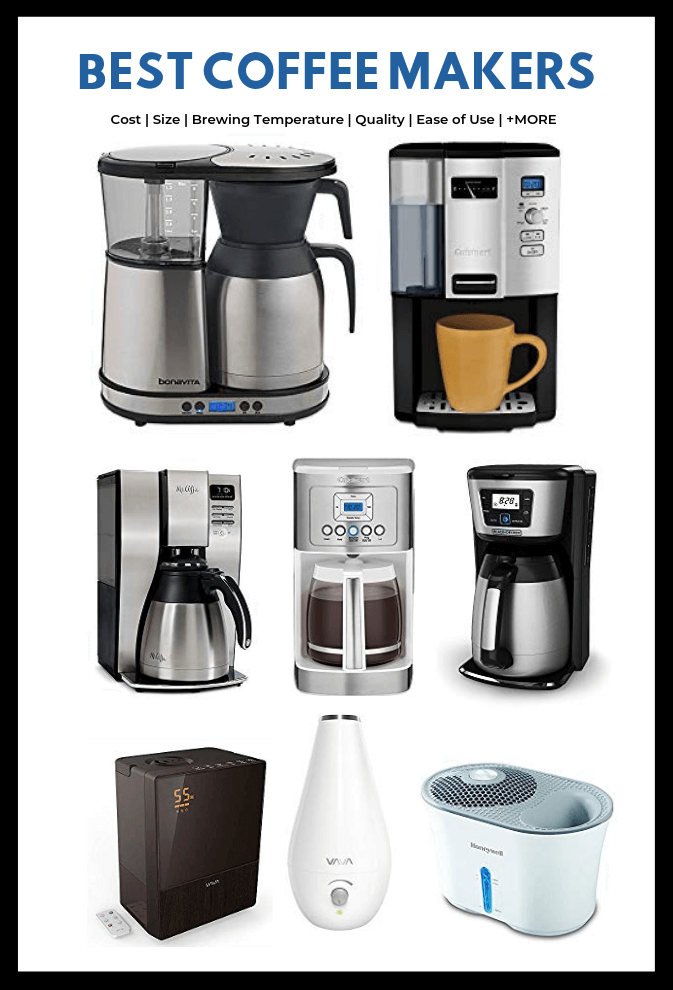 Masterful Brews

This phenomenal coffee maker from Bonavita makes some of the best coffee you can find in the $100 price range. It is easy to use, with a simple, one-button brew system that shuts off after brewing. There is no warming plate, so coffee never burns, and the thermal carafe ensures that coffee stays hot. The real star here, though, is the brew quality. Coffee brews between 195°F and 205°F — the ideal brew temperature — and the showerhead distributes water evenly for a perfect pot of coffee.
---
This carafe-free coffee maker is stocked with unique features. It dispenses coffee one cup at a time from a built-in 12-cup reservoir. Once the coffee is brewed, just place a cup under the reservoir, push a lever, and watch fresh coffee flow out. In other words, it offers the convenience of a single-serve coffee maker without sacrificing the cost-effectiveness and high brew quality that traditional drip coffee makers offer. It also features a built-in charcoal water filter, so you can use water straight from the tap.
---
The Cuisinart DCC-3200W 14C is a high-quality drip coffee maker that comes at a reasonable price. It includes some nice features, including Brew Strength Control, which allows you to choose between a bold and regular brew. Has a solid build with a nice stainless steel finish, so it is sure to last a long time.

---
The Budget Picks

Very cheap and easy to use, blade grinders are a solid option if you're buying on a budget.

A great budget coffee maker that's equipped with a timer and a 2-hour automatic shutoff. Makes surprisingly good, strong coffee for a product in this price range. Also features three brew strength options and automatic pause and serve, so you can pour cups of coffee while still brewing. The best feature is the removable water reservoir, which you can easily take out to fill or clean.
---
An affordable coffee maker that produces a flavorful brew, this option from Black and Decker features a variety of brew strength options and an "Evenstream Showerhead" that pours water evenly over the coffee grounds while brewing. Its thermal carafe ensures that coffee stays warm for hours without burning. It is also very compact, making it a solid option for dorm rooms.
---
Another solid option in the $50 range, this Mr. Coffee brand drip coffee maker comes with a thermal pot to keep your coffee warm. It brews a full 10-cup pot in only 7 minutes and features a pause and serve function, so you can pour a cup while still brewing. Also features a water filtration system and a removable reservoir.
---
Specialty Coffee Makers for Students
---
Things to Consider When Shopping for Coffee Makers
When making a decision on what brand of coffee maker to purchase, you're going to want to take a few considerations into account. Namely …
How much coffee you drink

Get an idea of how much coffee you and your roommates tend to go through on an average morning. If you only need a cup to get started, you could consider getting a coffee maker that makes one cup at a time. If you and your roommates tend to drink coffee like water, you'll probably want a full-sized, 12-cup pot.

Cost

This is obvious, of course. But when you're looking for coffee makers, you have to take into account the upfront cost (the cost of the coffee maker itself) and the long-term cost (the cost of the coffee grounds, the filters, etc.). We recommend staying away from single-serve coffee makers like Keurigs and Nespressos due to the cost down the line. Similarly, you'll likely want to stay away from pour-over coffee makers that require a specific (read: more expensive) type of coffee filter.

Size

If you're living in a dorm, where space is hard to come by, this is a major concern. Don't buy a huge, clunky machine that's going to take up valuable counter space. Look for something small, and maybe even something that can be moved around. If you're really short on space, you might want to consider a French press. French presses don't need to be plugged in, so you can put yours away after you finish using it.

Type of carafe/pot

Some coffee makers include insulated, stainless steel coffee pots that keep your coffee warm when removed from the machine. You won't know what you're missing until you have one. It's incredibly convenient to be able to move your pot around without the coffee getting cold. These pots also prevent coffee from getting burnt as a result of sitting on the warmer plate for too long.

Brewing temperature

The ideal brewing temperature is between 195°F and 205°F — the closer to 205°F the better. Not all coffee makers brew at such a high heat, so you'll want to check that whatever model you buy brews within that range.

Automatic on/off

There are a few good reasons to look for coffee makers that will automatically brew and turn off. If you don't want to worry about making coffee every morning, an automatic brew function can really come in handy and save you some valuable time that you could be spending in bed. An automatic shut-off function will save you the peace of mind, as you won't have to worry whether you unplugged your coffee maker every morning.

Quality

Let's be clear. Not everyone needs a top-of-the-line cup of coffee every morning. If you're very particular about the taste of your coffee or if you like to experience the wonders of artisanal coffee beans, maybe it's worth investing in an expensive drip coffee maker or taking the time to make a pour-over cup. If you really don't care that much about how your coffee tastes, you can just opt for something affordable and reliable.

Ease of Use

Most people want their coffee fast and easy. If you're like most people, you'll probably want to go for an old school drip coffee maker. The French press can be a good choice as well — they're easy to clean and once you get used to using one, it's as simple as any other method of making coffee.

Four Types of Coffee Makers

What to seek out and what to avoid.
What to seek out:
Drip Coffee Makers — The classic drip coffee maker. It's an American institution! In all seriousness, the drip coffee maker is easily the best option for students. It takes very little effort — just add water, coffee grounds, and let it do the rest for you. They may not make the perfect cup of coffee, but they'll give you what you need with little effort. Unlike Keurigs or Nespressos, the price of a cup of coffee isn't extraordinarily expensive, either. The standard drip coffee maker makes 12 cups, but you can find options that make one or two cups at a time as well.
French Press — For the uninitiated, French presses might look intimidating, pretentious, or both. But in reality, they're super easy to use. Simply pour boiling water over grounds in the French press, stir, let it steep for four minutes, and press down. Simple. And if you need extra help: follow this guide. They produce bold and flavorful coffee. Because French press coffee is unfiltered, it retains essential oils and acidic tannins that are removed when coffee passes through a paper filter. There is only one minor drawback. You're going to want coarsely ground coffee to prevent grounds from slipping through and getting caught in the filter. This means you won't be able to pick up just whatever bag of coffee you want, but coarsely-ground coffee is easy to come by, so it's not too big a concern. Alternatively, you can buy a coffee grinder and whole beans and make freshly-ground coffee every day (see our coffee grinder buying guide).
What to avoid:
Single-Serve Coffee Makers — Keurigs, Nespressos and other single-serve coffee makers have exploded in popularity in recent years. The appeal makes sense: they're easy to use and clean, and they have all those fun flavors. But honestly, there are a lot of drawbacks to using these types of coffee-makers, particularly for college students. Let's start with the obvious: they're wasteful. While Nespresso's aluminum pods are recyclable, Keurig has only recently started producing recyclable pods, most pods still use non-recyclable plastic, so they simply go straight to the landfill.

If you're no treehugger, there are still more reasons to avoid single-serve coffee makers: they produce poor-quality, watered-down coffee and they only make a single cup at a time, so they're not great for groups. But for college students, the price tag offers the most convincing reason to stay away. Pods for single-serve coffee makers cost about two to three times that of a traditional cup of coffee. Per The New York Times, a pound of coffee in single-serve cups costs about $50, compared to some $15-20 for a pound of high-end artisanal coffee. In other words, you're paying way more for worse quality. Just do yourself a favor and avoid them altogether.
Pour-Over Coffee Makers — Pour-over coffee makers (think Chemex) make great-tasting coffee, but it comes at the cost of convenience. They're a pain to use, and when you're looking for a morning fix, it's hard to motivate yourself to go through the whole rigamarole of boiling water and waiting for your coffee to drip as you pour. Many pour-over coffee makers also have special filters they require to work properly, too, which adds cost and takes away convenience. If you're a true coffee connoisseur and have your heart set on one of these, go for it. But for the average student, stay away.
Espresso Makers — Do you really need an espresso maker? Probably not. There are myriad reasons to opt for a different kind: it takes longer to make a cup, you can only make a single cup at a time, espresso tends to be more expensive, it takes more effort to maintain and clean, etc. Espresso makers can be a great luxury item, but they really don't make sense for daily use, particularly in college.
In this article we highlighted items from Amazon, but you can find some awesome deals and coupons from Macy's and other brands on our Save Engine.