*Updated February 3, 2022
Every year, millions of students struggle to find the funds to attend college. Awarding a scholarship to a student in need makes a substantial difference in their lives, and can go a long way to help them avoid the trap of post-graduate student debt.
If someone you love has recently passed, creating a scholarship in their name can be a wonderful way to honor their life and legacy. On its face, setting up a scholarship appears to be a complicated process, but with the right guidance, it can be quite easy and painless.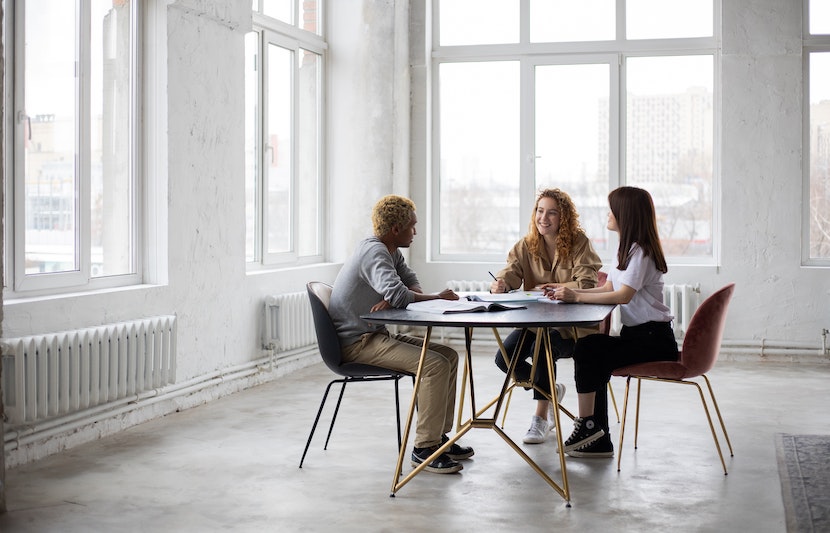 Need help with your scholarship?
The University Network is happy to help you. Just give us a call at (917) 397-2650, or schedule a time to talk to us below:
In this article, we'll discuss how to create a memorial scholarship in someone's name, with attention to key steps in the process and common pitfalls to avoid.
How will the memorial scholarship be funded?
Before you start to build your scholarship program in earnest, you should settle on a funding method. Scholarships can be funded through a variety of means. Families, nonprofits, or businesses may finance scholarships directly, or they can solicit donations and outside funding.
If you decide to take donations, you will need to set up a fund at a bank or with a nonprofit that can accept donations on your behalf. You can solicit donations personally or raise funds through crowdfunding campaigns and fundraising events like auctions, raffles, or bake sales. Depending on the terms of your scholarship, donors may be able to receive tax benefits for their contributions.
During this part of the process, it is important to consult a tax advisor or lawyer to ensure that you are properly reporting donations and following the appropriate legal guidelines.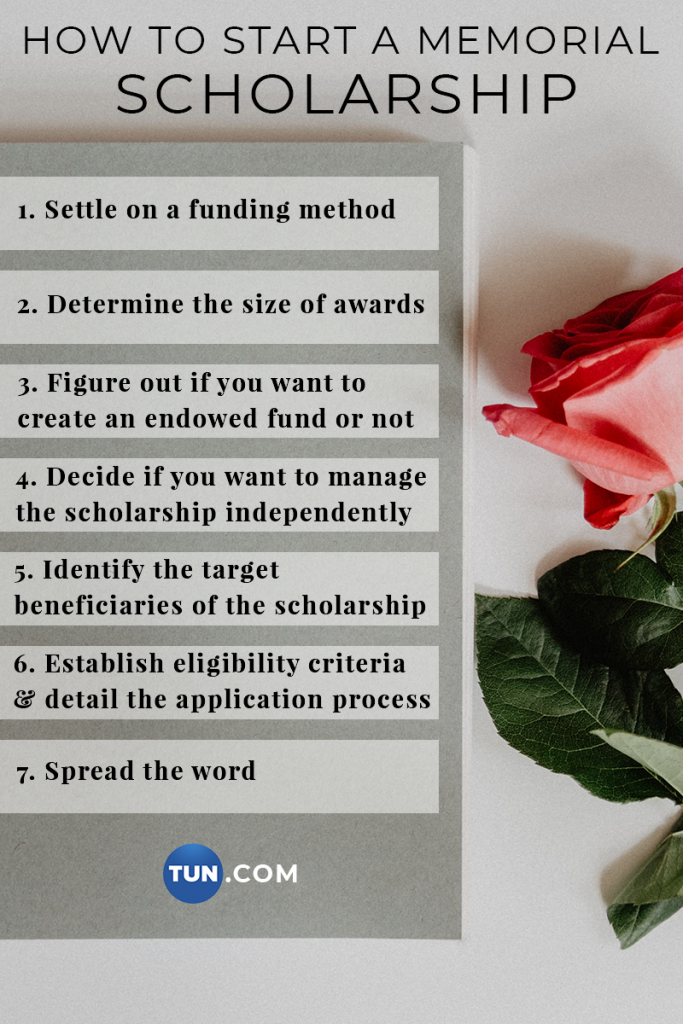 Determine the size of awards
Once you have raised enough funds for the scholarship, you can start to determine how large the whole fund will be and how much each award will be worth. As part of this process, you will have to start considering how the scholarship will be distributed. How much will you award each recipient and how many awards will you give out per year? Will students be paid in one lump sum, or is the award spread out over multiple years of college? Will the scholarship be offered once or on a recurring basis?
When you're offering a scholarship for the first time, it is generally a good idea to start with a relatively small reward and a limited number of applicants and recipients. You don't want to start out by overextending your scholarship beyond the funds available or the resources at your disposal.
Determine if you want to create an endowed or non-endowed scholarship fund
There are two principal types of scholarship funds: endowed and non-endowed funds.
A non-endowed scholarship is funded through a one-time gift that is disbursed until the funds are depleted. The fund exists only temporarily and can only be replenished with a new donation. If you want to make a small scholarship donation, you most likely will have to create a non-endowed scholarship.
An endowment is a type of scholarship fund in which the fund is set up as an investment account and earnings gained from a large principal deposit are used to finance awards. The principal is never touched, so the fund is permanent and self-sustaining. However, an endowment fund requires a large principal deposit. For example, a $1,000 award will generally require a deposit of around $20,000.
Each type of scholarship has its benefits and drawbacks. If you have a substantial amount of money to use for a principal investment and are interested in setting up a long-term scholarship program, an endowment may be the best option for you. If you are looking to create a temporary scholarship program or a one-time gift, a non-endowed fund would suit your purposes better.
Determine if you want to manage the scholarship independently or use a third party
One of the important decisions you will make early in the process of building a scholarship is determining whether you want to manage the whole scholarship process on your own or have it managed by a third party like TUN.
For details on TUN's scholarship management services, which includes creating a scholarship program, managing the scholarship, and promoting it, check here.
Also, many local community foundations and nonprofit organizations will set up and manage a scholarship fund that you want to organize. Working with a third party group with experience organizing funds can help you set up your fund properly to avoid common legal and tax issues.
Universities and colleges typically accept scholarship donations and contributions. If you make a large enough contribution, some may help you establish a scholarship endowment fund for their students. This is a good option if you want to tie your scholarship to a particular college.
If you want to set up your scholarship independently, you have a few different options:
Using a bank or credit union
You can set up an account to accept donations through a bank or credit union. This is a common way to set up scholarship funds and it can be easy to arrange. If you are planning on creating a small memorial fund, this is probably the best way to go.
You can start your own non-profit organization to accept donations. This is a much more complicated process, involving more work, greater expenses, and legal council. Less than half of non-profit startups survive beyond five years. If you are only interested in starting a scholarship, building a non-profit organization is generally unnecessary.
Who do you want to help?
You can offer a general scholarship open to students of all academic and personal backgrounds or you can focus your scholarship on a specific cause, field, or theme.
You will need to identify the target beneficiaries of your scholarship. Memorial scholarships are often themed around an interest, passion, or cause near to the person they are meant to honor. Scholarships may be designed to benefit lower-income students, students in a specific field, or students with a particular personal background. If you want the scholarship to go toward one specific group or to benefit a particular cause, you are free to do so. However, you will need to make sure that the group that qualifies for your scholarship is broad enough to be considered a "charitable class" by the IRS.
It's not necessary to specify the award constituency, but doing so can be a meaningful way to recognize the life, work, and passions of the person being memorialized.
Examples:
The Avonte Oquendo Memorial Scholarship, offered by the Perecman Firm, a New York-based law firm, honors the life of Avonte Oquendo, a 14-year-old boy with autism who tragically died after disappearing from his school in Queens. In Oquendo's name, the scholarship is awarded to students with autism or students who have family members with autism.
The State Univeristy of New York's Carey Gabay Memorial Scholarship honors attorney and public servant Carey Gabay, an aide to New York State Governor Andrew Cuomo who was killed in an incident of gun violence. In recognition of Gabay's devotion to social justice, the award is awarded to high-achieving students who display personal leadership and commitment to social causes.
Establish eligibility criteria and detail the application process
At this point, you should begin determining the parameters and setting rules for applications. For example, you can set a minimum GPA or SAT/ACT score. You might seek out specific traits in applicants as well. For example, you could look for students who display leadership characteristics or who are active in volunteering. Furthermore, you can request a variety of application materials, such as resumés, art projects, or writing samples.
Many scholarships ask students to write a short essay or to complete a project as part of the application process. For example, the Avonte Oquendo Memorial Scholarship for people with autism and their families, asks students to write an essay on how living with autism or living with a family member with autism has affected them.
If you so choose, you can be creative with the parameters of your application and ask for less traditional application materials. TUN's Volunteerism Scholarship, for example, asks applicants to create a video, infographic, or essay describing volunteer experiences they have had. These kinds of projects give students the opportunity to utilize creative skills.
At this point, you will also need to have a system in place for accepting and reviewing applications. If your scholarship has a wide reach, you could receive hundreds or even thousands of applications, so you should be prepared accordingly. Furthermore, you will need to communicate clearly to applicants how they can submit their applications. Many small scholarships will accept applications via email, but if you have the resources to do so, you can also set up an online application portal.
Spread the word about your scholarship
If you want people to apply for your scholarship, you need to make them aware of it! Even in today's debt-drowned economy, some small and local scholarships go unclaimed. So if you want to spread the word effectively about your scholarship, you should have an effective marketing plan in place.
Social media marketing is a cost-effective and functional way to spread awareness about your fund. However, you can also submit your scholarship here to get it listed on TUN for free, so the scholarship comes up when students use TUN's Scholarship Search Engine to find scholarships.
If you need help marketing your scholarship, TUN will assist you in that process to ensure that word gets out to the students who need it most. For more information, check here.
Conclusion
Setting up a scholarship in someone's name is a great way to honor someone's life and legacy, and to further causes that they cared for. Setting up a memorial scholarship can be easy, but you should consult a professional during the process to avoid any legal or tax issues that may arise.
If you want to set up a memorial scholarship but you don't know where to start, The University Network (TUN) can help you through the process.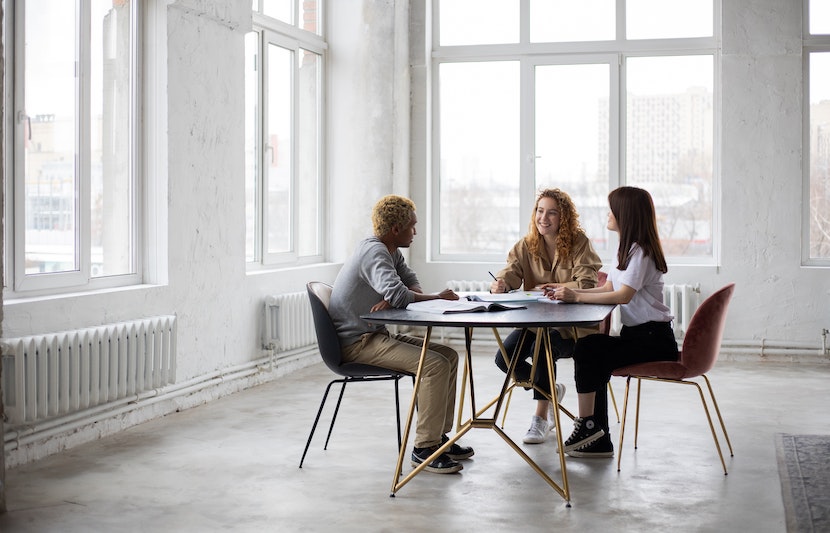 Need help with your scholarship?
The University Network is happy to help you. Just give us a call at (917) 397-2650, or schedule a time to talk to us below:
Resources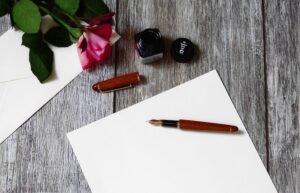 *Updated February 3, 2022 Every year, millions of students struggle to find the…