*Updated June 11, 2021
Many law firms sponsor scholarships. Some do it to show their commitment to education and the community. Some do it for good public relations. Some do it out of a need to give back. Others do it just because they believe it's the right thing to do.

No matter the underlying reason, what's certain is that scholarships are becoming a great branding tool, which is more powerful today in a world where client acquisition is one Google search away.

And law firms that are already sponsoring scholarships know it. In recent years, there has been a significant increase in the number of scholarships funded by law firms. These law firms have undoubtedly recognized the impact that their scholarships can create for their firm and students alike.

While there may be hundreds of law firms sponsoring scholarships today, we believe that more should be doing so. Any law firm that is spending money on online marketing should be funding a scholarship, which will yield better results than any other digital efforts.

It is so easy to do, and it doesn't cost all that much. If you factor in the high cost of Google ads for your law firm, scholarships are the cheapest way to market your law firm and its services in this digital market. And you will be helping students (and their families) along the way.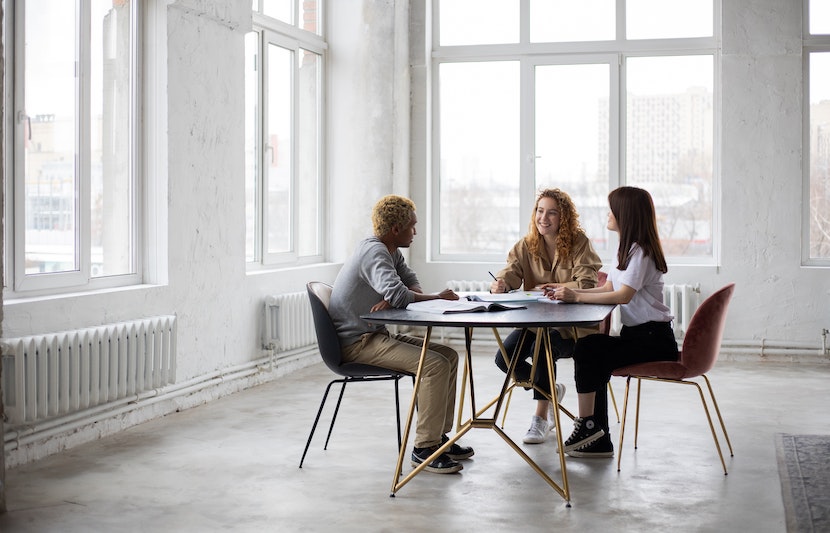 Need help with your scholarship?
The University Network is happy to help you. Just give us a call at (917) 397-2650, or schedule a time to talk to us below:
There are so many great reasons to sponsor a scholarship, but here's how scholarships are particularly beneficial to law firms — of any size.
1. Scholarships will enhance your law firm's search results

The real battle for clients is not in the courtroom, trade press, or referrals. While all of that helps, the battle is won if you place well in search results.

This should not come as a surprise considering the surge in internet usage. How people find lawyers has changed in recent years, with more and more people using the internet as a preferred method to find and research lawyers when they need one.

In 2014, a FindLaw survey on how people find and research lawyers concluded that the internet has grown to become the most popular search tool for finding lawyers: 38 percent responded that they would use the internet; 29 percent would ask a friend or relative; and only 4 percent would use the Yellow Pages. In a similar FindLaw survey in 2005, just 7 percent said they would use the internet, while 65 percent would ask a friend or relative and 10 percent would use the Yellow Pages.

What's also important is that younger adults are using the internet to find a lawyer.
In 2011, the ABA Standing Committee on the Delivery of Legal Services reported that while 7 percent of adults would use the internet as their primary means to find a lawyer, 13 percent of younger adults, ages 18–24, said they would do so.
Four years later, a 2015 survey conducted by Moses & Rooth Attorneys at Law, Orlando criminal defense attorneys, also found that younger people, ages 18–24, were more likely to find a lawyer through online searches. Specifically, 17.8 percent of this age group responded that they retained a lawyer they found through their online search compared to 12.1 percent who found a lawyer through a friend.

And this age group is the one that would benefit from scholarships.

If you sponsor a scholarship, be sure to promote it. You can list it with The University Network (TUN) for free — you can let us know about it here and we will share it with students.

When you promote a scholarship, it will help your law firm stand out in search results, so more people can find you. And the more you promote your scholarship(s), the better your search results.

2. Auto-populate in search lets potential clients know your law firm cares

When people search for your law firm, you never know what direction they will go. Will they look at your reviews (if any), hours, awards, or lawyer profile(s)? Along their search journey, Google tries to help them, and often will show that the brand has a scholarship in the auto-populated search fields.

This makes it all the more important for law firms to sponsor scholarships. In the snapshots below of Google searches for three different law firms, scholarships showed up on top for all three search results.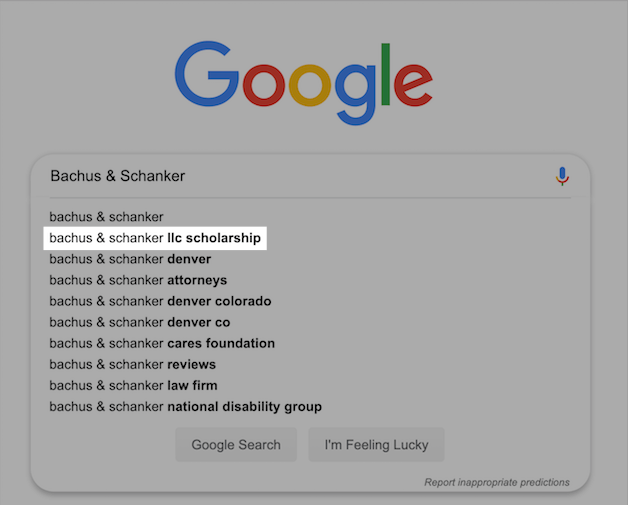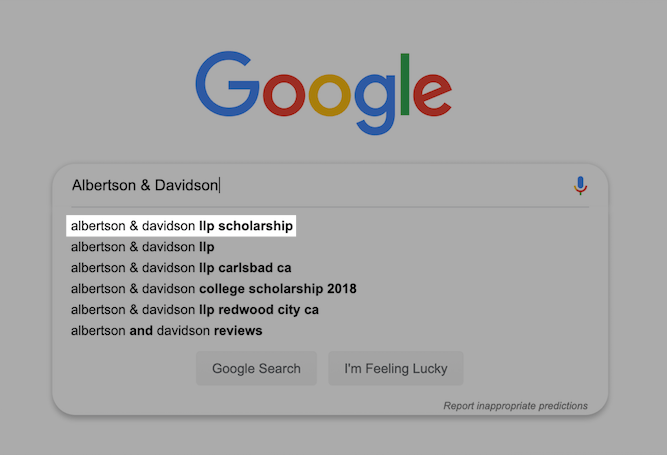 3. Scholarships are effective for branding your law firm's practice and highlighting your firm's values

Scholarships provide an opportunity for you to tell your law firm's story. Law firms, like other businesses, are built on public perception, and a scholarship sets the tone in a very positive way.

By formulating a strong narrative about your scholarship, your law firm can connect with your audience and set your firm on the path to build long-term relationships.

Many law firms are recognizing how scholarships are a great way to brand their practice and stress what's important to them.

For example, Caesar and Napoli, a law firm that has fought for money awards for Asian Americans who have suffered catastrophic injuries, established the Caesar and Napoli P.C. Scholarship to assist students who identify themselves as Asian Americans to help them pursue higher education.
4. Scholarships help your law firm stand out from their competitors

There are 1,352,027 lawyers in 2019 compared to 1,180,386 in 2009, according to the ABA National Lawyer Population Survey, 1878-2019.

Additionally, there are thousands of law firms. According to the U.S. Census Bureau, there were 172,065 legal establishments, including solo practitioners, in 2016.

So, the competition is stiff — both on an individual level and on a law-firm basis.

And many of them are sponsoring scholarships, which provide them with a cheap, yet effective, way to reach potential clients.

So, it doesn't make sense for any law firm not to sponsor scholarships.

Remember, more and more people, especially younger adults, are using the internet to find and research lawyers.

And seeing scholarships attached to your law firm will help your cause.

5. Scholarships can have a huge impact on your law firm's community and boost your law firm's reputation

By sponsoring scholarships, law firms show that they care about students and their families. They are an effective way for law firms to make a difference and give back to their community. You will be helping deserving students, who otherwise may not be able to afford higher education and achieve their passion. Your scholarship will help put them in a position where they can pay it forward.

Here's the story of a Taco Bell Live Más Scholarship recipient, who went on to MIT to study environmental engineering. His passion is climate change.

According to TUN's Fourth Annual College Student Survey, 77 percent of students have applied for at least one scholarship in college. So, your scholarship(s) would definitely make a difference to students who seek higher education but lack the means to finance it, and they will thank you for it.

Giving back by helping college students
Student debt in the United States is at a record high, having climbed to nearly $1.6 trillion in the first quarter of 2019. More than 44 million college students need to borrow to pay for their education, according to Forbes, and students in the Class of 2017 graduated with an average student loan debt of $28,650.

So, students need all the help they can get. By sponsoring a scholarship, law firms will be supporting tomorrow's leaders and closing the achievement gap, among other things.

Law firms can sponsor scholarships for a wide audience, or they can tailor the scholarships to suit any cause or purpose.

For example, Strom & Associates' 2019 Academic Scholarship is broad in nature. In contrast, ADAMS ESQ, which focuses exclusively on special education law, sponsors the ADAMS ESQ IEP Scholarship to help California and Nevada students with IEPs.

No matter the cause or purpose, your scholarship will elevate the image of your law firm within the college student community, including their families and friends. And college students constitute a sizable segment of the population — 19.9 million U.S. college students in the fall of 2018.

Giving back by helping law students
Law school students can also use help paying for their education.

The price of a law school education has increased tremendously in the past few decades, and most law students have to take out huge loans to pay for their degree.

On average, recent law graduates have $145,419 in law school loans if they attended a for-profit school, $134,497 if they attended a private school, and $96,054 if they attended a public school, according to a 2018 report by the Law School Transparency, a nonprofit organization.

But the median starting salary for 2018 law graduates in full-time and long-term jobs was just $70,000, which remained flat compared to the Class of 2017, according to the Class of 2018 NALP Summary Report.

High law school loan debt stands in the way of a law grad's choice of profession. If law graduates have to pay back so much in loans, they are unlikely to take the "public interest" path even if they are passionate about it. Scholarships like the ones sponsored by Sullivan & Cromwell and DLA Piper (mentioned above) will help students and recent law graduates who want to pursue public interest law.

Additionally, sponsoring scholarships to law students will help law firms attract talent. Your scholarship will leave a favorable impression on them as they are getting themselves ready to launch their career in law. Your law firm will come across as an attractive employment option for both summer internships and jobs.

Conclusion

Scholarships have a huge impact on the students and families who benefit from them, but they are also one of the most powerful marketing tools that can help law firms in a world driven by the search engine results. Many law firms are already capitalizing on this, and your law firm should make use of this as well.

For information on how to sponsor a scholarship, check out our guide.

We can help you with the process. We can handle the whole process, or just the part that you wish to outsource. We know what works, and can help you craft your message to your target audience.

We have helped many companies, big and small, deliver their brand message to both college and high school students through tailored scholarship programs.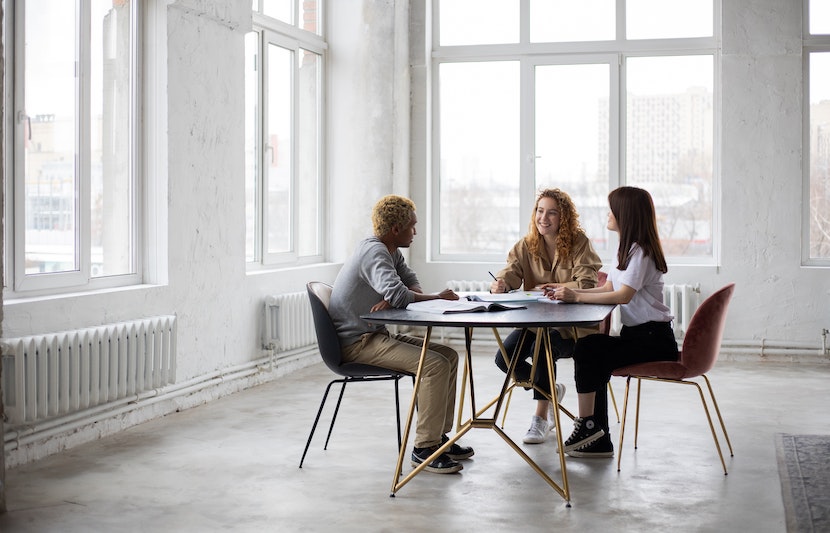 Need help with your scholarship?
The University Network is happy to help you. Just give us a call at (917) 397-2650, or schedule a time to talk to us below:
Resources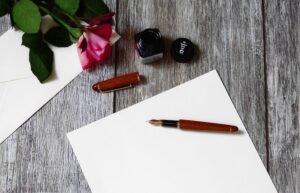 *Updated February 3, 2022 Every year, millions of students struggle to find the…