*Updated February 3, 2020
Advertisers have always struggled to reach college students. Between their hectic schedules and a multitude of interests, today's college students are harder to reach than ever.
Here are eight proven methods to reach them, whether your ad budgets are big or small.
1. Targeted Facebook
A few decades ago, the expression "no one ever got fired for buying too much broadcast" was heard up and down Madison Avenue. The same can be said for Facebook today. With all of the features available to target your audience by school, age, location, interests, digital device, spending behavior and so on, Facebook should always be part of the mix. 
It may be true that Facebook has had its share of not-so-great press recently, but the fact remains that it has one of the most powerful tools for targeting as well as one of the easiest advertiser dashboards to use.
Pro Tip — Try multiple ad types and different creative and copy to see which performs the best. Plan on making adjustments to the campaign while it is live to support only the best performing ads. Facebook is a great way to A/B test your ads for other mediums too!
To target the college students you wish to reach on Facebook, the Ads Manager offers many options to focus your audience. Here is a sample audience of U.S. college students, using a 18-27 age demographic and education level of "in college." (We like using 27 as the upper age limit because 40 percent of college students are older than 25.)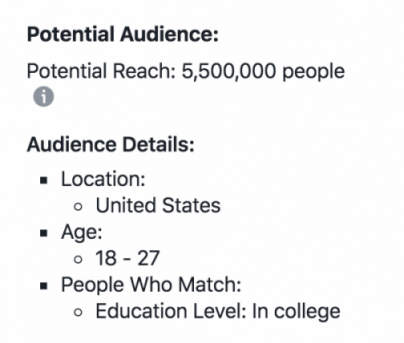 You can go deeper with your targeting, by narrowing in on cities, zip codes, schools, advanced interests and so on. 
2. Twitter
Twitter advertising has come a long way over the last few years.
Like Facebook ads, you can spend as much as you want on Twitter ads, so you can test the effectiveness of a Twitter campaign with a small budget and then increase it as it begins to work.
Twitter's targeting features are effective when trying to reach college students. You can target by gender, interest, device, behavior and location. Twitter also allows you to target the followers of relevant accounts to reach people who are likely to be interested in your content. Lastly, Twitter allows you to integrate your existing email lists to tailored audiences, using your own CRM lists to reach specific groups of users on Twitter.
Twitter ads integrate seamlessly into the newsfeed. The Twitter ads feel more natural and relevant to users based on their search history and so on.
Pro Tip — Twitter's geography targeting is an effective way to focus on a specific campus by targeting a zip code.
3. Google Display Network
While Google Search Ads and Google Adwords Remarketing are powerful tools, you will need budget, experience, trial and error, and time to build effective campaigns with those tools when trying to reach college students.  But with Google Display Network (GDN), you can get started really quickly with an effective college outreach. 
Do you know all of the blogs and websites that college students frequent? Likely not, but Google does. While Google Search Ads may be useful to influence someone actively engaged in a search relevant to your brand, GDN is a way to have college students associate your brand with the content that they enjoy. It is reported that the GDN reaches 90 percent of internet traffic.
Pro Tip — To do well with GDN, you need to know two things: placement and contextual targeting. 
Placement targeting refers to the option of choosing which websites you want to appear on, which is great for targeting college students. You can use Adwords Display Planner to help you to find websites that will carry GDN ads.
Contextual targeting uses your selected keywords to pick the sites related to the keywords you've provided.
4. College Newspapers
College newspapers are still very effective, and remain one of the few places filled with positive news in 2020. It's great to reach your audience alongside content that puts them in a happy mood. You are also making it known that your brand is committed to the reader's school, and that message goes a long way.  
Pro Tip — Don't skimp on your budget here; go for big color ads (quarter page or more). College newspaper ads are typically inexpensive, so you can get a bang for your buck. Also look for special editions (Game Day, Back to School, etc.).
5. Brand Ambassadors
A brand ambassador program is a great way to promote your brand with a strong ground game. It gets students to engage with your brand with all five senses and to evaluate your brand with their peers. Here are some helpful rules to follow when running a street team as part of a Brand Ambassador program.
Pro Tip — Brand Ambassador programs can be expensive, and require absolute professionalism throughout the process, particularly from the brand ambassadors who represent your product.
If you need help in running a brand ambassador program, contact us here.
If you don't have the budget for a managed program, consider managing the program with your existing team and hire student brand ambassadors directly here.
6. Brand Scholarship
One of the best ways to get the attention of college students is to help them. With the high costs of attending college, students are always looking for new scholarship opportunities to offset their expenses. When you offer a brand scholarship, students will be engaging with your brand through the application process in a positive way. In many cases, the scholarship may be the first time a student will learn about your brand, and a life-long impression will be made.
Pro Tip — In TUN's Fourth Annual College Student Survey, 98 percent of students said that they would apply to more scholarships if the process was made easier for them. Keep the application process simple and fun to get more applicants.
TUN has a free Scholarship Creation Tool that can be used by companies of every size. To create a scholarship, all that's required is 90 seconds to answer a few easy questions online — how much they want their scholarship to be worth and who's eligible to apply. Once a scholarship is created and reviewed by TUN's editorial team, the scholarship will be immediately discoverable in TUN's Scholarship Search Engine and shared with students. TUN also promotes and manages brand scholarships. Check here for more information on TUN's scholarship services.
7. Student Discounts
Students need all the help they can get, especially with student loans reaching dizzying new heights. When you offer a student discount, students will feel that you care about them and understand their situation. A student discount is an easy way to leave a favorable and a long-lasting impression on students.
You'll be in good company if you offer a student discount. Brands like Sperry, LOFT, EMS and Microsoft have experienced great success through their student discount programs.
Pro Tip –– In TUN's Fourth Annual College Student Survey, 97 percent of students said they would try a brand solely because it had a student discount, while 75 percent of students said they would feel loyal to a brand after graduation if such business provided them a discount while they were in college.  
If you choose to offer a Student Discount, let us know about it and we can promote it for you (free options available).
8. Cause Alignment
Students love brands that support causes that they care about, and will be loyal to brands that share their personal values, whether that's about sustainability, inclusivity or other important issues impacting the world.
There are thousands of brands of all sizes that have aligned themselves with a cause. Here are a few:
Ivory Ella, a fashion brand, donates 10 percent of purchases straight to savetheelephants.org. 
For every pair of shoes Toms sells, the company donates a pair to someone in need. 
Each Yuhme bottle sold provides six months of clean water to someone living in the Central African Republic.
The bottom line
You can reach students by using any of these methods, but it's best if you can help them along the way. Students will remember your brand, and you will be doing something worthwhile in addition to your goal of reaching the elusive student audience.
Susan Chu is a writer and editor who likes to write about trends in higher education.