Senator Kamala Harris (D-Calif.) has quickly established herself as one of the leading candidates for the Democratic nomination in 2020. The daughter of Jamaican and Tamil Indian immigrants, Harris in many ways embodies the American dream. After graduating from Hastings College of the Law in 1989, Harris worked her way through the San Francisco District Attorney's Office and the City Attorney of San Francisco's Office. By 2004, she was elected to serve as the district attorney of San Francisco, a position she held until 2011, when she became the 32nd Attorney General of California. Since 2017, she has represented California in the U.S. Senate alongside Dianne Feinstein.

Now she is running for president.

Here is what Kamala Harris stands for: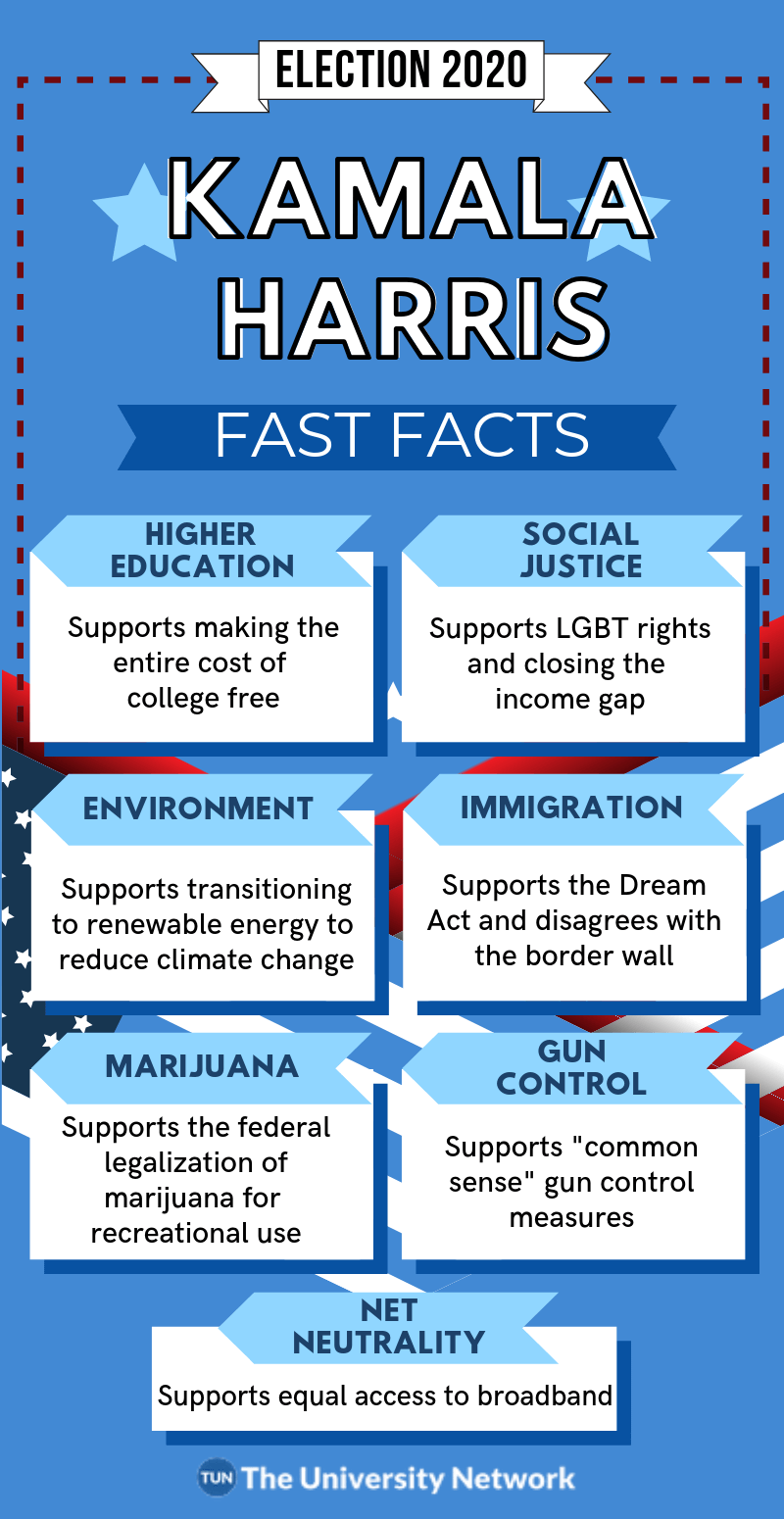 1. Kamala Harris on Higher Education

While some candidates, including Bernie Sanders and Julián Castro, support tuition-free college, Harris supports debt-free college education. There is an important distinction between "debt-free college" and "free college" programs. The phrase "free college" can be used to describe "tuition-free" programs, which would relieve students at state universities from paying tuition, but does not cover the costs of books, housing, or meal plans. "Debt-free college" proposals cover tuition as well as living expenses. Harris has co-sponsored the Debt-Free College Act of 2018, which would "provide students the opportunity to attain higher education at in-State public institutions of higher education without debt."

Harris has expressed support for free tuition in community colleges. In 2016, prior to her election to the Senate, she drafted a petition stating that community college tuition should be free. One year later, she signed onto Bernie Sanders' College For All Act, a measure which would have provided free tuition to community college students, regardless of income.

Harris has supported refinancing student loan debt and improving student loan forgiveness. Namely, she has advocated for allowing borrowers to discharge student loans when filing for bankruptcy.

Recently, Harris also announced a plan that would relieve some borrowers of up to $20,000 in student loan debt. To qualify, however, borrowers must be a Pell Grant recipient, start a business in a disadvantaged community, and run it for three years.

Additionally, she is a leading advocate against for-profit higher education programs, which account for 35 percent of student loan defaults despite accounting for only 10 percent of students. As attorney general, Harris filed a lawsuit against Corinthian Colleges, a now-defunct for-profit higher education company that at its peak operated over 100 campuses across North America, alleging that it had followed predatory model and deceived students. In 2017, she worked with other Senate Democrats to reintroduce the Students Before Profits Act, which seeks to protect students against predatory practices from for-profit colleges.

2. Kamala Harris on Social Justice

"Income inequality is the defining economic challenge of our time," Harris opined in a Facebook post in 2016. She supports closing the income gap through a variety of means. She has supported raising the minimum wage to $15 per hour and has proposed an affordable housing plan that would give 13.3 million families tax credits to subsidize their rents. The meat of her plan to combat income inequality is the LIFT the Middle Class Act, a plan centered around tax cuts for lower and middle class Americans that would give families making less than $100,000 per year a tax credit of up to $500 per month. She has also raised the idea of reparations for African Americans, possibly in the form of mental health treatment, though the idea is not yet part of her central platform.

Harris has a strong record defending LGBT rights, highlighted by her refusal to defend Proposition 8, a 2008 ballot measure approved by California ballot measures that banned gay marriage in the state, in the U.S. Supreme Court. As a senator, she has co-sponsored the Equality Act, which seeks to prohibit discrimination on the basis of sex, gender identity and sexual orientation. She has also advocated for the rights of transgender people to use the public restroom consistent with their gender identity. She does not support states funding gender reassignment surgery, however. As attorney general of California, she once filed a court motion to prevent a transgender inmate from receiving taxpayer funding for gender reassigment surgery.

Harris' record on criminal justice extends back to her days as San Francisco's district attorney. In that role, she fashioned herself a "progressive prosecutor" working within a system she sought to change. Her record as the district attorney has been criticized by some progressive voices, who have voiced concern over her handling of certain cases that were prosecuted by her office. However, she also pushed for progressive programs, including her "Back on Track" program, which allowed first-time drug offenders to pursue a high school diploma and a job instead of serving prison time.

3. Kamala Harris on the Environment

Like most Democrats, Harris believes in combating climate change. She has co-sponsored the Green New Deal, criticized President Trump for dropping out of the Paris Agreement, and has been given a 100% lifetime score from the League of Conservation Voters, an environmental advocacy group, based on her voting record on environmental issues.

Sustainability and Clean Energy
Harris is in favor of transitioning to renewable energy sources nationwide and believes in creating federal standards to facilitate the transition. She has expressed support for a 40 percent national renewable energy standard for electricity providers by 2035. She was also a co-sponsor of a 2017 bill introduced in the Senate that sought to close tax loopholes for oil companies.

"Global warming and climate change pose great risks for California and the rest of the nation," she asserted in a 2016 Facebook post. "Among other things, without long-term planning, climate change will result in rising sea levels, more frequent and intense forest fires, and deadly heat waves. To promote a lower-carbon economy, it's vital that America invests in clean energy, smart grid upgrades, and public transportation. I'll continue to fight for any investment that will sustain lower energy costs and make sure our children have clean air to breathe."

4. Kamala Harris on Immigration

Harris has advocated for reforms to make the U.S. immigration system more permissive. While she has not gone as far as many of her Democratic colleagues, including fellow 2020 candidates Elizabeth Warren and Kirsten Gillibrand, in calling for the abolition of the U.S. Immigration and Customs Enforcement (ICE), she does believe in reforming the nation's top immigration agency.

"I think there's no question that we've got to critically re-examine ICE and its role and the way that it is being administered and the work it is doing," she told MSNBC. "And we need to probably think about starting from scratch."

And in a recently announced plan, Harris said, if elected president, she would use executive action to keep immigrant families together and do away with barriers that block Dreamers from being able to become U.S. citizens.
She has come under criticism, though, for supporting a 2008 San Francisco city policy that required local law-enforcement officers to report the arrest of juvenile undocumented immigrants who were suspected, though not necessarily convicted, of committing a felony to ICE.

Harris has strongly opposed President Trump's "zero tolerance" policy and border wall proposal, and has expressed support for the the Dream Act, which would protect young undocumented immigrants, or DREAMers, from deportation. "Congress must pass the DREAM Act now," she wrote in an op-ed in 2017.

5. Kamala Harris on Marijuana Legalization

Harris joins a growing pool of candidates interested in fully legalizing marijuana for recreational use. In her most recent book, 2019's "The Truths We Hold: An American Journey," she wrote, "We need to legalize marijuana and regulate it. And we need to expunge nonviolent marijuana records from the records of millions of people who have been arrested and incarcerated so they can get on with their lives."

Harris, who represents, in the Senate, one of 10 U.S. states where marijuana is fully legalized, has not always supported legalization of recreational marijuana. In 2010, when she was the district attorney of San Francisco, Harris opposed a bill that would have legalized recreational marijuana in California. In 2015, as California's attorney general, she expressed support for widespread legalization of medical marijuana, but did not endorse legalizing marijuana for recreational use.

But, like much of the country, her opinions have evolved over the years.

"Listen, I think it gives a lot of people joy," she said in a recent appearance on "The Breakfast Club" radio show. "And we need more joy."

6. Kamala Harris on Gun Control

Harris supports an assault weapons ban, universal background checks, and repealing the NRA's "corporate gun manufacturer immunity shield," according to her website. Additionally, if Congress doesn't send "comprehensive gun legislation" to her desk during her first 100 days as president, she vows to "take executive action to keep our kids and communities safe."
Specifically, she would "mandate the most comprehensive federal background checks in history, revoke the licenses of gun manufacturers that break the law, close the 'boyfriend loophole' to make it harder for domestic abusers to purchase guns, reverse President Trump's dangerous decision to allow fugitives from justice to purchase guns, and ban the importation of AR-15 style assault weapons."
"You can be in favor of the Second Amendment and also understand that there is no reason in a civil society that we should have assault weapons around communities that can kill babies and police officers," she said during a CNN town hall in January.
7. Kamala Harris on Net Neutrality

Kamala Harris is in favor of net neutrality rules that establish equal access to broadband service.

"The genius of the internet is that it enables entrepreneurship on a level playing field. That openness is particularly important for historically disadvantaged communities. On the internet, anyone can become an overnight sensation based on the quality of their work, regardless of their gender, the color of their skin, who they love, or where they were born," she said in a statement in 2017, as Federal Communication Commission (FCC) chairman Ajit Pai began rolling back net neutrality rules.

"As a senator, I will fight to protect the net neutrality rules. I intend to submit my comments to the FCC urging that it retain the net neutrality rules. I urge all Americans to add their voices to this important conversation."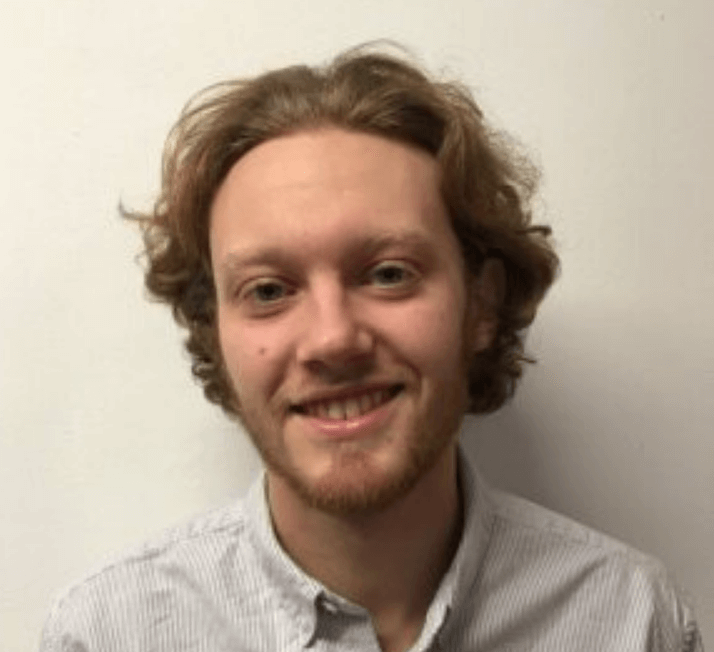 Sam Benezra is a graduate of Ohio University with a B.A. in History from the Honors Tutorial College. He is a native of Brooklyn, New York. Sam enjoys writing on a variety of subjects, including science, music, politics, film. In his spare time, he enjoys traveling, playing guitar, and writing songs.