Pete Buttigieg, commonly known as "Mayor Pete," is the 37-year-old mayor of South Bend, Indiana. Despite his young age, Buttigieg has a decorated resume. He is a Harvard University graduate, a Rhodes Scholar, a member of the Navy Reserves and an active musician. In 2014, two years after he started his first term as mayor, Buttigieg was deployed to serve in Afghanistan. But his seven-month deployment didn't hampor his mayoral success. As mayor of South Bend, he helped lower unemployment, revamp the previously "dying" downtown and turn around the city's population, which had been declining for some time.

Now he is running for president.

Here is what Pete Buttigieg stands for: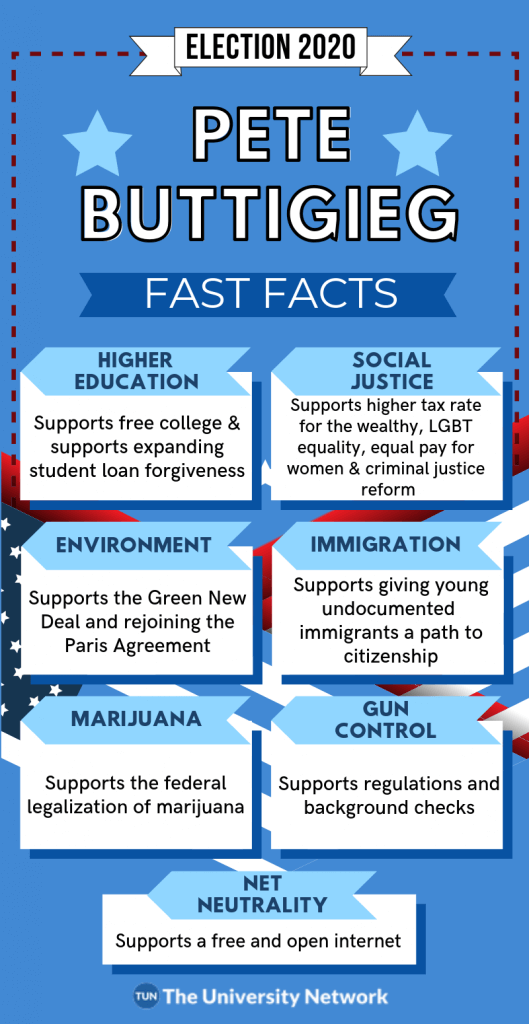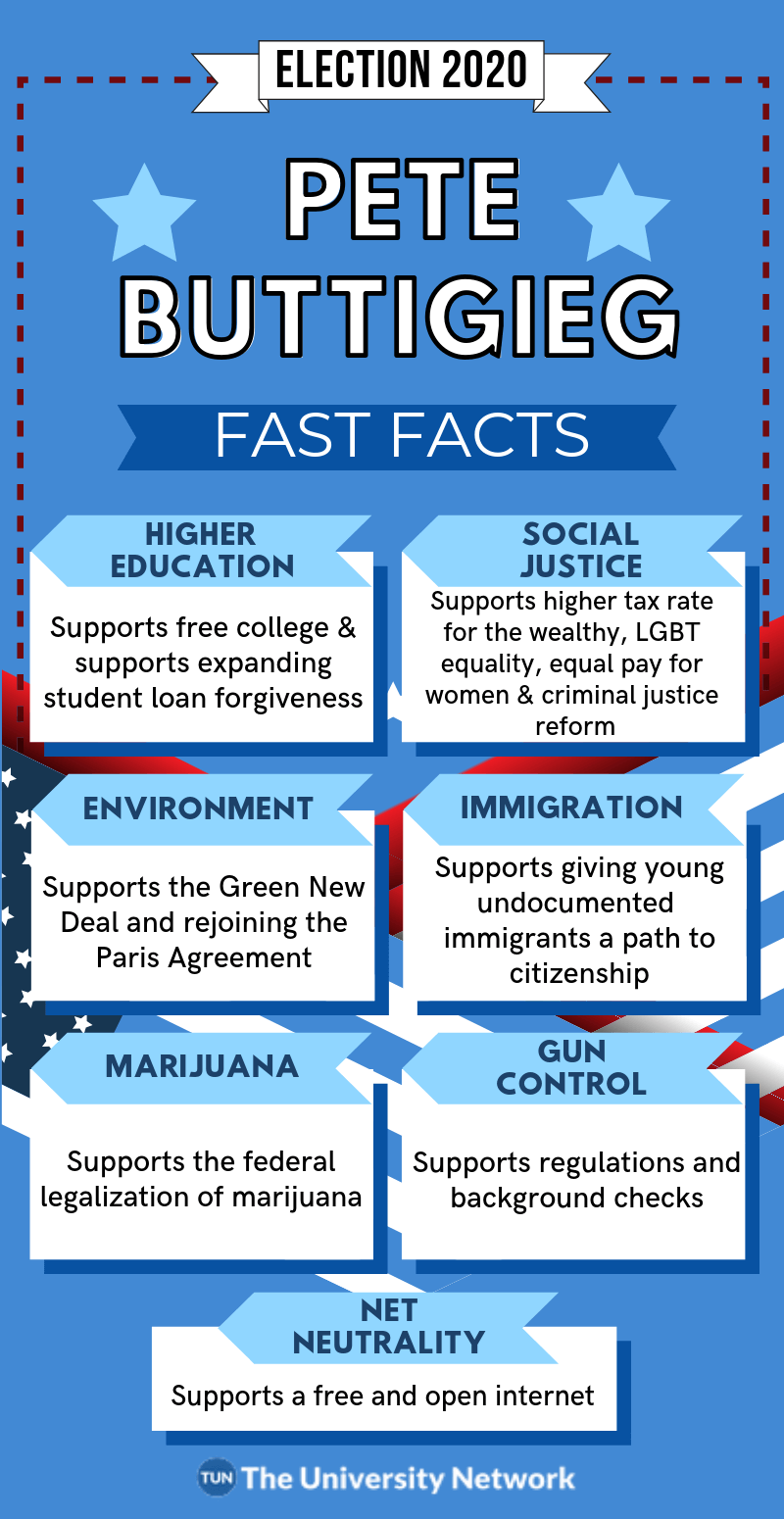 1. Pete Buttigieg on Higher Education

Recently, Buttigieg switched his opinion on free college. Specifically, he now supports making public college "debt-free" for low-income families and "tuition-free" for middle-income families. Largely, he plans to do this through a state-federal partnership and by increasing Pell Grants.
Although Buttigieg doesn't support the idea of making college tuition-free, he, as a millennial, does understand the need to lower student debt. He recently told Claremont Colleges' student newspaper that he would approve of legislature that would allow students to refinance their loans at lower interest rates, and he supports improving accessibility to the Public Service Student Loan Forgiveness Program. Specifically, he wants it to be easier for teachers and public servants to have their student loans forgiven.

2. Pete Buttigieg on Social Justice

Compared to the majority of his competitors, Buttigieg hasn't had much of an opportunity to speak on a national level. However, in a recent interview with CNBC, he explained that a higher marginal tax rate for top earners is something we should "consider."

"Maybe it doesn't have to be as high as it was historically, but we should at least admit that when it was higher, the American economy was growing pretty well," Buttigieg said in the interview. "We should consider a wealth tax. I think it makes sense. I think one of the things that's appealing about it is it's not very distortionary compared to an income tax, and that's important."

Additionally, Buttigieg has voiced his interest in implementing a tax on financial transactions, raising the minimum wage, eliminating the gender wage gap, and "turning to a more equitable use of the estate tax."
If elected, Buttigieg would become the United States' first openly gay president. Policy-wise, he has voiced his support of the Equality Act, which would ban discrimination against LGBT people in education, employment, housing, credit, public accommodations, federally funded institutions, and federal jury service. He also has spoken out against the Trump administration's transgender military ban.

Socially, Buttigieg could serve as a role model for many gay individulas with high political aspirations. He didn't come out as gay until 2015 — three years after he was elected mayor. As a senior in high school, Buttigieg knew he was gay, but he believed that if he was open about it, it could hamper his professional career.

"Back then I would have believed that you could either be gay or you could be married. Not both," Buttigieg told the Washington Blade. "That if you were gay, you could either be out, or you could run for office. Not both. That in our country you could live with a same-sex partner or you could serve in the military. Not both."

Buttigieg has faced recent scrutiny for using the phrase "all lives matter" during a 2015 State of the City Speech. However, he has since addressed the controversy by saying he regrets using the phrase and didn't fully understand its meaning at the time.

While he hasn't had the chance to introduce or back legislation at the national level, Buttigieg has alluded that he felt comfortable asking the Obama-era Department of Justice for guidance on body cameras, civil-rights training and implicit bias, and recruiting a more diverse police force. Since Trump has taken office, however, he hasn't felt as comfortable taking advice.

"The next president needs to set up a Department of Justice that will be an ally to help any mayor and police department trying to do the right thing," Buttigieg said in an interview with the National Action Network.

3. Pete Buttigieg on the Environment

Buttigieg is a staunch supporter of the fight against climate change. As a millennial, he mimics many young people's concerns regarding the fate of the environment. "If you're my age or younger . . . you're going to be dealing with climate change for most of your adult life in specific, noticeable ways," he told the Atlantic.

He stresses the idea of thinking long-term, and he worries that current politicians are thinking too much about the immediate future — partially because of their age.
Sustainability and Clean Energy
Buttigieg believes in the need to transition away from fossil fuels towards clean, renewable energy. Policy-wise, Buttigieg backs rejoining the Paris Agreement. He also has voiced his support of Rep. Alexandria Ocasio-Cortez's (D-N.Y.) Green New Deal.

"I think we need to be honest that the Green New Deal framework right now represents a set of goals more so than it does a fully designed plan," Buttigieg told the Boston Herald. "I actually think that's OK. One characteristic of our country is that we embrace very aggressive goals when it's the right thing to do for our country, as we did on everything from conquering the Great Depression to winning the World Wars to putting somebody on the moon."

4. Pete Buttigieg on Immigration

Buttigieg, like many of his Democtratic competitors, disagrees with Trump's tightening of the U.S. borders. He supports the Deferred Action for Childhood Arrivals (DACA) program, and he approves of legislature that would enable young undocumented immigrants to become citizens.

Recently, Buttigieg weighed in on the debate over defunding the Immigration and Customs Enforcement agency (ICE).

"As long as you have an agency, even if you get rid of ICE and call it something else, being ordered to tear families apart from one another, or being ordered to make it harder to get onto a path to citizenship, you are going to continue to have heartbreaking stories that are not helping anybody," he told NBC.

5. Pete Buttigieg on Marijuana

While Buttigieg hasn't put marijuana at the forefront of his campaign, he does believe in the federal legalization of the drug. Primarily, because he recognizes that existing marijuana laws have been unequally used to target and incarcerate African Americans.

"The safe, regulated, and legal sale of marijuana is an idea whose time has come for the United States, as evidenced by voters demanding legalization in states across the country," he told The Boston Globe.

6. Pete Buttigieg on Gun Control

Buttigieg has expressed support for universal background checks, an assault weapons ban, establishing a nationwide gun licensing program, closing the "boyfriend loophole," and closing the "Charleston loophole," which allows people to purchase a gun, regardless of their history, if a background check takes more than three business days. He also supports the Disarm Hate Act, which would prevent people who have been convicted of hate crimes from buying a firearm.
"I did not carry an assault weapon around a foreign country so I could come home and see them used to massacre my countrymen," Buttigieg tweeted in 2017.

7. Pete Buttigieg on Net Neutrality

Like many of his Democratic competitors, Buttigieg is a supporter of net neutrality. He believes everyone should have access to a free and open internet where they can express their ideas, opinions and creations.

In 2017, after the Federal Communications Commission (FCC) voted to repeal Obama-era net neutrality laws, Buttigieg sarcastically tweeted: "The truth is this #NetNeutrality decision probably won't affect your daily life. Unless you use the Internet."

And in 2018, Buttigieg signed the Cities Open Internet Pledge, which aims to make all internet providers working within participating cities follow net neutrality principles.
News & Content Manager
Jackson Schroeder is a graduate of Ohio University with a B.A. in Journalism from the E.W. Scripps School. He is originally from Savannah, Georgia. Jackson has covered a wide range of topics, including sustainability, technology, sports, culture, travel, and music. He plays bass and guitar, and enjoys playing and listening to live music in his free time.