There are all kinds of networking opportunities at universities or colleges, including networking nights or recruiters visiting your campus. Some of your peers will ignore these amazing networking opportunities, while others will use these opportunities to land their dream job. While college is about having a formative academic experience, you also need to focus on your professional development, which includes learning how to network.
Here are important networking tips that college students need to know.
What is networking?
Networking is the process of building relationships, so it's not just collecting business cards or connecting on LinkedIn. It is a process of meeting new people, letting them know who you are, and what future opportunities you seek. Students often attend networking events to meet professional in fields that they are interested in.
How do I network?
Networking is all about communication. It is an opportunity to engage in conversations, ranging from your interests to professional goals, with recruiters, professionals, and faculty. While networking, you do not want to be aggressive or artificial. It is best to be genuine and relaxed. Building a genuine relationship with a recruiter, faculty, or professional can lead to their connecting you to a job/internship opportunity or with a contact who can lead you to a job/internship opportunity.
When should I network?
It is never too early to begin networking. You can follow your college's career center, subscribe to department emails, or join clubs related to your career interests. As a freshman, you can use networking to help guide your future career path. Networking early in your college career allows you to connect with professionals who may be helpful when the time comes for you to start looking for internship opportunities and job searching. During your sophomore or junior year, networking can help you land a summer internship. It is better to network early in the fall semester and line up an internship before spring semester. During your senior year, networking is crucial to land a full-time job.
What should I wear to a networking event?
Different networking events have different dress codes. Be sure to look at the flier or posting about the networking event. If the event is business casual, men should wear dress pants and a button-down shirt with dress shoes. While ties are not required for business casual, it may help you look more put together. For women, business casual can be a pair of chino pants or dress pants paired with a button-up shirt or blouse. Flats or heels may be worn, but aim for comfort so you are not distracted during the event. Be sure to look put together and well-groomed before you enter a networking environment.
What do I do before a networking event?
Before a networking event, be sure to master your elevator pitch and do your research. An elevator pitch is a 30-second speech that summarizes who you are, what you do, and why you would be a perfect candidate. This is a speech that will help recruiters and professionals see how you can present yourself positively in a brief period of time. Many networking events and opportunities are scheduled events, so you have time to do your research. Find out which professionals will be in attendance, which companies are represented, and research the roles of the companies.
What should I do at a networking event?
At networking events, you should talk to professionals, recruiters, and faculty. Seek to engage in quality conversations. You should aim to talk to more than one professional during an entire networking event. The purpose of networking events is to expand your network, so be sure to talk to a handful of people and really try to put yourself out there. Always introduce yourself and try to make a positive impression. If you've done your research, you can discuss recent company news with company representatives. Did a company just engage in a large merger or gain a new client? Be sure to bring up key points about recent company news and ask questions about the company at networking events to demonstrate your knowledge and interest in the company. Also, listen to the people you meet. Active listening can go a long way at a networking event. You want to remember some key points to be able to bring up after the networking event, so the professional or recruiter can remember who you are. At the end of a conversation with a professional or recruiter, ask for their business card so you can thank them for their time. You can also ask if you can connect with them on LinkedIn where your resume can be made available.
What shouldn't I do at a networking event?
You want to make a good impression at networking events so you should stay away from certain actions. The most important is, don't be rude. While you are at a networking event to find an internship or a job, you shouldn't shove your resume into a recruiter's hand. Instead, make a connection first, so the recruiter is more likely to pass on your resume to the next stage. Also, you should not stick to the people you know already. The whole point of networking is to meet new people, so be sure to leave your comfort zone and engage with people you don't know.
How do I make a good impression?
Networking can be intimidating for college students, as they often view networking as a leap into the professional world. In reality, networking is preparing students for the professional world. To make a good impression while networking, be sure to look neat and well-groomed, demonstrate professionalism, have a great attitude, and express a genuine interest in the conversation.
What do I do after a networking event?
After a networking event, be sure to email the people who you were speaking with to thank them for their time. In your email, include details of your discussion to help the recruiters remember you. If possible, connect through LinkedIn, which is the social network for young professionals to join as soon as they enter college as they can expand their professional network much quicker and easier. Be sure to stay in contact with your recruiter, but never harass a recruiter for a position.
While networking may seem daunting, be sure to use these networking tips to meet and engage with professionals while you are still in college. Many people today get jobs through networking. According to LinkedIn, 85% of American jobs are filled through networking. While networking may be nerve-wracking, being able to network effectively can lead to a future employment opportunity.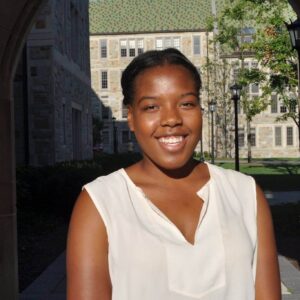 Vanessa Sewell is studying Economics and Communications at Boston College. She is from Bronx, NY. Vanessa has worked on topics related to lifestyle, fashion, culture, and education during her time at Boston College. During her free time, she can be found playing piano and guitar or jamming to Spotify.