When a student starts to fall behind in class, tutoring can help them build confidence in their academics and perform better in school. Even strong students can benefit from tutoring sessions outside of school hours.
Tutors are a great resource for students of all academic backgrounds and at any level of schooling. Grade school, high school, and college students can all benefit from having the guidance and support that a good tutor provides.
If you are a parent exploring tutoring options for your child, you will want to choose a tutor with the proper amount and type of experience, an effective tutoring methodology, and the personality to guide your child.
A tutor, importantly, is not a teacher. Where a teacher is tasked with educating students about new subjects and creating a curriculum (i.e., teaching), a tutor should be more like an educational guide. Tutors teach their tutees how to learn, how to comprehend difficult ideas, and how to study. As a result, the strengths of a good tutor differ from those of a good teacher.
Depending on your child's learning style, personality, and advancement in school, you may seek out different qualities in a tutor. However, there are a few traits that you frequently see in great tutors.
If you are in the process of choosing a tutor, here are a few characteristics to look for: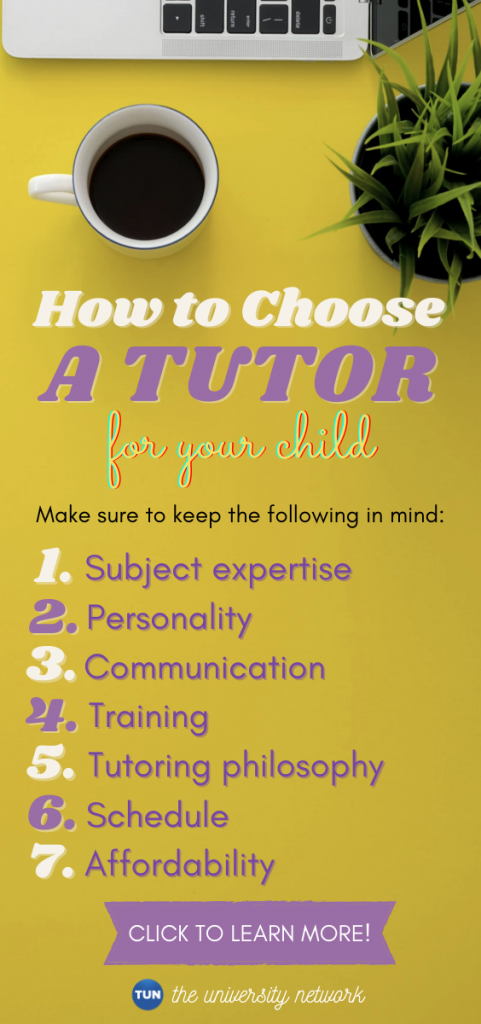 Subject expertise
When you are choosing a tutor, you will need to decide whether your child needs a general tutor or a tutor who has experience and expertise in one specific subject.
A general tutor can help you with a variety of classes and types of coursework, and they may focus on developing study habits that will translate across different subjects. While they will generally have a basic understanding of many subjects, they may not be able to provide advanced instruction on specific topics. If you're looking for a tutor to help you in multiple subjects, you might want to seek out a tutor with a degree or background in education.
If your child is falling behind in a specific subject, a tutor who specializes in that subject can provide more in-depth instruction in that topic. In this case, it is important to know how much experience the tutor has in that subject. In order to teach and tutor in a subject, you need a level of mastery over the material.
If your child is a high school student looking for a math tutor, it is generally a good idea to look for a tutor with at least a bachelor's degree in math or a closely related field. If you need assistance with an undergraduate-level course, you probably want to find someone with at least some postgraduate education in that field.
If you are seeking a tutor to help your child with a specific test, like the ACT, SAT, LSAT, or MCAT, you should look for tutors who are trained to teach the test they are preparing to take. Each of these exams require a specific skill set and base of knowledge. Tutors trained in teaching these tests can teach proven test-taking strategies and methods to help your child work faster and leave them feeling more confident and better-prepared for the material you will see on the exam.
Personality
Effective tutors excel at putting themselves in their students' shoes. A good tutor should also be patient and have the ability to work with a variety of types of learners. You should always look for tutors who are interested in the material they teach and are passionate about mentoring.
Also keep in mind that the best tutors — and teachers — are not always the smartest or most accomplished people in the room. If a tutor is naturally gifted in math, for example, they might struggle to relate to students who struggle with it.
Flexibility is also an important trait in a tutor — they need to be able to adapt to different learning styles, let go of ineffective practices, and learn effective ones.
The relationship between a tutor and a tutee is a close one, so it is important that your child and their tutor's personalities work well together. Consider what kind of tone your child prefers in a lesson: do they work better in more focused settings, or would they prefer a tutor with a more relaxed approach?
Students who have good relationships with their tutors are nearly twice as likely to increase their homework completion, set academic goals, have a weekly agenda, and experience improved organizational skills.
Moreover, tutors who are trained in interpersonal skills have been shown to be more patient and effective. Great tutors know how to motivate their students by providing them with positive reinforcement and constructive criticism at the appropriate times.
A tutor should be able to motivate their students and give them more confidence in handling difficult subject material. Pacing is key as well, and good tutors know how to work through material at a pace that matches that of their students.
Communication
Tutoring is all about communication. The best tutors are great speakers who can convey information clearly, but even more importantly, they need to be good listeners. Tutors should be adept at understanding where their students are struggling and able to help their students clarify any areas of confusion.
Look for tutors who ask a lot of questions. More often than not, the role of a tutor is not to explain or teach concepts or to walk their students step by step through confusing ideas. Rather, the best tutors are capable of coaxing their students toward the correct thought process through questioning, with a light emphasis on instruction.
Tutors should also be open and communionative with parents, and even with teachers. As the parent, ask your child's tutor to give you an update on their progress once every week or two. According to Edutopia, a website associated with the George Lucas Educational Foundation, students are 83 percent more likely to participate in class and 72 percent more likely to engage in school when their tutors and teachers communicate. The U.S. Department of Education likewise recommends coordination between tutors and teachers, identifying it as one of the most important factors in effective tutoring.
Training
When you are looking for a tutor, you should seek out candidates who have received professional training. Tutors are educators, so they should have some familiarity with common teaching methodologies and practices.
While there are great tutors who have never received professional training, professionally-trained teachers have been shown to be more effective than untrained tutors.
"We expect the tutor to be intelligent and knowledgeable. However, intelligence and knowledge alone do not indicate a tutor's success with your child," Halina Goetz, a mathematics professor at Chapman University, wrote in a university blog post. "What is also important are the personality traits of the tutor. What is the most important is whether the tutor received professional training in tutoring and knows how to tutor effectively."
Trained tutors are more likely to be familiar with research-based tutoring methods and pedagogy, the effectiveness of which has been demonstrated in multiple studies. They also will likely have more experience working with various types of learners and will be prepared to change their teaching methods to suit their tutees.
While there are great tutors who don't have professional training, you can be sure that a trained tutor will be familiar with methods and teaching strategies that will ultimately help you, the student.
Tutoring philosophy
The best tutors approach their work with a teaching philosophy — or pedagogy — that guides the way they structure lessons, give assignments, and communicate with students.
Some tutors have a non-directive philosophy that allows the student to guide the lesson to some extent. Tutors who follow this philosophy may not have strict curricula or even lesson plans and may use questions to guide most of their lessons. Others have stricter lesson plans and even a set curriculum that they follow for most students.
Both can be effective approaches, but they are each suited for different types of students. If your student thrives in structured, organized environments, they might see more success with a stricter curriculum.
Knowing your child's personality and academic strengths and weaknesses, you can determine what approach you think would best fit their learning style.
Ask tutors to describe their philosophy and how they intend to approach lessons. A tutor should be able to explain in detail how they prefer to structure lessons.
Schedule
Tutors often have busy schedules, and many have other jobs or multiple students. Likewise students — high school students, in particular — have demanding schedules, consisting of extracurriculars, regular coursework, SAT or ACT preparation, and college applications.
When choosing a tutor for your child, it is crucial that you are able to set up a regular tutoring schedule that doesn't interfere with their schedule. Regularity makes tutoring more effective. For students who are struggling, two or three sessions per week with daily homework assignments can help them improve significantly. According to the U.S. Department of Education, increased frequency of tutoring sessions yields better results, even if each session is shorter in length.
However, you shouldn't overburden your child's schedule if they are already excelling in school. Students with busy schedules might benefit more from once-a-week tutoring lessons. Tutoring shouldn't take away from a student's ability to complete schoolwork, participate in meaningful extracurricular activities, or still get a full night of sleep.
The length of each tutoring session is also a scheduling consideration. Though there is some disagreement about the ideal length for a tutoring session, some research suggests that tutoring sessions should last between 10 and 60 minutes. Sessions longer than 60 minutes do not demonstrably result in academic gains for the student.
Affordability
Hiring a tutor is an investment in your child's education, and as with any investment, settling on an appropriate budget is a crucial factor in your decision. Tutors can vary in price significantly, based on experience, training, and location.
An untrained high school student tutoring as a side job might charge as little as $10 to $20 per hour, whereas a professional tutor can cost anywhere from $50 to $200 per hour. Location dictates cost in a significant way. A trained private tutor in a big city with high demand, such as New York City or Los Angeles, may easily charge over $100 per hour. Tutoring centers can be expensive as well.
In an expensive market, tutoring rates cost around $60 per hour on average, while rates in more affordable markets are closer to $40 per hour. However, quality tutors can be found below market value, but they will probably be younger and have less extensive experience. Research the average rate of tutoring in your area to get a sense of your local market. Then base your budget on value, quality, and what you are able to afford.
Conclusion
A good tutor should be able to bring the best out of their students. Students looking for a tutor should seek out tutors with expertise in subject matter, a great personality, strong communication skills, professional training, a well-conceived tutoring philosophy, a consistent schedule, and an affordable rate.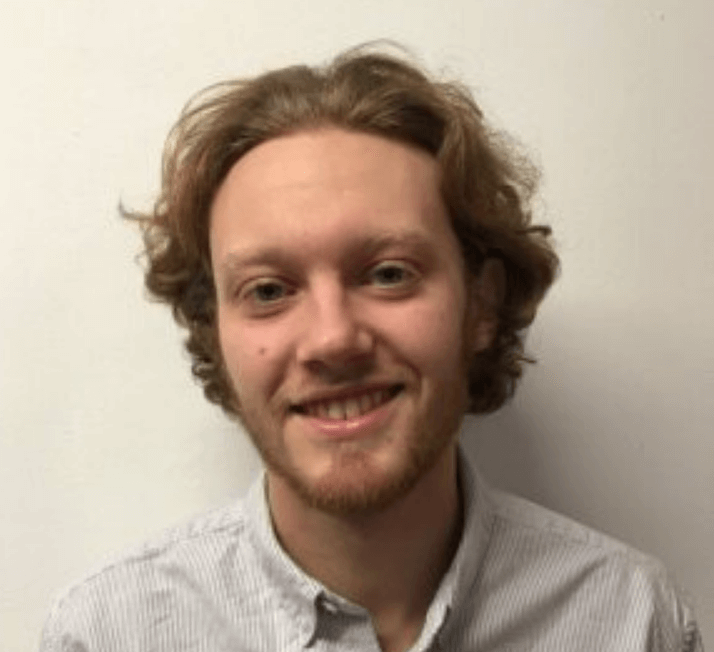 Sam Benezra is a graduate of Ohio University with a B.A. in History from the Honors Tutorial College. He is a native of Brooklyn, New York. Sam enjoys writing on a variety of subjects, including science, music, politics, film. In his spare time, he enjoys traveling, playing guitar, and writing songs.