*Updated November 7, 2019

The GRE, short for Graduate Record Examination, is a standardized test required for most graduate schools or graduate business schools in the United States.

Among other required documents, such as a personal statement or undergraduate GPA (grade point average), the GRE score is a common measure for schools to compare thousands and thousands of applicants' qualifications for graduate-level academic work.

If you're considering taking the GRE, here's what you should know.

1. When do you take the GRE?
You can take the computer-based GRE on most weekdays and weekends year-round. You must register online in advance to take the test. Walk-in GRE registration at test centers is not accepted. Register for computer-based GRE here.

You can also take paper-based GREs, but they are available only 3 times a year. The exact dates differ by year, but they are held every October, November and February. Register for paper-based GRE here.

2. How much is the GRE fee?

The test fee is $205. So it's not cheap.

Under certain financial circumstances, however, the ETS (Educational Testing Service), which owns and administers the GRE, will reduce the fee. They also promote financial aid to applicants who prove economic hardship.

3. Where can I find free GRE prep courses?

Before you buy any books or take paid classes, save yourself some money by taking a free practice test first. For example, Princeton Review offers free practice tests online or under realistic testing conditions in nearby classrooms.

ETS, which administers the GRE, also offers free online tests and test preview tools for computer-based tests. For those considering paper-based tests, ETS offers downloadable versions of practice tests here and here.

In addition, Khan Academy offers free instructional videos of different concepts you'll be tested in math sections.

4. What is the test format?

The GRE tests your verbal, math and writing skills.

Lasting 3 hours and 45 minutes, the entire exam consists of six sections. The first section is always the writing section, lasting an hour. The next five sections can come in any order, consisting of two verbal, two math, and one experimental or research section, which does not count toward the final score.

The writing section — officially called "Analytical Writing" — consists of two essays, an issue and an argument tasks. Each task runs for 30 minutes. For an issue task, you must evaluate a given issue and develop an argument for your side of the issue. For an argument task, you are given an argument and must analyze and critique the argument's logic rather than take a side.

Each verbal section — officially called "Verbal Reasoning" — consists of 20 questions and lasts 30 minutes, giving you 1–4 minutes per question.

Each math section — officially called the "Quantitative Reasoning" — consists of 20 questions and lasts 35 minutes, giving you between 1.5 and two minutes per question.

The experimental or research section can be either verbal or math, and contains new questions considered for future use. While an experimental section is unidentified, and appears identical to the scored sections, a research section always comes at the end of the test, is identified, and offers an incentive for test takers to complete the section or perform well on it.

You get one-minute breaks after each section and a 10-minute break after the third section.

5. What is a multistage test?

The GRE is a multistage test, meaning how well you do on your earlier section determines the difficulty of following sections. If you do well on the first section, you will get a harder second section, but higher access to higher scores. If you do poorly on the first section, you will get an easier second section, but your scoring potential is capped at a lower range.

6. How is the GRE scored?

Every GRE score has two components: a scaled score and a percentile rank.

While both verbal and math sections are scored on a 130-170 score scale, in one-point increments, only the writing section is scored on a 0-6 score scale, in half-point increments.

While both verbal and math sections are scored right away on the computer, your essays are graded by at least two readers on a six-point scale. If the two scores are within one point, the average of the scores is taken. If the two scores differ by more than a point, a third reader examines the response.

However, what's more important is your percentile rank, indicating how your GRE scores compared to those of other test takers. Check here for the most recent GRE percentile ranks.

According to the current ranks, if you scored 150 on verbal, you are roughly in the 47th percentile, meaning that you scored better than 47% of other test takers and worse than the other 53% of test takers.

Likewise, if you scored 150 on math, you are roughly in the 38th percentile, meaning that you scored better than 38% of other test taskers and worse than the other 62% of test takers.

For essays, the corresponding percentiles are as follows. For example, a score of five on the essay section means you performed better than 92% of test takers.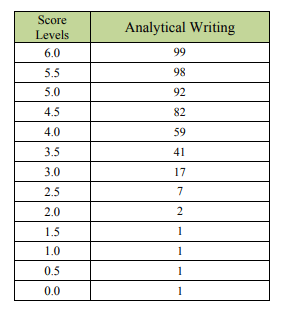 7. What is considered a good GRE score?

Every school varies in its emphasis on the GRE. While some take it as a part of mere formality, others take it as an important selection factor.

First off, the average score for GRE is 150.8 — 150 for verbal and 152 for math.

However, for the best estimate on how much the GRE should matter to you, research or contact the schools where you plan to apply directly to find out how much they value GRE scores. Knowing its worth beforehand is very important, particularly for those who need to juggle GRE on top of other work. Then, plan accordingly to maximize the time and effort you'd want to expend on preparing for the GRE.

Here are some important questions you should keep in mind before you start your research.
What GRE scores do I need to be accepted? You need to have a target score, so you can figure out how much work you need to put in for the GRE. If the school doesn't give you a cutoff score, use the Princeton Review's grad school search and business school search to find out the average scores for last year's incoming class for your schools.
Will you look at all parts of my GRE score? While some programs value math scores higher, others value verbal or writing scores higher. Know in advance to which subjects you need to put more effort in.
Are GRE scores used for anything else? Some schools may use your GRE scores for course placement or scholarship consideration, in which case, you may want to score higher than just the cutoff score.
How important is my first GRE score? If you're planning to take the GRE multiple times, it would be good to know in advance how much your school values that first score. If they don't mind multiple scores, but just the highest score, you can relax a bit on your first test. If not, you need to prepare thoroughly for that first test.
8. When do you receive your scores?

At the end of your test, you will be asked if you want to report or cancel your scores. If you select report, you will view your unofficial verbal and math scores right at the test center. But, the essay scores will be unavailable at that time.

After about 10-15 days after your test date, you will get an email notification from ETS saying that your official scores, including your essay score, are ready in your ETS Account.

For those taking the paper-based GRE, your official scores will be available in your ETS Account about five weeks after your test date.

9. How do I send my scores to schools?

After you see your scores at the test center, you can designate up to four score recipients, who will receive your scores 10-15 days after your test date, or choose not to report your scores at that time. There is no fee for this service.

For those taking the paper-based GRE, you will be asked to designate your score recipients during registration or you can choose not to report at that time. There is no fee for this service.

If you choose to send your scores after your test day, you can send them online, by mail or by fax for a fee of $27 per score recipient.

10. What is ScoreSelect?

You can customize your scores by pulling together the best scores for each section from different tests to make your highest possible GRE score. Depending on your school, you might have to provide all your scores or just the ScoreSelected score.

11. What are GRE subject tests?

Similar to the SAT subject tests, the GRE subject tests assess your knowledge in a particular subject. There are six GRE subjects: biology, chemistry, English literature, math, physics and psychology. ETS offers the subject tests only three times a year. So, plan ahead if you need to take one.

Not every school requires a GRE subject test, but many of the most competitive programs do. Check with your school before considering one.

12. What are some tips and strategies?

It's important that you are well-rested on your test day. For the actual test itself, you should keep these tips in mind.

Understand the question: Questions in the verbal and math sections have a variety of formats. While some ask for a single answer, others ask for all that apply. If you're in a hurry, it's easy to assume that every question is asking for the same thing. But, it's super important to fully understand what each question wants you to answer before answering!
Practice using on-screen calculator: Since most students take the computer-based GRE, it's important to feel comfortable using on-screen calculator for math sections. You may think it will feel more or less the same, but not having a physical calculator in your hand can slow down the process. Make sure to practice on your own before the test date.
Feel free to skip questions: The computer-based GRE has a "mark and review" feature that enables you to mark questions that are taking too long to answer and revisit them. But, of course, you don't get extra time to revisit those questions. Plus, you can also view a complete list of all the questions in the section to make sure you don't skip any question by mistake.
Answer all the questions: Even if you skip hard questions at the time, always go back and answer them. For both verbal and math sections, you will not get points off for questions you answered incorrectly. So, even when you're clueless, it's always better to guess than not answer at all.
Use your time wisely: In both verbal and math sections, every question counts equally. So, you don't want to spend so much time on that one hard question. It's more important to finish each section!
Conclusion

Since the GRE can feel a lot like the SAT or ACT, it can bring in many dreaded memories of taking test after test after test. But, because these tests are so similar, the reality is that you will feel more comfortable understanding and going through with the GRE than you did with the SAT or ACT. And, don't forget that while GRE is very important, there are many other factors that define who you are and what you can bring to the school in the application process as well!

Hyeyeun Jeon is from South Korea and a graduate from Carnegie Mellon University with a double major in Professional Writing and International Relations. She is passionate about non-fiction storytelling. She loves reading, watching, writing and producing stories about extraordinary lives of everyday people.