While most of our 2020 coverage sheds light on the presidential challengers, we would be amiss if we didn't do the same for the incumbent, President Donald J. Trump, who is running for re-election.
Without further adieu, here are President Trump's positions on higher education and other important issues.

Here is what Donald Trump stands for: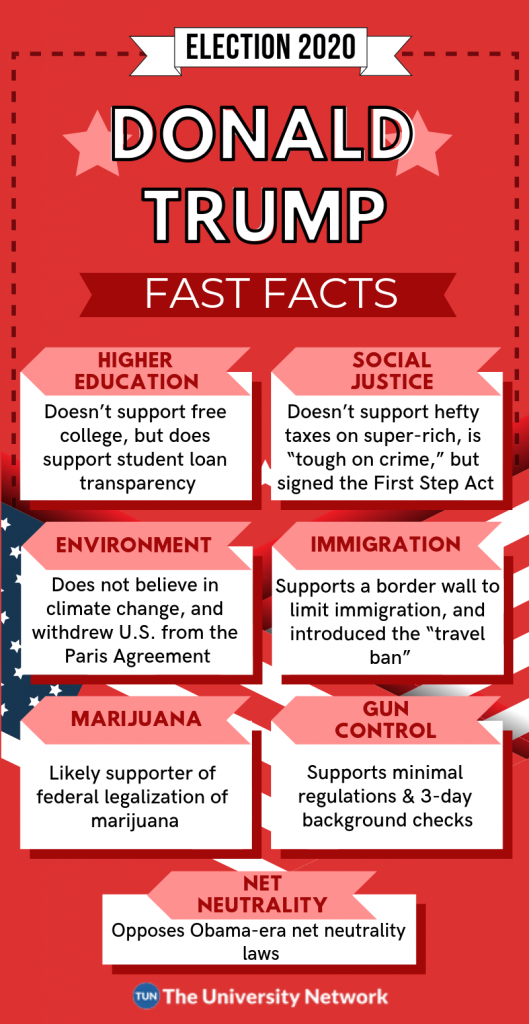 1. Donald Trump on Higher Education

Trump recently has taken steps to address mounting student debt, but he is not in support of making four-year colleges and universities tuition-free. The concept of free four-year college came up in the 2016 presidential race. In an interview, Trump's then-campaign co-chairman Sam Clovis spoke for the Trump campaign, saying, "Unequivocally no. How do you pay for that? It's absurd on its surface."

In the 2016 interview, Clovis also spoke for the Trump campaign in rejecting the idea of a state-federal partnership to make community college free. Community colleges are "damn near free" now, and "almost anyone can afford community college," Clovis said. Although these statements are from 2016, there is little to suggest that Trump's opinion has changed on the matter. Most of his suggestions to eliminate student debt surround reforming student loans.

Trump has made it a priority to simplify and publicize student loan repayments. By way of a recent executive order, Trump has put pressure on universities to share information on the earnings and average loan repayments of alumni who received federal student aid.

According to the White House, giving students more information on the prices and outcomes of specific degrees in higher education will help them make "better and well-informed choices" on where to go to school and what major to enroll in.

"Institutions should be transparent about the average earnings and loan repayment rates of former students who received Federal student aid," the executive order states. "Additionally, the Federal Government should make this information readily accessible to the public and to prospective students and their families, in particular."

Making this information available will also, according to the White House, "encourage institutions to take into account likely future earnings when establishing the cost of their educational programs."

The Trump Administration has suggested repealing Obama-era Title IX laws that make it illegal to discriminate people based on their gender while in an educational environment. The proposed changes would define gender as being determined by genitalia at birth. In educational environments, gender determines which bathrooms and dormitories students can occupy and which sports teams or extracurricular programs students can partake in.
The Trump administration also proposed new rules to govern cases in which universities receive sexual assault complaints, claiming that such changes would ensure "fair, reliable procedures that provide adequate due-process protections for those involved in grievance processes." At large, the proposed rules would grant greater protections to students accused of sexual misconduct. Among the proposed changes, is a rule that would allow students who are accused of assault to cross-examine their accusers and other witnesses against them. Colleges' responsibilities to investigate would be limited to where the alleged incidents happened on campus or within an educational program or activity.

2. Donald Trump on Social Justice

It is not a priority of Trump's, per se, to close the income gap between the rich and the poor. Instead, he prioritizes job creation as a method to distribute wealth and give financial opportunity to low-income or unemployed Americans. According to the White House, in November of 2018, the unemployment rate fell to 3.7 percent, the lowest it has been since 1969.

The 2020 election comes at a time where candidates, such as Sen. Bernie Sanders (I-Vt.) and Sen. Elizabeth Warren (D-Mass.), have proposed taxes on Wall Street financial trades and the super-rich as a means to distribute wealth. All evidence points to Trump being against such measures, as the tax law he signed in December 2018 saved the United States' six big Wall Street banks $3.59 billion over one quarter, according to the Associated Press.
During his presidential campaign in 2016, Trump voiced his support for the LGBT community, tweeting, "Thank you to the LGBT community! I will fight for you while Hillary brings in more people that will threaten your freedoms and beliefs." And in some ways, Trump has stayed true to his word. Recently, the Trump administration announced a global campaign to end the criminalization of homosexuality in nearly 70 countries.

However, largely, the LGBT community feels that they have been negatively impacted by Trump in many ways. On March 23, 2018, for example, Trump's administration announced a plan that would prohibit transgender people from serving in the militairy. And his administration supports eliminating Title IX laws that make it illegal to discriminate people based on their gender in an educational environment.

During Trump's 2016 campaign, he claimed the United States needs to be "tough on crime." He has even voiced his support for policies, such as stop-and-frisk, which allows police officers to stop, question and search any pedestrian for guns, drugs, or other illegal possessions.

However, recently, he signed the First Step Act, which is a bipartisan proposal that encourages incarcerated people to join rehabilitation programs and engage in "productive activities" by incentivizing them with an opportunity for an earlier release date, into law.

"This legislation reformed sentencing laws that have wrongly and disproportionately harmed the African-American community," Trump said during his State of the Union speech. "The First Step Act gives nonviolent offenders the chance to reenter society as productive, law-abiding citizens. Now, states across the country are following our lead. America is a nation that believes in redemption."

3. Donald Trump on the Environment

Trump doesn't seem to believe in climate change, so he has ignored climate measures and gone forward with promoting fossil fuels. In 2017, Trump withdrew the United States from the Paris Agreement, stating, "The agreement is a massive redistribution of U.S. wealth to other countries." In his opinion, it is "less about the climate and more about other countries gaining a financial advantage over the U.S."

And in 2012, Trump tweeted, "The concept of global warming was created by and for the Chinese in order to make U.S. manufacturing non-competitive," which he later referred to as a "joke."

In response to a 2018 climate report, which highlighted that the world has just over a decade to address climate change and was created by 13 federal agencies and more than 300 climate scientists, Trump said, "I just don't believe it."

Sustainability and Clean Energy
All in all, finding sustainable solutions to mitigate climate change does not seem to be something Trump is concerned about. He has recently called for a 70 percent cut in renewable energy funding.

4. Donald Trump on Immigration
During his 2016 presidential campaign, Trump pledged to tighten the U.S. borders. Specifically, he pushed forward the idea of building a border wall, which would serve as a physical boundary separating the United States from Mexico. After failing to receive adequate funding to build the wall, Trump declared a national emergency in March 2019.

"The current situation at the southern border presents a border security and humanitarian crisis that threatens core national security interests and constitutes a national emergency," Trump said in a statement.

His primary concern, according to the statement, is the amount of drugs, including cocaine, heroin and methamphetamine, that "pour across our border."

In February 2017, Trump introduced Executive Order 13769, better known as the "travel ban," which aimed to restrict the ability of people from seven countries to travel to the United States. Critics referred to it as the "Muslim ban" due to the fact that Islam is the primary religion in five of the seven countries.

5. Donald Trump on Gun Control

In the wake of the shooting at Stoneman Douglas High School in Parkland, Florida, Trump voiced his support of some increases to regulations, background checks and the concept of arming teachers, tweeting, "Very strong improvement and strengthening of background checks will be fully backed by White House. Legislation moving forward. Bump Stocks will soon be out. Highly trained expert teachers will be allowed to conceal carry, subject to State Law. Armed guards OK, deterrent!……."

But the measures Trump supports aren't quite as strict as those of his Democratic colleagues and competitors. He recently vowed to veto a House-passed plan to extend background check review periods from three days to 10 days.

6. Donald Trump on Marijuana Legalization

Trump has gone back and forth on marijuana legalization. During his 2016 presidential campaign, he supported the idea that states should be able to decide whether or not they would legalize medical and/or recreational marijuana. But after he was elected, his opinion on recreational marijuana seemed to have switched. In 2017, then-Attorney General Jeff Sessions said that the Trump Administration would increase enforcement of federal laws against recreational marijuana. However, more recently, Trump voiced his likely support of the STATES Act, which would put an end to the federal ban on marijuana and allow states to decide whether to legalize it or not.

7. Donald Trump on Net Neutrality

Trump has voiced his opposition to net neutrality, and he stands with Federal Communications Commission (FCC) Chairman Ajit Pai's 2017 decision to repeal the law. This is a longstanding opinion of Trump's. In 2014, he tweeted, "Obama's attack on the internet is another top down power grab. Net neutrality is the Fairness Doctrine. Will target conservative media."

News & Content Manager
Jackson Schroeder is a graduate of Ohio University with a B.A. in Journalism from the E.W. Scripps School. He is originally from Savannah, Georgia. Jackson has covered a wide range of topics, including sustainability, technology, sports, culture, travel, and music. He plays bass and guitar, and enjoys playing and listening to live music in his free time.