Senator Cory Booker (D-N.J.) is quite the Renaissance man. Before he became the first African American U.S. senator from the state of New Jersey, he was an elite college football recruit who signed to play at Stanford, a Rhodes Scholar at the University of Oxford, a graduate of Yale Law School and the mayor of Newark, New Jersey, among other endeavors. While he was mayor, he made an effort to not only be a good politician, but also to be a good neighbor. He gained widespread support throughout Newark for helping a local citizen shovel snow out of his driveway so he could get to work after a major snow storm.

Now he is running for president.

Here is what Cory Booker stands for: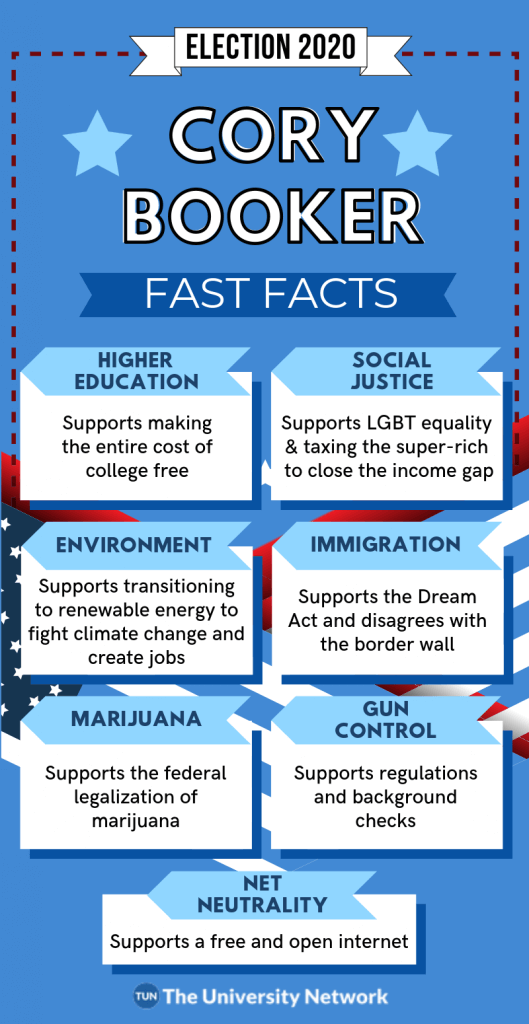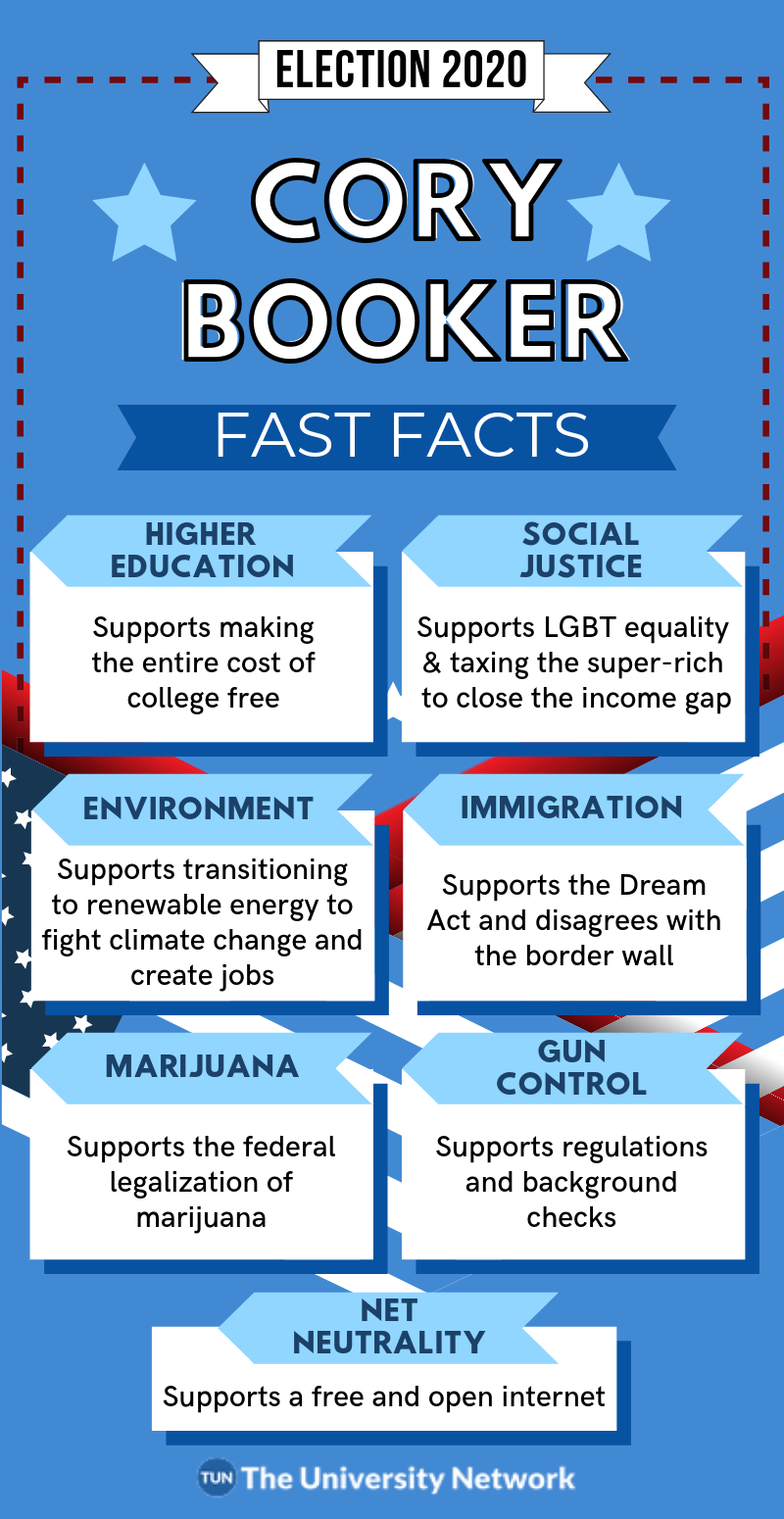 1. Cory Booker on Higher Education

While some candidates, including Bernie Sanders and Julián Castro, have vocalized their support for tuition-free college, Booker joins Kamala Harris and others in supporting "debt-free" college. He recently helped push forward the Debt-Free College Act of 2018, which would simplify the Free Application for Federal Student Aid (FAFSA) form and encourage states to invest more money into providing grants for students seeking higher education, particularly for low-income students and students of color. Ideally, the grants would cover the "full cost" of a college education, which includes textbooks, living costs and transportation.

Booker is a staunch supporter of community colleges. He previously supported The America's College Promise Act, which would make two years of community college free. The Act proposed that the federal government would invest $3 for every $1 a state invests towards community college tuition for students. It also ensures that community colleges offer academic credits that can easily be transferred to a four-year state college or university.

"Community colleges serve almost half of the undergraduate students in the United States and both help students prepare to succeed at four-year institutions and provide critical workforce training," a passage on his website states. "Senator Booker will continue to advocate for community colleges both in New Jersey and across the country."

Booker recognizes that there is a $1.5 trillion national student debt crisis. He has vocalized his dedication to both protecting students from predatory loans and resolving the "backlog" of student loan forgiveness requests.

"We constantly tell young people that higher education is the key to success," Booker said in a statement. "Yet, our current system punishes them for seeking an education through predatory loans and saddling them with outrageous debt. For the millions of students across the country, we must do better and the Debt Free College Act does that with a path for achieving a debt-free college degree."

2. Cory Booker on Social Justice

Booker believes in the need to close the gap between the rich and the poor. He supports raising the minimum wage, which he believes could make low-income families more financially stable, thus allowing them to become consistent participants in the American economy.
In a recently announced housing plan, Booker proposed creating a tax credit to help those who spend more than 30 percent of their before-tax income on rent. Specifically, the credit would cover the "difference between 30 percent of a beneficiary's income and their rent," Booker wrote in a Medium post.

In 2018, Booker introduced a bill , commonly referred to as "Baby Bonds," that would give lower-income children a financial safety net of up to $50,000 that they could use for "wealth-building purchases" — for example, putting a down payment on a house, or to pay for college. Through the program, every American newborn would be given a U.S. savings account with $1,000 in it. Each year, up to $2,000 (depending on family income) would be added to the account until the child turns 18.

Additionally, Booker supports fair pay for women. He is a co-sponsor of the Paycheck Fairness Act, which would prevent discriminatory pay practices that target women.

Protecting LGBT rights is one of Booker's cornerstone priorities. In 2015, he helped write the Equality Act, which would ban discrimination against LGBT people in education, employment, housing, credit, public accommodations, federally funded institutions, and federal jury service. Now in 2019, Booker and 45 of his senate colleagues have revamped and introduced the landmark bill.

"We cannot profess to be a nation of liberty and justice for all when our fellow Americans are discriminated against simply because of who they are and who they love," Booker said in a statement. "The Equality Act fixes this injustice by clarifying that federal civil rights law protects LGBT Americans. Every single LGBT American who has ever been made to feel like they don't belong, who has ever been bullied, abused, or discriminated against because of who they are and who they love should know that, in the halls of Congress and in the highest levels of the federal government, we see you, we hear you, we love you."

Criminal justice reform and the disproportionate incarceration of low-income people and people of color will likely be a key talking point in Booker's 2020 presidential campaign.

"I believe that we can build a country where no one is forgotten, no one is left behind … where our criminal justice system keeps us safe, instead of shuffling more children into cages and coffins; where we see the faces of our leaders on television and feel pride, not shame," Booker said in his announcement of his intention to run.

In an effort to reduce sentencing disparities and to reduce the amount of non-violent offenders in the U.S. prison system, in 2015, Booker, along with a bipartisan group of Senators, introduced the Sentencing Reform and Corrections Act (SRCA). If the bill becomes a law, it would also reduce the amount of juveniles in solitary confinement and potentially provide a pathway for some juveniles' records to be expunged, among other changes.

"The United States is home to almost 5 percent of the world's total population but about 25 percent of the world's prison population," a passage on Booker's website states. "The U.S. imprisons more people than any other country on earth and spend about a quarter of a trillion dollars each year on a bloated, backward criminal justice system."

3. Cory Booker on the Environment

As a senator representing New Jersey — a state devastated by Hurricane Sandy — Booker is a staunch supporter of fighting climate change. He claims that, if no action is taken, New Jersey can expect to see a foot-and-a-half of sea-level rise by 2050. And the effects of climate change, he claims, disparately affect low-income communities.

Working with fellow members of the Environment and Public Works Committee, Booker has helped to ban offshore oil drilling, improve air quality and pass stricter national chemical safety laws, among other environmental initiatives.

Booker has also voiced his support of the Green New Deal, an ambitious plan to fight climate change and create high-wage clean energy jobs.

"Climate change is a pressing and serious environmental and economic crisis that threatens the way of life for our kids and grandkids," Booker said in a statement. "This challenge must be met with a commitment from the federal government that is commensurate with the level of commitment we saw in this country during the original New Deal."

Sustainability and Clean Energy
Booker encourages the transition to clean energy, as he sees both economic and environmental benefits. As a New Jersey senator, Booker has helped the state's solar industry grow tremendously. If government pursues the right legislature, the solar industry could create thousands of jobs for New Jerseyans, alone, he claims.

4. Cory Booker on Immigration

Along with many of Booker's competitors for the 2020 Democtratic nomination, he stands against the idea of building a wall to keep Mexican immigrants from entering the United States illegally. Booker is also a supporter of the Dream Act, which would protect young undocumented immigrants from deportation, allow them to work in the United States and travel in and outside of the country.

5. Cory Booker on Marijuana

Booker has voiced his support of legalizing marijuana, primarily because he believes existing laws have unequally impacted and incarcerated young men of color. He recently introduced a landmark bill that would legalize marijuana across the United States, expunge the records of those who served time, and reinvest in the communities that have been heavily impacted by strict marijuana laws.

"The War on Drugs has not been a war on drugs, it's been a war on people, and disproportionately people of color and low-income individuals," Booker said in a statement. "The Marijuana Justice Act seeks to reverse decades of this unfair, unjust, and failed policy by removing marijuana from the list of controlled substances and making it legal at the federal level."

6. Cory Booker on Gun Control

According to Booker's website, he supports universal background checks, a ban on assault weapons, high-capacity magazines, and bump stocks, closing the Charleston and boyfriend loopholes, limiting gun buyers to one handgun per month, and "ramping up funding for community-based violence intervention programs."
Notably, after the Orlando nightclub shooting in 2016, Booker supported a filibuster to encourage the Senate to implement universal background checks and prohibit gun sales to anyone on the government's terrorist watch list.
And two weeks after the 2018 shooting at Stoneman Douglas High School in Parkland, Florida, Booker pushed for the Senate to take action. "We know the majority of Americans, the overwhelming majority of Americans, know we can do more to prevent gun violence. To not act is to be complicit in the continued violence," he said.
7. Cory Booker on Net Neutrality

Booker has a history of supporting strong net neutrality rules, as he believes the internet should be free and open for all. He has been outspoken about his opposition to FCC Chairman Ajit Pai's efforts to eliminate net neutrality.

"Net neutrality isn't just a tech issue – it's a small business issue, it's an education issue, it's a health issue – and it's not a luxury," Booker said in a statement. "All Americans should have equal access – free from blocking or discrimination – to online content, platforms, and websites."

News & Content Manager
Jackson Schroeder is a graduate of Ohio University with a B.A. in Journalism from the E.W. Scripps School. He is originally from Savannah, Georgia. Jackson has covered a wide range of topics, including sustainability, technology, sports, culture, travel, and music. He plays bass and guitar, and enjoys playing and listening to live music in his free time.