College brand ambassadors connect brands and students. They are in a unique position to establish and strengthen relationships between brands and students. It is the responsibility of a brand ambassador to introduce students to the brand and explain why they should purchase a certain product when they are constantly being bombarded by sales pitch.
If you are thinking about becoming a brand ambassador, you should consider the following key facts before taking on that responsibility.
1. Nature of Brand Ambassador Programs
While you may have heard amazing stories from a friend on campus who was a college brand ambassador, you may have a different experience. No two brand ambassador programs are the same, as different programs will likely have different requirements, compensation, and hours. Do you need money or free merchandise? Some brand ambassador programs will not pay you, but will offer free merchandise. Will the pay be commission-based or hourly? These are questions you should ask before signing any agreement with a major brand. Each program is unique in its goals and requirements of its brand ambassador, so be sure to understand what's required of you before accepting an offer.
2. Established Online Presence
Companies understand the importance of social media and value those who have a social media following. While you don't need to have tens-of-thousands of followers to be a college brand ambassador, having hundreds or even thousands of friends or followers on Instagram, Twitter, Facebook, or Youtube, can increase your chances of being chosen by companies. Brands look for students who have a wide audience reach, so your ability to reach as many people as possible across different platforms by posting organic, creative content to your personal social media channels will be important to them.
3. Variable Hours
Depending on the brand, brand ambassadors work many different hours. While some brands require their ambassadors to do college outreach once a week, others may require a set number of hours per week or leave it to the brand ambassador to decide how to accomplish assigned tasks. Brand ambassadors working for commissions may find themselves working longer hours to get more people to purchase a product or download an app. Some brand ambassadors can simply hand out free merchandise at different events, such as football games or campus concerts.
4. Time Management
While being a brand ambassador sounds like an ideal job for a college student, it is a time commitment. You need to take your academics and extracurricular activities into account and figure out if you can fit in the brand ambassador responsibilities and still get everything done, particularly during exam time. Being a brand ambassador can be a rewarding experience, but not if you are not overstretched. Don't commit to the brand unless the required hours fit your schedule.
5. Personal Accountability
Brand ambassador programs tend to be remote positions. When agreeing to become a brand ambassador, you make a commitment to a company that you will execute certain tasks over a period of time. Be sure to follow through on your assigned tasks and meet all requirements. While you may not see your boss face-to-face each day, this should not mean that you perform your duties without attention to detail and care. You will often be reporting to someone virtually, so be honest and complete your tasks as agreed upon.
6. Creative Marketing
Brand ambassadors will learn how to use different marketing techniques throughout their program as they try to get their peers to enjoy a product. These techniques may include hiding merchandise on campus, handing out a free coupon code, running online giveaways, and more. While students tend to respond positively to brand ambassadors, you can increase your reach if you are creative in your marketing techniques. For instance, while tabling and giving out coupons, codes, or products, you could bring speakers or use lively music to entice users to check out your product.
7. Alignment of Values
Before you choose to represent a company, visit its website and find out all you can about its values. You can also search online to see if the company has been mentioned in the news recently. The more you know about a company, the better you can represent the brand. If you disagree with a company's values, you may find it difficult to represent the brand. It's important to stay true to yourself and represent a brand that you agree with, so you can introduce future loyal customers who can enjoy the brand and its products as much as you do.
8. Program Completion
Completing a brand ambassador program is a major accomplishment. By completing the program, you have shown future employers that you have built a personal relationship with a company and learned how to market effectively to college students. You may even land a job with the company or at least get a recommendation from someone at the company.
Before you agree to become a brand ambassador, review the agreement to make sure that the program is a good fit for you. Being a brand ambassador can be great work experience and give your resume a boost.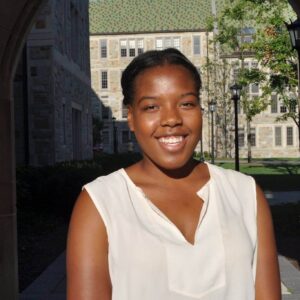 Vanessa Sewell is studying Economics and Communications at Boston College. She is from Bronx, NY. Vanessa has worked on topics related to lifestyle, fashion, culture, and education during her time at Boston College. During her free time, she can be found playing piano and guitar or jamming to Spotify.