In 2006, Amy Klobuchar (D-Minn.) became Minnesota's first female U.S. senator, and she has held onto that position ever since. As the daughter of a teacher and sportswriter, Klobuchar is a product of middle-class America. Her grandfather, who was a coal miner, saved up money in a tin can to send Klobuchar's father to college. And as a graduate of Yale University and the University Of Chicago's Law School, she has modeled how high a girl from small-town America can reach.

Now she is running for president.

Here is what Amy Klobuchar stands for: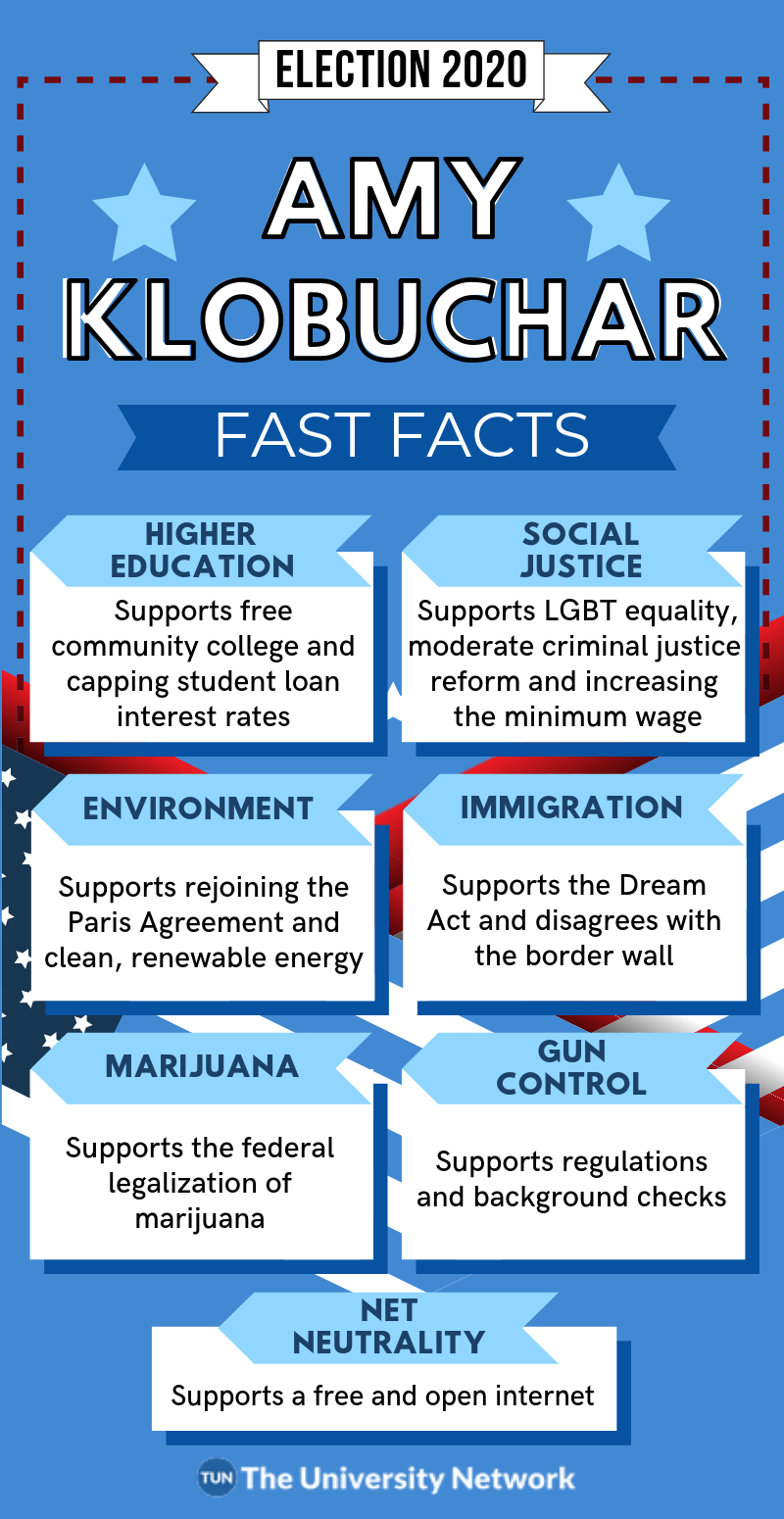 1. Amy Klobuchar on Education
Unlike many of her competitors for the 2020 Democratic nomination, Klobuchar is not a proponent of making four-year colleges and universities tuition-free. "I am not for free four-year college for all, no," she said at a CNN town hall. "And I wish — if I was a magic genie and could give that to everyone and we could afford it, I would," she said.

Instead, she takes a matter-of-fact approach to the subject. She, as a more-moderate candidate, doesn't believe that free four-year college for all is a realistically achievable goal. Instead, she suggests ideas, such as expanding Pell grants and increasing student loan affordability, to chip away student debt.

Klobuchar has, however, co-sponsored the America's College Promise Act, showing she does support making two-year community college tuition-free. While speaking at a CNN town hall, she suggested that there are a lot of open jobs that call for certifications and two-year degrees — alluding that graduating from a four-year college or university isn't the only path to a successful career.

"We must also invest in community and technical colleges, apprenticeships, and training and credential programs to ensure we are preparing people for the jobs of tomorrow that our businesses are creating today," Klobuchar wrote on her Senate website.

Klobuchar is not a proponent of eliminating all student loan debt. Instead, she supports steps like student loan refinancing that would allow student loan borrowers to lower their rates to about 3 percent.

Klobuchar has also suggested expanding the public service loan forgiveness program to those working in "in-demand" occupations. Currently, it's only available to those working at nonprofit organizations and other public service jobs.
2. Amy Klobuchar on Social Justice

In a race where multiple candidates, including Sen. Elizabeth Warren (D-Mass.) and Sen. Bernie Sanders (I-Vt.), suggest bold tax-based approaches to minimizing the income gap between the rich and the poor, Klobuchar takes a more moderate approach. She suggests increasing the federal minimum wage and making education and health care more affordable, so that people can have a "fair shot" at economic stability.

"It is simply not enough to say we have stabilized banks on Wall Street — we must also make sure that families on Main Street are given the opportunity to succeed," Klobuchar said in a statement. "We must ensure that the necessary safeguards stay in place to build our economy, bring accountability back to our financial system and address the growing issue of income inequality by making it easier for American families to be able to afford a home, send their kids to college and pay the bills."

Klobuchar has consistently supported LGBT equality. Years ago, she co-sponsored a bill to repeal the Defense of Marriage Act, which defined marriage as the union between specifically one man and one woman. And more recently, Klobuchar has voiced her support of the Equality Act, which would ban discrimination against LGBT people in education, employment, housing, credit, public accommodations, federally funded institutions, and federal jury service.

Klobuchar is in favor of criminal justice reform, but her ideas are moderate in comparison to those of her Democratic competitors. In 2018, she voted in favor of the First Step Act, a bipartisan proposal that encourages incarcerated people to join rehabilitation programs and engage in "productive activities" by incentivizing them with an opportunity for an earlier release date.

In addition to the First Step Act, Klobuchar supports reforms to the eyewitness process, diversity in hiring, body cameras and more law enforcement resources.

Before she was a senator, Klobuchar was a prosecutor for Hennepin County, Minnesota. And her past suggests she was tough on crime. From 1999 to 2007, she pursued harsher penalties for non-violent crimes, including drug dealing and graffitiing, according to Vox.

3. Amy Klobuchar on the Environment

Klobuchar, who grew up in a family that values the outdoors, is a staunch supporter of the fight against climate change. She has voiced her desire to rejoin the Paris Agreement, and she backs the need to eliminate greenhouse gas emissions by developing energy efficient technologies.

"As a member of the Senate Climate Action Taskforce, I am fighting to ensure that efforts to address the threat of climate change are a part of our nation's energy and environmental policy," Klobuchar said in a statement. "I strongly support the Paris Climate Agreement and have pushed the Administration to rejoin the Agreement. I have opposed cabinet members who doubt the science and deny climate change is occurring."

Sustainability and Clean Energy
Due to policies that Klobuchar has put forth or signed onto, 21 percent of Minnesota's energy comes from renewable sources, such as wind, solar and biomass. And if elected into office, Klobuchar has vowed to bring back the Clean Power Plan, which was introduced by the Obama administration and aims to reduce CO2 emissions by setting limits on carbon pollution from U.S. power plants.

"We need to make the argument that this isn't economics on one side and the environment on the other side, right?" Klobuchar said at a CNN Town Hall. "Because if you just let climate change keep going, you already see it in homeowners insurance rates — gone up 50 percent in 10 years, right — well, that's just going to get worse if we don't start addressing climate change."

4. Amy Klobuchar on Immigration

Klobuchar has voiced her opposition to the border wall and is critical of the separation of children from their families at the border, which she claims Trump originally supported. Klobuchar has also backed the Dream Act, which would protect young undocumented immigrants from deportation, allow them to work in the United States and travel in and outside of the country.

"DREAMers are listening to every word in Washington because their lives depend on it,"
Klobuchar tweeted in 2018. "Today they heard the President throw insults at immigrants when a bipartisan group of senators came forward with a plan to get something done. They deserve better. We must pass the DREAM Act now."

5. Amy Klobuchar on Marijuana

While majriunana laws likely won't be a key talking point of Klobuchar's, she has recently voiced her support of the federal legalization of the drug.

"I support the legalization of marijuana and believe that states should have the right to determine the best approach to marijuana within their borders," Klobuchar said in a statement.

6. Amy Klobuchar on Gun Control

While Klobuchar, whose grandfather was an avid hunter, does not want to take people's guns away, she does support enhanced background checks and bans on assault weapons and high-capacity magazines that hold more than 10 bullets.

After the Orlando nightclub shooting in 2016, Klobuchar joined 21 of her Democratic colleagues in a filibuster, in which they demanded that people on terrorist watch lists are prohibited from buying guns and that background checks are required at gun shows, online sales and other transactions.

7. Amy Klobuchar on Net Neutrality

Like many of her competitors for the Democratic nomination in 2020, Klobuchar backs net neutrality laws. In 2017, after the Federal Communications Commission (FCC) voted to get rid of net neutrality laws, Klobuchar had this to say:

"As a strong supporter of a free and open internet, I am opposed to the Federal Communications Commission's vote to eliminate net neutrality rules. These important protections prevent internet service providers from blocking, slowing and prioritizing web traffic. This vote will harm consumers, particularly in rural areas. It will limit competition. And it will hurt small business entrepreneurship and innovation. I will continue to push for a free and open internet."
News & Content Manager
Jackson Schroeder is a graduate of Ohio University with a B.A. in Journalism from the E.W. Scripps School. He is originally from Savannah, Georgia. Jackson has covered a wide range of topics, including sustainability, technology, sports, culture, travel, and music. He plays bass and guitar, and enjoys playing and listening to live music in his free time.