Another post about scholarships?! Heck yeah!
Below are 15 scholarships for the creative, the weird, and the average.
Not all scholarships are boring and not all of them require essays. Put your artistic skills to good use! Let #creativity bring in the #cash. 🙌
1. ResumeCompanion Annual Scholarship
Create a resume for a fictional or a nonfictional character from TV, history, literature or myth, for a chance to win $1,000!
2. Ocean Awareness Scholarship
If you're a young artist, thinker, and/or activist, submit your reflection on the issues of climate change through art, poetry, prose, film, or music for a chance to win.
3. Spokeo Connections Scholarship
Write a 300-500 word essay introducing a new and innovative way you would connect with people, for a chance to win $1,000!
4. Power Poetry- All I Need Scholarship Slam
"Money" and "poetry" are two words we rarely hear together—and that's something Power Poetry wants to change! New scholarship slams are open every few months so keep checking back!
Weird is the new norm. With these scholarships, you will be judged for being weird in the most nonjudgmental way! This is your chance to be normal by being yourself (#weird)!
Write a short response in 250 words or less explaining a funny or embarrassing (fact or fiction) event in your life and you could win $1,500.
6. Remove Warts Fast Scholarship
Submit a short essay about easy ways to remove warts for a chance to win $1,000!
Are you a scholarship addict? Good! (If you've made it this far down the list, you probably are). Debt.com wants to reward you for your hard work: simply prove that you've applied for other scholarships and you can win $500 just like that!
8. Starfleet Annual Scholarship
Get your nerd on and showcase your passion for Starfleet, for a chance to win $1,000!
9. Zombie Apocalypse Scholarship
Share your zombie apocalypse survival skills for a chance to win $1,000!
There are SO MANY scholarships out there, but so many of them have so many requirements! With these no-brainer sweepstakes, you don't need a certain GPA, a certain characteristic/trait, or be in a certain situation or circumstance. These scholarships are for the average Joes who are neither artistic nor athletic– just broke. 💁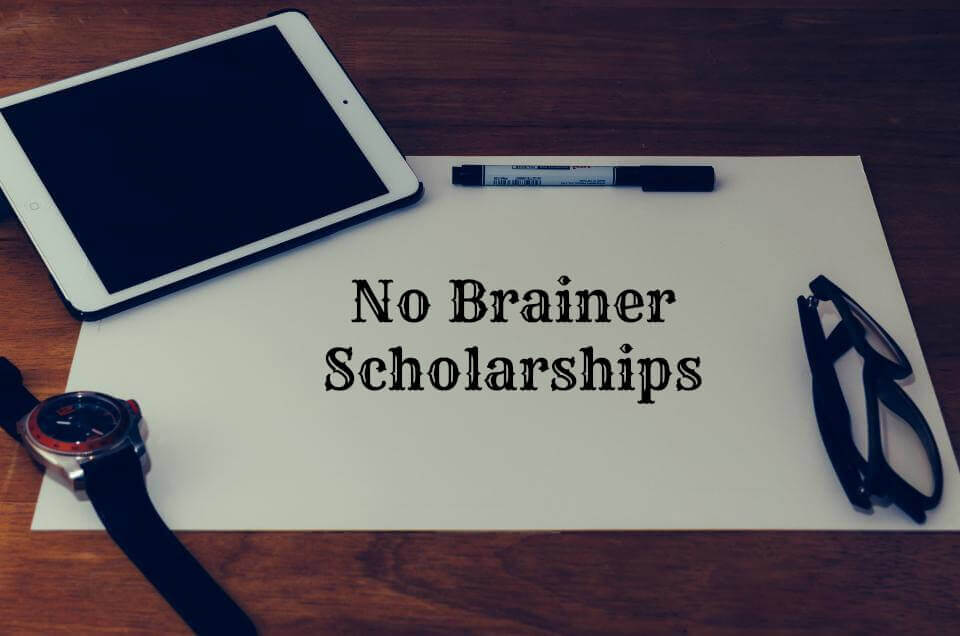 10. Cirkled in Gold Medal Scholarship
Simply write 3 sentences on the listed prompt for a chance to win this scholarship!
11. College is Power Scholarship
Complete an online application (which includes a 500-word essay) for a chance to win a $1,000 scholarship! Pretty easy, I'd say.
Complete an online application for a chance to win a $1,000 scholarship! Even easier than the one above!
Complete the online application for a random drawing. This $1,000 monthly scholarship is open to any students currently enrolled or planning to go to college. The money can be used to pay for tuition, books, computers, room and board or any education-related expense.
14. Course Hero Monthly Scholarship
Sign up, answer a question in less than 500 characters and be entered to win a $1,000 scholarship!
15. College Survey Scholarship
Fifteen survey responses will earn you an entry into the $1,000 scholarship!
If you found this article helpful and believe that it will help other college students and prospective college students, please share! Sharing is caring! 😊
⇣ Find more scholarships! ⇣