Cancer is among the leading causes of death worldwide.
In 2018, an estimated 1.7 million new cancer cases will be diagnosed in the U.S. alone with over 600,000 people dying from the disease, according the National Cancer Institute. Around 38 percent of American men and women will be diagnosed with cancer at some point in their lives.
Though these numbers seem grim, each day researchers around the world are developing innovative approaches for treating and understanding cancer — and women are often at the forefront of such work.
In this article, we highlight nine women who are killin' it in cancer research.
Orit Katarina Sirka
Doctoral Student, Johns Hopkins University
In a groundbreaking new discovery, Orit Katarina Sirka and a team of researchers at Johns Hopkins found that the cell layer surrounding breast milk ducts, called the myoepithelium, works as an active defense against breast cancer metastasis.
This is significant because scientists previously believed this cell layer only acted as a stationary barrier to prevent cancer invasion.
"We were seeing in real time that the myoepithelium was a dynamic barrier to epithelial invasion," said Andrew Ewald, a professor of cell biology at the university's School of Medicine and a member of the Johns Hopkins Sidney Kimmel Comprehensive Cancer Center.
"We could literally see myoepithelial cells reach out and grab escaping cancer cells and pull them back into the tumor, thereby preventing their spread."
Through 114 observations, the researchers found that this happened 92 percent of the time.
"These findings establish the novel concept of the myoepithelium as a dynamic barrier to cell escape, rather than acting as a stone wall as it was speculated before," Sirka said in a statement.
Understanding how the myoepithelium contains cancer cells could ultimately help researchers develop ways to predict an individual's risk of metastasis.
The team plans to study the cellular mechanisms and molecular requirements that prompt the myoepithelial layer to react so dynamically.
Heather Eliassen
Associate Professor, Harvard Medical School & Harvard T. Chan School of Public Health; Associate Epidemiologist at Brigham and Women's Hospital
&
Maryam Farvid
Research Scientist, Department of Nutrition, Harvard Chan School
Breast cancer is the most common type of cancer in the U.S., with 268,670 new cases expected in 2018.
In the study, Heather Eliassen and Maryam Farvid, alongside researchers from the Harvard Chan School, concluded that eating high amounts of fruits and vegetables — particularly yellow, orange and cruciferous vegetables — can lower the risk of breast cancer and aggressive tumors in women.
"This research provides the most complete picture of the importance of consuming high amounts of fruit and vegetables for breast cancer prevention," Farvid said in a statement.
The researchers found that women who ate more than 5.5 servings of fruits or vegetables a day had an 11 percent lower risk of breast cancer than women who ate 2.5 or fewer servings.
They also found that higher fruit and vegetable consumption was associated with lowering the risk of aggressive tumors that are more difficult to treat.
"We know that intake of fruits and vegetables is beneficial for the prevention of several chronic diseases, as well as maintaining a healthy weight," said Eliassen.
"The possibility of a reduction in the risk of breast cancer with higher intake of fruits and vegetables is an additional reason for women to increase their intake of fruits and vegetables."
Eliassen plans to research how phytochemicals in fruits and vegetables act to reduce risk.
Gulden Camci-Unal
Assistant Professor of Chemical Engineering, University of Massachusetts Lowell
Inspired by the Japanese paper art of origami, Gulden Camci-Unal and a team of researchers at UMass Lowell are using paper to develop biomaterials that could be used to repair, replace or regenerate human body tissues and organs.
Often, cancer patients are in need of organ or tissue transplants, but a shortage of donors in the U.S. is a major problem with devastating consequences.
The research team used plain paper as a three-dimensional biomaterial to create centimeter-scale scaffoldings where the cells can grow. Using microfabrication techniques, they developed biomimetic scaffolds, three-dimensional template materials that resemble native tissues.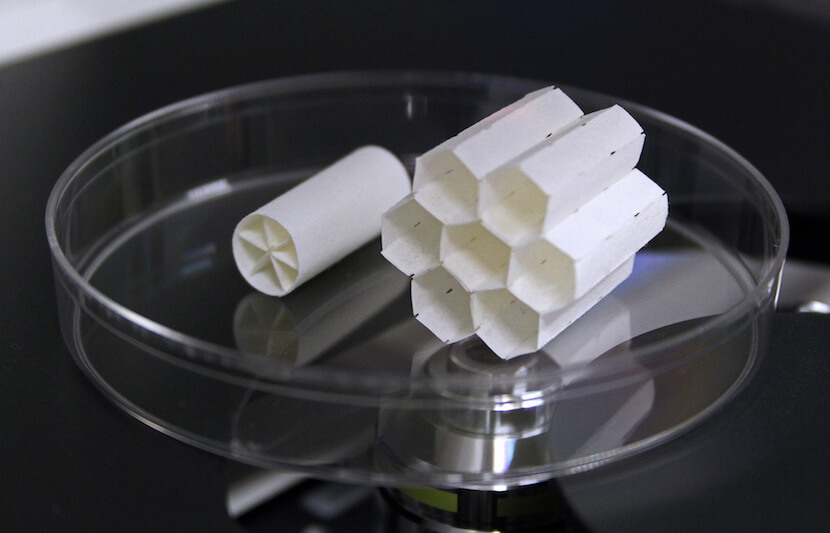 "These materials can be combined with cells that are obtained from the patient, cultured, expanded, grown, allowed to mature in a tissue incubator at physiological conditions and then implanted into the patient for tissue repair," Camci-Unal said.
Because they use specific cells from the patient, they expect their method to be free from immune-rejection problems.
"We anticipate that this approach will greatly help to generate new personalized treatment methods," said Camci-Unal.
In tests, the researchers have grown a number of different cell-types, such as immortalized cell lines, human stem cells and plant cells.
Moving forward, Camci-Unal and her team will continue testing the origami-inspired tissue scaffolds for regenerative applications.
Livia Schiavinato Eberlin
Assistant Professor of Chemistry, University of Texas at Austin
Livia Schiavinato Eberlin and a team of researchers at UT Austin have invented a hand-held pen device capable of accurately identifying cancerous tissue in just 10 seconds.
Dubbed the MasSpec pen, the device will help surgeons pinpoint cancerous tissue during surgery, so they know where to cut or preserve.
"One of the real problems in cancer surgery is establishing the margins of where to cut," said Thomas Milner, a project collaborator and professor of biomedical engineering at UT Austin.
"They don't want to remove too much tissue, but they want to make sure to get the cancer out. So, the implication of technology is that it can better establish the tumor margins for removal of cancer tissue."
In 253 tests on human cancer patients, the pen quickly identified cancer with 96 percent accuracy. The MasSpec pen is also noninvasive, and works by simply touching the tip to the questioned tissue and pressing a foot pedal to send the molecular information gathered by the pen to be evaluated by software called a statistical classifier.
The device has been nationally recognized, and won the 2018 South by Southwest (SXSW) Interactive Innovation Award.
"Because the metabolites in cancer and normal cells are so different, we extract and analyze them with the MasSpec Pen to obtain a molecular fingerprint of the tissue," Schiavinato Eberlin said in a statement.
"What is incredible is that through this simple and gentle chemical process, the MasSpec Pen rapidly provides diagnostic molecular information without causing tissue damage."
Yijia Pan, Molly Allen & Yiqian Wu
Graduate Students, Wang Lab, Department of Bioengineering & Institute of Engineering in Medicine, University of California, San Diego
Yijia Pan, Molly Allen and Yiqian Wu and a team of researchers at UC San Diego, the University of Southern California and Memorial Sloan Kettering Cancer Center in New York, have developed an innovative non-invasive immunotherapy method that can target and kill cancer cells remotely.
To develop this method, the researchers turned to mechanogenetics — a field of science that focuses on how physical forces and changes in the mechanical properties of cells and tissues influence gene expression — and figured out that ultrasound technology can disrupt the mechanical properties of immune T cells and convert their mechanical signals to genetically control the cells.
By using this remote-controlled mechanogenetics process, the researchers were able to engineer chimeric antigen receptor (CAR)-expressing T cells capable of targeting and killing cancerous cells at tumor sites.
These engineered CAR-T cells have mechano-sensors and genetic transducing modules that can be remotely activated through the ultrasound process.
Pan, Allen and Wu conducted their research as part of a team from the lab of Peter Yingxiao Wang, a professor of bioengineering at UC San Diego, who explained that this new method could lead to an unprecedented precision and efficiency in CAR-T cell immunotherapy against solid tumors.
"This research should allow us to engineer remote-controllable cells of cells for therapeutics and clinical applications in precision medicine," said Wang.
Judith Paice
Director of the Cancer Pain Program in the Division of Hematology-Oncology & Research Professor of Medicine, Northwestern University; Feinberg School of Medicine
Judith Paice has contributed novel work in cancer research, specifically as it relates to pain relief.
In addition to her current work as the director of the Cancer Pain Program at Northwestern University, Paice has served as president of the American Pain Society and secretary of the International Association for the Study of Pain.
Much of her clinical work has been associated with pain relief in cancer patients and those with HIV, and she has travelled widely — both internationally and nationally — to educate healthcare professionals on cancer pain relief and care.
In a recent interview with the National Cancer Institute, Paice discussed the pressing opioid epidemic, and how healthcare providers can address opioid misuse when managing cancer pain.
Opiods are commonly used to relieve various forms of pain in cancer patients, but in a time of increased overdoses and deaths from opioid misuse, doctors and oncologists have become a bit more reluctant to prescribe these drugs.
The conversation resulted in important dialogue for doctors and healthcare providers to think about in terms of addiction risk and proper pain management for each patient.
In the interview, Paice stresses that oncologists must first determine if opioids are the right drug for a particular type of cancer-related pain.
"When opioids are considered, providers should assess every patient for risk factors for addiction. Providers should also employ strategies to reduce the risk of misuse for all patients who are taking opioids," Paice told the National Cancer Institute.
"We need to employ these techniques for all patients because implicit bias can occur if we just take precautions for those patients we think are at risk for addiction. Addiction crosses all gender lines, all racial lines, all economic lines, and affects people of all ages."
Conclusion
In today's technological age of medicine, incredible feats have been made to understand, treat and prevent the spread of cancer. Each of these women is contributing work that will benefit the ever-prominent field of cancer research.