There are plenty of online resources for students, but only The University Network (TUN) has everything college students need to not only survive, but thrive!

TUN is a one-stop shop for students, a complete resource platform offering everything from scholarships to career advice. We're committed to helping students through the entirety of their college experiences, from the moment they start touring colleges through the process of applying for their first post-college jobs.

Here's what you can find on TUN.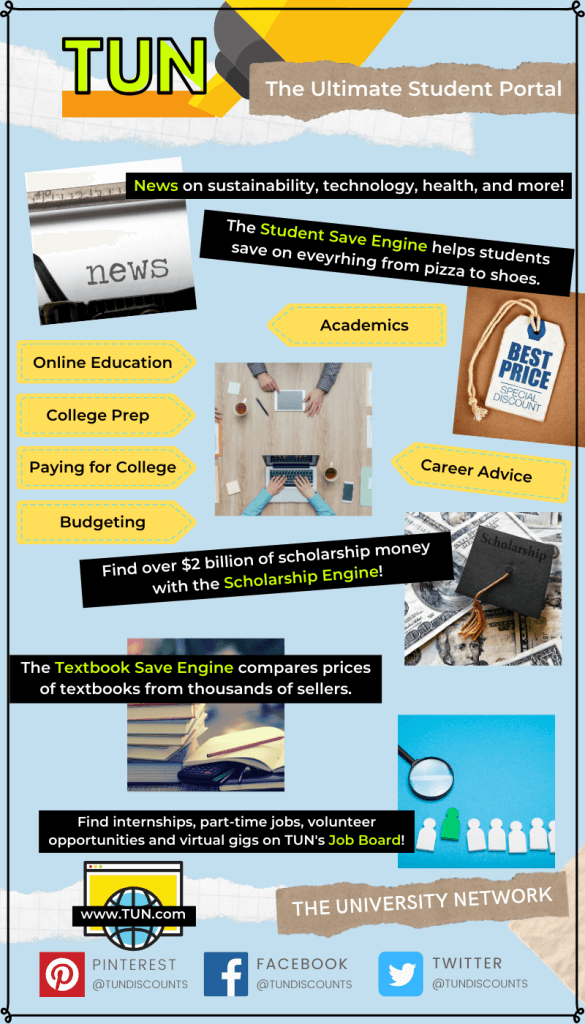 Our news platform focuses on positive developments important to students. We cover groundbreaking research occurring everyday on university campuses in the fields of sustainability, technology, health, and more. We highlight important and awe-inspiring work being done around the world by students and faculty alike, demonstrating how universities are stepping up and shaping our future. We also cover any and all news relevant to student life, from research on the most effective sleep habits to stories on the most bike-friendly colleges.

We at TUN pride ourselves on helping students save money. In our student discount section, we list all of the best student discounts available, including exclusive deals available only through TUN. Try using our Student Save Engine, a student discount search engine that will point you toward deals on everything from pizza to shoes.

TUN provides a wide variety of resources and articles in all of the following subjects:

Online Education — Whether you want to learn to speak Korean or code in JavaScript, we'll connect you with the best online courses in any subject.
College Prep –– Preparing for college is stressful, time-intensive, and complicated. To help you through it, we have a variety of useful resources, including dorm room checklists, advice on everything from choosing a major to test prep and college application, and a University Comparison Tool that will help you find your perfect school.
Paying for College –– You don't want to fall into a mountain of debt just to earn a degree. We have a variety of resources to help you finance your degree, from advice on securing financial aid and student loans to a Scholarship Search Engine that will pair you with scholarships you qualify for.
Budgeting –– This one's for all the cash-strapped students out there. We'll help you save money with helpful budgeting advice tailored specifically for the college life. We'll also point you towards some of our favorite student discounts in the United States and abroad, whether you're looking for a cheap dinner or a deal on textbooks.
Academics –– From school hacks and test-taking tips to advice on applying to graduate school, we have a variety of academic resources to help you through your toughest classes.
Career Advice and Information — When graduation starts to creep up, it is time to start looking at your next move. Whether you're searching for an internship or a full-time job, we'll help you prepare with articles on everything from dress codes to interview tips! You can even explore the job options for your major.
We all know how costly higher education is. To help alleviate the burden, use our Scholarship Save Engine to find scholarships perfectly suited to you. You can search by grade level, GPA, major, state of residency, or scholarship name. Or you can browse through the countless scholarships we offer, some available only through TUN.

A semester's worth of textbooks can cost hundreds, even thousands, of dollars if you're not careful. Fortunately, you can use our Textbook Save Engine to find great deals on any book you need. Just search by ISBN, author, or title, to find the book you need. We'll connect you to every online seller within seconds, so you can compare prices and find the best deal out there.

Finding a job can be a struggle, but it is made easier with TUN's career resources. If you're looking for an internship, a part-time job, a volunteer position, a virtual gig, or your first post-grad full-time job, you can use our Job Search Engine to find an opportunity perfectly suited to you. You can also create a profile with us by uploading your resume, allowing employers to search for you through our portal.

In conclusion

From university news to our Textbook Save Engine, TUN is the proverbial Swiss army knife — TUN has everything students need to navigate their higher education experience.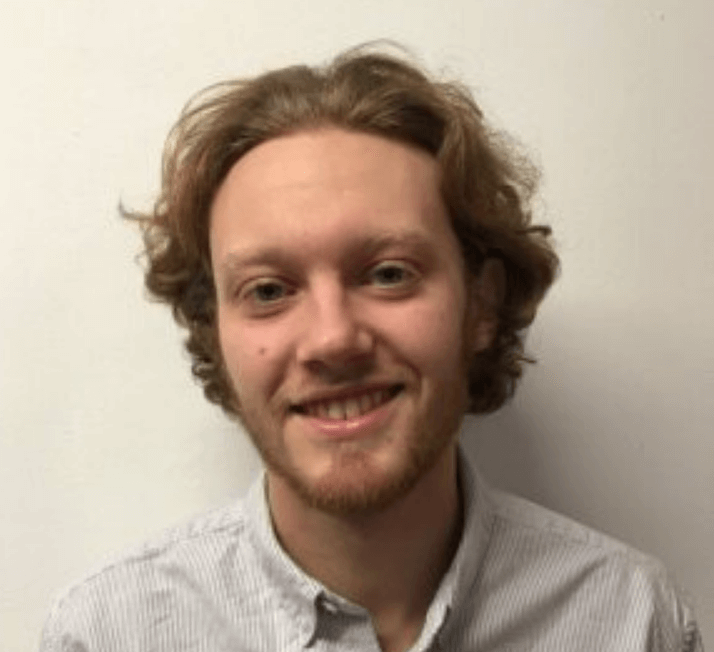 Sam Benezra is a graduate of Ohio University with a B.A. in History from the Honors Tutorial College. He is a native of Brooklyn, New York. Sam enjoys writing on a variety of subjects, including science, music, politics, film. In his spare time, he enjoys traveling, playing guitar, and writing songs.