The USC Rossier School of Education is partnering with Hong Kong University of Science and Technology (HKUST) and Yonsei University in Seoul, South Korea to develop a dual master's degree program for bilingual education teachers.
Students will have the opportunity to earn a Master of Arts in Teaching — Teaching English to Speakers of Other Languages (MAT–TESOL) degree from USC Rossier. They will then choose between a Master of Arts in Korean Language and Literature through Yonsei or a Master of Arts in International Language Education for Chinese language from HKUST. Students will spend their first semester abroad in either Hong Kong or Seoul.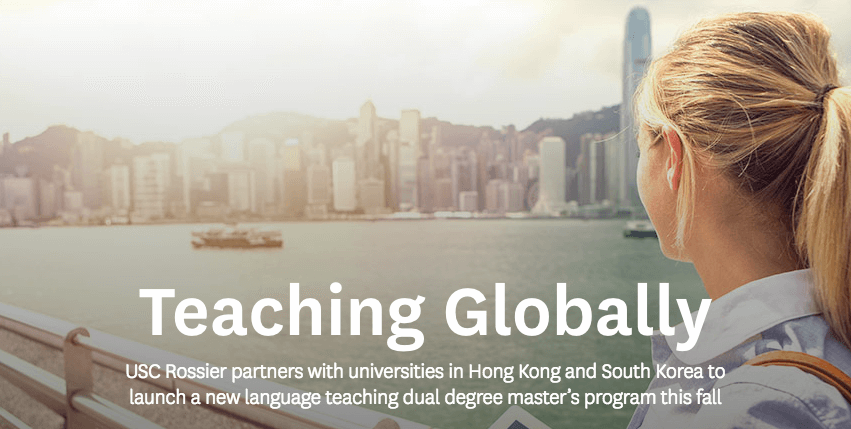 Cultural & Language Understanding are Key
TUN spoke with Rob Filback, an associate professor of clinical education at USC Rossier and chair of the MAT–TESOL program, to get his insight on the new program. Cultural immersion, we were told, is a key factor in this program.
It is very critical that teachers understand both the culture and background of their learners and the culture of the target language that they are teaching.
"They need to be versatile and creative to facilitate target language experiences while teaching a language or teaching content in that language," Filback explained.
With the advancement of technology, communication and increasing urbanization, globalization is a necessity. Language is a primary factor in globalizing this world. "We are seeing a growing emphasis on the learning of some major languages, such as English and Mandarin, while at the same time there is growing awareness and effort to sustain and promote lesser common languages and indigenous languages and to prevent language extinction," Filback said. "These tensions also point to a growing need to understand the role of language in learning and education, as well as, in sustaining society."
USC Rossier Dual Master's Program
USC Rossier is a pioneer for teacher prep and immersion programs, so enrollment is highly selective. According to Filback, the program aims at providing "an alternative model for language teacher preparation."
We are focused on the quality of the applicant and the quality of their experience in the program.
While the program will start small and growth is expected, the plan for next year is to "cap the program at no more than 15 per pathway." This will be an increase from the inaugural five-person group.
An added bonus thrown in is the potential savings to enrolled students. "Due to the mutual transfer of 25% of the units, because of the dual degree structure, the program tuition cost is actually less than the USC Rossier degree would be alone," said Filback.
Need for Bilingual Teacher Prep Programs
There is an increasing need for bilingual teachers, but very few programs. Approving Proposition 58 in November of 2016, which made bilingual education programs legal in California public schools, was a step in the right direction. But only 30 teacher preparation institutions in California have bilingual education programs. There are over 80 that offer certificates in elementary and secondary teaching.
Filback acknowledges the lack of teacher prep programs as an issue, but he also sees problems in existing programs. "Existing bilingual teaching pathways, such as completing a teacher prep program and adding on a bilingual authorization, have been outpaced – and, perhaps more importantly, they are often insufficient for preparing teachers, who come from outside the US, or who have not themselves experienced K12 education in the US, for the significant adjustments they need to make to excel in US K12 classrooms and in working with students, parents and other stakeholders," Filback told TUN.
Since the need for bilingual teachers and citizens is increasing rapidly, USC Rossier is eager to expand its program to countries like Brazil, Colombia, France, the Middle East and Russia in the near future even though there is also an expectation for other colleges to follow suit.
"There is a need for experimenting and testing out different types of models for teacher preparation, broadly speaking, and language teacher preparation, specifically, including equipping teachers with the knowledge and skills to support learners with a variety of language backgrounds," said Fiback. "Therefore, we would hope to see other universities developing a variety of other models."