University of Wisconsin–Madison has a new Campus Food Shed thanks to student Hannah DePorter, who was a junior when she first conceived of the project last year. Now, UW-Madison students and staff will have access to fresh produce for free over 7 months of the year.
The Food Shed has four large refrigerators, which are placed at four different locations on campus for convenient access.
The Food Shed will be stocked with local produce, such as beets, carrots, onions, squash, potatoes, lettuce, spinach, kale, tomatoes, oregano, basil, dill, and cranberries. DePorter expects produce to be available from May to November each year.
What inspired the Food Shed?
DePorter, who is majoring in conservation biology and environmental studies, had been working for UW Horticulture Professor Irwin Goldman's plant-breeding lab when she conceived the idea last year. She had to visit various agriculture research stations run by the university, and noticed that some produce was being wasted even though extra produce was donated to food banks.
"While being in the fields and weeding and harvesting there was just a lot of stuff left to compost," DePorter said in a statement.
"I was just thinking about how all that food could be given to more people."
DePorter personally has no issues with food security, but she wanted to help others on campus by making food accessible to them.
With that in mind, she proposed her idea to Goldman who was supportive and helped her apply for a grant. In January, Kemper K. Knapp Bequest, which generally awards grants ranging from $500 to $5,000, awarded DePorter with a $5,000 grant.
Upon receiving the grant, DePorter set about trying to find locations for the refrigerators.
"We wanted to have locations on both the east and west side of campus to make it is as accessible as possible to students," DePorter told TUN.
"For some of the locations we had to have meetings with building managers and governing boards of the building, but ultimately, we secured all the locations we tried to get."
Once the locations were determined, DePorter had to coordinate with plant science researchers and local farms, so they could stock the refrigerators.
"All that is needed is for these groups to bring the washed produce to the refrigerators, and log a bit of information about what they are bringing and labeling/dating the produce that they are bringing," said DePorter.
At this time, DePorter is still working out the details on keeping the refrigerators stocked.
"We are still working on the infrastructure, and will eventually be seeking student volunteers to help with the project," she said.
Making a difference
The Food Shed demonstrates that one person can make a difference.
Goldman, who had worked in the same lab for 25 years, credits DePorter for bringing the Food Shed to UW.
"The thing that's most meaningful to me is that this is an idea from a student to make the campus a better place," Goldman said in a statement.
It took DePorter 9 months to bring the project to fruition, but she persevered with it. Now, the UW community will benefit from having access to fresh produce for 7 months for free, which will give them the opportunity to eat healthy for a prolonged period of time. This is a luxury for many students who ordinarily can't afford fresh fruits and vegetables because they are expensive.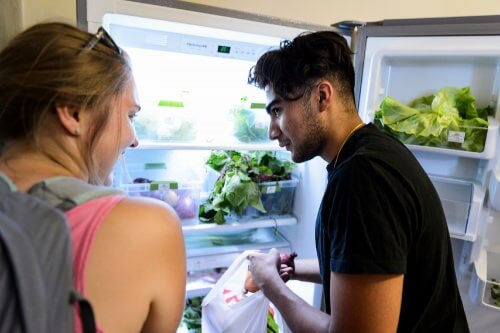 The Food Shed brings other benefits as well. It will help the campus community learn about Wisconsin farming.
"We have a really awesome landscape for agriculture, so it's going to be nice to show that," DePorter said in a statement.
The Food Shed will also help sustainability by eliminating food waste.
"I think the food shed is really important because it tackles the intersection of food security and food waste," DePorter told TUN.
By ending food waste, we can better tackle food insecurity by providing fresh high quality produce free of charge that would otherwise be wasted. It is a win-win situation and we can't wait to see how this takes off.