Image – Courtesy of the Sam M. Walton College of Business
Where was the cotton grown in the jeans you are wearing? Where was the chicken raised that you will use in that grilled chicken salad tonight? Answers to both questions can readily be had through the use of blockchain, as students quickly discovered at the first blockchain hackathon hosted by the Sam M. Walton College of Business at the University of Arkansas.
The event surpassed expectations, according to Professor Zach Steelman from the Department of Information Systems at the Walton College, who was instrumental in bringing this blockchain hackathon to campus.
"We could not have hoped for a better outcome," he said in a statement.
The event began on the evening of Oct. 27 (Friday) and concluded the following afternoon.
What is blockchain?
Blockchain is the underlying technology behind bitcoin. Basically, it is a distributed database that grows with the record formed by each new transaction, which are called "blocks." The series of blocks within the database form the "chain." Hence, the name "blockchain.''
Each block contains a timestamp and a link to a previous block. Once recorded, the data in a block cannot be altered retroactively. Through the use of a peer-to-peer networks and a distributed timestamping server, a blockchain database is managed autonomously.
Blockchain allows people who may not know, or trust, each other to conclude a secure verifiable transaction.
Industry experts believe that blockchain will not only transform payment transactions but also provide solutions for many industries. Many universities, including the University of Arkansas, recognize the importance of blockchain, and are vying for dominance in the space.
Hackathon
This hackathon was a joint initiative with five companies — Walmart, Tyson Foods, JB Hunt Transport Inc., ArcBest Technologies, and IBM — that also sponsored the event.
The initiative began "as part of our blockchain education and research initiatives," said Steelman.
"These companies have worked closely with the Information Systems department and the Walton College for many years. As we are introducing blockchain technologies into our graduate and undergraduate programs, we utilized the hackathon as both a way to educate and showcase blockchain technologies for our students and company sponsors as well as gauge the level of interest in blockchain technologies in the area."
To encourage creative blockchain solutions to real-world challenges experienced by Walmart, Tyson and J.B. Hunt, Steelman encouraged students from various disciplines and with varying experience to join the hackathon. The announcement made it clear that even students who couldn't tell a blockchain from a Lego brick could participate in the event.
As a result, the hackathon was attended by students — 65 in all — from different schools at the university — the Walton College, J. William Fulbright College of Arts and Sciences, Dale Bumpers College of Agriculture, Food and Life Sciences, and the Graduate School and International Education.
The participating students were also at different stages in their educational life — from freshmen to doctoral candidates.
The students were asked to form 13 teams, each consisting of five students. To bring a wide perspective and generate creative solutions, the students were encouraged to ensure that each team encompasses a range of disciplines and experience in blockchain technology.
Each team worked on six use cases posed by Walmart, Tyson Foods and J.B. Hunt.
"The companies provided six different use-case challenges ranging from organizational supply chain traceability, shipping carrier payment and management, as well as more consumer facing use-case challenges such as consumer package tracking/management as well as material provenance tracking to provide transparency for consumer products," said Steelman.
"While some of the use-cases were quite specific regarding projects the companies were currently working on, many of them were left broad to allow students to be creative and provide new insights and opportunities for the organization."
The teams worked on Friday evening and then from early Saturday morning until late afternoon when they were required to present their solution for the use cases they chose, with each student putting in more than 12 hours to learn the latest blockchain technology, brainstorm and devise solutions for these business challenges.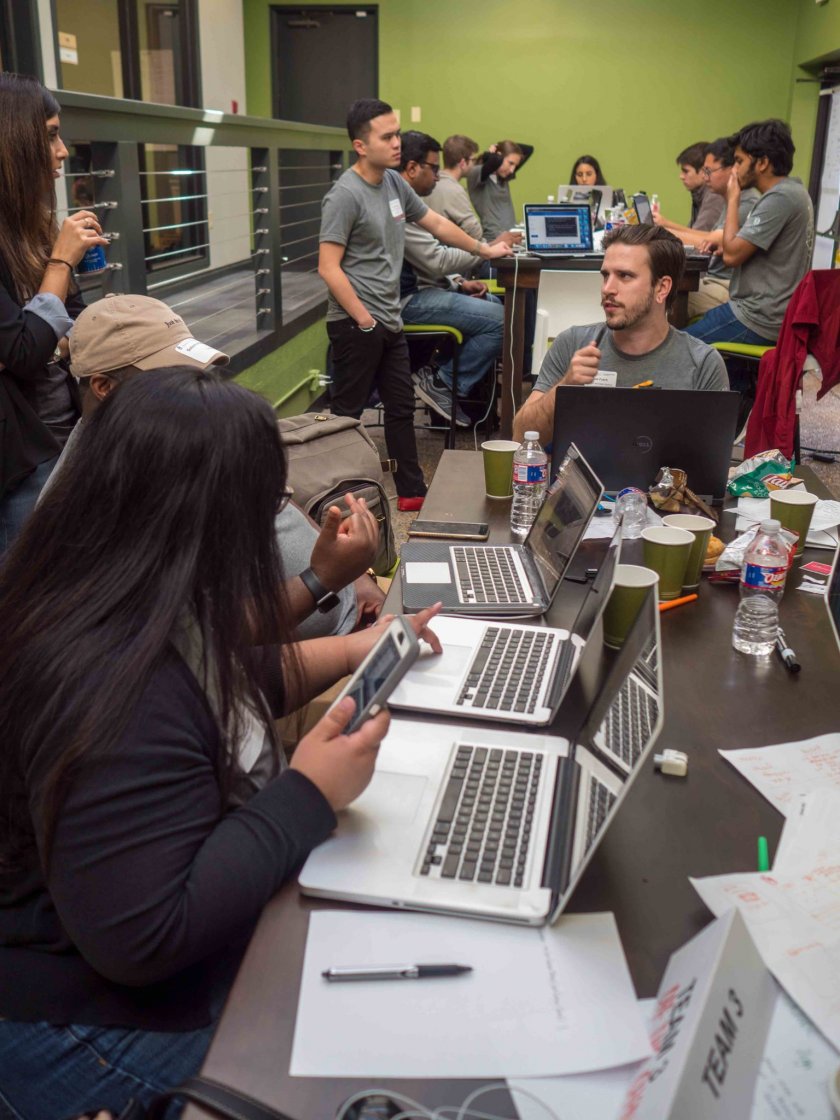 Image – Courtesy of the Sam M. Walton College of Business
The teams were supported by experts from the five sponsoring companies as well as faculty and staff from the Walton College Department of Information Systems.
On Saturday afternoon, after each team had presented its proposed solution, three teams were selected as finalists.
One team "provided potential solutions and prototypes for tracking the provenance of cotton-based consumer products," said Steelman.
Another team had a solution "for capturing, tracking, and tracing meat-related products from the farm-to-table," he added.
The team that won the grand prize had a solution for "developing a carrier payment and bill-of-lading blockchain solution to increase the efficiency and effectiveness of managing a large carrier operation," said Steeman.
"This final solution actually included proposed solutions for both organizational views of the carrier payment status as well as a driver/small trucking company mobile application to enable visibility for all actors in the network."
This first hackathon was such a success that the university intends to host more blockchain events next year.
"Based on the incredible turnout and feedback from both the students and company sponsors, we will be looking at conducting additional blockchain initiatives in the coming year," Steelman said.
"We had significant support from the leadership team and faculty across the business college that provided a unique excitement during the event as this technology is one that will impact our students across all majors. There was a special energy in the room during the event as students were able to collaborate and network with future colleagues and employers in the Northwest Arkansas area."
Related: MIT Researchers Thwart Online Identity Theft by Piggybacking onto Bitcoin
Susan Chu is a writer and editor who likes to write about trends in higher education.