With soaring college tuition and lingering student debt, if someone offered to give you a 10-percent tuition discount upon enrollment only, you'd put on your skeptical face and ask, "What's the catch?"

But, if you're a member of Momentum Aroostook, a community group in Aroostook County, Maine, and are choosing to enroll in any of the non-capped programs at Husson University's Northern Maine campus, the offer is yours.

As rural America is lagging behind in median income and population growth, but forging ahead in aging population, Momentum Aroostook and Husson believe that education is the all-in-one solution.

"We saw this partnership as a way to help emerging leaders take their careers to the next level and to encourage young professionals to stay in Aroostook County," said Jennifer Flynn, director of Husson's Northern Maine campus.

"This is especially important in rural areas where the demographic is aging and the population is shrinking."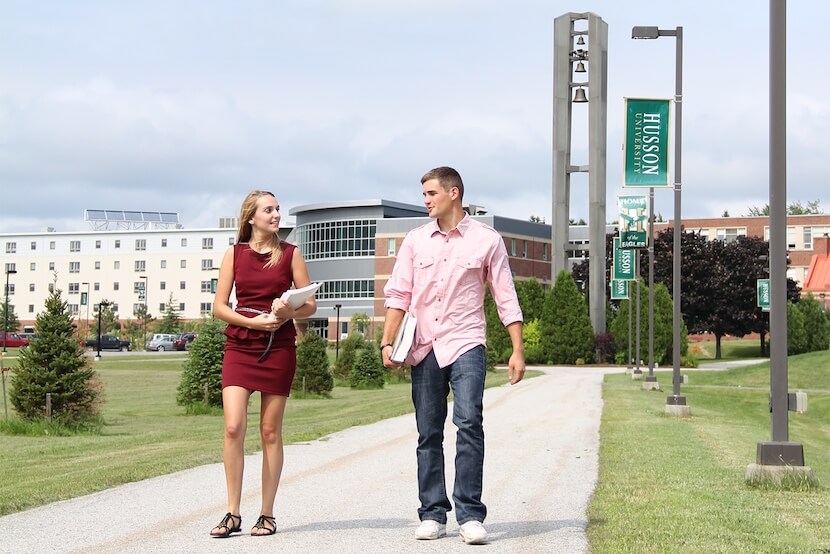 The problem

Since the 2008 financial crisis that led to the Great Recession, many things have changed for the better or worse. Population grew, the job market expanded, and cities became bigger. Meanwhile, rural America was pushed aside.

According to the Bureau of Economic Analysis, between 2008 and 2017, while metropolitan areas make up 98.5 percent of all job growth, micropolitan and rural areas together only make up 1.5 percent. Also, while metropolitan areas make up 98.7 percent of all population growth, micropolitan and rural areas only make up 1.4 percent.

Along with jobs and people moving to cities, the remaining community became older. According to the U.S. Census Bureau, more than 1 in 5 older Americans live in rural areas.

And Aroostook County, Maine, is almost a micro version of this national problem.

According to the U.S. Census Bureau, not only did the population decrease from 71,873 in 2010 to 67,111 in 2018, but the number of employers also decreased from 6,032 in 2012 to 1,957 in 2016, which is the most recent data provided by the Bureau.

Also, out of its 67,111 residents, the biggest age group, making up 17 percent, is from 60 to 69, which is in the ballpark of average retirement age in the country.

With more than four college campuses in the county, college population seemed to be the only path to recovery from a lagging economy and aging population.

However, census showed that many graduates have taken their diploma somewhere else, most likely to bigger cities. From 2013 to 2017, among the county's residents, while 87.6 percent graduated from high school or higher, only 18.5 percent graduated with a bachelor's degree or higher.

Fortunately, hope for recovery doesn't seem too bleak for Aroostook County for its universities and community are responding.

The agreement

As a community group comprised mostly of students in their 20s and mid-30s, Momentum Aroostook works together with young people of the county to promote betterment in all areas of life, such as career, education and community life.

"Assisting young professionals in pursuing educational opportunities that allow them to professionally develop and build their careers, all the while staying right here in Aroostook County, is an integral part of Momentum Aroostook's mission," said Ginger Kieffer, chair of Momentum Aroostook.

For a Momentum Aroostook member who successfully enrolled in Husson, they will receive an immediate 10-percent tuition discount for any of the university's non-capped undergraduate and graduate degree programs, meaning the programs do not have a defined class size.

Some of the non-capped programs are Husson's MBA program, which is the largest business program in Maine, and undergraduate programs in accounting, business administration, software development, business and professional studies.

Also, as an added incentive, the application fee will be waived for Momentum Aroostook members who opt to follow Husson's admissions procedures to become a continuing education undergraduate or graduate student, meaning an adult who take education programs, such as occupational certificates or college degrees, to continue further in their education.

In partnership with Husson, the tuition discount went into effect from mid-October for all types of programs at Husson, ranging from their accelerated seven-week class sessions to winter and summer break sessions to traditional semester sessions.

"Educational partnerships such as this one with Husson allow us to better serve young professionals and, in the grander scheme of things, boost our economy," said Kieffer.

Community and schools in partnership

For both Husson and Momentum Aroostook, it's not their first time partnering with other sectors in the community to help ease their students' financial burdens.

According to Melissa Rosenberg, Husson's director of admissions, the university has already partnered with companies, such as L.L. Bean, Bangor Savings Bank, CIANBRO and other companies based in Maine, to offer company employees opportunities to further their education.

"Recognizing that smaller companies and organizations may not have scale to offer classes at their locations … Husson offers company employees the opportunity to attend classes at their place of business," said Rosenberg.

Moreover, Momentum Aroostook has recently signed partnerships with not only Husson, but also with the University of Maine at Presque Isle and the University of Maine MBA to offer tuition discounts for a variety of undergraduate and graduate programs.

According to Kieffer, these partnerships will allow "Momentum members to further their education and build their careers, right here in Aroostook County."

In fact, offering educational opportunities has been proven as a way of recovery for both small and big towns.

According to a study, the cities where the federal government began setting aside land grants for public universities in the 19th century tend to be richer and more productive in the 21st century.

These community and school partnerships may not be as grand as land grants that literally set up new universities, but they are as viable because they serve the same goal — making college education a reality for more students.

"More partnerships like this one can help reduce the financial burden that prevents people from pursuing higher education," said Kieffer. "Additionally, promotion of these partnerships through community groups can help to raise awareness of the opportunities out there and help folks take the first step towards pursuing a degree."

The next step

Momentum Aroostook hopes to continue promoting this partnership to its members.

"Our overall goal is to support young professionals who choose to live and work in Aroostook County and help them develop great lives and careers here. Partnerships such as this one with Husson University allow us to make that goal a reality," said Kieffer.

Moreover, Husson hopes to further promote partnership arrangements with community organizations and businesses by providing events, such as informational lunch and learn sessions.

"I encourage local community groups to reach out to a university like Husson and explore educational opportunities for their members. Look for a university that is dedicated to the career success of students," said Rosenberg.
Hyeyeun Jeon is from South Korea and a graduate from Carnegie Mellon University with a double major in Professional Writing and International Relations. She is passionate about non-fiction storytelling. She loves reading, watching, writing and producing stories about extraordinary lives of everyday people.