Spain is one of the most beautiful countries in the world, and anyone with a love for travel should consider visiting its vibrant and historic communities. But traveling around Spain can be quite different depending on where you are regionally. From north to south, the country can differ widely in its terrain, history, culture and even language. In this way, Spain is one of those places that you just can't get enough of.
As a student, I've had the pleasure of traveling around central and southern Spain for two weeks, visiting numerous towns, cities and beaches. From Madrid, the country's capital city, all the way down to Mảlaga, a unique and quaint coastal town, I was able to visit a total of five places and engross myself in a country rich with life and history.
I'll walk you through the places I went and offer a few tips for travelers making their way through the country's lovely central and southern locations.
Madrid
I started my Spanish journey wandering around Madrid, Spain's elegant and expansive capital city. The city is renowned for its gorgeous parks and boulevards as well as its massive collection of European art, and I spent most of my time strolling through these areas.
Here are a few of my favorite spots:
Parque del Buen Retiro (Park of the Pleasant Retreat)
The Parque del Buen Retiro is a gorgeous park located on the edge of the city's center. It includes 350 acres of beautiful sculptures, monuments, galleries and a lake, and hosts a variety of community events throughout the year. It became a public park in the late 1800s, but before then, it was the property of the Spanish monarchy. The park is rich with history and culture, making it one of Madrid's most famous attractions. A must-see for anyone traveling in the city!
The Prado Museum
Madrid is rich in art history, and the Prado Museum is Spain's main national art museum. The Prado is located in central Madrid, and is widely considered to house the greatest collection of Spanish art as well as one of the world's finest collections of European art.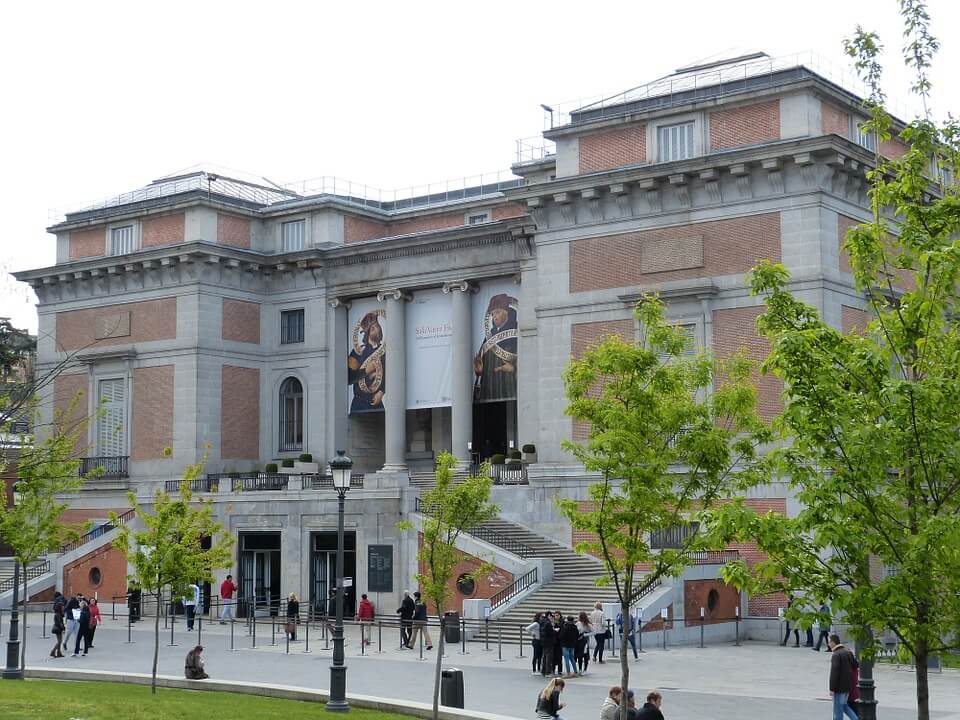 The museum features the works of Francisco Goya, El Greco and Diego Velảzquez, among many others.
And the best part is — the museum offers free admission for a few hours every day of the week!
You can visit the Prado Museum for free from 6-8 p.m. Monday-Saturday and from 5-7 p.m. on Sundays and holidays.
Plaza Mayor (Main Square)
The Plaza Mayor is located in the heart of Madrid, and serves as a lovely location to eat, shop, walk around, and enjoy the city outdoors. It is the main square in Madrid and its architecture dates back to the 15th century, making it a historic location as well. In the center of the square is a famous statue of King Philip III that dates all the way back to 1616, and serves as a landmark of Spanish history.
Toledo
After leaving Madrid, I began my descent into the south by first stopping in Toledo, an extraordinary ancient city set above the plains of Castilla-la Mancha. Toledo is remarkable for so many reasons. The city is set on a hill surrounded by a gorgeous river, and its architecture and history dates back to more than 2000 years ago.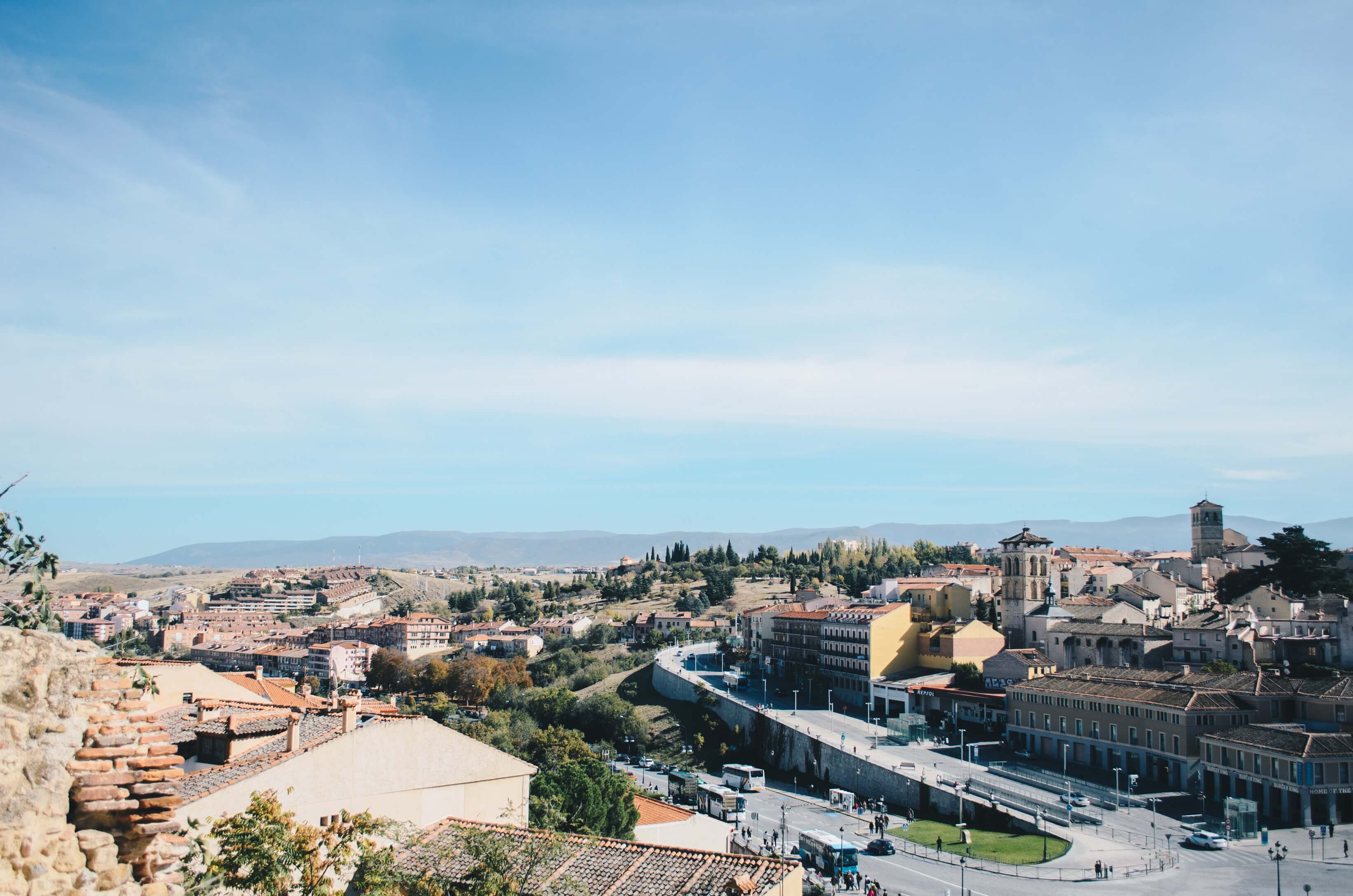 Entering Toledo on the San Martin bridge is the closest you can come to feeling like a medieval knight, and the inner walls of the city reveal a place untouched by modernity. Toledo has been called "The City of Three Cultures" for its significant Muslim, Jewish and Christian influence. It is unlike any other place, and you can't help but feel an overwhelming sense of wonder when walking through the ancient streets.
Here are some of the highlights of my time in Toledo:
Catedral Primada
The Primate Cathedral of Saint Mary of Toledo is one of the most renowned examples of high Gothic architecture in Spain. Its construction began in 1226 under the orders of Ferdinand III, and it was completed nearly 250 years later. The cathedral is an extraordinary example of Spanish history, architecture and religious influence, and touring its massive interior is truly awe-inspiring.
A
complete tour
of the cathedral is only €12.50, and gives you access to the cathedral grounds, museums and bell tower.
El Greco Museum
The 16th century artist El Greco is famed for depicting the beautiful Toledo cityscape in his paintings, and the El Greco Museum offers both of the most renowned ones on site: a view of Toledo and a view and plan of Toledo.
Looking at this famous artist's depictions of Toledo is a remarkable thing to do in the city; when you see them in person, you realize just how ancient, and largely unchanged, Toledo really is. And the best part: free admission for students.
Mirador del Valle
Mirador del Valle is a scenic overlook that offers a complete panoramic view of the ancient city. This is the most breathtaking spot to overlook Toledo in its entirety and soak up the beauty of the place at both dawn and dusk. Visiting this overlook is a great way to reflect on the wonders of Toledo's ancient dwellings.
Córdoba
After leaving Toledo, I continued to travel south and entered into the Andalusia region of Spain. Córdoba is the capital city of this southern region, and its history is rich with both Roman and Islamic influence. I spent a large majority of my time here touring ancient mosques and walking the streets of the lovely southern city.
Some highlights include:
Mezquita de Córdoba
Formerly a Roman settlement, Córdoba became colonized by Muslim armies in the 8th century, and one of the most beautiful mosques from that period is the Mezquita de Cordoba (the great Mosque of Cordoba). The mosque was commission in 784 by Abd al Rahman, and to this day, it is regarded as one of the most accomplished monuments of Moorish architecture.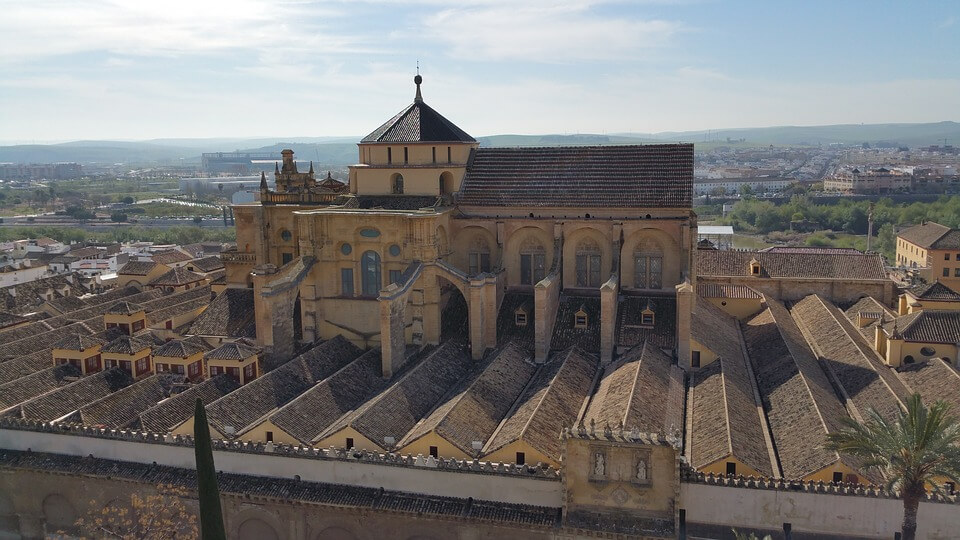 Touring the Mezquita de Cordoba gives a beautiful glimpse into an important part of this region's history, and I highly recommend visiting this beautiful sacred space. A tour of the mosque costs €25, but it's well worth it!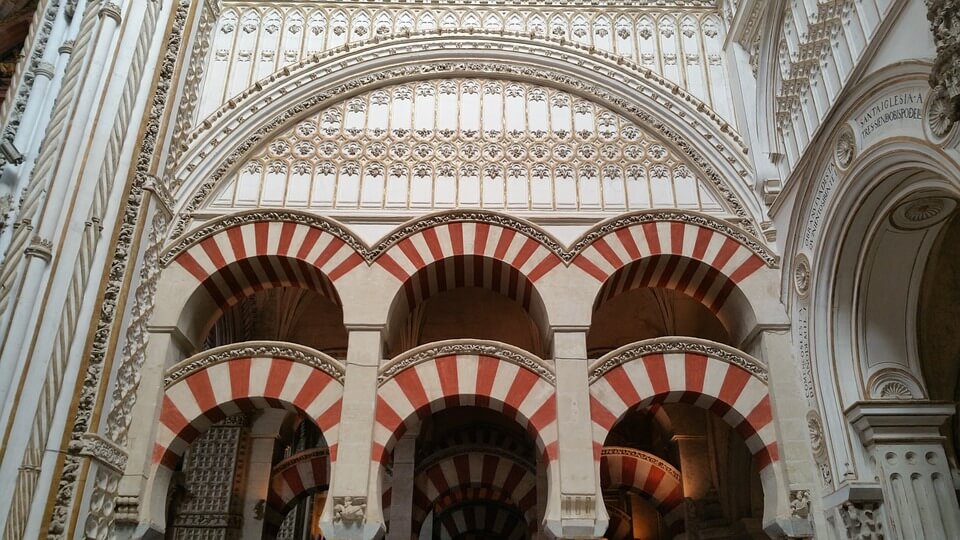 Roman Bridge of Córdoba
Another great architectural glimpse into Córdoba's past is the Roman Bridge of Córdoba, located in the city's historic center and originally built in the early 1st century BC. The bridge is located across the Guadalquivir river, and is one of the most ancient and quaint structures in the city.
Granada
Continuing within the Andalusia region, my next stop on the trip was Granada, a city located in the foothills of the Sierra Nevada mountains. Granada was my favorite location to visit on this journey; it is home to the University of Granada, so the city was youthful, fun and incredibly beautiful.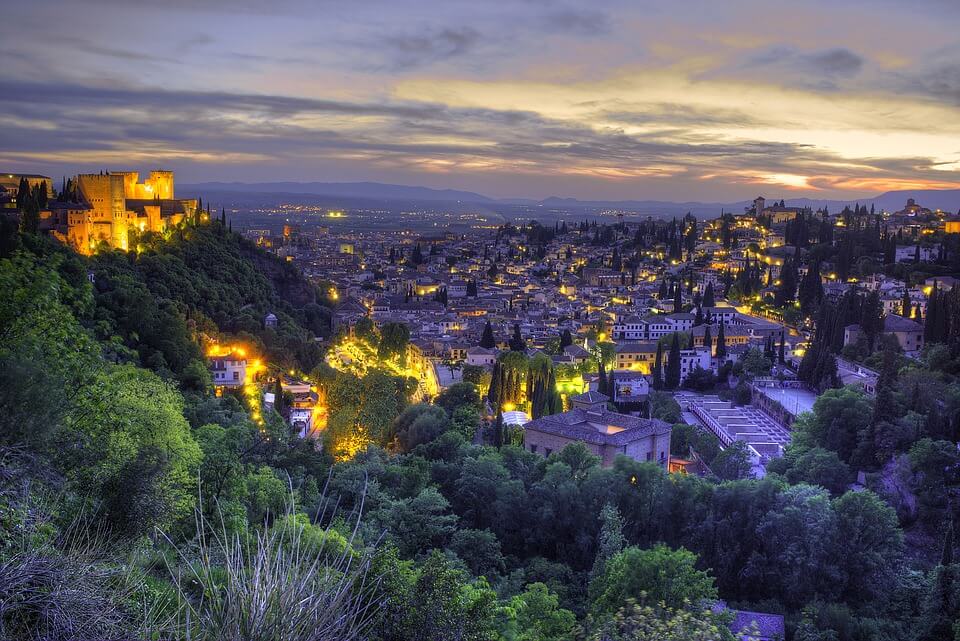 Here are some of my favorite spots:
The Alhambra
The Alhambra is one of the most architecturally magnificent and historically rich structures I have ever visited. It is a palace and fortress that was originally constructed in 889, and then largely expanded upon later. In 1492, it became the site of the Royal Court for Isabella and Ferdinand, two of Spain's most famous leaders, and it is where Christopher Columbus received a royal endorsement for his expedition to America. Alhambra is home to a number of beautiful palaces, rooms and gardens, and the site is nothing short of wondrous.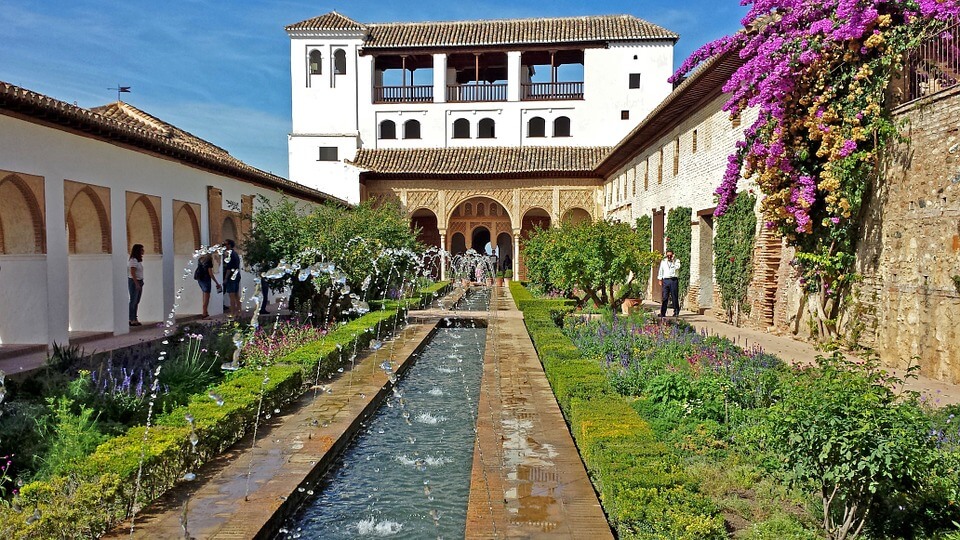 Alhambra is one of the most sought after tourist destinations, so be sure to book a ticket in advance! A complete visit of the site typically lasts around 3 hours and tickets cost €14 for adults. Unfortunately, no student discount is offered here.
Plaza Nueva
Plaza Nueva is the oldest square in Granada, and is situated closely to the Alhambra and several important city monuments. The plaza offers a bustling glimpse into Granada life as it is located near many pubs and restaurants, and was once a central part of the city for tournaments, games and bullfights.
One of my favorite treats to get at the Plaza Nueva was Spanish churros with chocolate sauce!
Málaga
My fifth and final stop in Spain was in a port city on southern Spain's Costa del Sol (coast of the sun) off of the Mediterranean Sea. Málaga was a beautiful final stop for my trip through southern Spain with its gorgeous beaches and a laid-back atmosphere.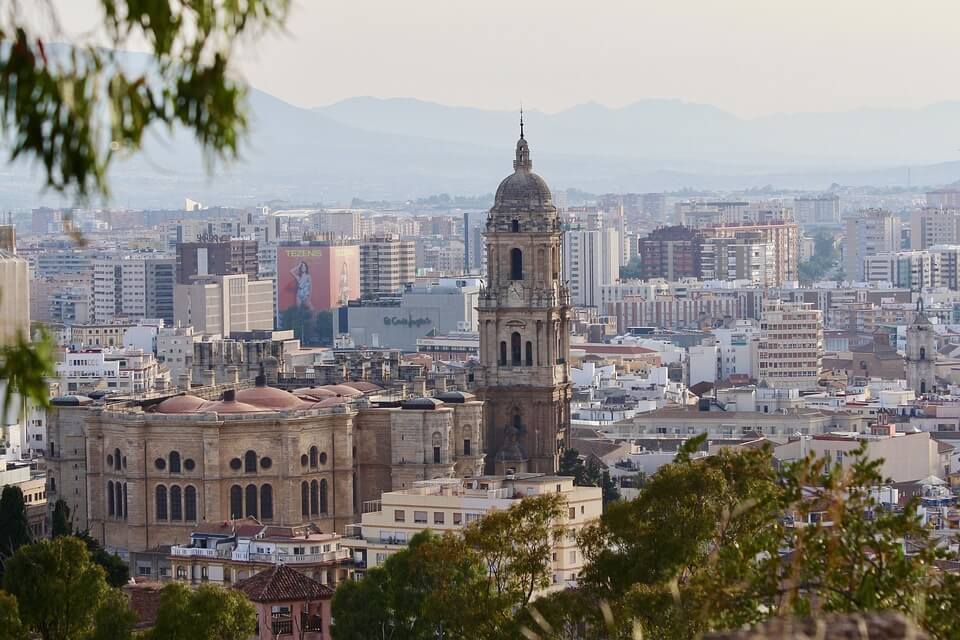 I spent the majority of my time in Malaga lounging on the beach, reading and wandering into various shops. And since I was by the coast, I couldn't pass on an opportunity for fresh Spanish seafood. Aside from enjoying the yellow sandy beaches, a must-do in Malaga is visiting a local fish market.
The Mercado Central de Atarazanas
The Mercado Central de Atarazanas is probably the best-known fish market in Malaga, and it's located in the center of town.
The market offers a variety of fresh seafood and tapas — small Spanish dishes — and it's a great place to get a sense of the city's culture.
In the back of the market is a stained glass that illustrates the history of the city, and walking all the way offers the perfect opportunity to taste some traditional Spanish foods!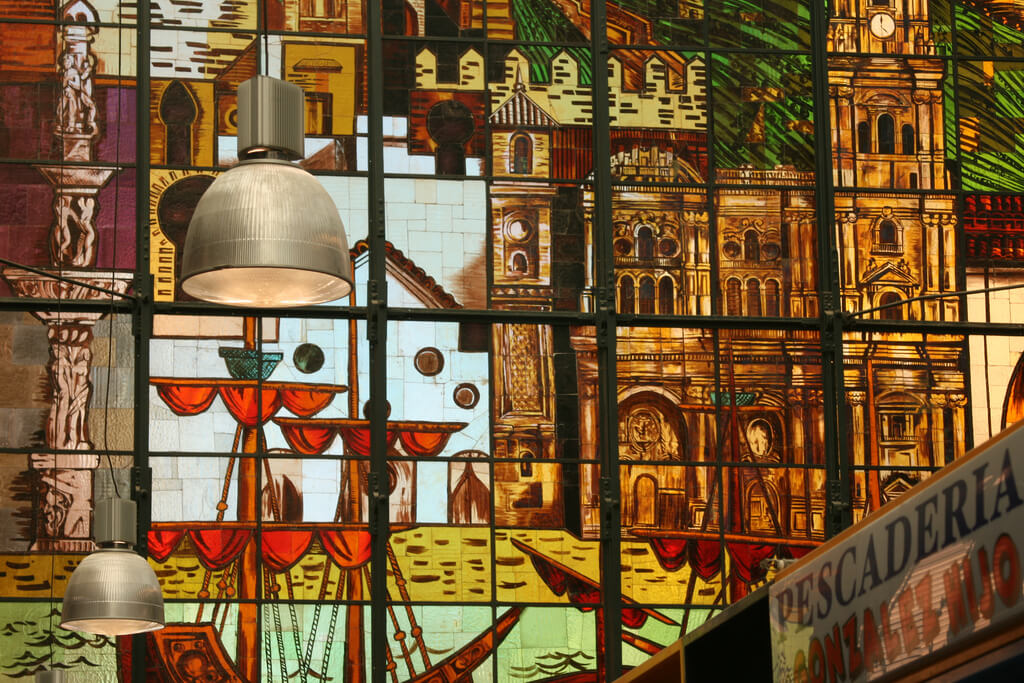 What to eat in central/southern Spain (on a budget)
A central part of any travel experience is trying new cultural dishes and flavors, and Spain is certainly renowned for its food! Throughout my travel, there were a few staple dishes that I absolutely fell in love with.
Here are some of my favorites:
Tortilla espanola
Spanish tortilla is nothing like the floury bread we use to wrap our burritos, but rather, it is a traditional Spanish dish that most resembles an omelette. Tortilla espanola is made with eggs and potatoes, and sometimes includes onions and chives for flavoring. It is typically pan-fried and served cold as an appetizer, though you can also get it as a main dish option at restaurants.
Tortilla espanola was one of my favorite traditional dishes and you can find it just about everywhere! And the best part is that is can be as cheap as €5 to enjoy this delicious food!
Croquettes de jamón
Spanish croquettes are small fried breadcrumbed rolls that are typically filled with ham, cheeses and various spices. They are one of the most typical tapas dishes in Spain, and they are served as both fast-food dishes and as delicacies in restaurants.
My favorite way to eat croquettes was from street vendors, and the pricing can range from €5-20, depending on where you eat!
Paella
Spanish paella is perhaps the most renowned traditional dish, and is most comparable to an American stir-fry. Paella can come in a variety of ways, but it always contains a big portion of rice, vegetables, spices, and typically either meat or seafood.
Paella has been a part of Spanish culture for many centuries, and since it is sort of a hodgepodge of a bunch of ingredients, it has historically been one of the cheaper Spanish dishes. On the Mediterranean coast, many restaurants/vendors will serve seafood paella, which consists of whatever fresh seafood they have, and a mixture of rice and veggies.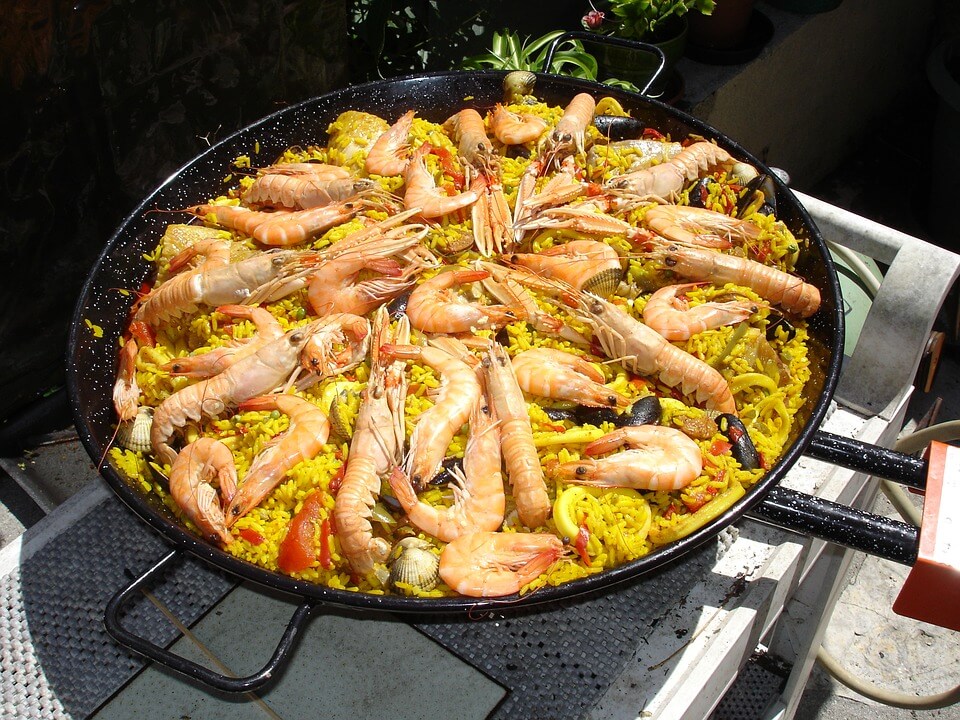 Like both tortilla espanola and croquettes, Spanish paella can be served as both a delicacy in restaurants, and as a fast-food option at street vendors. A typical dish ranges from about €10-20.
Affordable housing
When traveling anywhere, it's a good idea to compare housing options by looking into Airbnb, hotels and hostels, and finding the cheapest price. Most often, booking an Airbnb or hostel will be the most affordable option. If you are traveling with a group, Aribnb's tend to be most cost effective, but if you are doing a solo journey, I would recommend looking at Hostelworld for a cheap Spanish hostel to stay in.
Student discounts
My two weeks in Spain wouldn't have been possible without utilizing some savvy student discounts. Luckily, there are numerous opportunities to save a buck in central and southern Spain. Many places around the world will accept your American student ID as a legitimate form of identification, but if you want to play it safe, it's never a bad idea to get an International Student Identity Card (ISIC), which only costs €9 in Spain and is recognized as proof of student status internationally.
Additionally, ISIC offers some pretty amazing student deals at museums, restaurants, bars etc. Here are some of the best student discounts in this region of Spain and other ways to save money:
The Prado Museum: Enjoy free admission at Madrid's Prado Museum — 6-8 p.m. on Monday-Saturday and 5-7 p.m. on Sundays and holidays.
ISIC food/drink deals in Madrid:

Spizzico: 20% off drinks at a local pizza and bakery cafe
Puro Gusto: 20% off drinks at a breakfast and brunch cafe

ISIC museum deals in Madrid:

Museo Nacional de Artes Decorativas: With an ISIC card, you can enjoy free admission to the National Museum of Decorative Arts, one of Madrid's oldest museums that houses a spectacular collection of ceramics, furniture, jewelry, textiles, etc.
Museo Cerralbo: An ISIC card will also get you free admission to the Museo Cerralbo, a beautiful museum that houses historical artifacts and objects collected from a 19th century palace.

Tapas in Madrid:

Sidrería El Tigre: At Sidrería El Tigre, one of the most famous tapas bars in Madrid, drinks are cheap AND you get free homemade tapas! Beer and cider can be priced as low as €2.50, and you'll be served a side of free tapas. The only catch: you don't know what type of tapas you'll get, but doesn't that sort of add to the excitement?

El Greco Museum: Enjoy free admission for being a student every day at the renowned El Greco Museum!
ISIC Deals in Toledo:

10% Off Fly Toledo: Ever dream of soaring across the Tagus river on a zipline? WIth an ISIC card, you can embark on this wild adventure for a reduced cost!
The Cave of Hercules: With an ISIC card, you can get free admission to the Cave of Hercules, an underground vaulted space that dates back to Roman times!

Nightlife in Toledo

Dragos: For a cheap way to start the night out in Toledo, be sure to go to Dragos, a bar known for their huge 2 glasses of Sangria and a fun, welcoming atmosphere.

Free tapas in Granada: Like El Tigre in Madrid, almost every bar you go to in Granada will give you free tapas with a drink purchase!
Conclusion
Traveling around this region of Spain for two weeks taught me so much about the country's history, culture and landscape. This was one of the most culturally engaging trips I've ever taken, and with the right resources and mindset, I was able to travel at a relatively affordable price. If you are planning a trip to Spain, I would highly recommend visiting each of these gorgeous and historical sights!
And if you really need to cut costs, remember that you don't always have to buy a ticket to tour a palace, museum or cathedral. Simply walking along the grounds, admiring the exterior architecture, and strolling through the gardens can be just as satisfying, and free! And the best way to save money while traveling, is by simply walking around. It's free, and in my opinion, there's no better way to get to know a place.
Natalie Colarossi is a recent graduate from Ohio University with a B.A. in Journalism from the E.W. Scripps School. She is from Pittsburgh, Pennsylvania. She has covered a number of topics including art, culture, politics, music, and travel. Her greatest passion and priority is to travel, and she hopes to experience as many places and cultures as possible.