Known as the Hawaii of Japan, Okinawa is an island sitting below the main island. Long served as an important military base for the United States, Okinawa offers its own unique mix of both western and eastern cultures.
Compared to bigger cities like Tokyo and Osaka, Okinawa is a much cheaper city to visit, so it's a perfect destination for college students. Plus, as the Japanese yen is trading lower, travel to Okinawa is much more affordable for travelers from abroad.
Getting around
Since public transportation and taxis are expensive in Okinawa, renting a car is the most efficient way to get around.
But if you must use public transportation, Yui-rail, Okinawa's monorail that spreads across the Naha city starting from the airport, is the cheapest option. Ticket price varies by distance, starting from JP¥150 (about $1.32) to JP¥330 (about $2.91). There are also one-day or two-day tickets for JP¥800 (about $7.06) and JP¥1,400 (about $12.35), respectively.
Mihama American village
Having long served as a night out destination for Americans living on the U.S. military bases nearby, the Mihama American Village is a huge entertainment complex, now visited by hundreds of people from all over the world.
With its giant, landmarked Ferris Wheel and stores and restaurants blasting American pop songs, the village replicates a typical American beach town replete with carnival festivity. You can find just about everything, a duty-free department store, great seafood restaurants and gaming arenas.
While the American Village is famous for its American food, travelers from America are probably planning to eat Japanese food every chance they get in Japan.
Located right outside the village, Gurme Sushi is a relatively cheap Kaiten-sushi, or a conveyor belt sushi, restaurant. Go early because there will be a very long line.
Then, finish with Okinawa's famous Beni Imo (purple sweet potato) ice cream from the
Blue Seal Ice Cream Shop
.
Sunset Beach
Located right next to American village, Sunset Beach truly lives up to its name. Around sunset time, many locals and tourists flock to save the best seats for the amazing sunset view at the beach. With its low waves and family friendly netted swimming areas, the beach is perfect for all ages.
Umikaji Terrace
Uniform in their white stucco buildings, Umikaji Terrace is a shopping center with cute shops and popular restaurants, located right next to the ocean. Check out two of my favorite restaurants — try Original Pancake from Happy Pancake or Original Fish Burger from Eightman's Seaburg.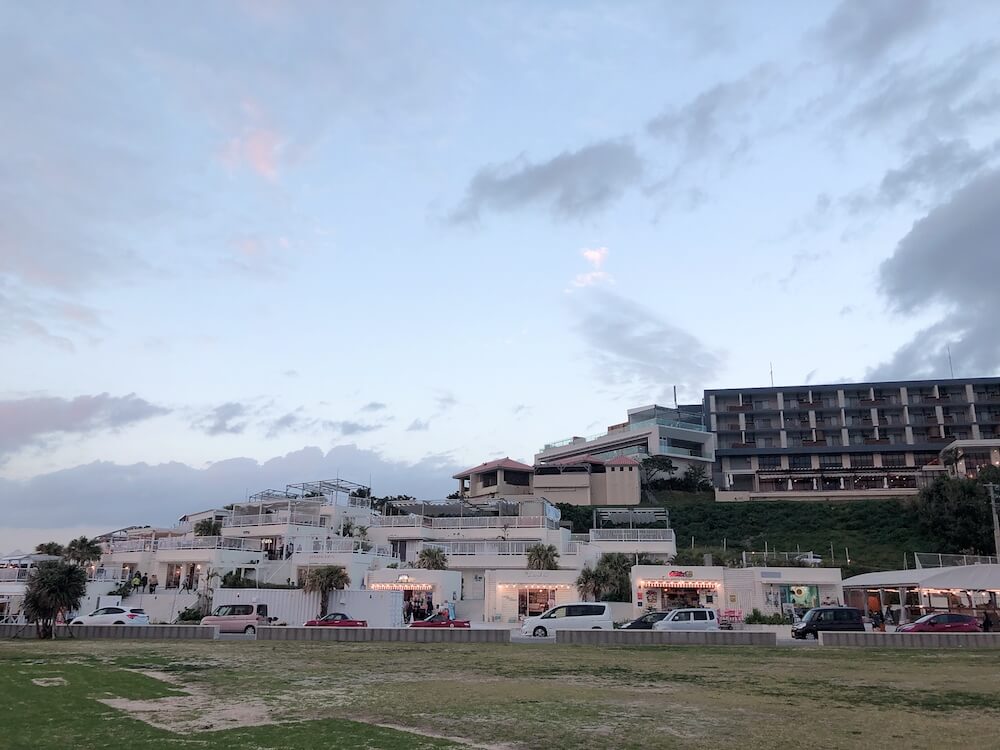 Located just 15 minutes away from the airport, you can easily get to Umikaji from the airport even without a car. Take the monorail to Akamine station, just one stop away from the airport, come out of the station and wait in front of a yellow store sign for a free shuttle bus to Umikaji, available every 30 minutes from 8:30 am to 9 pm daily. On your way back, you can either go back to Akamine station or the airport.
International Street
Located in the center of Naha, the capital of Okinawa, Kokusai Dori, or International Street, is the city's main street filled with cute vintage shops, souvenir shops and street food. Inside it is the Kokusai Street Food Village, a small area huddled with street food vendors.
Many tourists stop by stores like Don Quijote, the Target of Japan, Beni Imo Tart Shop, or the Peace Street, a traditional Japanese market, for souvenirs.
On my way to the International Street, I stopped by Shimujyo, a famous soba (Japanese wheat noodles) restaurant. Located in a cute local village on a hill, the restaurant uses a 150-year-old traditional Japanese house, surrounded with a beautiful garden and offering a nice panoramic view of the city.
Minatogawa Stateside Town
Minatogawa Stateside Town used to be a U.S. occupied land for military housing during the '60s and '70s. Now, the small, quiet town has been turned into a colorful enclave of the most Instagrammable cafes, bakeries and vintage shops.
Ocean Expo Park
Located right next to the Emerald Beach, the Ocean Expo Park is a huge ocean theme park with many attraction sites, including the Churaumi Aquarium, Oceanic Culture Museum, Native Okinawan Village, and Tropical Dream Center.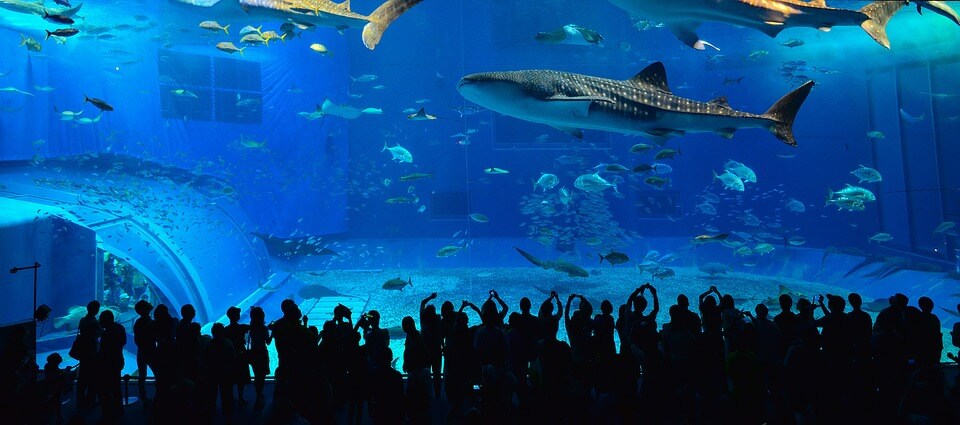 The Churaumi Aquarium, the most visited and biggest aquarium in Japan, is famous for its Dolphin show and Whale Shark feeding show. You can get a ticket for JP¥1,850 or a discounted price of JP¥1,290, starting from 4 p.m.
Mari Car
At Mari Car in Naha, you can dress as Mario, Luigi or any of your favorite animation characters and ride around Naha city in a life-size Mario car.
You are placed on a team of six people and will always be driving in a safe, orderly line with two staff drivers supervising, one leading and another following the entire group. All drivers are taught how to drive a MariCar at the beginning of the session and instructed to keep up with 60 mph, the local speed limit, to stay as a team and be safe around real cars. All drivers must hold a physical copy of a valid driver's license, whether Japanese or international.
You can choose between two courses, a one-hour course staying mainly inside Naha and a two-hour course that includes Senagajima island. The one-hour course costs JP¥6,000, or JP¥5,000 after you leave a review on social media, and the two-hour course costs JP¥9,000, or JP¥7,500 if you leave a review.
Although a bit pricey, MariCar is a one-of-a-kind experience because, really, where else can you dress like Mario and race around a city?
Bisezaki
A forest village located right next to a beach, Bisezaki is a popular destination for bike riding and snorkeling. You can rent a bike, starting from an hour for JP¥300, and ride around either the forested village or on a bike lane leading down to the beach.
Be aware that this is a quiet neighborhood with real residents living inside. Do not make loud noises or enter a house without permission.
After an hour of bike riding, you can stop by a cafe sitting right in front of the beach and enjoy the awesome view with iced teas and scones, like I did.
If you're driving there, don't park your car in the paid parking lot that you'll see first. There is a free parking lot at the end of the road.
Culture tips
In Okinawa, you can't just expect locals to understand even very simple English. While most tourist sites are English-friendly, if you're eating at a local restaurant or looking to find a place, you should use a translating app and ask in Japanese.
To the Japanese people, proper etiquette in public places is very important. Making loud noises, littering or spitting in public spaces will get you frowning faces. Japanese workers are known for their great service and diligent work ethics. While tips are not expected, you should always thank them for their service.
When driving in Okinawa, red light means stop all the time and keeping the speed limit is a must. Even to beginners, driving in Okinawa is beyond pleasant.
Lastly, be mindful that the U.S. military presence is a touchy subject among the locals. Although the U.S. military bases employ about 9,000 locals and contribute to 4-5 percent of the island's economy, the brutal memories of the Second World War, when the Allies killed too many civilians, still haunt many families.
Traveling Okinawa
While Japan is known to be an expensive country to travel, Okinawa offers a cheaper alternative to other bigger cities, but still filled with so many amazing experiences. If you're ever traveling to the Japan, be sure to stop by Okinawa and leave soaked up with the summer vibe all year round. Happy travels!
Hyeyeun Jeon is from South Korea and a graduate from Carnegie Mellon University with a double major in Professional Writing and International Relations. She is passionate about non-fiction storytelling. She loves reading, watching, writing and producing stories about extraordinary lives of everyday people.