The job market has never been so competitive as it is these days. Recruiters receive hundreds of resumes and don't have the time to read each one of them carefully and thoroughly. Usually, they simply skim through resumes and pay more attention to them only if they are interesting enough. That's why you have to work hard if you want to your resume to be noticed.
[divider]
Here are 8 things you can do to grab the recruiter's attention.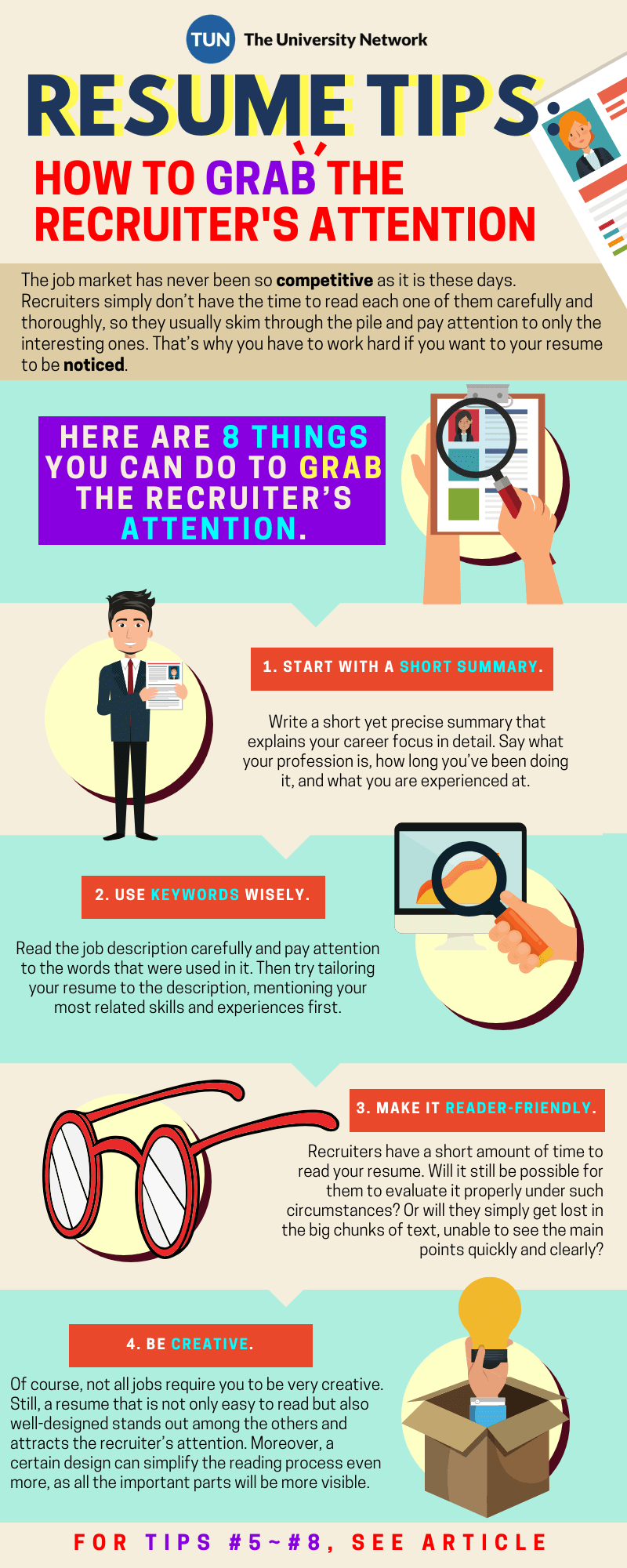 1. Start with a short summary
The most important thing your potential recruiter has to know about you is what position you are interested in and why you are worthy to take this position. Therefore, it would be smart to mention these things first in your resume before you even start listing your skills and work experience. But some people still don't do that. The reason is simple: for years, resumes started with different objective statements that were traditional but too unclear. Back then it was normal; now this might lead to your resume not even being read further.
That's why you should consider replacing such statements with a short yet precise summary that will explain your career focus in detail. Say what your profession is, how long you've been doing it, and what you are experienced at.
[divider]
2. Use keywords wisely
Read the job description carefully and pay attention to the words that were used in it. Then try tailoring your resume to the description, mentioning your most related skills and experiences first.
Moreover, try putting this information in the first part of your resume, right after the summary. Some candidates still stick to a more traditional resume structure even now, but this would only increase the chances of a recruiter dropping your resume before they even get to the meat of it.
[divider]
3. Make it reader-friendly
Recruiters have a short amount of time to read your resume. Will it still be possible for them to evaluate it properly under such circumstances? Or will they simply get lost in the big chunks of text, unable to see the main points quickly and clearly?
Don't forget that formatting is very important: it will enhance the look of your resume and ease the reading process. Try to do your best to make the resume as reader-friendly as possible.
[divider]
4. Be creative
Of course, not all jobs require you to be very creative. Still, a resume that is not only easy to read but also well-designed stands out among the others and attracts the recruiter's attention. Moreover, a certain design can simplify the reading process even more, as all the important parts will be more visible.
[divider]
5. Work on section headings
The section headings are basically the main navigation tools for recruiters; they help recruiters focus on the most important parts of the resume. That's why your goal is to make them as specific as possible, so recruiters can see what interests them the most. For example, don't simply list all your experience at once; divide it into "Communication Experience," "Team Leading Experience," and so on. The same goes for the skills: name them "Language Skills," "Computer Skills," etc.
[divider]
6. Distinguish yourself from other applicants
Make sure you include skills or experiences that set you apart from other applicants. Recruiters are more likely to remember your resume if they find something they personally find interesting and spend more time reading your resume.
[divider]
7. Emphasize the companies' names
Your work experience matters a lot, especially if you've been working for various big companies. Of course, this will add more professional value – but only if the recruiters notice it. Don't simply hope for that; make it impossible to avoid that. Be sure to make the companies' names as visible as possible, using a bold font or choosing a bigger font for them.
[divider]
8. Be realistic
Recruiters treat transferrable skills differently these days, so it is much easier for a person to find a job in a completely different area. But this doesn't mean that you don't have to be realistic. If certain skills are crucial for a job and you don't have them at all, applying for the job would not be wise.
[divider]
SEE ALSO: The 10 Commandments of Resume Writing