George Floyd's death, after having his neck pinned down by a Minneapolis police officer for nearly nine minutes, has sent the United States into outrage. In his final moments, Floyd uttered the words, "I can't breathe" — the exact last words of Eric Garner, who died in 2014 after being placed in an NYPD officer's chokehold.
Every night, protesters have taken to the streets of cities across the country. And so have units of police officers equipped with tear gas, riot shields, rubber bullets and stun grenades.
I've attended a number of protests in Brooklyn, where I live, over the past few days. I've witnessed peaceful protests, with protesters chanting, marching, kneeling and praying in solidarity.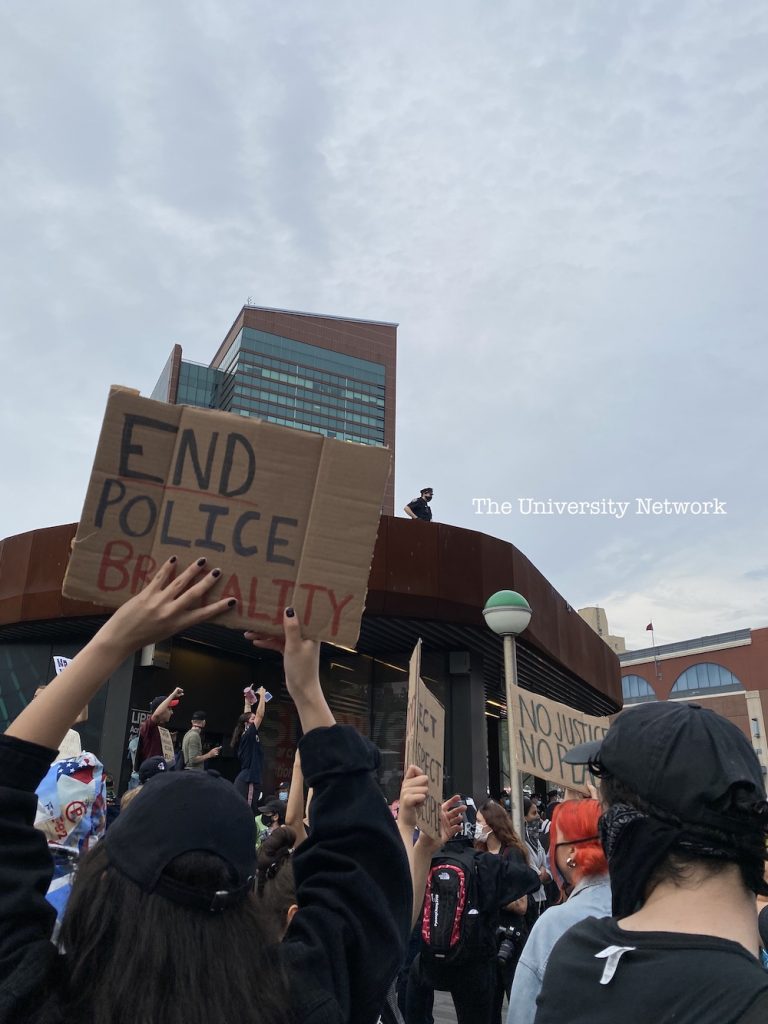 And I've witnessed a protest that became violent. I've seen protesters beaten with batons, relentlessly tear-gassed and running from officers shooting rubber bullets. I've also seen a police car set on fire and officers duck to avoid being hit with objects hurled by angry protesters.
The George Floyd protests, or at least the ones I've been to, always start peacefully. Protesters show up upset, of course. But violence is not their mission.
So why are protests escalating?
When I walked over to the Barclays Center on the evening of Friday, May 29, the sun was still out, and the crowd was eager to welcome anyone who showed up to louden the collective voice, no matter their age, race or ethnicity.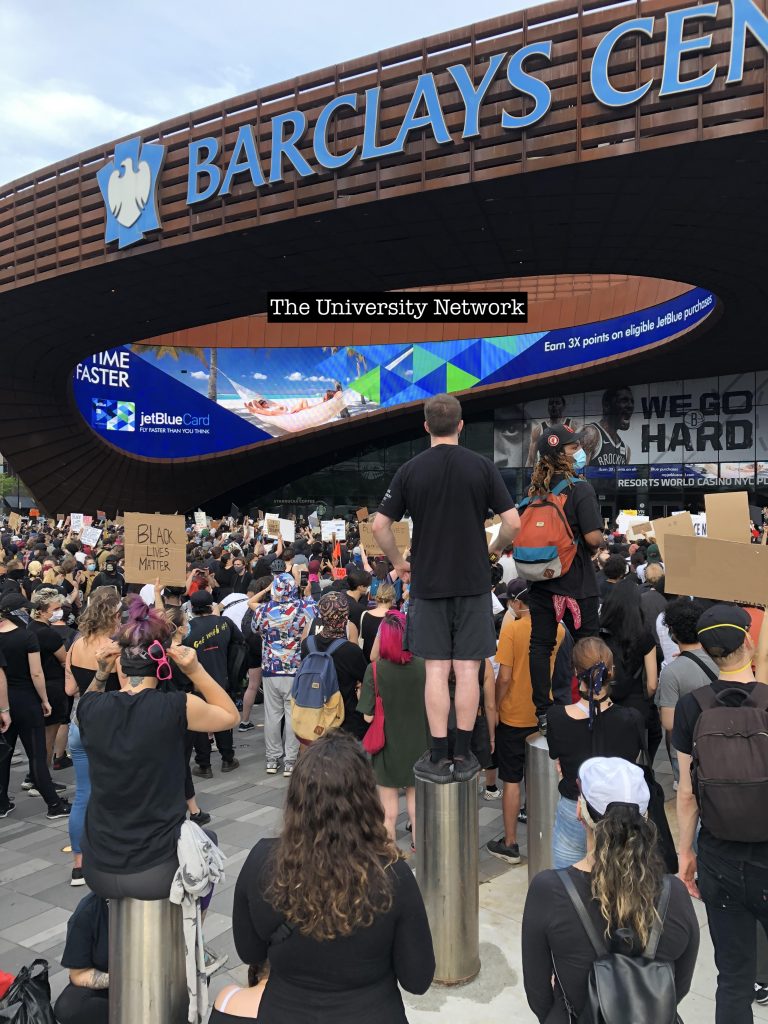 At that point, police officers, many of whom were dressed in full riot gear, flanked both sides of the lot outside of Barclays, closing in the protesters and preventing everyone from spilling out onto the street. There were also undercover cops mixed throughout the crowd, wearing street clothes and white armbands.
I understand law enforcement's role in a protest is to keep the peace. They are necessary to prevent opportunists who attend protests only to loot and destroy from doing so. But from the beginning, the dynamic of Friday's protest was off. By showing up with so much force, the police clearly were exhibiting an "us vs. them" mentality.
This mentality transformed into action, as the police, seemingly overwhelmed by the number of people showing up at Barclays, began to use their weapons to subdue those they believed to be acting out.
Protest chants were interrupted as protesters helped clean out the eyes and noses of those who had been doused with pepper spray.
And then, what seemed to be just minutes after, the police deemed the protest to be an unlawful gathering. It was like a flip of a switch.
Bull horns sounded the alarm that it was time to leave. Police, carrying riot shields and positioned shoulder-to-shoulder, started marching in militarized fashion to disperse the crowd. They began beating people, firing pepper spray and arresting those who refused to move or were simply slow to respond.
Mind you, the protesters — who were there to protest police brutality — didn't take kindly to this. All they had, though, were their words. And any who spoke too loudly suffered the same consequence as those who were slow to move out of the way.
At this point, I had been run off to a side-street with a few other protesters. There, we watched a police car set on fire.
Protests continued throughout the night. At one point, when I was back at my apartment, I saw police officers chase a man, throw him against a police car and render him unconscious. Luckily, photographer Michael Thoreau, who was standing next to me, caught the act on video.
Right after, the officers left the scene, leaving the man who was thrown against the police car on the sidewalk to be cared for by other protesters.
On Monday, June 1, however, the dynamic was much different.
Walking up to Barclays, as I did each day of the weekend, I witnessed a smaller group of protesters surrounding a man playing the trumpet. Between songs, chants could be heard and signs calling out injustice and remembering the lives of George Floyd and the many other Black men and women who died at the hands of police were held high.
The police presence was much lighter on Monday. The officers who were there stood yards away from the protesters with their backs against the front wall of Barclays.
When a crowd of fellow protesters marched by, coming from downtown Brooklyn, those at the Barclays joined them. And in solidarity, without immense police presence, the protesters marched down Flatbush Avenue.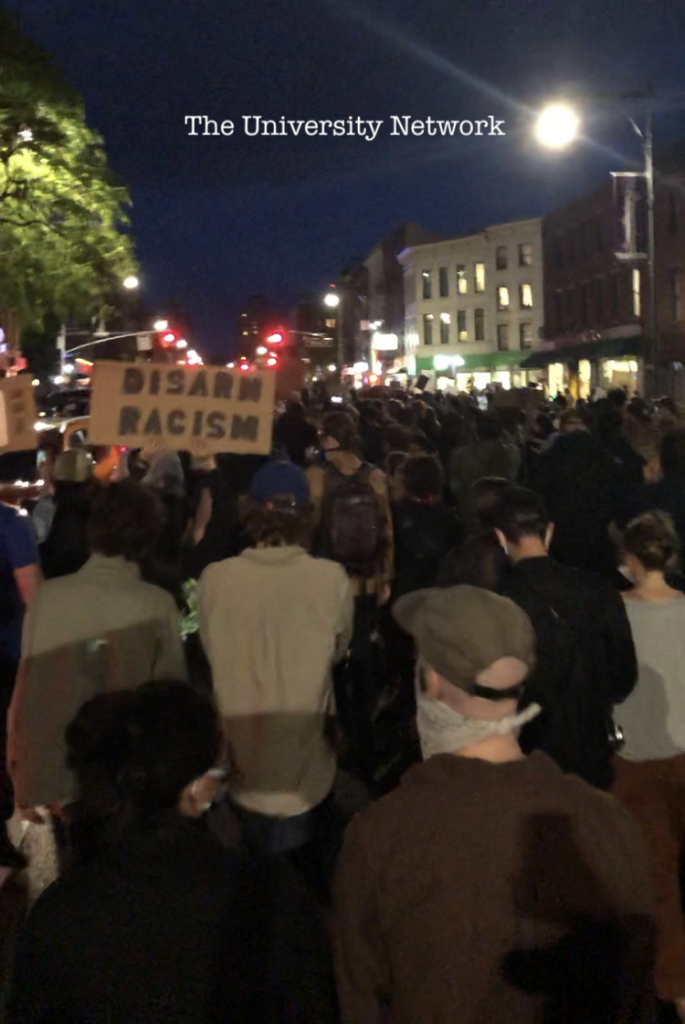 Although thousands joined the march — much more than I saw out on Friday — I didn't witness a single arrest or act of violence by protestors or the police.
On Tuesday, June 2, around 6 p.m., I once again walked out of my apartment building to participate in the nightly protest. This one was organized by a number of Christian organizations and started outside of Bridge Church on Fifth Avenue, between Warren and Baltic streets.
Protesters marched peacefully with little police presence. Around 8 p.m., the curfew set by New York City Mayor Bill De Blasio and New York Governor Andrew Cuomo, the crowd started to thin out, peacefully. Those who continued to march were reportedly stopped by the police on the Manhattan Bridge, but I had left before that point.
There are other examples of peaceful protest throughout the country. We've seen it in Flint, Michigan, where a sheriff put down his baton to march with protesters.
And in Camden County, New Jersey, the police chief marched with protesters while holding a sign that reads "standing in solidarity."
So what causes protests to escalate? From what I've witnessed over the past few days, it has become clear to me that the violence is triggered by the police using militarized tactics.
According to Tom Nolan, an associate professor of sociology at Emmanuel College and a former police officer for 27 years, the militarization of police departments has been on the rise, primarily since 9/11.
"I have seen, throughout my decades in law enforcement, that police culture tends to privilege the use of violent tactics and non-negotiable force over compromise, mediation, and peaceful conflict resolution," Nolan wrote. "It reinforces a general acceptance among officers of the use of any and all means of force available when confronted with real or perceived threats to officers."
"The police have deployed a militarized response to what they accurately or inaccurately believe to be a threat to public order, private property, and their own safety. It is in part due to a policing culture in which protesters are often perceived as the 'enemy,' " he added. "Indeed teaching cops to think like soldiers and learn how to kill has been part of a training program popular among some police officers."
Instilling fear won't make protests less violent. Only by law enforcement displaying empathy and a clear desire to evolve can peace be brought to the streets.
News & Content Manager
Jackson Schroeder is a graduate of Ohio University with a B.A. in Journalism from the E.W. Scripps School. He is originally from Savannah, Georgia. Jackson has covered a wide range of topics, including sustainability, technology, sports, culture, travel, and music. He plays bass and guitar, and enjoys playing and listening to live music in his free time.