A summer internship is the stepping stone into reality for many college students worldwide. Before the summer, students compete to sit and be immersed within the working culture, so they can gain professional experience and meet professionals in their chosen field. Summer internships offers opportunities for students to explore a field they are interested in, learn from mentors, and enhance their resumes with real work experience.
Summer internships are no joke, and should be taken very seriously. While there is often more than one college intern at your workplace, you must always remember that in the office you are not just a college student, but an employee. You should always remain professional in the workplace. Many interns are offered full-time positions as a result of proving themselves to be reliable and professional.
No two summer internships are the same, so it's difficult to predict how an internship would turn out. You will be helping yourself though if you walk into your summer internship with a positive attitude, ready to learn, and excited to continue your professional experience for the next few months.
Here are eight tips that will help you complete your internship with professionalism and leave your mark.
1. Be on time
If you are habitually late to meetings, class, or important events, you will need to curb this habit as you enter a professional setting. While you may get away with running late to class and sitting in the back of the lecture hall, your summer internship is your time to make a positive impression on a possible future employer. As an intern, you should always be on time, if not early. Plan to arrive ten to fifteen minutes early each day to allow for any unexpected mishaps or delay, such as traffic or problems with public transportation.
2. Don't be afraid to ask
From the moment you arrive at the office till the very last day of your internship, don't be afraid to ask questions. Your supervisor and peers know that you are unfamiliar with this new position, so you shouldn't be afraid to ask questions. Asking questions demonstrates curiosity and an eagerness to learn. Before you begin your internship, you can ask about company culture, dress code, and expectations for an intern. Questions about work life, including who you should report to, work hours, and lunch, are appropriate during your first week.
3. Be Informed
Before you enter the office for the first time, be sure to do some research about the company. Be sure to be familiar with the basic functions of the company, its social media pages, news about the company, and their competition. You can learn a bit of the company's history and culture with just a few Google clicks.
4. Dress to impress
Your first impression is the most important impression. Before you walk into the office for the first time, be sure to ask your employer about the dress code. Whether business formal or casual, be sure to look presentable on the first day. It is always better to be overdressed than underdressed, so be sure to look your best on your first day.
Pro tip: Bring an extra outfit with you to cover an emergency situation like coffee spills.
5. Be positive
Smiling often and being friendly can go a long way in an office. No one wants to be known as the unhappy intern, so be sure to look your best and be a welcoming face for your peers. If you are not satisfied with your internship, don't show it on your face but continue to be positive. Be comfortable talking to your supervisor about any issues that may arise to help maintain a positive attitude.
6. Be sociable
Whether your intern class is five people or a hundred, be sure to socialize among your peers. It is always nice to have a friend in the office. Don't close yourself off from your peers, but be open to meeting new people, engaging in work conversations, and being a friendly face in the workplace. If your internship supervisor plans an intern mixer or hangout, be sure to attend. You never know, you may meet one of your best friends at your internship.
7. Be willing
As an intern, be willing to take on any task at hand. While the coffee run may be tedious or the spreadsheet may seem never-ending, these tasks may be essential to the functionality of the whole team. Never see any task as too small for an intern. Some internships may include more tedious work than contemplated, while others are very collaborative and project-based. While you may not enjoy all of the tasks you perform in the short run, being positive and willing to help out with any task in the office demonstrates that you are capable of working in a team and a team player, something employers really look for.
8. Communicate with your supervisor
Communication is key. Be sure to establish a professional relationship with your supervisor and talk to him or her whenever possible. This will help you later when you need a recommendation after the completion of your internship. Your supervisor may feel more inclined to write an exceptional recommendation if you have a warm relationship. It will also give you someone to go to if you need advice or help regarding your chosen field.
Follow these eight tips to help you ace your summer internship. As you begin your internship, always be sure to be professional and eager to learn from your internship. Be sure to take advantage of the learning experience and learn from your colleagues, your peers, and mentors as you prepare to begin your professional career. While the summer internship may seem like a short break from school and class, it is an essential step for students who are looking to enter the highly competitive workforce. Use your summer internship opportunity wisely, and you will benefit from it.
RELATED: How (& Where) to Find Internships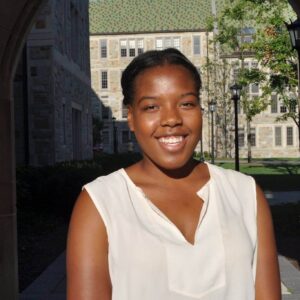 Vanessa Sewell is studying Economics and Communications at Boston College. She is from Bronx, NY. Vanessa has worked on topics related to lifestyle, fashion, culture, and education during her time at Boston College. During her free time, she can be found playing piano and guitar or jamming to Spotify.