*Updated January 30, 2020
If you've taken out federal student loans to finance your education (like I did) and you have Great Lakes Educational Loan Services, Inc. as your loan servicer, you need to take stock of where you stand with respect to your loans and learn about your repayment options. This is critical if you want to put your best "financial" foot forward and be in control of your student loans.
Here's what you need to know to manage your Great Lakes student loans.
1. What is Great Lakes?
The U.S. Department of Education is your lender, but federal loans are serviced by nine loan servicing organizations/companies assigned to help the government manage the billing and other services for your loan.
Great Lakes is one of the largest federal student loans servicer with headquarters in Madison, Wisconsin. It is a nonprofit organization, and has been in the loan business since 1967. Great Lakes prides itself on "doing what's right."
In addition to helping millions of students manage their loans, Great Lakes has "invested nearly $260 million in grants to our communities, to date," according to the Quick Facts it makes available online.
You could have more than one loan servicer if you have multiple loans. To confirm, check with the National Student Loan Data System.
2. What do you need to do to manage your Great Lakes loans?
If you haven't already set up an online account with Great Lakes, you should create one immediately.
The process is easy when you use its online platform MyGreatLakes. To sign up for Account Access, provide the required information, including your social security number and birthdate.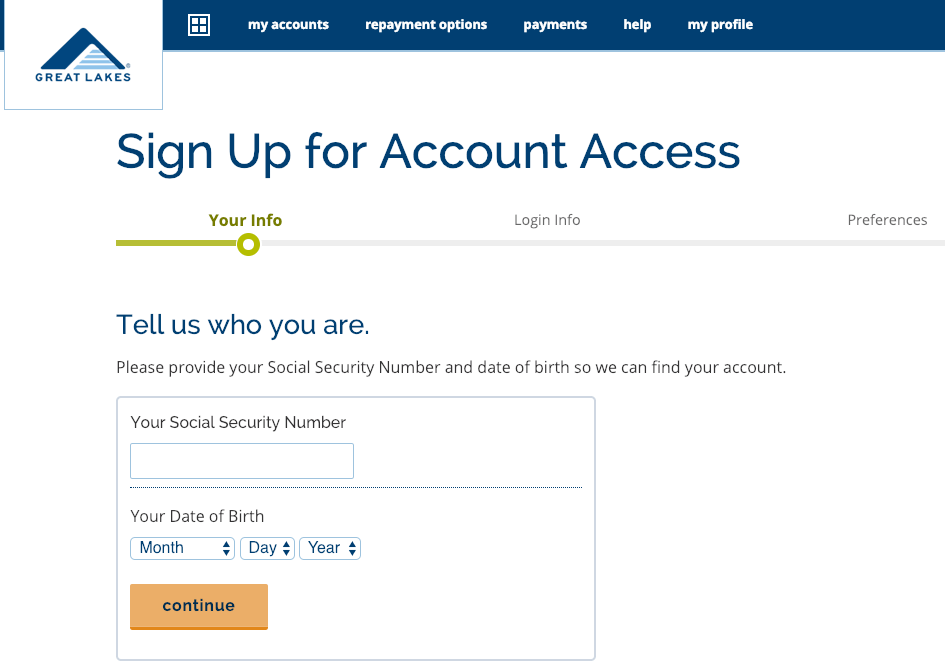 You can also create an account using Great Lakes' mobile Android or iOs app. But reviews of the app on both Google Play and App Store are mixed: 3.9 stars for Android and 3 stars for iOS in January 2020.
Once you've set up an account, or if you already have an online account, you can log in to manage your account.
Great Lakes' online portal gives you all the tools you need to review and manage your account, including:
Getting loan balances;
Making your payments;
Determining your repayment options; and
Updating your personal information.
You can also find other helpful tips and resources at its Knowledge Center.
3. What if you have a question and need to contact Great Lakes?
You can phone, email, mail or fax Great Lakes.
Phone — Your social security number, or Great Lakes account number, is required.
Toll-Free
(800) 236-4300

Mon-Fri: 7:00 AM to 9:00 PM (CT)

International
(608) 246-1700

Mon-Fri: 7:00 AM to 9:00 PM (CT)

TTY #
Dial 711 — support for hearing and speech-impaired callers

Mon-Fri: 7:00 AM to 9:00 PM (CT)
Email: Send a secure email via Great Lakes' online form. You will need your Great Lakes ID or the last four digits of your social security number.
| | |
| --- | --- |
| Toll-Free | (800) 375-5288 |
| International | (608) 246-1608 |
Payments
Log in to find information pertaining to your loan.
General correspondence only
Great Lakes
PO Box 7860
Madison, WI 53707-7860
4. What if you have a problem with Great Lakes?
Although Great Lakes is one of the biggest loan servicers, it is not without its problems. In January 2020, Consumer Affairs shows 207 consumer reviews and complaints, with Great Lakes garnering just one star in ratings.
In the Consumer Financial Protection Bureau report issued in October 2019, Great Lakes ranked fourth highest in federal student loan complaints (184) for the 12 months starting on September 1, 2018 and ending on August 31, 2019.
In addition, a psychologist at the University of Florida, who was denied public loan forgiveness, filed a lawsuit against Great Lakes in October 2017.
Also, in July 2015, a class action lawsuit was filed against Great Lakes for allegedly wrongfully inflating the principal balances on many borrowers' loans and charging them unlawful interest.
So, what should you do if you have questions, concerns or issues with your Great Lakes loans?
Contact Great Lakes right away by phone, email and/or mail/fax (see contact list above).
If Great Lakes cannot or does not resolve your problem, or you disagree with Great Lakes, contact the Federal Student Aid Ombudsman Group. You can also file a complaint with Federal Student Aid and/or the Consumer Financial Protection Bureau.
At all times, it will help if you have identified the nature of your loan problem and have documented all the details, including notes of phone conversations, identity of Great Lakes representatives etc.
5. What is the best way to deal effectively with Great Lakes?
The Department of Education has provided several tips on this, including keeping careful notes of conversations, following up in writing after a conversation, keeping copies of correspondence and replies sent by mail, sending letters by certified mail, and more.
6. What are the payment methods?
You can make your Great Lakes payments in many ways, including Auto Pay and by mail. Before you proceed, know that you can choose a payment date that works best for you.
If you choose Auto Pay, your loan payments will be automatically deducted from your checking or savings account on a specific date each month, even if your due date falls on a weekend or holiday. But you will save 0.25% using this method. To avoid missing a payment, be sure to send a payment using other methods until Great Lakes confirms you are set up for Auto Pay. Sign up for Auto Pay here.
Paying online is the most flexible option since it allows you to make extra payments on individual loans. Make sure you schedule your payment for a business day, even if your payment falls on a weekend. Log in here to pay online.
To pay by mobile app, simply download the iOS or Android app and log in to make or schedule a payment and view details about your loans. You will receive notifications about your payment due dates and payments you've made.
You can also pay by phone 24/7 using the automated phone system (see contact information above). If you prefer, you can speak to a Great Lakes representative during its regular business hours. You will need your 10-digit account number, or Great Lakes account number, to pay by phone.
If you prefer to send your payment by mail, be sure to send a payment insert from your billing statement and include your Payment Reference Number on your check. Your payment address is unique to your specific situation, so log in for your payment address. Your payment should be mailed at least 5-7 business days before your due date to ensure receipt by due date.
When Great Lakes receives a payment, it is applied first to outstanding interest and late fees, if any, and then to the principal balance.

7. Should you make excess payments?
If you have extra money, the answer is definitely YES. This will help you pay off your loans faster and save you money.
No matter which payment method you choose, you have the option to make excess payments.
Excess payments are automatically applied as follows:
First, towards accrued interest since your last payment.
Next, towards the principal of the loan (towards the loan with the highest interest rate if you have multiple Great Lakes loans).

The caveat:

If you're in school, grace, or deferment, however, excess payments will be applied to the unsubsidized loan with the highest interest rate, after outstanding interest for all loans has been paid.
8. How do you ensure that Great Lakes correctly allocates your excess payment?
Great Lakes will automatically apply your excess payments as described above. If you want Great Lakes to target specific loans, whether you have a one-time or recurring extra payments, simply log in and define your Excess Payment Preference.
For maximum benefit, you should target the excess payments to unsubsidized loans, loans with high balances, or loans with higher interest rates — whichever will save you more money in the long run.
You can always change your preference. Additionally, if you're making your payment online, you can override an existing preference with a one-time preference.
Great Lakes will alert you if your preference is no longer viable — for example, when a loan is paid in full or transferred.
9. What are your repayment options?
Although you make your payments to Great Lakes, it is the Department of Education that provides the repayment options. Your options may vary by the type of loan you have.
Here are the standard repayment options:
Standard Repayment Plan: This plan saves you the most money because it allows you to pay off your loan most quickly — within 10 years if you have unconsolidated loans, and within 10-30 years if you have consolidated loans. However, since the fixed monthly payments are higher, this is not a viable option for borrowers seeking PSLF. By the way, this will be your default option if you don't choose a repayment plan.
Graduated Repayment Plan: With this plan, you will start with low monthly payments that will increase every two years. You pay off your loan within 10 years if you have unconsolidated loans, and within 10-30 years if you have consolidated loans. This plan may be a good fit for borrowers whose current income is low but expect an increase over time. It's generally not an option for those seeking PSLF.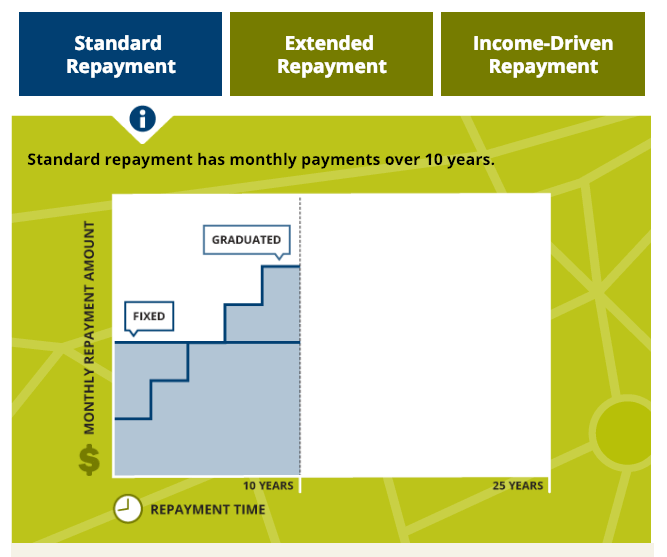 Extended Fixed Repayment Plan: If you need to lower your monthly payments, this plan gives you the option to extend your payment period up to 25 years. You will have a fixed monthly payment. To qualify, your outstanding loan amounts must be more than $30,000. This plan is not an option for those seeking PSLF.
Extended Graduated Repayment Plan: This plan also gives you the option to extend your payment period up to 25 years, but your lower monthly payments increase over time. To qualify, your outstanding loan amounts must be more than $30,000. This plan is not an option for those seeking PSLF.
If your income is lower than your debt, however, you have the option to choose from four income-driven repayment plans (IDR). Your payments would be based on a percentage of your discretionary income. The percentage varies based on the plan. Payments for all four IDR plans are recalculated each year and are based on your updated income and family size, so you must update your income and family size each year (even if there are no changes). IDR plans are good options for those seeking PSLF, which forgives the remaining balance on Direct Loans after borrowers have made 120 qualifying monthly payments under a qualifying repayment plan while working full-time for a qualifying employer.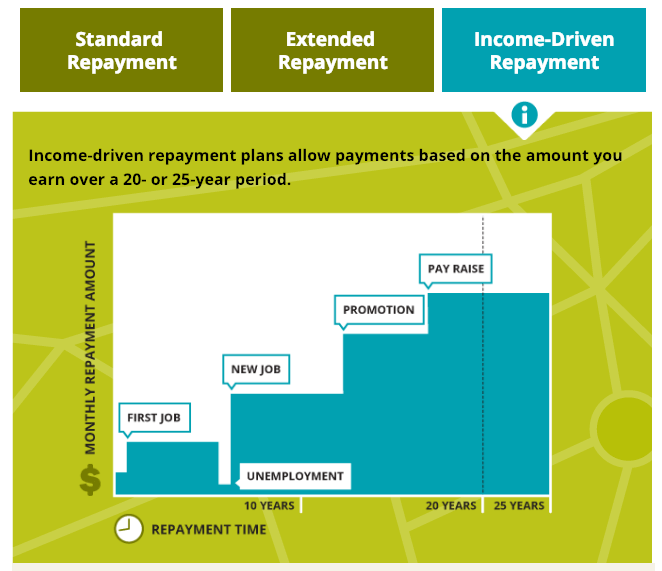 If any of the IDR plans will make your student loan debt more manageable, you can:
Before you choose a repayment plan though, you should use Great Lakes' Repayment Planner after logging in OR the Repayment Estimator on StudentLoans.gov, to help you figure out what your approximate monthly payment would be.
10. What if you're having trouble paying back your loans?
Get in touch with Great Lakes right away if you're struggling to make your monthly payments. You don't want a situation where your loan becomes delinquent or in default, because it will affect your credit score.
An account is "delinquent" the day after a first missed payment, and is deemed "in default" when it is 270 days delinquent. So, if you miss one or two payments, your loan is delinquent. But if you miss several payments, your loan will be at risk of default.
If you have money for your monthly payments but you forget, simply changing your method of payment to Auto Pay will ensure timely payments.
If you can't afford your monthly payments, however, you need to check into lowering your monthly payments. Here are a few options:
You can apply for IDR plans, which are based on your income, family size and state of residence, at StudentLoans.gov. To determine which IDR plan is best for you, you should have your loan details — current loan balances, loan program and interest rate of each loan, and how many months you have been repaying your loan — available. Reminder — more details are in the "repayment options" section.
If you have multiple federal loans, you can apply to consolidate some or all of the loans into a single loan called a Federal Direct Consolidation Loan through StudentLoans.gov. In your application, be sure to note if you are interested in PSLF. The consolidated loan will bear a fixed interest rate based on the average of the interest rates on the loans being consolidated. There is NO application fee. Once consolidated, you will have a single monthly payment to make for all the loans you consolidated. Check here to see if consolidation is right for you.
Another option is to refinance your loans through private lenders. Refinancing, like consolidation, allows you to roll multiple loans into one loan. Your interest rate is typically determined by your credit score.

The caveat

: borrowers who refinance federal student loans lose benefits provided by federal loans, including access to IDR plans that may qualify them for loan forgiveness after 10, 20 or 25 years of payments.
If you're in a situation where you need to postpone your monthly payments temporarily, you have two options: deferments or forbearances. Both programs could have a major impact on the amount you have to pay back. Neither program is ideal, particularly if you're working towards loan forgiveness as it may delay the time it takes to qualify for loan forgiveness. A better option may be to apply for IDR plans instead.
The bottom line
To ensure compliance with your loan obligations and for maximum savings, you should learn the terms of each of your federal loans. And don't hesitate to contact Great Lakes if you have any questions, issues or concerns.
Susan Chu is a writer and editor who likes to write about trends in higher education.