The creative industry is exerting its influence to drive impact on the U.N. Sustainable Development Goals (SDGs), a set of 17 goals to be accomplished by 2030.

The industry's efforts were highlighted during the SDG Media Summit, an annual event created by PVBLIC Foundation, which focuses on harnessing the power of media, marketing and advertising to promote social change, on September 12.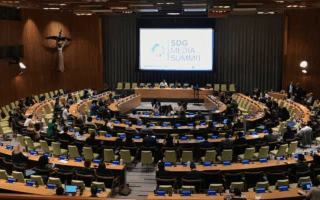 Co-hosted by Sergio Fernández de Córdova, chairman of PVBLIC, and Ariana Stolarz, global chief strategy officer for advertising titan MRM//McCann, the summit brought together leaders in the media, marketing and advertising industries, as well as U.N. representatives, to discuss how to harness their power to advance the SDGs.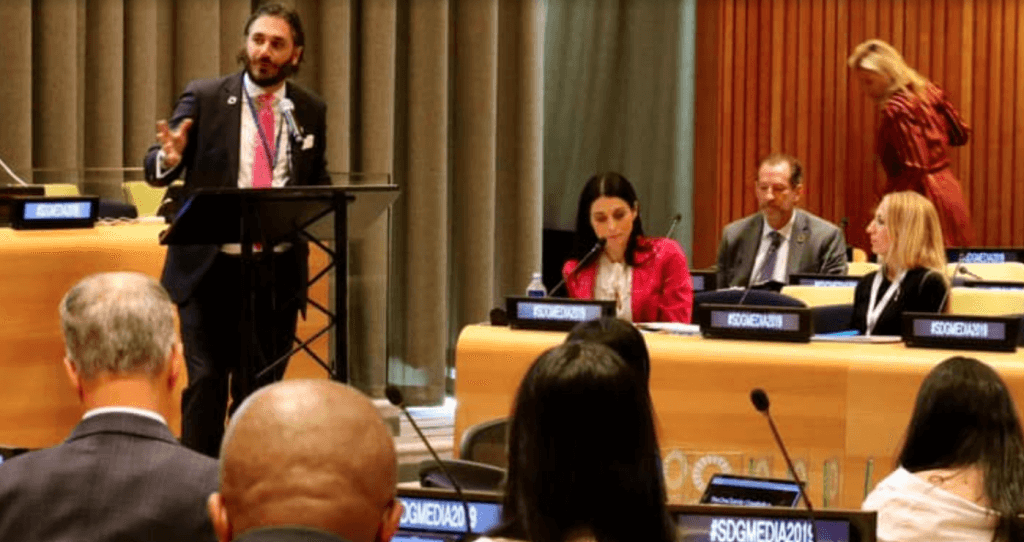 "If you care about people on the planet, that means you care about the 17 SDGs," Stolarz said during her introductory speech.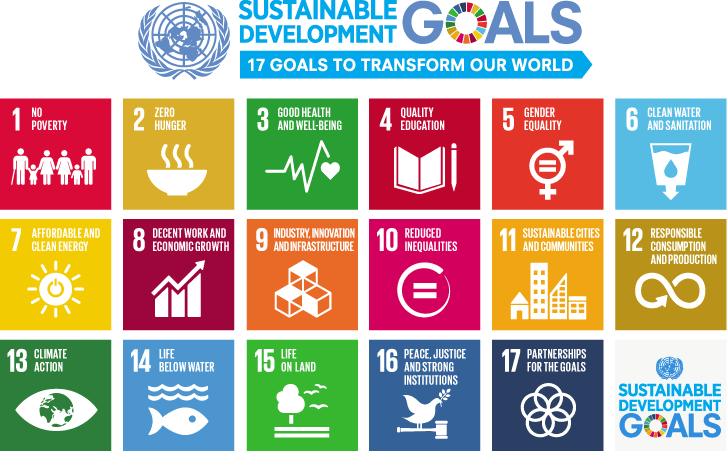 "So we're here and we care. But caring alone is not enough," she said. "I see this room today and I see a room full of SDGs activists, not advocates but activists. Don't underestimate the power of this room, our collective power. I mean, if you're here, it's because you have the willingness, you have the access, you may have the influence to activate change, to activate solutions. So this is my invitation for the day, not just advocate but go activate. Activate a new conversation, activate an introduction, activate ideas, activate your neighbors, activate your kids, their teachers. Talk to the person sitting next to you today, a stranger and then activate a new partnership."

This year's summit focused on Goal 17 — Strengthen the means of implementation and revitalize the global partnership for sustainable development.

"Every year at the summit, we have a thematic focus," Fernández de Córdova told The University Network (TUN). "This year we stayed away from giving it a specific thematic focus that was out front, because we wanted to focus on Goal 17."

The organizers chose to highlight SDG 17 this year because over 65 percent of the attendees had never been to the United Nations and many were entirely unaware of the SDGs, Fernández de Córdova explained.

"Mind you, this is representative of the world's largest agencies, so sometimes these agencies are so big that different divisions within them don't hear about this stuff — they're busy working, they're busy building brands," he said.

Celebrating creative that drives change

The summit included 10 panels on topics such as the use of data as a force for good and mobilizing the creative industries to increase climate action.

Claudia Romo Edelman, founder of We Are All Human Foundation, was one of the featured speakers. Her goal is to drive equity, diversity and inclusion. She had the idea to partner with the Cannes Lions International Festival of Creativity, the largest annual event for the creative communications industry, to advance the SDGs by introducing the Cannes Lions SDGs Lion Awards last year.

"The Lion's Share," an initiative that recognizes how little the advertising industry does for animals considering that they appear in 20 percent of ads, won the Grand Prix in the SDGs category at the Cannes Lions 2019, which was awarded in June. The initiative's goal is to raise $100 million per year for wildlife conservation. Advertisers are asked to contribute 0.5 percent of their media spend for every ad that features an animal.
"The Lion's Share" initiative illustrates the creative industry's power to drive social change.

The introduction of the SDGs Lion has also led to Cannes Lions' "commitment to activating for a more sustainable future and making the Festival a more environmentally responsible event," starting this year.
The SDG Media summit also included an award ceremony for the SDG Leadership Awards, which were granted to individuals who have actively pushed for social change in the marketing and media industries.

Eight individuals were honored for their leadership roles this year — John Marshall, chairman of the Potential Energy Coalition; Kerry Steib, director of social impact at Spotify; Conrod Kelly, executive director of Global Social Determinants and Population Health at Merck; Viviana Alvarez, head of sustainability at Unilever North America; David Droga, founder and chairman of Droga5; Shelley Zalis, founder and CEO of The Female Quotient; Debbie Levin, CEO of the Environmental Media Association; and Gail Tifford, chief brand officer at WW International.

In addition, a new award was announced by The One Club for Creativity, a non-profit organization that tries to inspire the global creative community. The Sustainable Development Pencil was launched to reward teams who further the 17 SDGs through their talents and resources.

"This prestigious new Pencil will be awarded for work that proves to have a sustained and measurable impact over time and is scalable by other brands or places," Kevin Swanepoel, CEO of The One Club, said at the summit. "The work must also change behavior, not just raise awareness, and involve a strategic partnership."

This year's SDG Media Summit was the sixth since the inaugural event in 2014. Since its inception, the event has been organized jointly by the U.N. Office for Partnerships and PVBLIC.

PVBLIC's role in driving social impact

PVBLIC was co-founded in 2011 by Fernández de Córdova, a veteran of the billboard and advertising industries. Since then, PVBLIC has become one of the United Nation's primary media partners and is involved in other SDG projects such as the SDG Media Zone and the Latin Impact Alliance.

"When I started the foundation, my North Star — one of my North Stars — was to build a summit where we could bring in the world's creators, the world's agencies and brands together to help educate them about how they have the ability to change the world," said Fernández de Córdova.

"That they can rewrite history — not when they retire and go join the foundation, not when they donate a couple of bucks, but actually while they're there and while they're channeling this to build billion- and, now, trillion-dollar brands, they can actually build a billion- and trillion-dollar impact."

The SDG Media Summit has grown into the main opportunity for the advertising industry to discuss social impact and purpose, said Fernández de Córdova. Over the years, the summit has featured representatives from global brands like Spotify, Coca-Cola and IBM, as well as the advertising industry titans such as MRM//McCann.

The hope is that events like the SDG Media Summit will increase awareness of the SDGs and the battle for our future.

And scientists need the help of the creative industry to get the message out through storytelling, according to Valorie Aquino, co-founder of March for Science, a global grassroots community of science advocates mobilizing for a more sustainable and just future.

"Storytelling is one of the most effective ways to break down and to share very complex information. So that's something that we know that we do need to be doing a much better job with as science communicators and in the March for Science networks … But really, it's more about the creative kind of storytelling, being relatable, being relevant, having different kinds of stories that resonate with different types of people, and that's something that I would love to work together more closely with creative professionals and industry leaders to craft," she said at the summit.

Accessibility is another issue, Aquino observed, and that's best achieved by leveraging digital properties. As an example, she mentioned that she can reach more people through the March for Science's Facebook book than through scientific journals.

Inspiring activism

The ultimate goal of the SDG Media Summit and of awards like the Sustainable Development Pencil, the SDG Cannes Lions, and the SDG Leadership Awards is to encourage activism in the creative marketing industry, according to Fernández de Córdova.

"We want to communicate to every human that they too can make a difference, that they too have the ability to change the world, even if it is as simple as one thing per day or one thing per week or what have you," he said. "If we had everybody do something for a month, we would rewrite history."

The SDG Media Summit has motivated many media companies, including TUN, to take action.

"It's hard not to feel inspired by this summit," said Peter Corrigan, CEO of TUN who has attended the summit from the outset and participated as a member of the summit's steering committee this year. "It motivated us to create the #SharetheGoals Scholarship and to focus our news content around positive developments at universities to make the SDGs a reality. It also sparked our moonshot goal to create more than $1 billion in scholarships by persuading brands to sponsor scholarships, in an effort to make SDGs 1 and 4 a reality."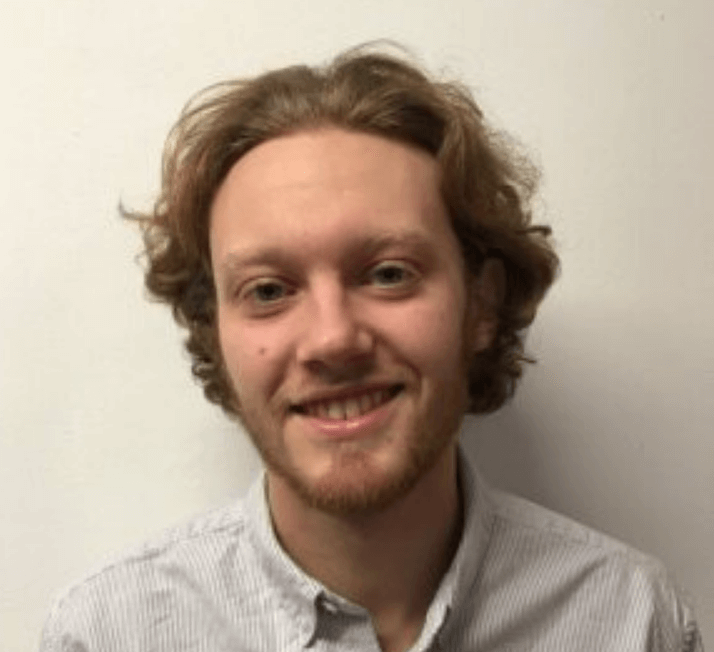 Sam Benezra is a graduate of Ohio University with a B.A. in History from the Honors Tutorial College. He is a native of Brooklyn, New York. Sam enjoys writing on a variety of subjects, including science, music, politics, film. In his spare time, he enjoys traveling, playing guitar, and writing songs.