For high school and college students, volunteering provides not only life-changing experiences, such as opportunities to give back and make positive impacts on the world, but also practical benefits, such as career development and service-hour requirements.
One of the biggest short-term volunteer organizations, Global Volunteers calls students to join its short-term service abroad programs that run for 1-3 weeks, through which students can reap the usual benefits of volunteering while broadening their perspectives as global citizens.
About Global Volunteers
As one of the first short-term volunteer organizations to be granted a special consultative status with the United Nations, Global Volunteers has years of experience in developing and managing short-term service abroad programs.
Throughout its 37 years in service, the organization has served 36 countries, built partnerships with 207 communities, hosted 37,078 volunteers and spent 3,037,260 hours of service.
The organization believes that "safety trumps everything in international volunteer service." In compliance with travel warnings and restrictions issued by the U.S. State Department, all of the organization's programs provide secure and clean lodging, healthy meals and safe in-country transportation. 
Volunteering Opportunities 
One of the key features of Global Volunteers is that it serves only where it's invited by community leaders and on projects that are requested by the local residents.
As a Global Volunteers member, you'll be welcomed into homes, classrooms, clinics, hospitals, childcare centers, farm fields and more. You will be able to engage with local people on work projects and be fully immersed in different cultures.
Global Volunteers plans work projects that serve in four primary areas: delivering the 12 essential services prescribed by the United Nations that focus on children, including eradicating hunger, improving health and enhancing cognition; teaching conversational English; supporting community development; and supplementing school-based curricula.
For example, Global Volunteers members get to teach conversational English to schools and community centers in impoverished communities of China or mentor at-risk children in Peru whose parents are either absent or unable to care for them.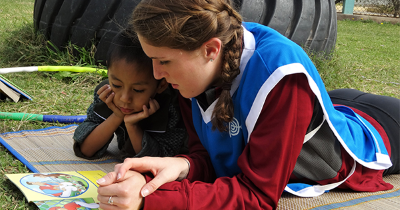 Credit: Global Volunteers
Moreover, volunteers can help nourish mothers and children in Tanzania by implementing container-gardening systems or constructing improved cooking stoves. They can also help repair community centers that feed, nurture and educate children from impoverished families in Ecuador.
How Students Can Join to Make an Impact
Global Volunteers offers full-time students a $200 discount on international programs and $50 on domestic programs. For those interested in signing up, all you need to provide is a photocopy of your current student identification card and fee statement.
Also, if you register six months in advance for international programs, you can receive an additional $233 discount.
The organization also helps those who want to fundraise for their own service program contribution and travel costs by helping them set up a personalized fundraising web page.
As an added benefit, high school and college students can find many scholarships online that are offered for volunteering with Global Volunteers.
Follow Global Volunteers on TUN
Students can also follow Global Volunteers on TUN to get news and learn about new volunteer opportunities!