Universities are laboratories for a range of pedagogies across disciplines. Faculty experiment with various ways to deliver content, and strive to find the most effective teaching tools to reach their diverse student body. Community outreach is one such teaching method that has recently gained a lot of traction in higher education.
Bridging theory with practice, while serving a social, economic or environmental problem, focuses students' attention on the fruits of their labor. The short-term feedback loop in most community outreach projects enables students to make tangible connections between ideas and action.
Working in communities to solve problems and affect change can serve to inspire students to find meaning in their field of study. Students involved in community work learn by doing, and see the results of their ideas in action. For some students, these kinds of projects significantly impact their career choices beyond the college years.
Agency for Civic Engagement (ACE) at Woodbury University
One of our strategic principles at Woodbury is civic engagement and encouraging students to achieve fulfillment through the process of giving back. As such, the Agency for Civic Engagement (ACE) at Woodbury aims to improve underserved communities through design, business and media. ACE connects students and faculty with nonprofit and governmental organizations to realize projects for the public.
Students work within their disciplines, and sometimes collaboratively across disciplines, to combine skills and test their fields of study on real projects and local issues. Reinforcing the capacity of young generations to create impact, ACE projects are made to benefit the common good: architectural design/build works, business plans for organizations, graphic design, films, journalistic and creative writing, and other services. Framing opportunities to make a difference, ACE supports student learning through inclusive and socially equitable research, outreach and engagement.
ACE gives students the opportunity to explore human-centered, participatory partnerships that address cultural, economic and social issues. ACE challenges students to develop theoretical and practical skills to respond to a range of public needs. Embedding ethics and equity into each project, students derive community-based solutions that inspire change and improve daily life.
ACE projects at work
Walk Watts
Walk Watts is a community outreach project for the overlooked Los Angeles neighborhood of Watts. This project was conducted during a summer session with two faculty (one architect and one graphic designer) and two paid student interns (one architecture student and one graphic design student). This interdisciplinary project involved architecture/urban design and graphic design in collaboration with a neighborhood group dedicated to improving the quality of life for Watts residents.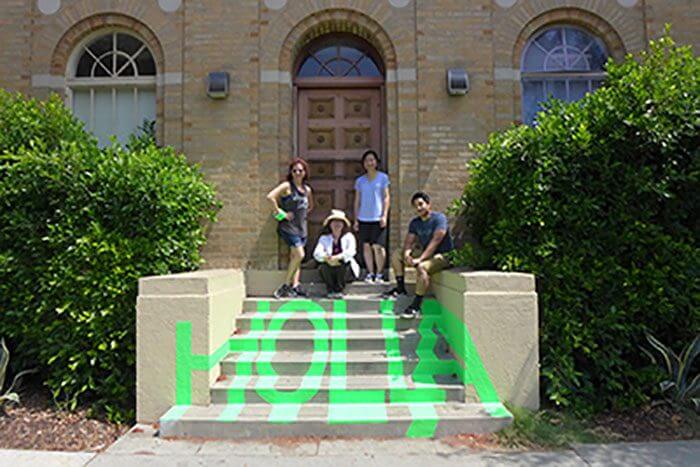 This team of faculty and students worked together to combine their skills toward the creation of this pilot project. Working with the non-profit group, the Watts Labor and Community Action Committee, the team developed a real project with input from community members along the way.
Walk Watts promoted the simple act of "walking Watts," despite negative public perception stemming from the infamous Watts Riots of 1969. This project became a collection of elements centered on an interactive, self-guided walking tour of the community of Watts. This tour aims to highlight overlooked stories and events that have shaped this remarkable community. These stories as told by the Watts community, eclipsed by the worldwide acclaim of the Watts Towers, present visions of hope and positive community engagement. Goals of this project were to highlight the artistic and cultural jewels of this community with visual markers throughout the neighborhood, a Z-fold give-away map locating these elements, and a cell-phone application that contains stories as told by community members.
There are three components to this project: environmental graphics, a z-fold pocket map, and a downloadable app titled HOLLA (Hear Our Local Legacy App). The tour features art and architectural landmarks throughout the neighborhood and is peppered with stories from Watts elders, artists, and other stakeholders. Destinations are noted on a printed map that will be made available at key public locations in Watts, such as the WLCAC, the Civic Center reception desk, and the Watts Towers Art Center. Stories that follow the stops on the tour may be heard from the downloadable App, while environmental graphics located at tour stops denote art and architectural features.
The work of the team involved interfacing with many community members and conducting interviews, urban research, graphic design, architectural map construction, and cell phone application design. Many skills from graphic and architectural design were expanded into new frontiers to create this interactive, high-impact project.
Mobile Units Project
Architecture students worked with the National Health Foundation (NHF) on a project for Jefferson High School in South Los Angeles. The NHF's mission is to improve the social determinants of health such as access to healthy foods, promoting ample green space in the built environment, and helping the homeless community. As part of this work, they had developed a series of afterschool programs with high school students. One such group at Jefferson High became the collaborators with our architecture students.
Architecture students focused their work on creating a series of mobile units. These nomadic structures were able to move about the campus to serve students where and when needed without disrupting paths and spaces on the tight-knit urban campus.
The designs were generated in collaboration with students of the Health Academy. Ideas for the structures were derived from core values of this student organization including awareness and promotion of healthy eating habits and lifestyles. Structures include a flexible lounge space, a food distribution hub, and mobile farm stand carts distributing fresh fruits. Designed with mobility and flexibility, these structures were located throughout the high school in the study hall, corridor spaces, and the quad area for high visibility among the student body. Architecture students in the ACE program at Woodbury have employed aesthetics, beauty, materiality and ingenuity to frame the importance of these social concerns.
The Outdoor Classroom
Greg Miller, principal of the John Muir Middle School in Burbank, approached ACE with an architecture problem — he wanted an outdoor classroom to be designed and built on his campus. The seemingly simple and modest program of the Outdoor Classroom served as the source for deep inquiry into the contradictory demands of practice: site, client, user, budget, program, consultants, builders, construction methods, etc. It was critical for students to evaluate, adapt, incorporate and accommodate these internal and external demands while still producing a strong, cohesive project that begins to question the very notion of what the Outdoor Classroom is and how it might activate a place.
Most of the semester was focused on this single design problem. Activities that did not seem related upon first glance were ultimately folded into the project. Group work was not only a requirement for this project, but also a design issue in its own right. Students needed to pay close attention to the process of managing, organizing and designing together as a team.
A key issue for the studio was the use and manipulation of the standards, codes and constraints that underlie The Outdoor Classroom. These standards were understood as limitations and also as productive fodder for the students' work. More importantly, students interrogated and manipulated these standards rather than accepting them as static. These standards included physical descriptions such as the dimensions for furniture and spatial requirements, and also more ephemeral architectural aspects like degrees of variation or repetition, and the integration of landscape and architecture.
Ultimately, the physical process of building through the implementation of full-scale material explorations, experimentation and mock-ups, directly informed the means and methods of construction. These critical methods of construction became evident in the final built work and revealed students' understanding of how the conceptual becomes the actual.
Conclusion
The ACE program at Woodbury continues to create opportunities for faculty and students to expand beyond their disciplinary boundaries and the walls of the university to affect positive change in local communities. In addition to turning theory into practice, students test global problems with local experiments. And in the process, they also advance their social, communication and collaborative skills. A full list of ACE projects at Woodbury can be found here.

---
Jeanine Centuori is the Director of the Agency for Civic Engagement at Woodbury University. This multidisciplinary outreach unit operates with low cost/high impact projects of social relevancy in the cities of Los Angeles and Burbank and the region.

Contributor writers at TUN are academic professionals, thought leaders and industry experts who have stories or wisdom to share.