Have you ever looked at an invitation to an event and it read, "Business Casual Attire" and you have no idea what to wear? Don't fret. I'm here to help you pick out the perfect business casual attire.
"Business casual" usually denotes a style of clothing that is less formal than traditional business attire but still projects a professional and businesslike impression — think of it as a semi formal attire. If you are a college student, you may have to wear business casual when giving presentations, attending networking events, or being interviewed.
Here is a comprehensive guide to women's business casual attire.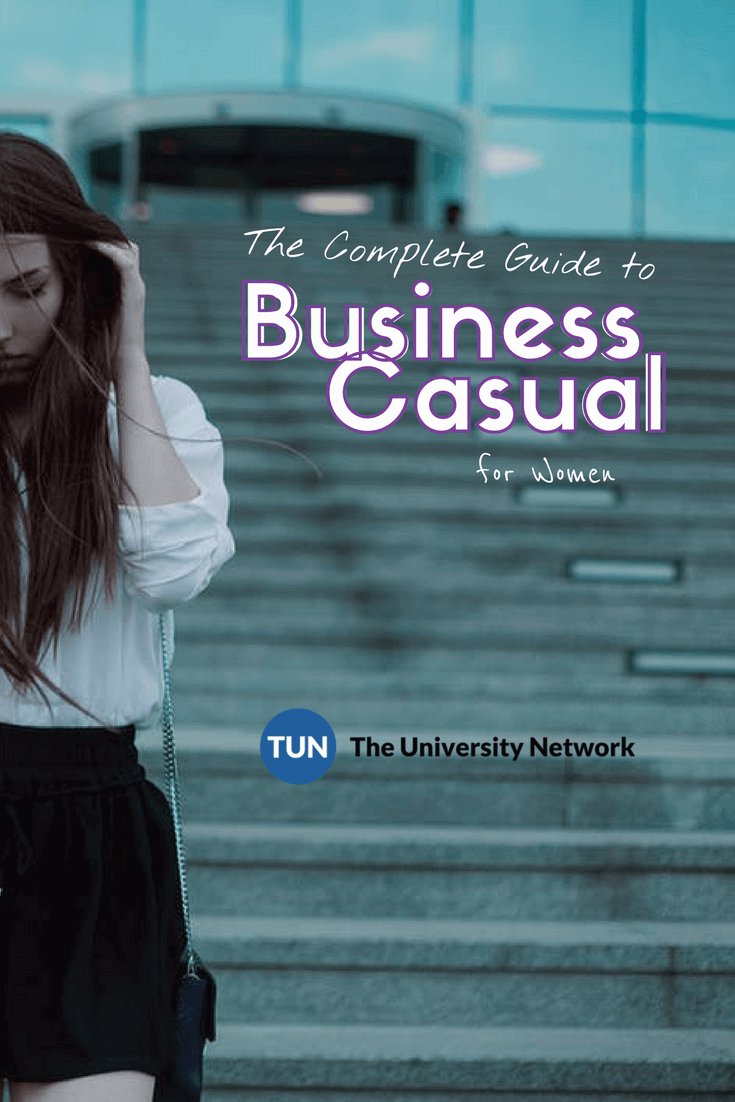 Business Casual Tops
Tops for women should be conservative and can be basic or dressy, depending on what you pair the item with. Business casual tops can range from dressy tops to basic t-shirts to satin (example below) and silk shirt (example below), to button-up tops. Dress tops and t-shirts can be paired with skirts and or dress pants while button-up tops can be paired with a pair of classic khakis.
What if my shirt is wrinkled?
No worries! If you need a quick fix, a blow dryer is a great way to get wrinkles out quickly. Hanging a shirt in the curtain rod while taking a steamy hot shower can also help reduce wrinkles on your shirt. Flat irons can also be used for a quick fix when adjusted to the right temperature (but make sure it doesn't burn through your shirt)!
Business Casual Bottoms
Bottoms for women can vary by season and depend on preferences. Dress skirts of professional length and khaki or blue chino pants (example below) can be considered common choices by women when wearing business casual. Printed pants can be business casual, but tend to feel out if working at a company what they consider to be business casual by observing how others dress. The fewer prints are the better.
What if my pants are too tight?
Often times, clothes tends to shrink in the dryer. Washing your clothes on a cold setting and then hand-drying them not only expands the fabric but can also extend the life of your pants and preserve colors!
Business Casual Dresses
When wearing dresses, like skirts, be sure that they are of professional length. Business casual dresses can be sleeveless with thick straps (example below), short sleeve, or long sleeve depending on preferences.
Dresses should be made out of a dressy material and should not be a casual dress you would wear to class. You can easily wear a dress with a blazer, cardigan, or sweater for in the office.
What if I am not sure if my dress is business casual appropriate?
If you are not sure whether a clothing piece is appropriate for a certain dress code, you may not want to risk wearing that piece. Excessively tight, revealing dresses are not business casual appropriate as is anything you would wear on a night out with your friends or to a party.
Business Casual Accessories
Adding accessories can instantly upgrade your outfit. By pairing a plain white t-shirt and a pair of khaki chinos with a statement necklace or dainty jewelry can instantly transform your look from casual to business casual. For jewelry, feel free to accessorize but don't overdo it.
How do I know if I'm overdoing it on accessories?
Keep your jewelry pieces to a minimum to ensure that you're not overly accessorized. If you are wearing a statement necklace, you may want to steer towards a simple pair of earrings (example below), bracelets and rings. If you are wearing a chunky bracelet, stick towards simpler necklaces, rings, earrings, etc.
Business Casual Jackets/Sweaters
To pair with business casual outfits, you need business casual jackets and sweaters. Blazers are a great way to make any outfit look dressier in an instant! If you do not choose to wear a blazer, there are many amazing jackets and sweaters that can be paired with your outfits. Every woman needs a navy or black blazer in her professional wardrobe. Sweaters are great for days where you are wearing dresses that are short sleeved or sleeveless and you need a cover-up (offices tend to be chilly!).
Should I wear a blazer or a sweater to a business casual event?
It depends on the event. You should wear a blazer if it is a professional event with a company or a meeting with a representative from a company. If you are dressing business casual for work, wearing a sweater or blazer will be fine, since you already have the job!
Business Casual Shoes
Business casual shoes should be dressy but not overly dressy. I suggest comfortable heels (example below) no higher than 3 inches, or flats. Shoes that are worn with business casual should be work-appropriate. Heels should not have a platform and should be manageable for wearing throughout the entire duration of an event or work day.
What if my shoes are too big or too tight?
If your shoes are too big, stuff cotton balls, toilet paper, and/or use shoe insoles to make the shoes more comfortable for wear. If your shoes are too small, use a blowdryer to help expand the shoe material or place your shoes in a plastic bag (for sanitary purposes) and then put a ziploc bag filled with water in the shoe and then place the shoes in the freezer for the ice to expand the shoe. Practice walking in your shoes after you make your adjustment and ask a friend to evaluate how you are walking in your shoes. If they say you look uncomfortable or awkward, try to opt for a different pair.
You can create custom business casual looks using what you already have and buy new separates to mix and match with the pieces. You can build off your basics by acquiring pieces depending on the separates that you have. Some personal favorite shops for purchasing business casual separates are J. Crew, Ann Taylor, Loft, Gap, and Banana Republic. Remember, it's business casual. You want to look professional, but you don't need to be in a full suit. Have fun with business casual and personalize your looks!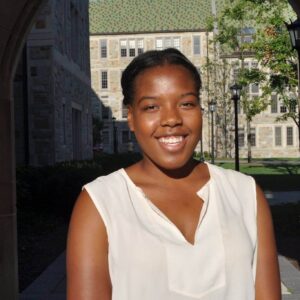 Vanessa Sewell is studying Economics and Communications at Boston College. She is from Bronx, NY. Vanessa has worked on topics related to lifestyle, fashion, culture, and education during her time at Boston College. During her free time, she can be found playing piano and guitar or jamming to Spotify.