Although college should be a time for travels and adventure, the heavy workload and rising tuition fees often leave students stranded in their little campus islands. However, if you can gather up a few friends and look around carefully, there are many places both affordable and worth the visit.
Often thought as an expensive city to travel, the star-studded city of Los Angeles — the City of Angels — offers many free or affordable experiences for even broke college students.
Best time to visit
If you want to soak in the LA summer vibe, it's best to go from May to October. Or, if you want to avoid the crowds and save money, you can visit during winter time.
Getting around LA
Once you're in LA, you have three options to get around. First, you can walk and take the metro, which is affordable at $1.75 for each ride or $7 for a day pass. Second, you can walk and take Uber or Lyft for any short distances. If you're traveling with friends, each of you might end up spending the same amount as the metro. Lastly, you can rent a car if you're planning on leaving downtown LA.
Since most big rental companies charge an additional fee for renters under 25, you should consider Zipcar, which has a minimum age of 21 and multiple spots for pick-up and drop-off in LA, or the newly launched Lula Rides, which allows all college students, ages 18 and up, to rent cars without any additional charges.
Things to do
LA is a mega city, composed of many different cultures and events. So you have to think about what kind of trip you are planning to have — general sightseeing, experience/active or educational. While I have organized my list by the types of vacation, there's no reason why you can't mix them up.
A. General Sightseeing
If it's your first time in LA, here are a few of the must-see places.
Los Angeles County Museum of Art (LACMA)
LACMA, the largest art museum in the western United States, is known for works of art that mirrors the city's rich cultural heritage and uniquely diverse population. Its most popular artwork Urban Light — made up of 202 cast-iron street lamps collected from the streets of LA and restored for the piece — has been unofficially adopted as the symbol of the city.
General admission fee is $25, but students with a valid ID can get in for $21. You can also get free general admission on the second Tuesday of every month and on the following federal holidays: Martin Luther King Day, Presidents' Day and Memorial Day.
LA's two famous LA boulevards — Rodeo Drive and the Grove — are a must for a shopping spree — or just window-shopping if you're a broke student like I was on my visit.
Rodeo Drive — just three blocks in Beverly Hills — is the center of luxury, fashion and lifestyle. Here, you can find big brands like Dior, Coach, Bulgari and more.
The Grove is also a popular fashion and lifestyle destination with a mix of retail, dining and entertainment choices.
At either of these famous boulevards, don't be too surprised to see some of your favorite celebs walking around with an ice cream cone just like you.
When I was at the Grove, I walked past Beyonce and instantly my mouth dropped, but quickly realized this was normal to people in Beverly HIlls, tried so hard to scrape back any cool left inside of me — but failed. I mean, it was Beyonce. No shame.
Day or night, you can always stroll along the famous Walk of Fame and learn about the celebrities that are honored. You can also enjoy the street performers on the sidewalk.
Don't miss the
TLC Chinese Theatre
, the most iconic movie palace in the world, for a picture of your favorite celeb's handprint. The theatre hosts more than 50 events a year, including movie premieres, imprint ceremonies and film festivals, and continues to make Hollywood history.
If you're a sushi fan, don't hesitate to stop by Sugarfish in Hollywood. It's one of the best affordable sushi place nearby.
Grab your swimsuits and sunscreen and head to the Santa Monica Beach. Filled with food stands and carnival rides, the Santa Monica Pier is the perfect one-stop shop for all summer events.
When it gets too crowded on the beach, take about a 10-minute walk to the Third Street Promenade, an outdoor shopping area filled with amazing restaurants and shops. Head over to Bruxie and try its signature chicken and waffle sandwich.
Or, drive a bit south to Venice Beach, just about 10 minutes away from the Santa Monica Pier. Take a stroll along its famous canals and venture around its cute neighborhood.
The Getty Center — home of the J. Paul Getty Trust's extensive art collection — is truly a masterpiece both on the outside and inside. However, as much as I liked the inside of the building, the outside mesmerized me even more. With its perfectly trimmed garden and massive, white metal-clad buildings, the place is an architectural must-see.
I went during the day, but I heard sunset from the Getty Center is also priceless. There is no fee to enter the Getty Center, but parking is $15 per car. If you want to save some money, go after 3 p.m. when parking is reduced to $10.
B. Experience/Active
If you're all about moving, moving, moving, this may be your route.
Make your way to El Porto, Manhattan Beach, and surf the waves like the locals. Its consistent, low waves make this a popular surf spot even for beginners.
At most surf shops, you can rent wetsuits and surfboards for around $5-10 an hour and $35-40 per day, respectively. Check apps like
Surfline
for surf reports before heading out.
Finish with seafood for dinner at Fishbar, one of the most affordable, but good, seafood places near Manhattan Beach.
You can spend an entire day at Griffith Park. You can hike to the famous "Hollywood" sign on Mount Lee.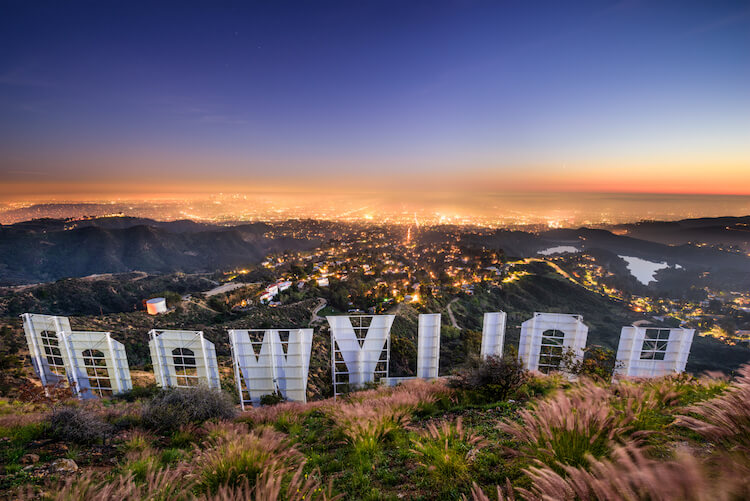 There are three different routes: Mount Hollywood Trail for beginners, the Canyon Drive Trail for moderates, and the Cahuenga Peak Trail for professionals. Authorized hiking hours are sunrise to sunset, the same as Griffith Park.
Then, head over to the famous Griffith Observatory, where Emma Stone and Ryan Gosling danced to the stars in "La La Land." You can get free access to the building, its grounds and the telescopes.
The observatory is known as one of the best places in LA to view the sunset. I went pretty late and couldn't quite catch the sunset. But the night view was equally awesome.
After coming down from the observatory, head back to Griffith Park for a live show at the Greek Theatre, an open-air amphitheater that holds a variety of shows, including stand-ups, plays, concerts, movie screenings and more. It's also the perfect spot to view the iconic Hollywood sign shining above the city. Ticket prices vary.
If you're a movie fanatic, be sure to save a day for amusement parks like the Universal Studios Hollywood, Disneyland or Warner Brothers studio. Although tickets may be a bit pricey, they're all worth the visit. For student discounts at the Universal Studios Hollywood, click here. Although Disneyland also offers discounts, restricted only to schools in Southern California, you need to check with your school in advance.
C. Educational
If you want to see LA not just in its present, but in its past and future as well, consider these steps.
The Broad is a contemporary art museum in downtown LA. Opened on September 20, 2015,
it is known for its impressive collection of contemporary artists like Andy Warhol and Roy Lichtenstein as well as special exhibits, such as the infinity mirror rooms by Yayoi Kusama.
The Broad offers free general admission to its permanent collection galleries on the third floor.
For tickets, you can either queue on-site or reserve in advance here. You can also follow @TheBroadStandby on Twitter for updates on how long the standby queue is.
To see the infinity mirror rooms, you have to sign up separately at the iPad kiosk in the lobby.
Just a few minutes walk from The Broad, the Bradbury Building stands as the oldest commercial building remaining in central LA. It is known for its tall, light-filled Victorian court with open cage elevators, marble stairs and ornate iron railings. The site was made even more famous after movies like the "Blade Runner" and "500 Days of Summer." Because people actually work in this building, visitors can only tour up to the first floor landing.

Reopened in late 2017 after it was shown in the summer montage scene in "La La Land," Angel's Flight is a landmark railway that will drop you off right at Grand Central Market for only 50 cents per ride. After arriving at the market, don't forget to grab a bite of the famous Eggslut sandwich.
If you have time to squeeze in one more, I highly recommend The Last Bookstore, California's largest used and new book and record store. This place will make you feel like you've just walked inside a book or, even better, the Gryffindor Common Room, except surrounded with books.
You can journey around its paper book tunnels, find a book you'd like to read and sit on their couches. But don't forget to be respectful of their rules. Keep in mind this is not a library. You have one-hour limit for using chairs and couches, no sleeping, and if you damage any books, you buy them.
Another choice would be to spend the day touring LA's culture towns like Koreatown, Chinatown, Little Tokyo, and museums on Native Americans, like the Natural History Museum of Los Angeles County or the Southwest Museum of the American Indian, which is part of the Autry Museum of the American West.
California is a culturally diverse state, with both its proud and shameful moments in history. These sites remind us of how immigrants were first discriminated, but are continuously fighting for their American dream.
Lastly, though not many people realize it, LA has a rich spiritual history. Check out Azusa Street, where the first historical Pentecostal revival meeting started in 1906.
Although some skeptics held negative bias against the meetings mostly because it was led by a black pastor, William J. Seymour, the worshippers boasted one of the nation's first interracial congregation in such segregated times. Believing that the presence of God had brought different skin colors together as brothers and sisters, they held onto their faith.
Student discounts
No matter what you choose to do in LA, don't forget to bring your student ID along with you so you can take advantage of student discounts.
Here are a few places with student discounts:
Many retail stores and restaurants offer a student discount, so be sure to check and save yourself some money!
Make it your sunshine state
LA is a great trip destination for all kinds of travelers. Though it's not a super cheap city to travel, you can save a lot and still enjoy much. But, with that much sun, excellent food and beaches, nothing should really get in the way. Happy travels.
Hyeyeun Jeon is from South Korea and a graduate from Carnegie Mellon University with a double major in Professional Writing and International Relations. She is passionate about non-fiction storytelling. She loves reading, watching, writing and producing stories about extraordinary lives of everyday people.