If you're an aspiring graphic designer, photographer, social media professional, or just want to have fun with Adobe Illustrator, this is the article for you!

Most commonly, Illustrator is used for making vector graphics. These types of graphics are especially useful in design, because they aren't made with pixels. This means they will be clear and easy to see, no matter how large or small you make them. Additionally, Illustrator is compatible with Adobe Photoshop and Adobe InDesign, so transferring graphics and images between the platforms is easy!

No matter your aspirations or intentions, we have put together this list of affordable online courses to get you started quickly.

Here are our handpicked online courses for those who want to learn Illustrator.
Introductory Courses in Illustrator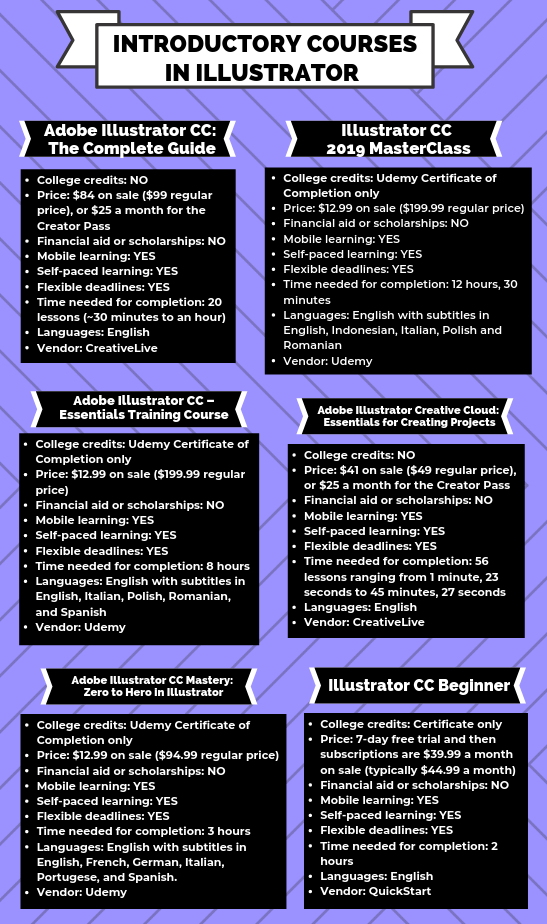 In this 20-lesson Illustrator course, Jason Hoppe, an Adobe-certified expert and instructor, will show you how to become an "effective designer" and "bring your ideas to life." More specifically, he will walk you through how to use drawing tools, editing tools, effects, and more, so you can create beautiful icons, logos, and illustrations using Illustrator. This course is designed for Illustrator "newbies," but those who take the class will leave it knowing hidden features and tricks that are commonly used by experts to create their designs.

Note: Prices for all courses listed in this article are true on the date of publishing, but are subject to change.

As the bestselling Adobe Illustrator course on Udemy, this Illustrator MasterClass will teach you all you need to know to efficiently design and create professional-grade graphics on Illustrator. Those who take the class can expect to learn how to design logos, turn photographs into vector artwork, create vector illustrations, and much more. No prior knowledge is needed to take this course, but, by the time you finish it, you will be able to use the platform at an expert level.

This course is designed for those who are entirely new to Illustrator. The instructors do a great job at giving you slow and thorough instructions, so you can leave the class with a solid understanding of every aspect of the platform. The instructors will walk you through how to use tools such as the shape builder tool, the curvature tool, the width tool and others, so that you can create stunning, foolproof graphics. You'll even have an opportunity to put your skills to the test by practicing drawing logos for real-world brands.

In this course, Brian Wood — a web developer, author, and Illustrator expert — will walk you through a series of projects that will teach you how to create color, work with text, import images, create custom patterns, use brushes and symbols, and much more. Even if you enter this course as a beginner, you will leave it as an expert. Towards the end of the course, you'll have the opportunity to "tackle more advanced topics," such as the perspective grid, the shape builder tool, blends, and more.

This course is designed for both business owners who are tired of outsourcing their logo designs and for those aspire to start working as freelance logo designers. The instructor, Chad Neuman, has worked for years as a logo designer and illustrator, and in this 3-hour course, he will show you how to create custom shapes, apply effects and styles, draw with pen and brush tools, create basic logos, and more.

This Illustrator CC Beginner course will introduce you to the many tools available on Illustrator, so that you can use the platform to create websites, flyers, business cards, brochures, logos, and more. Specifically, this course will teach you basic drawing techniques, alignment, and how to effectively use color, among other techniques. It is the first of three Illustrator CC courses available on Quick Start. If you're new to Illustrator, you should absolutely take this course before moving on to the intermediate or expert courses.

Advanced Courses in Illustrator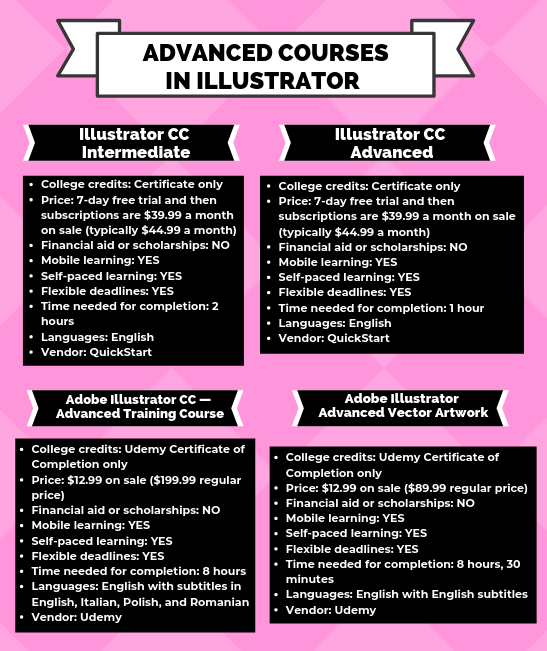 This Illustrator CC Intermediate Course builds off of information taught in Illustrator CC Beginner (listed above). In this course, you will learn more complex techniques, such as how to make and use brushes, how to cut vectors, how to include effects, and much more. If you already have a rudimentary understanding of Illustrator, it is likely safe for you to bypass the beginner course and start with this one.

Illustrator CC Advanced builds off of information taught in both QuickStart's Illustrator CC Beginner and Illustrator CC Intermediate courses. Specifically, in this course you can expect to learn how to live trace, live paint, use the symbol sprayer, and much more. As the final instructional course on the platform, those who complete it will leave knowing everything they need to create beautiful vector graphics and images.

This course, geared towards those who already understand the fundamentals of Illustrator, will help you improve your productivity, speed and workflow when using the platform. The Instructor is an Adobe-certified Illustrator expert, and he swears that even those who have an advanced understanding of Illustrator will walk away from this course knowing something new. Specifically, you'll learn advanced anchor point and pen tool tricks, how to create 3D icons, how to create custom lettering, and much more. Perhaps most importantly, you'll be able to add "advanced Illustrator user" to your resume after completing this course!

This course is designed for anyone interested in learning more about Illustrator, no matter their skill level. In the beginning of the course, the instructor will walk you through the basics of Illustrator, such as how to design and implement shapes. As the course progresses, however, you will learn more advanced techniques, such as how to use the brush tool, how to set blending modes, and more. And by the end of the course, you'll have the skills to develop advanced, professional-grade vector graphics and illustrations.

Specialty Courses in Illustrator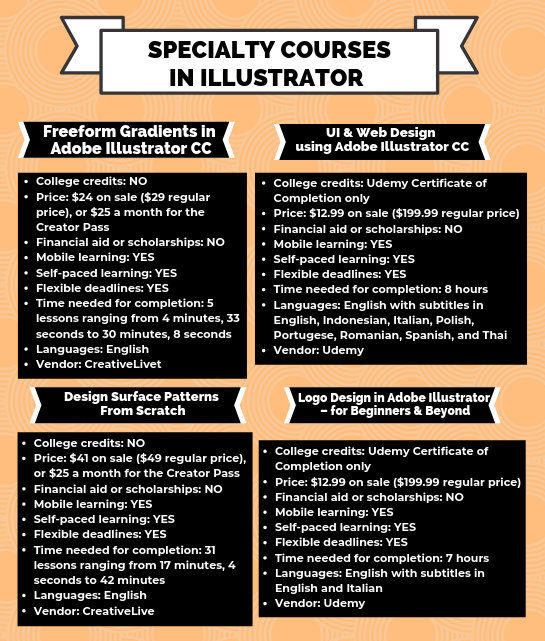 In this course, which is also taught by Jason Hoppe, you will learn how to effectively use the new gradient tool included in Illustrator. For those who don't know, a gradient is an obvious blend of two or more colors — think about a sunburst-colored guitar or the "Back To The Future" logo, for example. Throughout the course, you will be taught how to create and edit gradients, and you'll receive some advice on when to use gradients in your logos and designs. Hoppe says the course is useful for beginners and experts, alike. However, he moves pretty fast throughout the lessons. Without at least a rudimentary understanding of Illustrator, it may be difficult to follow along.

Although it may look advanced, no prior knowledge of Illustrator or web design is needed to take this course. The instructor will slowly and calmly walk you through the steps to create a responsive website that can be used on mobile and desktop. In addition to teaching you how to build a sitemap and create wireframes, the instructor will show you how to make custom icons and logos that can be used for your website. At the end of the course, there is a project with set tasks that you can complete for a "fake" client. Instead of homework, the instructor refers to completing the project as "career development."

Years ago, instructor Bonnie Christine turned her dream to become a surface pattern designer into a reality, and in this course, she will teach you how to use Illustrator to do the same. In the first section of the course, Christine will walk you through the basics of Illustrator and how to think creatively when making your surface pattern designs. In the second half, she will teach you how to create the designs and apply them to "fun things" like iPhone cases, pillow cases, and more.

Illustrator is one of the most powerful design tools for logo creation, and in this course you'll learn how to make them yourself. Whether you're interested in making a logo design for your own company, you wish to become a freelance logo designer, or you're just interested in playing around with the platform, this is the class for you. The instructor, who's an award-winning logo designer, will thoroughly explain how to use Illustrator's many tools to create state-of-the-art vector graphics that can boost your personal brand and potentially make you some money.

News & Content Manager
Jackson Schroeder is a graduate of Ohio University with a B.A. in Journalism from the E.W. Scripps School. He is originally from Savannah, Georgia. Jackson has covered a wide range of topics, including sustainability, technology, sports, culture, travel, and music. He plays bass and guitar, and enjoys playing and listening to live music in his free time.