Traveling to Ireland as a college student is a wonderful experience for any length of time. The country is rich with impressive green landscapes, welcoming people, and an incredibly fun culture — and it's not even that expensive.
During my sophomore year of college, I was able to travel to Ireland for five days and experience one of the most exciting and beautiful trips of my European journey.
I'm here to walk you through what I did, and how to manage a trip to Ireland on a college student's budget.
Finding a cheap flight
One of the best things about traveling to Ireland right now is how cheap flights are from the United States. With new airlines, such as WOW, popping up or getting a transfer flight out of a main hub like NYC, finding an affordable flight to Dublien can be really easy.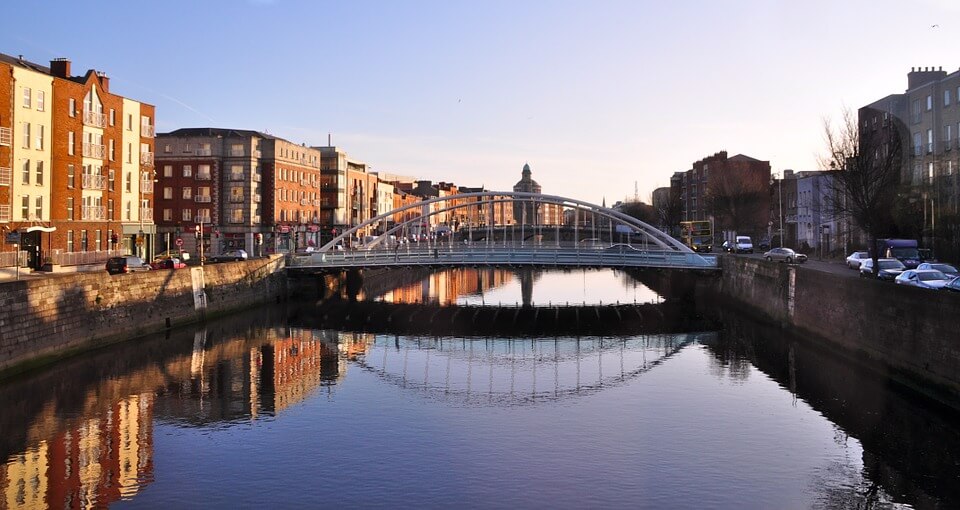 I was able to find a round-trip ticket to Dublin for only $400 — and I've had friends find even cheaper ones. One of the best resources for finding a cheap flight is just comparing dates and flight prices using Google Flights. They'll give you a rundown of every airline leaving from your local airport to Dubin and show you the most affordable options.
However, definitely look into WOW, a new Icelandic airline that has been popping up in airports in places like Pittsburgh, New York and Cleveland, and offers incredibly cheap flights to Europe and Asia.
Affordable housing
When traveling anywhere, it's a good idea to compare housing options by looking into Airbnb, hotels and hostels, and finding the cheapest price. Most often, booking an Airbnb or hostel will be the most affordable option. When traveling to Ireland, I would suggest booking either of those in Dublin, so you can have an idea of what the main city is like and travel outside to the country via bus or car.
Budget eats
Ireland might not be known for its food as much as Italy or Spain, but it has plenty of amazing eats to offer. One of my favorite things about Ireland is the option to go to a pub carvery, which is a fresh sliced-to-order meal that typically includes beef or a roast, sausages, potatoes, stew, assorted vegetables, etc.
Carveries are usually located in the back of the pub, and you can just walk up to the line, pick out the fresh food you want, and take it back to your table to wash down with a pint!
One of my favorite carveries was O'Neill's Bar & Restaurant on Suffolk Street, which is affordable. A pint cost me €4-5 on average and the meal was around €10-12. Everything at O'Neill's was absolutely delicious, so I strongly recommend a trip there for some traditional homemade Irish food.
Additionally, depending on how long you stay in Ireland, two good grocery stores/cheap food options are Tesco and Centra. Tesco offers all of your cheap grocery needs, and can be a good place to buy the essentials as well as a bottle of wine or liquor. (The drinking age in Ireland is 18.) Centra can be a good on-the-go stop for some cheap hot food, and includes self-serve hot foods and delicious chicken sandwiches!
But again, for the really traditional Irish meal, I would suggest going to as many pubs and carveries as possible!
Pubs/Nightlife
It's no surprise that Ireland, particularly Dublin, is littered with pubs. But going to a pub in Ireland can be quite different than going to a bar in the United States. Pubs are an essential part of Irish culture, and largely serve as a gathering space for friends, family and locals to chat and have a pint.
Many pubs even offer space for patrons to play traditional Irish music. So, pubs can be the best places to meet locals and talk to new people! I've found that Irish people are incredibly friendly and welcoming, and I've had some of the best conversations of my life just chatting with locals in these spaces.
I spent most of my time in Ireland in Dublin, and I found some of my favorite pubs veering outside of the center of the city. Pubs tend to get a little cheaper outside of the main streets, and are more often occupied by locals than tourists.
One of my favorite pubs is called Cobblestone, which has cheap pints — €4 on my visit — and free live traditional Irish music, known as Trad.
Another great pub in Dublin is called
The Stag's Head
, which offers free comedy show and ice cream every Sunday and Monday night. And for a more lively music scene, a great place to check out is
Whelan's
, a large pub and venue space that usually has great live music.
But for a more rowdy glimpse into Irish culture, bars and clubs in the center of the city can be a fun place for a college crowd.
The Temple Bar area, a pretty central hub located on the south bank of River Liffey, which runs through the center of the city, is a fun spot to check out.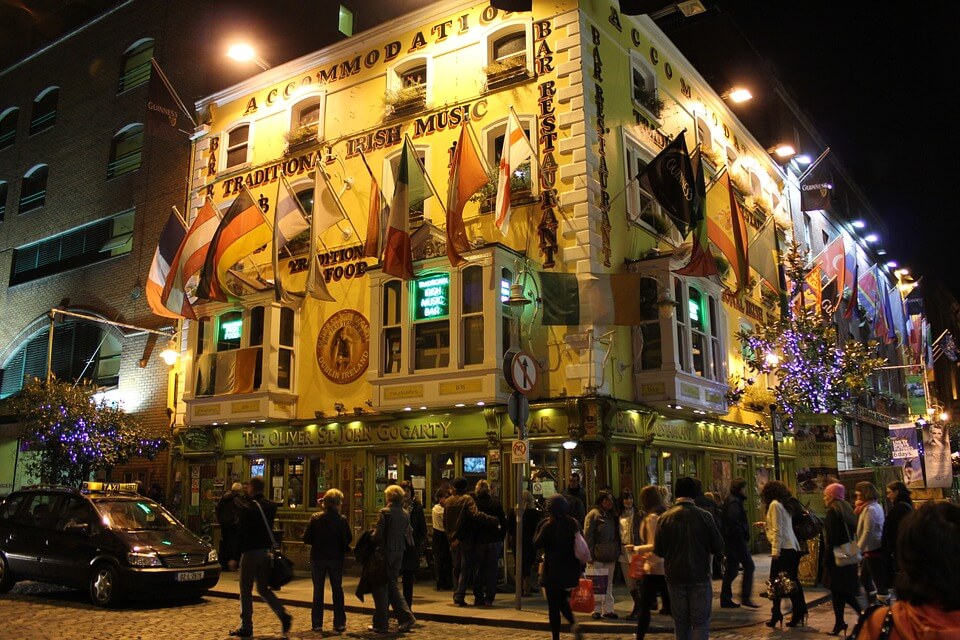 While the pubs tend to get a bit pricier in this area, many of them have cheap drink nights and offer different deals, so keep an eye out!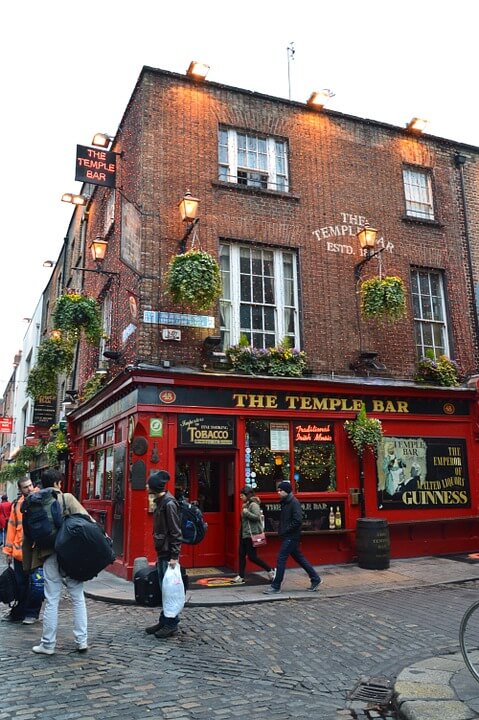 If you would like to check out a nightclub, one of the biggest ones in the area is a club called Dicey's Garden, where you can get a pint for €2 on Monday nights.
Additionally, you can get an app called Vipsy that will give free entry deals into clubs on various nights.
Public transportation
While Dublin is the largest city in Ireland, it's still pretty small and the only public transportation within the city is a bus system or car service. However, the buses and cabs are pretty affordable and can take you just about anywhere you need to go within the city.
But if you're staying in Dublin and want to explore suburbs or communities outside of the city, you can catch an affordable train service called DART, which runs along the coast of Dublin from the smaller towns and places in the north to the south.
Additionally, a new tram service called LUAS connects Dublin's city center with suburbs in the south and south-west of the city.
Each of these services is a great way to explore different sides of Ireland by getting out of the city.
Sightseeing in Dublin
In Dublin, I spent most of my time walking around the city and popping in and out of pubs, shops and restaurants.
A stroll along the River Liffey with its many bridges is a must to take in the sights.
And, if you have time, the Dublin Castle, Trinity College and the famous Guinness brewery are definitely worth a visit.
Dublin Castle is located off of Dame Street, and is a major Irish government complex and tourist attraction. The gorgeous, medieval-looking castle was largely constructed in the 18th century and was the seat of the British government's administration in Ireland until 1922.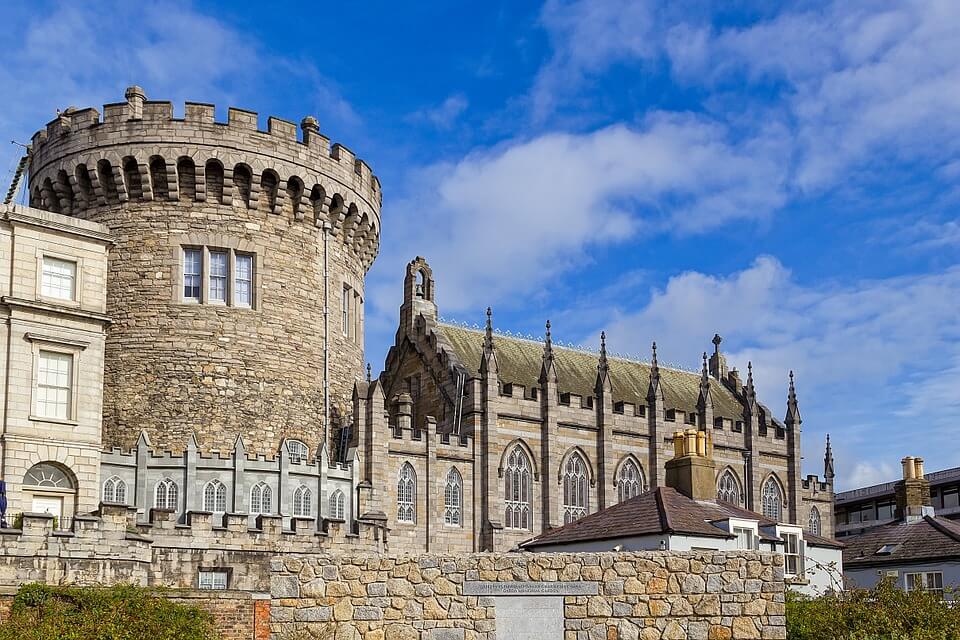 The grounds are absolutely stunning, and the castle provides an important glimpse into Irish history and culture.
Just as beautiful is a walk through Trinity College, one of Dublin's many college campuses and alma mater to a number of historical figures, including Edmund Burke, Francis Bacon and Oscar Wilde.
Trinity College is a serene university campus, and walking through its grounds can give a really interesting look into what life is like for college students in a different country!
And, after a long-day's walk through the city, nothing is more satisfying than kicking back with a pint of Guinness. And what better way to do so than by visiting the Guinness Storehouse, located in the heart of St. James Gate Brewery, to find out how they make the perfect pint?
Student tickets to tour the factory start at €18.50 with student ID (age 18+) and comes with a free pint at the end of the tour!
Sightseeing outside of Dublin
Dublin is a great place to get a feel for Irish social life and culture, but traveling outside of the city was by far one of my favorite experiences.
The first sightseeing trip I took was to a little coastal village east of Dublin called Howth. To get there, I simply took the DART train from the center of Dublin.
The village is home to a gorgeous 15th century castle, surrounded by gardens, a transport museum and a lighthouse. The castle offers a beautiful glimpse into the history and old world of the country, and afterwards, I spent the day walking alongside the coast and hiking through vibrant green seaside hills.
Howth is a quintessential Irish village, and I had one of the most peaceful and fun afternoons there.
If you travel there, I strongly recommend stopping at Beshoff's Market for an incredible fish and chips lunch!
The second sightseeing trip I took was a bus ride through the countryside to the famous Cliffs of Moher, located in County Clare.
I took a
Paddywagon
bus, a tour-bus service out of Dublin that offers a full-day ride to the Cliffs of Moher as well as a stop for fish and chips in the small town of Doolin.
The price of the Paddywagon tour was around €60, but it was well worth it!
The bus ride takes you all the way from the east coast to the west coast of Ireland, and winds through the most vibrantly green mountains, cliffs and seaside villages. It is an incredible journey through the country, and the ride only took around three hours.
Once I got there, I spent the afternoon on the iconic 390-foot cliffs overlooking the ice-blue water and gorgeous coast. The cliffs are truly like nothing I've ever seen, and was by far one of the most impressive natural sceneries I've ever experienced.
If you travel to Ireland, I would strongly recommend taking a bus ride from Dublin to the Cliffs to see both the countryside and the most incredible natural landscapes on earth.
Student discounts
If you are a full-time student, you are eligible to apply for an International Student Identity Card (ISIC), the most popular internationally-recognized form of student identification that can entitle you to a variety of benefits and discounts. Check here to see any and all deals in whatever city you are traveling to, including Dublin.
Here are some more discounts in Dublin:
Conclusion
Traveling to Ireland was one of the best and most affordable experiences I had in Europe. Irish culture is as fun as it is welcoming, and each day I spent in Ireland was rich with great company, delicious food and beautiful landscapes.
I would highly recommend a trip to Ireland on a college budget. In fact, I can't wait to get back there myself.
Natalie Colarossi is a recent graduate from Ohio University with a B.A. in Journalism from the E.W. Scripps School. She is from Pittsburgh, Pennsylvania. She has covered a number of topics including art, culture, politics, music, and travel. Her greatest passion and priority is to travel, and she hopes to experience as many places and cultures as possible.