A land of the nomads, endless plains and clear blue sky, Mongolia is a land for adventurers. While half of its population still live pastoral lifestyles, very much similar to the days of its founding father, Genghis Khan, the other half live an entirely different lifestyle of honking cars, Soviet-era styled buildings and everything digital.
Still in its development stage, Mongolia is a very cheap travel destination for students to enjoy both the untouched, pristine nature and the newly bubbling city life.
Getting around
The best way to get around Mongolia is renting a car. Public transportation in even the biggest city like Ulaanbaatar is still inefficient and, more importantly, very dangerous, even to locals. When I visited, my local friend never took me on buses or subways, but always by her car or cabs.
Getting a cab in Ulaanbaatar needs a little bit of getting used to. While there are official cabs with noticeable labels on the outside, there are also many more individual cabs. To get a cab, hold your arm out with your fingers down.
Although they all charge a standard of 800 tgr (about 30 cents) per kilometer, individual cabs are often without a meter and drivers may charge tourists more than the actual amount. Since average Mongolians are not fluent in English, some tourists end up paying more than they actually have to.
Unless you're traveling with a local, I highly recommend renting a car for efficiency and safety!
Terelj National Park
One of the national parks in Mongolia, Terelj National Park is nature's wonderplace kept under protection by the government since 1995. Only two hours away from the bustling Ulaanbaatar filled with traffic jams and skyscrapers, the park offers endless, evergreen plains, starry nights and horses and cows roaming around peacefully.
At the park, you can hike to Ariyabal Meditation Temple, located on a steep hill, take a picture in front of the Turtle Rock, the symbol of Terelj National Park, ride a horse or mount on a camel, take a picture with an eagle on your arm, or spend a night camping out at a ger, a traditional Mongolian house. On clear night skies, you'll feel like stars will fall down like a cascading waterfall.
I spent a night at the Seven Rich Camping for 120,000 tgr ($55-$60) per person. For dinner, we had a dumpling soup with bread for about 8,000 ($4) per person. Early next morning, my friend and I climbed up hills right next to our camping site and watched the sun rise and shine on all pockets of the park. The scene was truly breathtaking.
Before taking off for the day, we had khorkhog, a traditional Mongolian meal of sheep meat and vegetables cooked with heated stones inside a pot, for 20,000 tgr ($7.58) per person. The tradition is to hold and rub the heated stones in your hands for healing effects.
Genghis Khan Statue Complex
On the way to Terelj National Park, you can stop by the Genghis Khan Statue Complex, a visitor center celebrating Mongolian culture and Genghis Khan as Mongolia's national hero. On top of a round, European styled building stands a gigantic, 40 meters tall statue of Genghis Khan riding a horse and pointing to east, his hometown. When you climb the stairs to the top of the building, you can follow east to where he's looking at and see a small statue of his mother greeting him. Inside the building, there are exhibitions, restaurants and souvenir shops.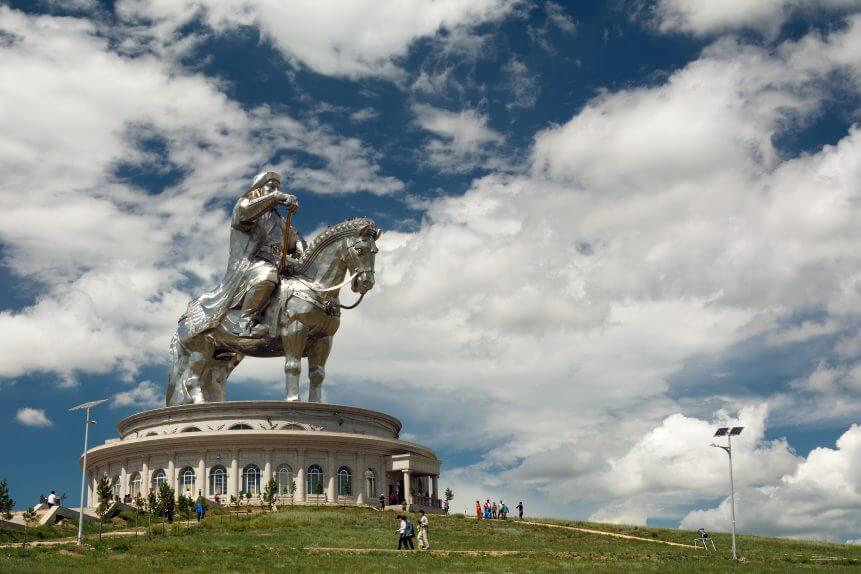 Zaisan Memorial
One of the best skyline spots in Ulaanbaatar, Zaisan Memorial honors Mongolian and allied Soviet soldiers killed during the World War II. After climbing up more than 600 steps, you'll see a huge, round mural that depicts Mongolian and Soviet soldiers fighting side by side.
There are a few souvenir stands on the way. From the top of the hill, you can take a picture with an eagle on your arm with a panoramic view of the entire capital city as a backdrop.
Winter Palace of Bogd Khan
Just 9 minutes away by car from Zaisan Memorial, the Winter Palace of Bogd Khan is the only one left from the four residences of Bogd Khan, the last emperor of Mongolia. This Chinese-styled palace includes six temples filled with Buddhist artworks and Bogd Khan's possessions. The entrance fee is 8,000 tgr ($3) per person. But with a valid student ID, you can get it for 3,000 tgr ($1.13) per person.
Genghis Khan Square
The central square of Ulaanbaatar, Genghis Khan Square is a huge public square that is surrounded by major political, financial, and cultural institutions holding up the entire Mongolian society. Right in the middle of the square, an equestrian statue of Damdin Sükhbaatar, one of the Mongolian leaders, stands tall as a popular photo zone for tourists.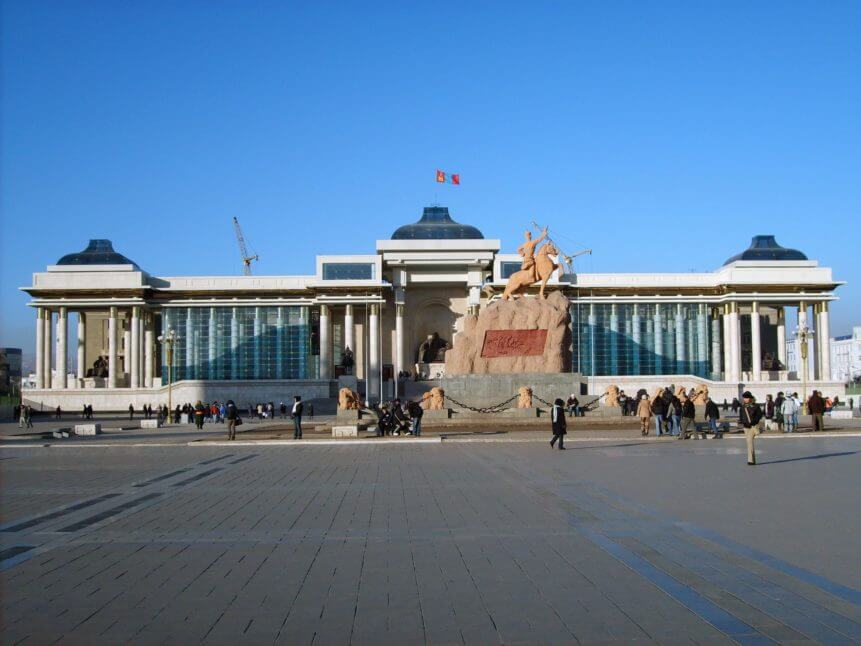 On the north side, the Government Palace, an office place for the parliament, the president and the prime minister, is fronted with a giant monument of Genghis Khan.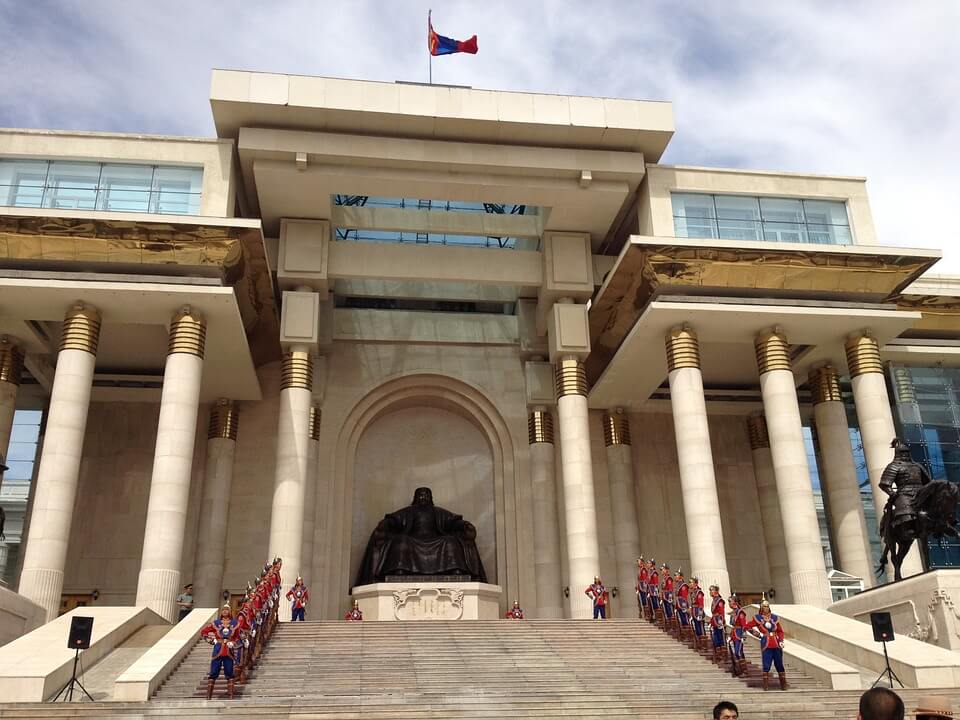 On the western side, there are headquarters of the Ulaanbaatar Bank and Golomt Bank and the Mongolian Stock Exchange Building. On the eastern side, there are the Mongolian Theater Museum and State Ballet and Opera House. On the south side, there is the Blue Sky Tower, one of the tallest skyscrapers in Mongolia.
The State Department Store
While there are many souvenir shops all around Ulaanbaatar, the State Department Store is a one stop shop for everything Mongolian, from mini toy ger and postcards to good quality cashmere sweaters. And if you were wondering, the store is not run by the government.
On the first floor, there is a huge supermarket that both tourists and locals often use. Because of their historical and political ties with the Russians, Mongolians love Russian products as well. My friend got me famous Russian ice creams that every Mongolian loved as a kid.
Black Burger Factory
If you're in Ulaanbaatar, don't forget to stop by Black Burger Factory and try their signature black-bun burger that comes in classic, veggie or vegan. Your order comes with a burger that looks like one of Spongebob's pretty patties and pickled carrot sticks.
Dancing at the Park Castle
Every Saturday, at the Park Castle inside the Children's Park, many young Mongolians come with friends to dance the night away. Held by the Ulaanbaatar dance club, a nonprofit dance group that holds dance lessons, the dance night is open for all, not just club members, and runs from 9 pm to 12 am, at least officially. The event really just goes on as a social gathering even after midnight. The entrance fee is 5,000 tgr ($1.89) per person.
When I visited, it was salsa night. Instructors came up on stage and taught basic steps. Even if you're not a dancer, you can still come with friends to enjoy the time together and watch other people dance.
ASEM Clubhouse
Located just 20 minutes away from Ulaanbaatar by car, the ASEM Clubhouse is a quick getaway from the busy city life for fresh air. The ASEM Clubhouse is a part of a bigger Mt. Bogd Golf and Country Club that provides fancy restaurants, spa centers, and a golf course.
But, even if you're not a member or going golfing, you can still visit the place for fresh air, nice sunset view, and starry night sky away from the city.
When I visited, my friend's friend was singing at a reception place called the Great Ger, a gigantic, modernized ger that often holds social events like launching parties. The place was filled with young people enjoying their time with friends and listening to different musicians perform.
Then, we drove a little upward to Khurel Togoot, a Soviet-era observatory, to watch the stars. You'll be immersed in the wonder of starry night skies and the endless space beyond. The observatory is open for visitors during weekends from 10 p.m. to 4 a.m. The entrance fee is 3,000 tgr ($1.13) per person. Overnight camping and tours are available, but you should call in advance to book an appointment.
Saikhanii Hutul
Located in Selenge Province, the most northern province of Mongolia, Saikhanii Hutul offers visitors a spectacular scene of a border between Mongolia and Russia. After a quick hike to the top of the mountain, you can see the Selenge River, one of the biggest rivers in Mongolia, flowing into Lake Baikal of Russia.
The road to Saikhanii Hutul is unpaved and is not easy for beginning drivers. Drive slowly to avoid tire punctures.
Student Discounts
As mentioned above, you can get a student discount at the Winter Palace of Boyd Khan with your student ID.
You can also use the UB passport, a discount card that you can buy for 25,000 tgr ($9.46), and get free or discount services at more than 100 cafes and social events, such as jazz club, art events, music or movie nights, at many partnering vendors in Ulaanbaatar. Many locals use this and recommend this even to tourists because of the wide range of benefits.
Changes are coming, but the best is staying
Mongolia is changing. Cities are growing, cars are selling and families are moving into apartments. However, Mongolians love their nature. In just 10-20 minutes drive from the city, you'll still see the Mongolia you expect — endless plains, pastel blue skies reflected on crystal clear ponds, and cows, horses and sheep just so casually passing next to cars. Right now is the best time to see Mongolia's best of both worlds. Happy travels!  
Hyeyeun Jeon is from South Korea and a graduate from Carnegie Mellon University with a double major in Professional Writing and International Relations. She is passionate about non-fiction storytelling. She loves reading, watching, writing and producing stories about extraordinary lives of everyday people.