Following our profile of the best college music scenes in the U.S., TUN has decided to highlight a few young bands that have recently emerged from college music scenes across the country.
The following seven bands span different rock subgenres making their way out of the college circuit. From Crumb's psych-funk to Acid Dad's fuzz-overloaded punk and everything in between, here are a few young bands to keep an eye on.
1. Crumb
Crumb were formed at Tufts University in Boston by four students — singer/guitarist Leah Ramani, keyboardist Brian Aronow, bassist Jesse Brotter, and drummer Jonathan Gilad. Now graduates, the group relocated to Brooklyn, bringing their wild sound, which is equal parts jazz fusion and Tame Impala-style psychedelia with them. The group released their self-titled debut EP in August 2016, which blossomed into something of a surprise success. Their sound is not quite like anyone else. Incorporating a broad range of influences, insidiously catchy melodies supported by mesmerising percussive grooves. The musicianship across the board is great; each musician is individually talented, and they have a very natural cohesion altogether, anchored by a tight and intuitively funky rhythm section.
2. AFTM
AFTM are an upstart band out of Athens, Georgia, the hometown of the University of Georgia, which we recently named the best college music scene in the US. Initially formed by three friends in childhood, AFTM grew into a six-piece at the University of Georgia. AFTM have made their way up the ranks of the Athens music scene. They recently headlined the famed Georgia Theatre, the city's premier venue, on the back of a contemporary Southern rock sound. Their songs are characterized by instantly catchy melodies atop a blues-rock swing, at times recalling some of the Allman Brothers' mid-70s output.
3. Freak Mythology
Freak Mythology, a four-piece band from Cincinnati, have been making waves in their home state over the past couple years. The members have been playing together since 2012, when the members were all still in high school, but only released their self-titled debut album in 2017. Since then, they've placed first in the Cincinnati's Next Big Band competition and the Madison Theater Band Challenge and toured across the midwest and east coast. With hints of classic psychedelia and crisp pop rock, the band integrate new and old influences into tight and often catchy songs. Freak Mythology also have a penchant for improvisation, as on their track "Surge," an instrumental track in which echoing guitars crescendo on top of one another, creating beautiful layers of harmony.
4. Twin Peaks
Twin Peaks were formed when the four members were still in high school and had already gone on tour by the time they graduated. The Chicago-based garage-rock outfit released their debut LP, Sunken, in 2013, and have already pumped out four studio albums and two live albums, touring relentlessly all the while. Their songwriting calls back to the British Invasion and sixties garage rock groups like the Count Five while avoiding sounding too derivative. Onstage, they are one of the better live bands out there. They perform with a relentless energy and have a rare tightness for such a young band, a kind of unity that only comes with having played together for so many years already. Also check out Grapetooth — Twin Peaks singer Clay Frankel's side project with Chris Bailoni of Home-Sick — for some 21st century synth-pop.
5. Acid Dad
Another group emerging out of NYC, the three founding members of Acid Dad met and began playing together while attending NYU. Now a quartet, Acid Dad have steadily grown over the past few years and are starting to be recognized as one of the best young bands in the city. Their self-titled debut album, which was released in March, is filled with sludgy punk riffs that harken back to '90s college rock groups like Sebadoh and Sonic Youth. Songs like "Mistress," which seems to be covered by a layer of slapback echo and fuzz, showcase their most dissonant impulses, while "2Ci" and "Bada Bing" — a pair of Strokes-like garage rockers — display a slightly poppier side.
6. Palm
A Philly band that originated at Bard College in New York's Hudson Valley, Palm sound like no one else. Their brand of experimental art rock takes a moment to get used to and that's a good thing — it's rare to find a band with such a unique approach. The most immediate comparisons that their music draws to mind are Animal Collective and Battles — bands known for their unorthodox approach to melody and harmony and off-kilter rhythms. Palm's music sounds almost like a demonic Beach Boys — or rather, as if Brian Wilson was hired to make the Mario soundtrack. Jangly guitars, layered atop one another, building a wall of sound that is at once cacophonous and euphoric, while airy vocals float over top. Whether it's your cup of tea or not, Palm are proving that there is still room for a four-piece guitar rock band to experiment in 2018.
7. Shame
From across the pond, all the way in South London, Shame are a throwback to the greats of British punk. On "Concrete," the lead single from their 2018 debut album "Songs of Praise," singer Charlie Steen screams with the ferocity of the Clash's Joe Strummer overtop chugging, rhythmic guitars reminiscent of the Fall or Gang of Four. With five members, none over the age of 21, Shame are part of a nascent scene in London that, with upstart groups like HMLTD, Goat Girl, and Dead Pretties, is helping to revitalize the guitar rock roots of British music.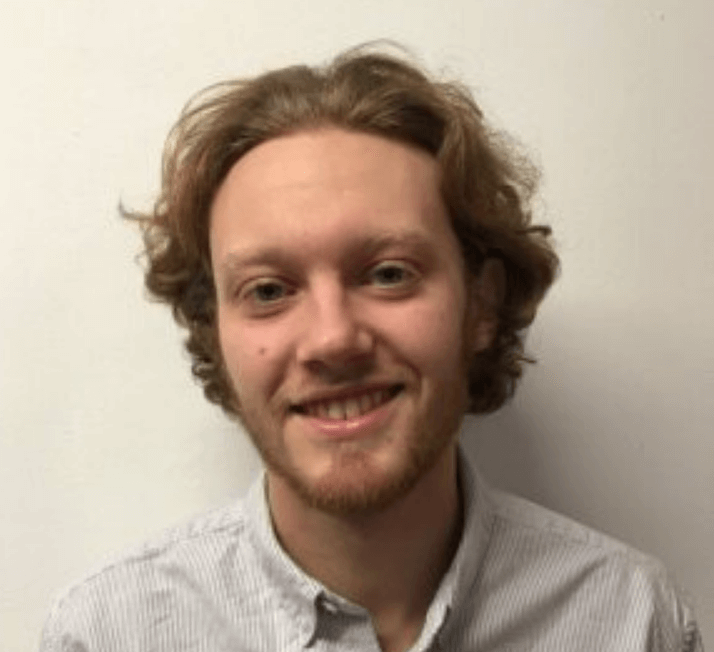 Sam Benezra is a graduate of Ohio University with a B.A. in History from the Honors Tutorial College. He is a native of Brooklyn, New York. Sam enjoys writing on a variety of subjects, including science, music, politics, film. In his spare time, he enjoys traveling, playing guitar, and writing songs.