TUN Scholarship Index
Ease of Completion

Scholarship Amount
Scholarship Summary
GibsonSingleton Virginia Injury Attorneys is offering this $1,000 scholarship in order to raise awareness about the dangers of distracted driving.
To enter this scholarship, write about what you can do to help combat distracted driving!
Eligibility:
You have earned, or will earn in the 2017-2018 school year, your high school diploma.
You have maintained a 3.0 or higher GPA.
You are a U.S. Citizen or hold Permanent Residency status.
You must complete all entry fields on the application for the scholarship.
You are required to complete the original essay portion of the application.
There are two sections to the application that must be completed in full.
How to Apply:
Fill out the online application form.
Write a short introduction about yourself in 100-200 words.
Write a short essay in 500-1,00 words on the listed prompt.
Provide documentation such as school transcripts, current proof of enrollment, and photo ID.
Amount: $1,000
Deadline: May 30
SEE ALSO: The Complete Guide to Scholarship Hacks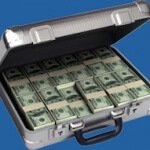 When not surfing the big waves, or training for the Iron Man, Scholarship Guru searches the web for the best scholarships and new insights into Nietzsche's philosophy.