While there are essential items you should buy before you move into your dorm room, there are many other items that you can wait to buy until after you arrive at your campus when you have a better sense of what you need. Moving is never an easy process, so don't make it more difficult by purchasing many things beforehand that you could easily buy later. Take advantage of stores that allow you to order online and pick up in store, so you can order your items ahead of time and pick them up at a store location near your campus. Many stores, including Best Buy, Target, and Bed Bath and Beyond, allow for online orders to be picked up in stores. Keep reading to see what you should hold off on buying until you get to campus!
[SEE: Things to buy BEFORE you move into your dorm!]
Technology
Before investing in any technology for college, consider if it is a necessity. While you may think you need a large 50-inch screen TV, you may be watching significantly less TV in college than you think. With extracurricular activities, a substantial course load, and a new social life, many college students don't often reach for the remote. With on-demand TV and TV subscription services, you can watch TV on your computer screen. I speak from personal experience. In three years in college, I watched TV just a handful of times in common areas in my residence hall. You don't really need a TV, but if you must purchase one, wait till Black Friday to get some awesome deals.
Printers are a common find in student dorms, but they are often costly, unnecessary, and used minimally. Many university libraries have printers for student use, and give students a certain printing quota. Find out your university's printing policy before you invest in a printer. If you find yourself in need of a personal printer, look out for technology deals from Best Buy, Lenovo, and Microsoft during Black Friday to get a great discount on your college technology needs.
Fridges & Microwaves
Maybe a mini-fridge for your room will be useful, but what if your roommate already bought one? Now there are two mini-fridges in a small dorm room that occupy space. If you can't contact your roommate before you move in, hold off on buying a fridge until after you move in. Like mini-fridges, microwaves can be easily shared between roommates, so coordinate with your roommate or wait until you move in to avoid having two in one dorm! Dorm rooms are traditionally small, so be sure to optimize your space by not having duplicate appliances.

Check out these affordable mini-fridges and microwaves from Best Buy!
Mattress Toppers
Universities have different policies and requirements for mattress toppers. Every college student should invest in a mattress topper, as it serves as a barrier between the mattress and your bedding and provide extra comfort and restful sleep! Cotton mattress toppers are comfortable and recommended by firefighters, as foam mattress toppers are known to emit toxic fumes in fires. Better to be safe than sorry!
Furniture
If you are thinking about investing in an ottoman, wait until you see if you have space and if it's allowed by your school. Oftentimes, dorm rooms are not as large as you picture in your head, and some universities do not allow extra furniture in rooms because they pose a fire hazard. Thinking about a bedside table? Looking into purchasing a bean bag or an extra chair? See if your room is spacious enough before you invest in furniture for your room. You don't want your room to be cluttered, so look to invest in space-saving storage methods, such as bedside caddies that slip under your mattress and under-the-bed storage.
Cookware
Some dorms provide cookware for shared kitchens while some do not. If your dorm has a kitchen, be sure to buy cookware after you move in or coordinate with your roommate on what to buy, so you don't end up with a plethora of pots and pans.
Fans
When moving into dorms, many students do not know if there is a central air system in their building so it is better to wait until after you move in to see if you will need a fan. Also, be sure to check out public forums like Facebook class pages, or your university website, to see what amenities your future home offers.
Trash Bin
That cute plastic trash bin may match your dorm aesthetic, but what if your university provides trash bins? Buy a trash bin after you move in if you need one.
Large Items
Anything that will take up a lot of space in your moving vehicle should be purchased after you move in. That extra-large bean bag, or the cute ottoman, will take up a lot of space, so use your judgment and know what to order ahead of time to be shipped to your campus or picked up at a store location near you. It will save time, space, and gas!
Don't feel pressured to buy all your college necessities at once. With online shopping, you can easily obtain all of your college essentials. When you walk into stores, you may feel pressured to buy things because you believe you need to buy everything in the aisle because of the stores' layout and their large college dorm sections. Use different dorm shopping lists to see what is suggested, but use the lists as a guideline and not as a "must-buy" list. With dorm shopping, be practical. If you think you may need an item, don't be too quick to buy it yet. For example, many college students purchase irons, which are rarely used. If you think you may need an iron, hold off on purchasing it because you probably won't have much time to use an iron when getting ready in the morning. If you have many shirts that need to be ironed, feel free to purchase an iron, but be practical and don't spend money on an iron to use a handful of times in college. Be sure to communicate with your roommates ahead of time, if possible, to avoid purchasing two of anything and to coordinate shopping responsibilities. Dorm shopping may be stressful, but never feel pressured to buy anything.
RELATED: How to Make a Home in Your Dorm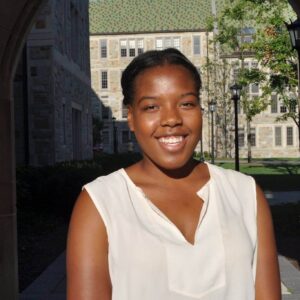 Vanessa Sewell is studying Economics and Communications at Boston College. She is from Bronx, NY. Vanessa has worked on topics related to lifestyle, fashion, culture, and education during her time at Boston College. During her free time, she can be found playing piano and guitar or jamming to Spotify.