Education is one of the most important assets anyone can have. With rising costs of tuition and fees in the U.S., however, many students may not view higher education as an option for them.
If you are considering higher education, don't let the cost intimidate you. While the costs of education has been rising in many universities, some universities have made it their mission not to allow costs to intimidate students and offer very generous financial aid packages, including free tuition.
Here is a list of the U.S. universities that offer free tuition:
1. University of Michigan
Beginning in January of 2018, the University of Michigan's "Go Blue Guarantee" offers free tuition to Michigan residents, whose annual family income is under $65,000, at its Ann Arbor Campus. University of Michigan-Ann Arbor is nationally ranked, located in one of the best college towns in the U.S., and known for its strong athletic presence on campus.
2. City University of New York and State University of New York
In April 2017, New York Governor Andrew Cuomo announced that New York will be the first state to make tuition free at four-year public universities as well as community colleges. Known as the Excelsior Scholarship, tuition will be free at the City University of New York and State University of New York two-year and four-year colleges beginning Fall 2017 for families and individuals with annual income up to $125,000.
3. Harvard University
Harvard University prides itself on being the oldest university in the U.S. Through the Harvard Financial Aid Initiative, any family earning less than $65,000 per annum pay nothing to send a student to Harvard. The university's website states: "We have a long tradition of removing economic barriers for students who want to attend Harvard." Harvard covers all tuition costs with grants and donations, so students will not have to borrow loans, eliminating student loan debt for many.
4. Brown University
Brown University is known for being the most eccentric Ivy League University. According to its website, "Brown University is committed to assisting families in meeting their demonstrated financial need. Several financial aid initiatives, unique to Brown, have been developed in order to better assist our families." These initiatives include free tuition for those whose parents earn less than $60,000 per annum and have assets worth less than $100,000. Students whose parents earn less than $100,000 per annum have no loan component in their financial aid awards, allowing them to receive more grants and graduate with fewer loans.
5. Columbia University
Columbia University is the oldest college in New York State. For students whose families have a total income of less than $60,000 per annum and typical assets, parents do not contribute to the cost of attendance. The university uses a 3-pronged financial aid approach: need-based, need-blind, and full-need. Columbia is committed to ensuring that all students do not need loans apart from their financial aid package, allowing for educational success without the burden of loans.
6. Yale University
Yale University is the third-oldest university in the nation, and offers a premium educational experience. For students whose families' total gross income is less than $65,000 per annum, parents are not expected to contribute to their child's Yale education. Yale encourages students from all economic backgrounds to pursue an education without worrying about the cost of college.
7. University of Pennsylvania
Located in Philadelphia, the University of Pennsylvania is a school rich in history. Home to the first school of medicine in North America and the first collegiate business school, the university grants financial aid that covers full tuition, fees, room, and board to students with a family income of less than $40,000 per annum. UPenn is one of the largest schools in the nation to offer an all-grant financial aid program to undergraduates.
8. Dartmouth College
Dartmouth College is known for its consistently high ranking among top universities as well as its strong Greek culture. It is the only university in the nation with a majority undergraduate population that is also an arts and science focused doctoral university. Dartmouth provides generous financial aid to students whose families have a total annual income of $100,000 or less.  
9. Princeton University
Between 2001 to 2017, Princeton University ranked either first or second among national universities. According to its website, "Princeton seeks applicants who demonstrate exceptionally high academic ability and performance. Personal strengths and nonacademic talents and commitment are also highly valued." Students whose annual family income of $54,000 and under receive free tuition, room, board, and no fees. In addition, students from families with annual income up to $140,000 pay no tuition.
10. Massachusetts Institute of Technology
MIT is one of the top institutions for research in the physical sciences and engineering. Its prestigious academic programs and strong entrepreneurial culture make MIT one of the world's most prestigious universities. While many students may dream of going to MIT, MIT ensures that tuition for students with a family income of $75,000 is covered fully under financial aid and grants.
11. Cornell University
Located in Ithaca, New York, Cornell University is home to seven undergraduate colleges. As a member of the Ivy League, Cornell University is a highly ranked university with wide fields of studies ranging from  science to architecture to business. Cornell University's Parent Contribution Initiative covers tuition and fees for students whose families earn less than $60,000 in total annual income, so these families won't have to contribute to their child's education.
12. Stanford University
Stanford University is a private research university in California. The university is known for its strong academics and high athletic achievements, and is one of the most selective universities in the U.S.. While Stanford can easily become a dream university for students nationwide, the financial aid offered makes Stanford more accessible to students. Stanford covers all tuition costs for those with an annual family income under $65,000.
While college has been perceived as a financial burden to families nationwide, the above universities go the extra mile to make their education available to qualified students in need. If you do not qualify for free tuition, many public and private universities offer financial aid and grants to students.
RELATED: 8 Colleges that Cover Full Tuition for all Enrolled Students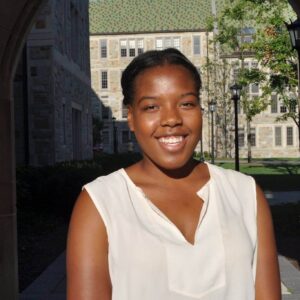 Vanessa Sewell is studying Economics and Communications at Boston College. She is from Bronx, NY. Vanessa has worked on topics related to lifestyle, fashion, culture, and education during her time at Boston College. During her free time, she can be found playing piano and guitar or jamming to Spotify.