As a small country, South Korea is an ideal place to hop around different cities even within a week-long visit. While its capital Seoul has a lot to offer, you might have to make another visit if you leave without visiting two other awesome cities — Busan and Jeju Island.
Both Busan, the port city, and Jeju island, the natural gem of the country, offer their own unique coastal experience of South Korea.
Busan
Located on the southern tip of the peninsula, Busan has long served as one of the biggest ports in the country. The city offers amazing seafood, beautiful beaches and a lot of free events.
Getting there and getting around
To get to Busan from Seoul, you can take a train, bus or plane.
For train, you can take the KTX, one of Korea's super fast trains that will take you to Busan in about two-and-a-half hours. All Korean trains are known for their snack carts, the highlight of every Korean kid's train ride.
A ticket costs 59,800 won (about $54). There is no cheaper ticket for round trip. You just need to buy two tickets. Buy them online here. Choose "normal type" for travel type and "KTX" for type of train.
A bus ticket is a cheaper alternative: 23,000 won for economy, 34,200 won for business, and 37,700 for premium. Buses take about four-and-a-half hours. Buy tickets online here.
If you're planning to leave for Busan at night, a plane may be a better and cheaper alternative. Although you would have to leave from either Gimpo or Incheon airports and not directly from Seoul, a plane takes about an hour to get to Busan, and tickets can be as cheap as 40,000 won. Check here and here for cheap tickets.
As in Seoul, the subway is the most efficient way to get around Busan. You can use the same T-money card for both Busan and Seoul.
Beaches
One of the most famous beaches in Korea, Haeundae Beach is a popular summer destination for both families and college students.
Every May, the beach holds a sand festival, when international artists come to Busan to display their gigantic sand artworks for the public. There are also other events, such as fireworks, parades, sand sports and sand art classes.
Most people visit Gwanganri Beach at night because you'll get a great view of the city skyline, highlighted by the lit-up Gwangan Bridge. To Marvel fans, Gwangan Bridge and the Jagalchi market nearby will look familiar, as they appeared in "Black Panther."
Every October, Gwanganri Beach holds the Busan International Fireworks Festival, when visitors can enjoy events like fireworks, music performances and laser light shows. Songdo, Songjeong and Dadaepo beaches are also popular among visitors.
In August, almost every beach in Busan holds the Busan Sea Festival, the city's biggest summer beach event. During the festival, beaches hold live music performances, interactive programs, fireworks, dance parties and water carnivals.
All the festivals mentioned above are free.
Haedong Yonggung Temple
Haedong Yonggung Temple is a 14th century Buddhist temple built on Busan's rocky shores. After entering through the front gate, you will walk through a short cave-like tunnel, walk up stairs surrounded with bamboo trees and finally be at the temple with the vast ocean laid out in front of you.
Taejongdae Park
Taejongdae is a natural park with an amazing view of the sea from the rocky coastal cliffs.
Four of the most visited places in the park are the observatory, Yeongdo Lighthouse, Geumyeongsa Temple and Taewon Jagal Madang. You can either hike all the way up or take a train that goes around the park to pick up or drop off visitors at each station with 20-30 minute interval. Train ticket costs 3,000 won. Down at a beach near the Yeongdo lighthouse, there are rows of clam tents serving fresh seafood. Some of the must-haves are keejogaes, or giant clams, and mussels.
Ohreukdo Skywalk
Ohreukdo Skywalk is a 15-meters-long boardwalk made of clear glass located on top of a coastal cliff. Walking on clear glass floor, you'll feel like you're walking on water. Although the experience is free, be sure to take the provided shoe covers and keep them on to prevent staining the glass floor.
Busan Skyline
At The Bay 101, a huge shopping center with many restaurants, you can catch the amazing Busan skyline glistening with city lights.
Busan tower and Dalmaji gogae have beautiful skyline as well. Dalmaji gogae is a slightly uphill road/walkway that leads you to one of the best skyline spots in the city. Along the road, there are many cute cafes and restaurants.
Gamcheon Culture Village
Located on the side of a mountain, Gamcheon Culture Village is like a maze, filled with colorful, lego-like houses built on top of, next to and very close to each other.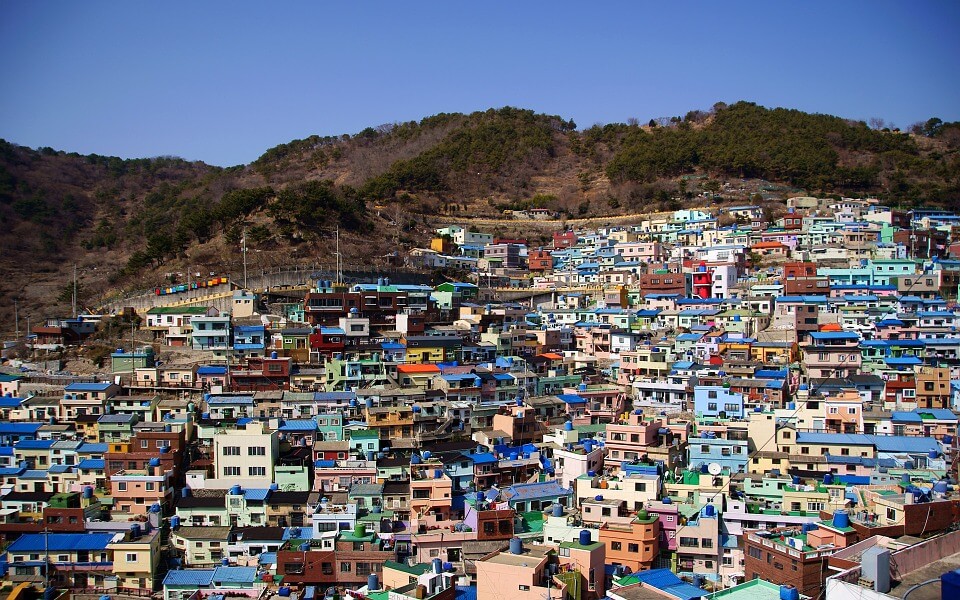 Starting in 2009, local artists turned what once used to be slum town into a blank canvas for their creativity, painting on houses, stairs, and fences. Now, the town draws thousands of tourists every year.
Food original to Busan
Busan is the origin place for amazing food, such as dwaji gukbap, Korean pork soup with rice, and milmyeon, cold wheat noodles that can be enjoyed with spicy gochujang sauce or served in a chicken or beef broth.
Don't forget to visit Busan's famous traditional markets, such as Gukjae Market, Bupyeong Market and Jagalchi Fish Market.
When you're there, try Busan's special street food, such as ssiat hotteok, a Korean pancake filled with brown sugar syrup and a mix of chopped nuts and seeds, and odeng, Korean fish cakes most famous from Busan.
These markets also hold many seafood restaurants where you can have fresh seafood right at the moment for a low price. At Jagalchi, try ggom jangeo, grilled eel, one of Busan's original seafood.
Jeju Island
The ultimate destination for natural gems of Korea, Jeju island is a prime vacation destination all throughout the year.

Getting there and getting around
You need to take a plane to Jeju island. Depending on the time of the year, ticket price varies widely. For example, if you go during any weekdays in winter, you can get a ticket as low as 18,000 won.
To get around Jeju, it's best to rent a car. While you can take public transportation, not having a car will limit you. Unlike in the bigger cities like Seoul and Busan, the public transportation system in Jeju is relatively small.
Beaches
Woljeongri and Hyupjae beaches are known for their fine, powdery white sand and emerald clear water. While Woljeongri is bigger with more shops and visitors, Hyupjae is low on waves, relaxing, quiet and perfect for people who want to avoid big crowds.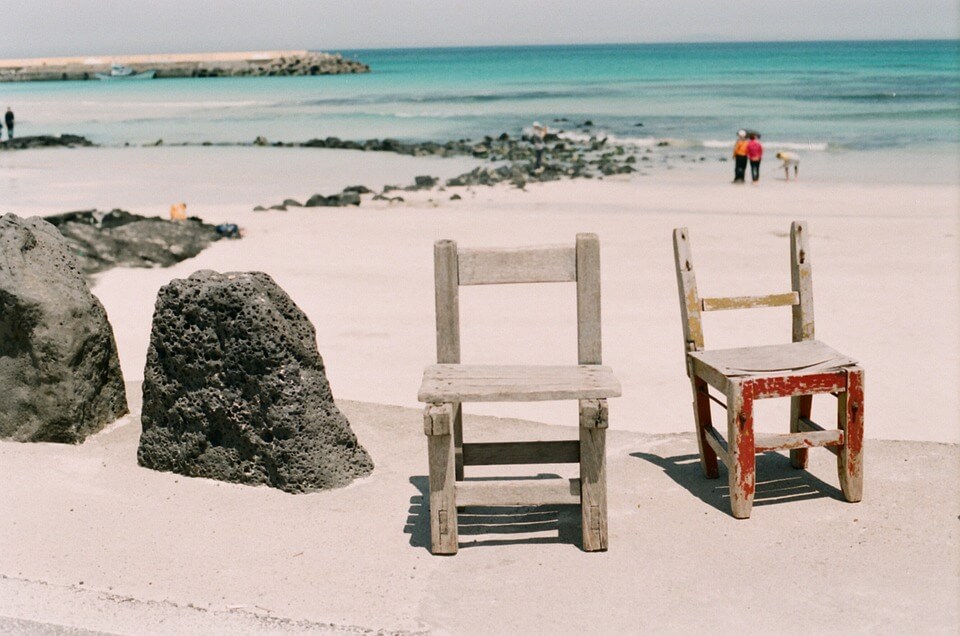 Jungmun Beach is the best surf spot in Jeju. Every June, hundreds of surfers, both beginners and professionals, flock to Jungmun for the annual surfing competition. You can rent surf suits and boards for about 30,000 to 40,000 or take surfing lessons for about 60,000 to 70,000, both options for three hours. Note that price can vary widely by store.
Jeju also has beautiful streams and rivers, where visitors can ride a canoe or just swim along.
Flowing into the ocean, Swesoggak river is a beautiful natural gem, surrounded with trees and rocks. More popular among locals than tourists, Donnaeko Waterfall and Gangjeong Stream are swimming holes made by nature with waterfall backdrop.
Olle-gil
In Jeju, there are a total of 26 olle-gil, a series of walking trails that spread around the entire coast, each one providing unique scenery of the island. Trekking time varies widely by trail, the shortest one taking three and the longest one taking eight hours. There is no fee for all trails.
Seongsan Ilchulbong
One of the UNESCO World Natural Heritage sites, Seongsan Ilchulbong, the Sunrise Peak, is a huge volcanic cone that rose from the sea in a volcanic eruption over 5,000 years ago.
It's a pleasant stop for even non-hikers, because the trail only takes about 30-40 minutes. During spring, the trail gets covered with bright yellow canola flowers. To top it all off, Jeju's clear emerald coast waits for you at the peak. There is an entrance fee of 2,000 won.
Be sure to bring water and snacks because shops on your way sells them at much higher price.
Mt. Hallasan
Sitting at the center of Jeju, Mt. Hallasan is a dormant volcano and the highest mountain in South Korea. There are a total of six hiking trails. While all trails are relatively short, no longer than 10 kilometers, there are shorter trails that stop at midway up the mountain.
During spring, trails are covered in bright pink azaleas and yellow canola flowers, making the view even more colorful.
Yongmeori Coast
As the oldest volcanic region in Jeju, Yongmeori Coast boasts endless layers in its cliffs, processed to current forms from centuries of eruptions. After walking along the vast cliffs for a while, the trail leads you to the clear, blue ocean.
Camellia Hill
The biggest Camellia arboretum in the East Asia, Camellia Hill is a huge camellia-themed park with an eco-pond. Quite literally, the place is a 60,000 square meters large instagrammable photo zone. All over the park, there are lights, decorations, cute signs, dol-hareubangs, or large rock statues found only in Jeju, for visitors to take pictures. The entrance fee is 8,000 won.
Hallim Park
Hallim Park is a huge tropical paradise that has more than 2,000 different kinds of plants and 16 differently themed gardens. All throughout the year, the park holds multiple flower festivals. At 11,000 won per ticket, the price is on the expensive side, but it's definitely worth a visit.
Be sure to check out Hyeopjae Beach with its dol hareubang, and Ssangyong Cave, which was formed after the lava flowed out of Mt. Hallasan.
Food
Visit Dongmun market or Olle market for Jeju-specific street food, such as junbok gimbap, a rice roll with junbok, a type of sea snail found a lot along the Jeju coast, peanut ice cream, made with peanuts grown from Udo, Jeju's neighboring island, and gamgyeul bread, a bread filled with Jeju's tangerine cream.
Also, you can stop by seafood stalls, choose any fish you want, and have it prepared as sashimi to eat fresh at the moment.
Don't forget to try Jeju's green tea ice cream from Osulloc, heukdaeji, or black pork, a breed of domestic pig found only in Jeju, and gogi guksu, noodles served in pork broth with boiled black pork pieces on top.
Student discounts
While Korea doesn't have discounts specifically for foreign students, they offer various discounts for foreigners in general. Check here for Busan discounts and here for Jeju Island discounts.
Traveling Busan and Jeju island
Busan and Jeju Island are popular vacation destinations for both locals and foreign travelers alike. With so many free events and natural gems to enjoy, both places are perfect spots for students with a budget. Happy travels!
Hyeyeun Jeon is from South Korea and a graduate from Carnegie Mellon University with a double major in Professional Writing and International Relations. She is passionate about non-fiction storytelling. She loves reading, watching, writing and producing stories about extraordinary lives of everyday people.