Many college graduates are underemployed, meaning the students are overqualified for their jobs and jobs do not provide much room for career growth.

According to a recent study by the Burning Glass and Strada Institute, about 43 percent of graduates are underemployed. What is more alarming is that graduates who are underemployed in their first jobs continue to be underemployed throughout their career paths, limiting their potential growth.

It is, therefore, critical for students to not only get a job, but to get the right job. So, we're here to help students to make the most out of many different job boards and resources out there. Today, let's look into SimplyHired.

With about 30 million visitors monthly, SimplyHired is an aggregator, meaning it draws job listings posted on more than a hundred different job boards. They operate across 24 different countries and in 12 different languages.

Ever since 2016, when it was bought by RecruitHoldings, a company that owns Indeed, SimplyHired has been operating as a publishing partner of Indeed, meaning job listings on Indeed appears directly onSimplyHired as well.

However, on top of the basic features of a job board, SimplyHired also provides its unique features, such as the local job finder, salary estimator, and its own blog.

Let's look into each feature in more detail.
1. Post or build a resume
First, go to simplyhired.com and make an account. You can use either Facebook or Google account to sign in or register with SimplyHired directly. When you log in, you can either upload your resume or build one using the "Resume Builder" tool.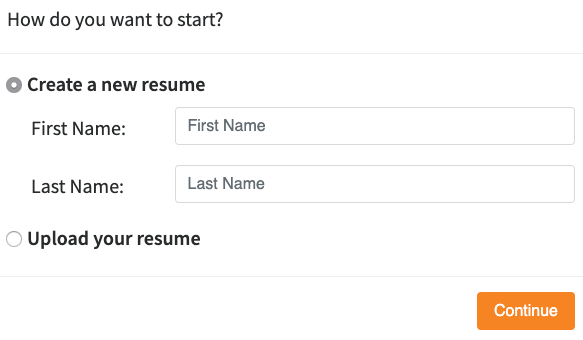 You can choose from 43 different templates and 10 different fonts, and use basic formatting tools like the ones available on Microsoft Word or Pages. When you click on "Manage Sections," you can add or subtract different sections of your resume like contact, summary, education experience, or skills.

Here's a general overview of what should go into each section.

Your summary, or "professional summary", is your professional vision statement that weaves not only your goals, but also your specific skill sets and experience all together. Working as an intro to your resume, your summary should be kept concise and clear.

Include all institutions you participated with, starting from college years. For freshmen and sophomores without much outside school experience, add a mini-section for notable classes and school projects that will help give some kind of tangibility to the skill sets you mention.

List the jobs you've held and a brief description of your responsibilities and accomplishments for each job. If your responsibilities at work weren't significant enough to write about, write about skills learned, as opposed to the tasks themselves.

For students still early on their college years, don't fret because you don't have a lot of work experience. Add all relevant volunteer experience, part-time or unpaid work and internships. Volunteer experience can sometimes say more about your passions than your work history, because it means that you were so passionate about such and such to the point that you don't need money to do it. It could, in fact, lead to a job offer — 20 percent of hiring managers in the United States say they've hired someone because of volunteer experience.

Include specific, both technical and non-technical skill sets, such as Photoshop, social marketing, or storytelling. However, your non-technical skill sets should always be backed up with tangible results, such as experience, class projects, or even the number of followers on your social media accounts.

For specific wording of your skill sets, use the same keywords and phrases that your potential recruiters use. Read through the job descriptions of positions that appeal to you and pick out specific skills that you think you can provide for employers. But, never lie about the skills you list. Remember that people are hiring you for the very skills you listed. And if you can't perform your skills at work, your employer will find out sooner or later.

If you think you have absolutely no skills — which I doubt — you can even list your hobbies or extracurricular interests.

Once you are done with your resume, you can upload it for free. You can add up to 3 different resumes on your profile.

Also, when you scroll down to the bottom of your profile page, you can edit information, such as your email, job title and location. Don't forget to share your resume with Indeed, so potential employers can find you on that platform.

Pro Tip: Once your resume is uploaded, you can type "my resume" into the keyword box to search for jobs. Then, the results will come up based on keywords found within your resume, such as your interests, experience or skill sets. With more personalized search results, you may be able to find job titles or industries that you didn't know about or thought you weren't interested in before.

2. Search for jobs

When you click on the SimplyHired logo on the top left corner, you will be directed to the main page, where you can search for jobs by keyword, such as job title, skills or company, or location, and see a list of your recent searches.

3. Use "browse" features to search

Another way to search for jobs onSimplyHired is to scroll down to the bottom of the page and click on "Browse all Jobs," "Browse all Companies," "Browse all Cities" or "Browse all Salaries."


While you can still search by keyword and location on all these pages, each page allows you to browse through the top 20 job titles, companies, cities, or salaries. Each page also shows all of them by each category in alphabetical order.

"Browsing" sheds some light on the current job situation. At the time of this writing, this is what I gleaned from browsing.

When you find a job posting that interests you, click on "Apply" and you will be directed to the appropriate job board, from which the job posting was aggregated.

4. Take advantage of these additional tools

Here are a few more unique features that will help you not only find your first job, but also throughout your professional career.

To search for local jobs near you, scroll down to the bottom of the main page and click on "Local Jobs." You can put either your current or desired zip code or city. Or, you can scroll down further to pick from a list of the most popular cities.

Once you search by a city that interests you, click "Search Local." Then, you will see lists by different categories, such as new jobs, top job types, top companies, top job titles, and recommended nearby cities. Next, there's a short summary of the local job market, including companies offering most jobs, the number of total jobs and new jobs in your local city.

To find and compare salaries, go to the main page and scroll down to where it says "Salary Estimator" and click on it. You can either enter in job titles or location, or look through different lists, such as top job titles, minimum salary, or top locations.

For example, when you search for junior architect in New York, NY, you will learn that the average salary is $55,810 and how it compares to other related jobs in New York. Also, you can see a graph of salaries for junior architect jobs with five salary ranges: bottom 10 percent, bottom 25 percent, average, top 25 percent, and top 10 percent. When you scroll down further, you will see recommended junior architect jobs, popular companies and other nearby locations.


When you scroll down to the bottom of the main page, click on "SimplyHired Blog." Then, click on "Job Seekers," where you will find a wide range of articles relevant to job searching and career paths, such as "11 Rules of Effective Networking" or "Should You Go For That Advanced Degree?"

Available on both iOS and Android, the app offers all the features available on the computer. Although the user rating for the iOS app is 2.9 stars out of 5, you can give it a try to see how you like it. It's free to download, and the app comes without ads.

Conclusion

With so many different job boards available online, it's important to understand what each site offers to choose a few that best fit your needs. Since most jobs onSimplyHired are already on Indeed and other popular job sites you might use, I recommend using SimplyHired for its special features, such as the resume builder and local job finder.

On top of spotting job postings or companies that interest you, networking is another vital part of job searching and career building. To learn about networking, read our guide to LinkedIn, a social connecting site for the working world.
Hyeyeun Jeon is from South Korea and a graduate from Carnegie Mellon University with a double major in Professional Writing and International Relations. She is passionate about non-fiction storytelling. She loves reading, watching, writing and producing stories about extraordinary lives of everyday people.