There's no question that high school is a busy time. With classes, homework, exams, and the looming responsibility of getting into a good college or university, finding extra time can feel impossible.
But you should know that if you have a few extra hours to spare each week, joining a high school club will be well worth your time. Not only will adding a club or other extracurricular activity to your resume make you more appealing to colleges and universities, but clubs have also been proven to lead to better academic, health, and career outcomes.
Most high schools offer dozens of clubs. In this article, we highlight and explain 36 of the most popular.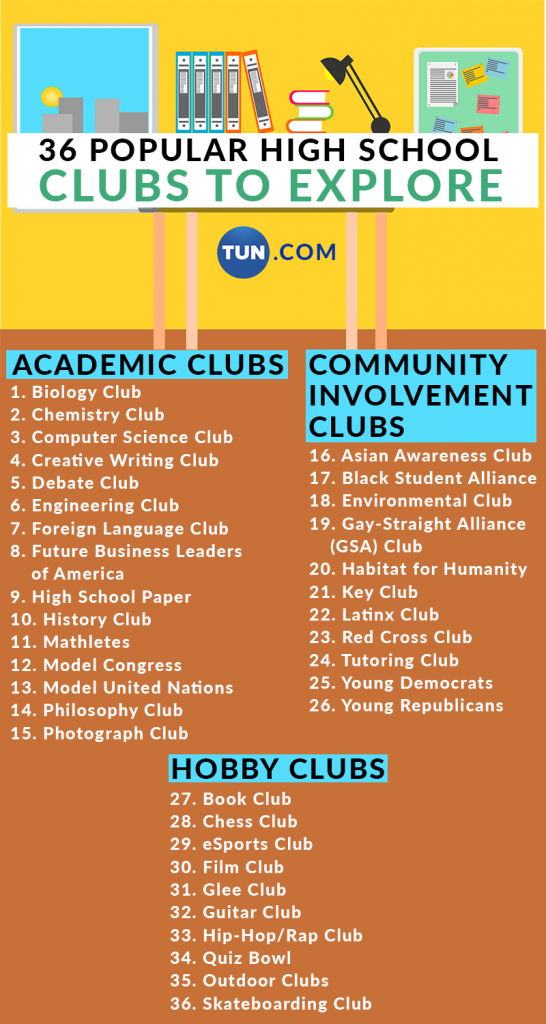 Academic Clubs
Biology Club
Biology Club dives deeper into the topics that you touch in biology class. There are so many different fields of biology, and the biology club will give you ample time to start discussing everything that interests you. Like other academic clubs, biology clubs are typically led by a teacher who can help you pinpoint your exact interests and decide which educational path will set you up for the career that you want to pursue.
Chemistry Club
If you're a chemistry buff, it would be difficult to find a better way to spend your free time than by joining your high school's chemistry club. Chemistry club further explores all of the aspects of chemistry that you won't necessarily discuss in the classroom. You'll develop a better understanding of the role of chemistry in our everyday lives and receive information about the many ways that you could turn your love of chemistry into a rewarding career.
Computer Science Club
Computer science and information technology jobs are expected to grow by 11 percent from 2019 to 2029, according to the U.S. Bureau of Labor Statistics. By joining the computer science club, you'll develop a fundamental understanding of computer science techniques and job paths, putting yourself ahead of the competition.
Creative Writing Club
Do you find yourself happiest when you're spilling your creative mind onto paper or through your keyboard? If so, you should take a quick break and sign up for your high school's creative writing club. Being surrounded by teachers and like-minded peers involved with the club will help you further develop your creative writing abilities.
Debate Club
Debate club will provide you with many important life and career skills, including how to be an effective public speaker, how to form a well-reasoned argument, how to persuade others to share your point of view, and more. As a member of a debate club, you may compete against students from your own school or those in debate clubs at nearby schools and discuss a wide range of topics.
Engineering Club
There are many different types of engineering. Whether you are certain about the type of engineering you're interested in or simply have a knack for building things and want to explore your options, joining the engineering club would be a good move. Chances are, you'll get to work on a wide variety of cool projects, from woodworking to even building robots. If you have a desire to pursue engineering in college and as a career, it helps to pick up the fundamentals in high school.
Foreign Language Club
Whether you're trying to boost your foriegn language skills or looking for a place to comfortably speak your native language, foreign language clubs are often a lot of fun. In addition to exploring language, these clubs often dive into the culture and cuisines of other countries. Those in Spanish language club, for example, may learn about the architectural history of Mexico City or the historical significance of bullfighting in Spain and have nights where everyone brings in home-cooked Mexican and/or Spanish dishes.
Future Business Leaders of America
The Future Business Leaders of America (FBLA) is an organization that can help set you up for a successful career in business. As a member of your high school's FBLA chapter, you'll participate in educational programs, academic competitions, community service projects, and networking events with accomplished business professionals.
High School Paper
If you're passionate about storytelling or have an interest in writing or editing, there's no better club to join than the school paper. School papers typically cover school-related events and activities, such as sporting events, dances, parades, and more. While they may have faculty member advisors, school papers are typically staffed and managed entirely by students. Like professional papers, school newspapers often have reporters, editors, photographers, publishers, cartoonists, and sales/marketing representatives. For more information about school newspapers, check here.
History Club
If your history class is your nirvana, you should absolutely join your high school's history club. Oftentimes, history clubs invite local historians to lecture and chat about fascinating topics. You'll likely be able to converse with history teachers at your school about the topics that you're interested in that aren't a part of your curriculum. And there's a chance that you may even be able to go on after-school field trips to historically relevant places in and around your town or city.
Mathletes
Mathletes are students who compete in any type of mathematics competition. As a member of your high school's mathletes team, you may compete against nearby high schools or train to compete in individual or other team-based competitions, many of which are held online. Naturally, being a member of your high school's mathletes team looks really good on a college application, particularly if you're interested in studying mathematics or a related subject in college.
Model Congress
As the name indicates, Model Congress is a role-playing simulation of the United States Congress. Students create mock bills to be presented and voted on. Members gain a more comprehensive understanding of the political system and the legislative process, making it particularly valuable for those interested in pursuing political careers.
Model United Nations
As a program administered by most high schools and middle schools in the United States, Model UN teaches students about diplomacy, foreign relations, and the operations of the United Nations. It is a simulation of the UN General Assembly in which students role-play as delegates representing countries around the world and discuss major global issues, including climate change, global health, and much more.
Philosophy Club
Many high schools don't offer philosophy classes. So if you find yourself interested in philosophy, the best way for you to explore the topic is by joining your high school's philosophy club. Oftentimes, philosophy clubs are led by teachers or upperclassmen who have studied the subject. Your high school club will typically assign some philosophical readings that you will discuss with your peers during club time.
Photography Club
If you're interested in pursuing photography as a career or simply want to further explore your photography hobby, your high school's photography club would be a great fit. Not only will you be surrounded by those who share your interests, but you'll also learn more about the field. You'll learn about image taking and film developing techniques and methods, receive constructive criticism from peers and professionals, and, of course, have the opportunity to take images.
Community Involvement Clubs
Asian Awareness Club
As a member of the Asian Awareness club, you'll explore Asian cultures, celebrations, and issues and develop ways to effectively teach them to others in your high school and broader communities. Depending on where you live, you may participate in and/or help organize city-wide events that celebrate and teach Asian culture.
Black Student Alliance
Black Student Alliances (BSA) aren't just clubs. They're communities. As a member of your high school's BSA, you'll receive ample support, resources, encouragement, and knowledge intended to make your experience more positive and rewarding. Additionally, you may work in a variety of ways to expand cultural awareness and acceptance in your high school and your broader community.
Environmental Club
If you're passionate about preserving the environment, think about joining your high school's environmental club. Depending on your high school's location and the club's specific missions, your time could be spent in a wide variety of ways. You could spend time picking up trash in the community, volunteering at bigger environmental organizations in your city, or even organizing protests and marches, among other things.
Gay-Straight Alliance (GSA) Club
Many high schools, colleges, and universities throughout the United States have GSA clubs. GSA clubs serve many purposes. They are there to help LGBTQ+ students to meet and connect with other LGBTQ+ students, serve as a space for conversation around LGBTQ+ issues, and provide students with opportunities to organize to develop ideas and strategies to raise awareness and change policies and practices in their schools and broader communities.
Habitat for Humanity
Habitat for Humanity works to make sure that everyone has stable shelter. The organization does everything from building homes to providing financial education to community members. Most high schools and colleges in the United States have a Habitat for Humanity campus chapter that you can join if you're passionate about helping to solve issues around housing.
Key Club
Key Club is a giant, multinational charity and volunteer organization. By joining your high school's Key Club, you'll find yourself participating in many activities that benefit your local community, including things like park cleanups, clothing drives, and food drives. If you stick with the club, you'll have the opportunity to lead meetings, plan projects, and run for leadership positions at the club, district, and international levels.
Latinx Club
Latinx clubs bring students together to celebrate and explore Latinx cultures. Club members learn about events, celebrations, issues, religions, and everything else that influences and shapes various Latinx cultures. You may listen to lectures from speakers involved with the Latinx community or participate in and/or help organize Latinx events in your community.
Red Cross Club
As a member of the Red Cross club, your time will literally be spent helping to save people's lives. For that reason, it's hard to think of a more valuable way to spend your time. Student members typically help plan and implement projects and fundraisers to raise money for the organization. If your high school does not have a Red Cross club, check here for information about how to start one.
Tutoring Club
If you're a strong student with a desire to help others, you should consider joining your high school's tutoring club. Most of your time will be spent tutoring students enrolled in local middle or elementary schools or even those attending your own high school. When it comes to receiving tutoring help, it can often be easier to learn from a peer than from a teacher. By joining the tutoring club, you can provide much-needed help. Additionally, if you plan to study education in college and become a teacher, tutoring can give you a lot of great practice.
Young Democrats
Most high school students aren't old enough to vote, but that doesn't mean they can't help influence politics. As a member of the Young Democrats club, you'll actively participate in campaigns to help Democrats reach office at the local, state, and federal levels and advocate for Democratic policies in your community and throughout the nation. Joining the Young Democrats club is a great idea for any aspiring Democratic politician or advocator.
Young Republicans
Young Republicans work hard to help Republicans reach office at the local, state, and federal levels by participating in campaigns and advocating for Republican policies in their community and throughout the country. Joining the Young Republicans club is a great idea for any aspiring Republican politician or advocator.
Hobby Clubs
Book Club
If you're a literature buff and want a group of peers to talk about your literary adventures with, there is no better way to spend your free time than by joining your high school's book club. You'll get to dive into the books that interest you and be turned on to books that interest your peers.
Chess Club
Chess club is a high school staple. If you love the game and are eager to test out and improve your skills, join your high school's chess club. As a member, you get to boost your game and scratch your competitive itch by competing against your peers and those from nearby high schools.
eSports Club
Those in the eSports club compete against each other and those around the country (or even world) in organized, multiplayer video game competitions. Over recent years, eSports have evolved and grown tremendously. Many colleges and universities have established eSports programs, assuming that eSports will soon become a pillar of the entertainment industry. Like traditional sports, gaming can now help you pay for college. Many colleges and universities offer esports scholarships for those interested in the field and willing to play collegiately.
Film Club
Is one of your favorite things in this world sitting down to watch a good film? Film club members spend the bulk of their time watching and analyzing movies, documentaries, shorts, and more. You'll be able to introduce your peers to your favorite flicks and have the opportunity to watch things that you otherwise would never have.
Glee Club
If you've seen the show "Glee" or have a relative who loves musical-theater music, you likely already have a good idea regarding what glee club is all about. Like choirs, glee clubs typically include a wide range of voices, however, glee clubs usually focus on fun, snappy songs, rather than classic choral arrangements.
Guitar Club
Again, while most high schools have organized jazz bands, marching bands, orchestras, and choirs, they don't always give students the opportunity to play guitar (particularly rock guitar) during school hours. So if you want an organized space to play with your peers, you should think about joining the club. While some of your time may be spent talking about and listening to the greatest guitar players throughout history, the bulk of your time will likely be spent playing along with and learning from the other guitar players in the club.
Hip-Hop/Rap Club
Most high schools have organized jazz bands, marching bands, orchestras, and choirs. But if you're into hip hop and/or rap, your best option is typically to join a club. These clubs vary in size and structure, but most often club members spend their time listening to, appreciating, and analyzing hip-hop and rap music. Occasionally, clubs will attend concerts and host performances.
Quiz Bowl
Quiz bowl is like Jeopardy. It typically involves two teams competing against each other by racing to answer questions on a wide variety of topics, including history, pop culture, literature, science, sports, arts, and more. If you're a trivia expert and want to compete against some worthy competition — instead of just screaming at the TV when Jeopardy is on — joining your high school's quiz bowl team is the way to go.
Outdoor Clubs
High schools offer many different types of outdoor clubs. Based on your location, your high school may offer a hiking, rafting, fishing, or hunting club, for example. If you enjoy the great outdoors, check out what your school has to offer. You'll get to explore places and activities you otherwise wouldn't have and meet like-minded people.
Skateboarding Club
Particularly if you live in a metropolitan area, there is a good chance that your high school offers a skateboarding club. Whether you're a beginner who wants to increase your skills or a veteran who simply wants a group of people to skateboard with, joining the club could be a great idea.
Conclusion
In conclusion, you should know that there are many other clubs out there, and the list of ideas for new clubs is endless. If your high school does not offer a club that you would like to be a part of, gather a group of students who share your motive and reach out to your school's administration about starting a club! There may be a few logistical hurdles that you have to jump through, but the process is typically pretty easy.